Atlanta Falcons:

Peter Konz
April, 23, 2014
4/23/14
6:00
AM ET
Seeing new defensive end
Tyson Jackson
toss 120 dumbbells around like trash bags Tuesday was a positive sign for an
Atlanta Falcons
team desperately in need of some heavy lifting.
Yet such strength means nothing if the Falcons fail to use it to their advantage on the field. Just ask general manager Thomas Dimitroff.
"It's functional strength," Dimitroff said this offseason. "Our guys were considerably stronger last year than they were the year before, interestingly enough, and we had some challenges with it. What I'm saying it, yes, we're going to continue to focus on strength increase. But it's the functional strength. It's being able to put them in the right spot to utilize their strength."
[+] Enlarge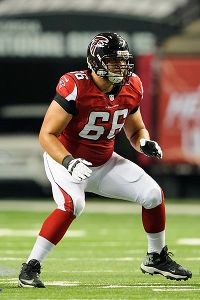 AP Photo/Paul AbellPeter Konz, who was pushed around at times last season, has "been living in the weight room."
That will all come in time. For now, the Falcons are using offseason workouts to get their bodies prepared for what should be a more physical 2014 campaign.
Coach Mike Smith seemed a bit more animated Tuesday as he explained part of the formula would be for winning the line of scrimmage, on both sides of the ball.
"One of the emphasis points for us as a coaching staff was to evaluate everything that we do," Smith said. "One of the things that became very apparent for us was that we need to get bigger and stronger. I think we've started doing that with our players. ... It's going to be very important for us to be a much bigger and stronger football team."
Smith is counting on AJ Neibel and his strength-and-conditioning staff to produce results as the Falcons go through Phase I of the offseason workout program. Smith and the other coaches are not allowed to oversee activity during the first two weeks, which started Monday.
"The offseason program has changed," Smith said, again emphasizing the bigger-stronger campaign. "If you'll look back and look what I said the very first time I was here in this room -- not in this room but over in that team meeting room -- I talked about what it takes to win in the National Football League. And I believe I said that you have to win the line of scrimmage. You have to have bigger and stronger players than your opponent. I feel like we've lost our way. I've lost my way a little bit.
"And the emphasis moving forward is going to be a bigger and stronger football team. And we're going to win the line of scrimmage."
Adding big, physical players such as offensive guard
Jon Asamoah
, nose tackle
Paul Soliai
, and Jackson were the first steps toward improvement. New offensive line coach Mike Tice immediately encouraged center/guard
Peter Konz
to bulk up, and Konz, who was pushed around more often than not last season, responded by "living in the weight room" so far this offseason.
"I think it's more for the younger guys," Tice explained in January, during a break at this year's Senior Bowl practices. "I think the younger guys, as they grow into their bodies and they stop growing and they start maturing, physically, I think that they get stronger and take a big leap and not only take a big leap with strength, but when they gain strength, they gain confidence.
"I see us in a couple different areas needing to gain that confidence. And I think a good offseason in the weight room will help some guys."
The first two players quarterback
Matt Ryan
mentioned Tuesday in terms of working hard in the weight room were tackle
Lamar Holmes
and Konz. The Falcons' offensive line obviously failed at the line of scrimmage last season as Ryan was the most pressured quarterback in the league.
"I think everybody takes a good, hard look in the mirror when things go well and then also when things don't go well," Ryan said. "And I know that's one of the most important things for me as a player and as a professional is to take a good, honest evaluation of yourself after a season and try and find areas that you can improve. And so those guys, they've made a conscious effort to get into the weight room and to move weight.
"We're not naive. Those guys (the offensive linemen) have taken some heat. And they've had to answer questions and tough questions all of last season and through the offseason so far. And I think they've taken it as a challenge. And they're in there working as hard they possibly can. I've been really impressed with the way they've handled it professionally and also how they have taking it personally, too, and want to become better and are doing everything that they can in order to improve."
Konz appears to be taking things personal. But again, he understands it's about more than just bulking up.
"You know what? We never talk about strength in the film room because it's all about technique," Konz said near the end of last season. "If you open up any book, it's all about leverage. And strength is important when you know how to use it with your footwork.
"Strength is very important, when used in combination with technique. That's what most important: lowest man wins. If you've got your hands on somebody and you've got them, they're going to have a hell of a time trying to get away from you."
If the Falcons don't improve up front, the season could get away from them again.
February, 20, 2014
2/20/14
7:00
PM ET
INDIANAPOLIS -- It appears
Peter Konz
will at least get a chance to compete for the starting spot he lost at center.
Konz
That's what Falcons head coach Mike Smith said Thursday at the NFL combine while discussing the future of the offensive line.
"The word is going to be competition across the board," Smith said. "[Konz] will compete at the center position. Again, I think the more flexibility we have in the offensive line gives us a better opportunity to come up with the best five and then, in turn, gives us the ability to come up with the best seven because on game day, you're playing with seven. And you've got to be able to have flexibility.
"You've got to have a backup center. You've got to have someone that can go from guard to tackle. You've got to have someone that can go from tackle to guard. And those are the things that we're looking forward to in this offseason, is really having a competitive atmosphere not only on the offensive line or the defensive line, but on our entire football team."
Konz began last season as the starting center but lost his spot to
Joe Hawley
and got moved over to right guard. He went back and forth with
Garrett Reynolds
at right guard before taking over the spot completely. Then at season's end, Konz saw
Harland Gunn
cut into his reps at guard.
The Falcons demanded that the former second-round pick from Wisconsin get in the weight room this offseason to improve his strength, and Konz continues to follow the team's orders religiously.
That doesn't necessarily mean he'll be back in the starting lineup in 2014. Konz still has a lot to prove. And there's no guarantee he will impress new offensive line coach Mike Tice on the field. Konz was a college teammate of Tice's son.
Konz also was roommates with newly signed Falcons offensive lineman
Gabe Carimi
, a former first-round pick of the
Chicago Bears
.
"He's definitely a talented player," Carimi said of Konz. "It's like having a brother on the team. I hope we raise each other's level of play."
The Falcons are expected to add an offensive guard in free agency and could target an offensive tackle in the first two rounds of the draft, depending on what happens in free agency.
December, 25, 2013
12/25/13
8:00
AM ET
FLOWERY BRANCH, Ga. – The
Atlanta Falcons
' coaching staff got an early Christmas gift Monday night: improved play on the offensive line.
No, it was not a strong enough performance to wipe out every bad memory from this season. But it was an encouraging sign from a unit that was expected to be dominated by a
San Francisco 49ers
front seven touted as arguably the best in the NFL.
Falcons coach Mike Smith hasn't singled out the play of an offensive lineman too often this season. Tuesday afternoon, he singled out three.

Although quarterback
Matt Ryan
did a masterful job improvising at times, his pocket was clean for the most part, which helped him complete a career-high 37 passes. He was sacked just once and was able to go deep more than he had all season.
"The interior of the pocket was a little more stout," Smith said. "I thought that we did a very good job with scheming, with chipping, helping and having backs chip out, tight ends chip out before they went into their routes.
"The two tackles [
Lamar Holmes
and
Ryan Schraeder
], they had tough draws. I thought they handled it well. I thought Matt [had a] very good pocket as well. And I really feel, after watching the tape on the ride back and watching it this morning, that
Joe Hawley
did a nice job cleaning the pocket up."
Hawley has been solid at center since taking the starting job away from
Peter Konz
, so his performance wasn't that shocking. But Holmes held his own at left tackle against pass-rush demon
Aldon Smith
, while right tackle Schraeder did the same against
Ahmad Brooks
. Schrader fared well against Smith, too.
Holmes had a couple of false starts in the first half, but he settled down in the second half and competed with Smith. Bad technique seemed to cause Schraeder to fall on his back during one play, but he quickly shook it off.
"I thought Ryan Schraeder continued to show improvement, as an undrafted rookie getting his second start on 'Monday Night Football,'" Smith said. "I thought he did a nice job. He battled. He battled against a very good front seven."
The Falcons need to find five players capable of battling each and every week. Hawley looks like a keeper at center, while left guard
Justin Blalock
has been the only offensive lineman to keep his starting job throughout the season. Schraeder continues to show promise as the right tackle of the future, while the Falcons hope to get left tackle
Sam Baker
back healthy next season after knee surgery.
The coaches still believe Holmes has a bright future despite his obvious struggles. And the fact that
Harland Gunn
played 45 snaps at left guard against the 49ers, compared with 27 for Konz, is telling in terms of Konz's status after losing his job at center.
If the line manages to string together back-to-back strong performances, the coaches truly would have something to build upon. And the Falcons finish the season against another one of league's top defensive fronts in the
Carolina Panthers
.
December, 5, 2013
12/05/13
6:55
PM ET
FLOWERY BRANCH, Ga. -- Mike Smith didn't get all his players back to full participation, as he had hoped, but the coach still likes the overall health of his
Atlanta Falcons
heading into Sunday's game against the
Green Bay Packers
.

Linebacker
Sean Weatherspoon
and offensive lineman
Peter Konz
, both of whom were limited during Wednesday's practice, had full participation during Thursday's session. Weatherspoon is coming off a knee injury, Konz a tweaked ankle.
Tight end
Tony Gonzalez
and safety
Zeke Motta
were the only two Falcons limited on Thursday. Gonzalez continues to deal with a toe injury but is healthier than he's been in weeks. Motta broke a finger on his right hand and continues to play with a cast.
Roddy White
's absence from the injury report for the second straight week means the receiver is close to full strength, although White told ESPN.com his previously sprained right ankle continues to bother him.
December, 5, 2013
12/05/13
10:00
AM ET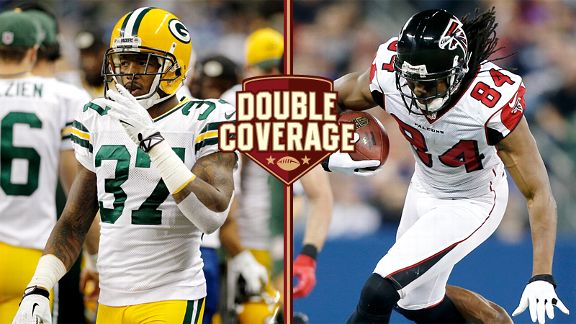 AP PhotoCan Sam Shields and the Packers snap their slump against Roddy White and Atlanta on Sunday?
Last season, the
Atlanta Falcons
were one quarter away from reaching the Super Bowl, and the
Green Bay Packers
reached the divisional round of the playoffs.
Eleven months later, the teams have a combined record of 8-15-1.
That's why the NFL moved the game, which was originally scheduled for prime time on Sunday, to a 1 p.m. ET start.
ESPN Packers reporter Rob Demovsky and ESPN Falcons reporter Vaughn McClure break down the matchup:
Rob Demovsky
: Vaughn, it's hard to believe the Falcons are in playing-out-the-string mode with all of the talent they have on offense. Obviously, injuries have been an issue, especially losing a talented receiver like
Julio Jones
. But unlike the Packers, they didn't lose their quarterback. How come
Matt Ryan
hasn't been able to be a difference-maker?
Vaughn McClure
: Well, it's been hard for Matt Ryan to be himself, playing under duress most of the season. The Falcons have ranked in the top 10 in sacks allowed per pass attempt, but that's only because Ryan has taken shorter drops and delivered the ball quicker. He has still been sacked a career-high 30 times and has been hit countless other times. In the past two games alone -- against the Saints and Bills -- Ryan was sacked 11 times. True, being without Jones hasn't helped Ryan's cause. But also,
Roddy White
hasn't been at full strength all season. Without
Harry Douglas
or
Tony Gonzalez
, Ryan would really be in trouble.
Speaking of quarterbacks, can you explain the different scenarios for the Packers at the position come Sunday, based on
Aaron Rodgers
' injury status?
Demovsky
: Well, it sure looks like Rodgers will be out for at least another week. This was the game he was really targeting to come back for, thinking he could lead them to the playoffs if he got back for the last four games. But his collarbone did not check out well enough Tuesday to be cleared. Even though he plans to practice this week, it doesn't look good for him to play. I was a little surprised that coach Mike McCarthy appears to be going with
Matt Flynn
again. Flynn was completely ineffective in the Thanksgiving debacle at Detroit, and quite frankly, his arm strength does not look good. He didn't have a lot of zip on the ball indoors against the Lions, and it sure won't get any easier to throw in the cold, wintry conditions at Lambeau Field. I wondered if he might go back to
Scott Tolzien
, who looked good in a couple of his appearances but threw too many interceptions.
You mentioned pass protection -- the Packers had issues of their own against the Lions. Flynn was sacked seven times, but on at least a couple of those, he held onto the ball too long. What has been the Falcons' biggest problem in pass protection?
McClure
: The biggest problem has been the offensive line, simply. The guys up front haven't held up their end of the bargain. They've been physically dominated at times, particularly in the loss to the Seahawks. The Falcons lost left tackle
Sam Baker
to season-ending knee surgery, and Baker wasn't the same player he was last season before being placed on injured reserve. Left tackle
Lamar Holmes
, the guy trusted to protect Ryan's blind side, admitted being out of shape at the beginning of the season and is still experiencing growing pains. Center
Peter Konz
, right guard
Garrett Reynolds
, right tackle
Jeremy Trueblood
and Holmes have all been benched at point during the season. Such turnover hasn't helped the group develop any cohesion. And now, it has to face a capable Packers defense.
I know
Clay Matthews
was injured this season, but is he back to the dominant player he was when I covered the NFC North?
Demovsky
: He's starting to look like the player you remember, Vaughn. In his first game back from his broken thumb, he wasn't a factor,because he had to wear that giant club cast. But the next week against the Giants, he was able to play with a much smaller cast. Ever since then, he's been a playmaker again. In the past three games, he has three sacks and a forced fumble. The problem is he's not getting a ton of help. And even when they make big plays like they did against the Lions last week, when they forced four turnovers, the offense can't take advantage of them. Even with Matthews back on the field, the defense has been in a free fall over the past month.
About the only thing the Packers have been able to count on has been their running game, and even that has been a little up and down. But rookie
Eddie Lacy
looks like a force with 806 yards rushing in basically 10 games. I'm sure the Falcons will load up the box to stop him like most teams have tried to do since Rodgers got hurt. Do you think they can stop him?
McClure
: No. Not at all. They struggled to contain speedy backs like Buffalo's
C.J. Spiller
(149 rushing yards) just like they've struggled against powerful backs like Seattle's
Marshawn Lynch
(145 yards). Defensive coordinator Mike Nolan counted 28 missed tackles for his defense over the past two games, which is unacceptable, particularly when they occur in the second level and lead to explosive plays. Although rookie linebacker
Paul Worrilow
has been a tackling machine, he can't do it alone. Like the offensive line, the defense has been dominated physically at times. Lacy's bruising style is the last thing the Falcons want to see. The Falcons are tied for 29th in the NFL in rushing yards allowed per game.
December, 4, 2013
12/04/13
5:40
PM ET
FLOWERY BRANCH, Ga. --
Atlanta Falcons
head coach Mike Smith said he doesn't anticipate any player missing Sunday's game against the
Green Bay Packers
due to injury.
Four players were limited during Wednesday's practice: tight end
Tony Gonzalez
(toe), linebacker
Sean Weatherspoon
(knee), offensive lineman
Peter Konz
(ankle) and safety
Zeke Motta
(hand).
"We're in pretty good shape," Smith said after practice. "Tony is ahead of schedule. He practiced more today than he did at this time last week. He's feeling better.
"I think the guys will be full-go tomorrow. We're all on track. Nobody is 100 percent at this time of the season, but everyone is healthy enough to go out and play. And that's a good thing this time of the season."
In Green Bay, quarterback
Aaron Rodgers
was limited coming off a broken collarbone and seems unlikely to play Sunday, although Rodgers hasn't been ruled out.
November, 21, 2013
11/21/13
11:33
PM ET
ATLANTA -- A few thoughts on the
Atlanta Falcons
'
17-13 loss
to
New Orleans Saints
on Thursday night at the Georgia Dome:

Showing fight:
Tight end
Tony Gonzalez
promised the Falcons would come out with some fight despite entering the game with a 2-8 record. He was right. The Falcons definitely put together a spirited effort against their NFC South rival. It showed from the start when the defense forced
Drew Brees
and the Saints into a three-and-out to begin the game, including two run-stuffing plays. And the offense played with just as much enthusiasm, as evident with
Steven Jackson
's 1-yard touchdown flip -- his first rushing TD with the team. Despite some hiccups in defensive coverage and pass protection, the Falcons competed for almost the entire game, though the defense seemed to just wear down at the very end. It wasn't truly over until
Matt Bryant
missed a 52-yard field-goal try in the final minutes. The Falcons needed to play with the same type of fire the previous four weeks. They've now lost five in a row.
Stock watch:
Undrafted rookie receiver
Darius Johnson
's stock skyrocketed and plummeted all in the same game. He played like a veteran in the first half, catching a team-high five passes for 65 yards. He almost had a touchdown, but a replay review showed he was down at the 1-yard line. As good as Johnson looked, though, he still made some rookie mistakes. He had a key drop across the middle while wide open on a third-and-2 play in the third quarter. Then in the fourth, Johnson fumbled the ball away after a catch, killing a Falcons drive into the red zone.
Third downer:
When the Saints converted 5 of 5 third-down tries on their second drive of the game, you figured it would be a bad night for the Falcons' defense. It was. Atlanta gave up way too much room on third down, allowing the Saints to march at will. Third-down defense and surrendering explosive plays have been a problem for the Falcons all season. They also gave up a 44-yard touchdown from Brees to tight end
Jimmy Graham
.
Line change:
Once again, the Falcons' offensive line experienced a change.
Garrett Reynolds
, who regained his starting spot at right guard after being benched last week, was benched again in favor of center/guard
Peter Konz
. There might be some more changes next time out after the Falcons allowed
Matt Ryan
to be sacked a season-high five times. Left tackle
Lamar Holmes
didn't have a good day going up against right defensive end
Cameron Jordan
(2.5 sacks), and Saints left defensive end
Akiem Hicks
had a field day against the Falcons' linemen, too.
Bad call?
Speaking of Hicks, he wrapped Ryan up high and twisted the quarterback to the ground in the second quarter on a play that appeared to be a roughing penalty. Falcons coach Mike Smith was livid that no call was made. And the sack essentially cost the Falcons a touchdown as they settled for Bryant's 39-yard field goal. A touchdown there might have changed the complexion of the game. Smith and the Falcons are sure to reach out to the league about the officiating.
What's next:
The Falcons have a few extra days to prepare for their trip to Toronto to face the
Buffalo Bills
. Buffalo beat the
New York Jets
37-14 in Week 11 and has a bye this week. In other words, nothing gets any easier for the Falcons moving forward.
November, 19, 2013
11/19/13
10:10
AM ET
FLOWERY BRANCH, Ga. -- It's hard to remember too many times this season when
Atlanta Falcons
head coach
Mike Smith
spoke positively about the play of one individual offensive lineman.

Smith
That's what Smith did, sort of, on Monday when he talked about
Joe Hawley
stepping in as the starting center against Tampa Bay as
Peter Konz
moved over to right guard.
"I thought Joe did a nice job at the center position in the ball game (Sunday), from my evaluation of watching the tape on the flight home," Smith said.
Hawley played all 71 snaps on a day the Falcons benched right guard
Garrett Reynolds
, then benched Konz for Reynolds, then inserted
Ryan Schraeder
at right tackle for
Jeremy Trueblood
.
Not to mention newly signed veteran
Sean Locklear
might be in the mix at right tackle soon.
Yes, the offensive line is still a mess.
"We will continue to evaluate everything," Smith said of the line. "When you've played like we've played, especially the last four weeks, you've got to look at all options. And I felt like the moves helped us in some areas and hindered us in others.
"We will continue to tweak the play time of our players as we move through this last part of the season. We've got to get a combination where we feel we give ourselves the best opportunity to win."
Hawley is confident he can do the job at center moving forward.
"Obviously they've shown that the best players are going to play, so I've just got to keep playing good and prove that I belong out there," Hawley said.
Hawley isn't the only unheralded player the Falcons will take a closer look at moving forward. Smith said running back
Antone Smith
earned more carries after gaining 88 yards on two runs against the Buccaneers, including a 50-yard touchdown. And rookie
Zeke Motta
played 26 snaps while taking over at free safety after starter
Thomas DeCoud
played 42 snaps.
By the way, DeCoud remained with the starters when the team went through a walkthrough on Monday night. Not to mention Motta has a broken finger on his right hand and is expected to play with a cast, which could limit his production. So, the chatter about Motta replacing DeCoud in the starting lineup might have to calm down for now.
"It was a good opportunity for me to get out and get some snaps on defense, get some good experience, and get a feel for the NFL game aside from special teams," Motta said. "It was fun, from that aspect; to go out there and kind of test my skills. And I felt comfortable. I felt like I belonged out there.
"I'll do whatever the coaches ask me to do. Whatever I can do to help this team and make this team better, I'm going to do."
The Falcons hope all their inexperienced players proceed with the same attitude.
November, 17, 2013
11/17/13
8:20
PM ET
TAMPA, Fla. -- If
Peter Konz
has a future here with the
Atlanta Falcons
, he is prepared to move forward as an offensive guard.
Konz
Konz, the starting center for the first nine games of the season, moved over to right guard as the coaches opted to bench usual starter
Garrett Reynolds
for Sunday's
41-28 loss
to the
Tampa Bay Buccaneers
.
Joe Hawley
stepped in as the starting center.
Konz got beat up by Tampa Bay defensive tackle
Gerald McCoy
, who recorded consecutive sacks on the Falcons' first possession to keep Atlanta out of scoring range. McCoy finished with three sacks in the game, and Konz finished his day back on the bench in favor of Reynolds.
"It's not about me; it's about the team," Konz said. "Obviously, we didn't play good. I didn't play good. So I need to go to practice and get better."
Reynolds
Speaking specifically about his matchup with McCoy, Konz conceded he was overmatched.
"Just one on one, and I lost," Konz said. "So that's why they replaced me."
Konz, a second-round pick from Wisconsin in 2012, took over the center spot from
Todd McClure
. Now, Konz is uncertain about his future on the line.
"Now that I understand that guard could be in the future -- I don't know how we're moving forward -- but I'm going to study more. I need to get more reps at guard, start working it better," Konz said.
As for Reynolds, he said he was informed about being benched on Friday.
"I knew that was my role for the week but still prepared like I always do," Reynolds said. "Of course, you want to play. But you've got to step back and think about what's best for the team. If that's something that the coaches think is best for the team, I'm fine with that. I'm cool. And I'm going to keep preparing like I was playing."
Untested tackle
Ryan Schraeder
also was inserted in the game to replace starting right tackle
Jeremy Trueblood
. This could be the start of a lot of line shuffling as the Falcons prepare for the future.
Most figure the Falcons might target an offensive lineman in the draft. They've already added one veteran when tackle
Sean Locklear
signed last week coming off an ACL injury. Locklear was inactive on Sunday.
October, 8, 2013
10/08/13
3:31
AM ET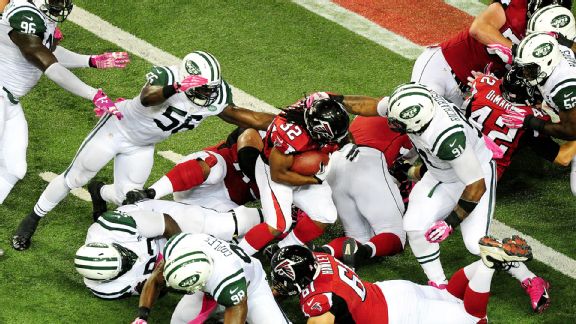 Scott Cunningham/Getty ImagesThe Falcons couldn't get Jacquizz Rodgers into the end zone on the final play of the first half.
ATLANTA -- One yard.
That's all that stood between the
Atlanta Falcons
and rebounding from a dismal 2013 start.
One yard might have given them much-needed momentum going into the bye week. One yard might have given fans hope the team would sneak right back into the playoff picture.
Instead, Monday night ended with one resounding thud.
There were a variety of reasons why the Falcons suffered their third straight defeat, falling to 1-4 with a
30-28 loss
to the
New York Jets
, who kicked the game-winning field goal as time expired. Some folks will put the blame on head coach Mike Smith, particularly after he decided against going for a field goal with a second left before halftime.
Smith admitted, in hindsight, maybe settling for three would have been the best option. But he believed his team could get the one yard necessary for a touchdown. He expressed faith in his offense, faith in his quarterback, faith in his offensive line.
[+] Enlarge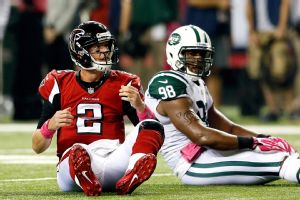 Kevin C. Cox/Getty ImagesMatt Ryan was only sacked twice, but he felt the pressure from the Jets.
Those out there not upset with Smith are certainly pointing fingers at each and every offensive lineman for not helping
Jacquizz Rodgers
pick up that yard on fourth-and-goal. Truth be told, there's no reason to call out the linemen on this one. They pointed fingers at themselves.
"Probably would have been better if we had gotten a better push," right guard
Garrett Reynolds
said. "I don't know exactly what happened. I haven't watched it. But we didn't get in there."
Based on the replay, it appeared at least two front-line Falcons got beat on the play.
Joe Hawley
, the backup center who lined up as an extra lineman in the tight end spot, seemed to miss his block and allow penetration to Jets defender
Quinton Coples
. Right tackle
Jeremy Trueblood
appeared to get overpowered by Jets defensive tackle
Sheldon Richardson
, who was credited with dropping Rodgers for no gain.
"What did I see? I was just trying to block my guy," Trueblood said. "I wish I would have done a better job. If I would [have gotten] my man, [Rodgers] would have scored."
Owning up to the mistakes is the first step. Correcting those errors is the next phase for the much-maligned offensive line.
The front five have been the object of much criticism since an ugly showing in the preseason. This line underwent a major facelift from last season with center
Todd McClure
retiring and right tackle
Tyson Clabo
being released, then signing with the
Miami Dolphins
. The Falcons were prepared to start
Mike Johnson
in place of Clabo until Johnson went down for the remainder of the season with a broken leg and dislocated ankle.
Then left tackle
Sam Baker
, who was stellar last season, went down with an injury in Week 4 against the
New England Patriots
, which forced demoted right tackle
Lamar Holmes
to take over at left tackle alongside left guard
Justin Blalock
, center
Peter Konz
, Reynolds and Trueblood.
The makeshift line has had its struggles. Offensive coordinator Dirk Koetter compensated by orchestrating plays to help quarterback
Matt Ryan
release the ball quicker to avoid pressure.
Still, Ryan has been sacked at key times this season, including against the Patriots when Holmes allowed Ryan to get sacked in the red zone. On Monday night, Jets defensive end
Muhammad Wilkerson
beat Trueblood and Reynolds, swooping in for a sack-fumble play on Ryan. The turnover led to a
Nick Folk
field goal.
The line must have gotten a pep talk from offensive line coach Pat Hill at halftime Monday night. The performance in the second half was much better, particularly in terms of clearing holes in the running game. Rodgers had two red-zone touchdown runs in the second half. And Ryan didn't get sacked in the fourth quarter, when he completed 12 of 18 passes for 122 yards and a touchdown.
Regardless, that one yard the Falcons couldn't pick up before halftime might stick with them the entire season. Still, Ryan refused to blame the line.
"I thought they did a good job," he said. "I thought they fought the entire night. It's a good defense that we went against, specifically a very good front seven. And I thought our guys stepped up to the challenge.
"We ran the ball really effectively in the red zone. We just didn't run it effectively on that one play."
The Falcons don't have much of a choice but to ride with the offensive linemen they have now. Getting Baker back healthy might help, but he struggled when he was in the lineup. There aren't too many quality linemen sitting on the streets, and the Falcons have no current interest in recently released tackle
Max Starks
. Plus the organization still has high hopes for Holmes developing into a Pro Bowl-caliber tackle down the road.
Building toward the future is great, but the Falcons have to be more concerned about the present. If they have any thoughts of rebounding from this dismal 1-4 start, the line has to hold up its end. If it doesn't, the critics will continue to feast on the entire group.
"We always say we're all we got; we're all we need," Reynolds said. "All these people out here saying stuff about us. That's OK. That's their opinion. They don't know what we do. They don't know how hard we work. We have to take it on ourselves to continue to get better. We're a team. We're going to stick together."
September, 5, 2013
9/05/13
1:00
PM ET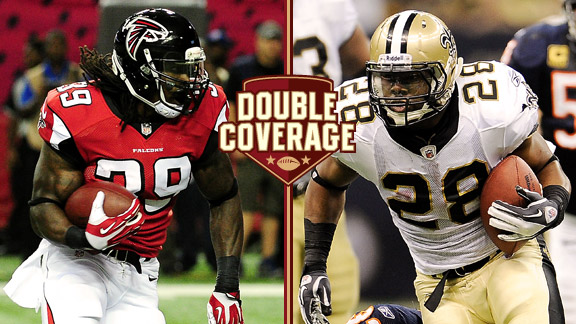 Getty ImagesSteven Jackson and Mark Ingram will try to bring more balance to two pass-heavy offenses.
Sean Payton is back to right the wrongs of last season, when his
New Orleans Saints
went off the rails in his absence. The first test of the season is a fitting one: The Saints open against their hated NFC South rivals, the
Atlanta Falcons
, who ran away with the division last season even though they split with New Orleans.
Have Payton and new defensive coordinator Rob Ryan fixed that horrid defense of a year ago? Will the Saints have much of a running game? Can the Falcons protect their franchise quarterback and give him time to find his myriad weapons?
ESPN.com NFL columnist Ashley Fox and NFC South blogger Pat Yasinskas discuss what Saints and Falcons fans can expect from the latest installment of this heated rivalry.
Fox:
He's back. It is redemption time for Payton after missing a year because of the bounty scandal. I'm sure, given how beloved Payton is in New Orleans, that the Mercedes-Benz Superdome will be so loud it might lift off. I've seen different estimates for Payton's worth. How many wins do you think he's worth to the Saints?
Yasinskas:
I think Payton's presence instantly takes the Saints from a nonplayoff team to a playoff team. His skills as an offensive guru are well known, and that certainly will help. But I think the more subtle benefit to having Payton back is his skill as a motivator. He's a master in that area, and he'll have his team ready for big games. Speaking of changes that came in the offseason, what do you think was the biggest move for the Falcons?
Fox:
To me, the biggest change was the addition of
Steven Jackson
. As you well know, the Falcons struggled to run the ball late last season, when
Michael Turner
clearly had nothing left in the tank. I know Jackson has hit the age when running backs typically decline, but the Falcons don't need him to carry the load. They're going to pass to get a lead and run to win the game. As long as he can stay healthy, Jackson should be able to do that. How effective do you think the Saints' running game will be?
Yasinskas:
That's a very timely question. Several times this offseason, Payton has said he wants more out of his running game. The Saints always are going to be a pass-first team. But if you look back at their Super Bowl year, their running game ranked in the top 10. Payton wants to get back to that, and I believe he has the tools to do that with
Pierre Thomas
,
Darren Sproles
and
Mark Ingram
. I think you'll see more of Ingram this year. He's a guy who needs 10 to 15 carries to get going, and he can bring more balance to the offense. Speaking of balance, the Falcons seem to have plenty of that. How potent is their offense going to be?
Fox:
I think they have a chance to be as potent, if not more so, than last season. The newly signed
Matt Ryan
has all of his toys back --
Roddy White
,
Julio Jones
,
Harry Douglas
and
Tony Gonzalez
. He threw for more than 4,700 yards last season and set career highs for completion percentage, attempts and completions. He could break those again this season. It will be interesting to see if the preseason, when the Falcons were flagged for countless penalties, was an aberration. They were the least penalized team in NFL history last season. As far as setting NFL records, the Saints' defense did last season and not in a good way. Do you think it is going to be any better this season under Ryan?
Yasinskas:
It's hard to imagine the New Orleans defense being any worse than it was a year ago. Things just never worked for former coordinator Steve Spagnuolo. I think there will be improvement with Ryan, but I'm not sure how significant it will be. The Saints are switching from a 4-3 to a 3-4 scheme, and I'm not sure they have all the personnel they need to be successful. Time will tell, but it's more than fair to say the defense is the biggest question mark for the Saints. Speaking of question marks, do the Falcons have any glaring weaknesses?
Fox:
It is the offensive line. If Ryan is worth his salt as a defensive coordinator, he will strike the right side of the Falcons' line. That's where the potential problems are. After 13 seasons and 194 starts, center
Todd McClure
retired after last season.
Peter Konz
, who started nine games as a rookie at right guard, slides back to his natural position at center. Left guard Justin Blaylock and left tackle
Sam Baker
are veteran rocks. That's not the problem. The Falcons let right tackle
Tyson Clabo
walk in free agency. His replacement,
Mike Johnson
, broke his leg during training camp. Johnson's replacement,
Lamar Holmes
, was bad enough in the preseason that the Falcons signed
Jeremy Trueblood
earlier this week. Right guard
Garrett Reynolds
missed the second half of last season with an injury. How do you think Ryan will try to exploit the weakness?
Yasinskas:
I agree with what you said about Atlanta's offensive line. It potentially could be a huge problem, and I'm sure Ryan is well aware of that. I'd look for him to try to exploit the right side of the line as much as possible. But the Saints have had their share of injuries on defense, and it still isn't clear how they'll apply pressure. Defensive end
Cameron Jordan
really is the only proven commodity as a pass-rusher. The Saints have big hopes for outside linebackers
Junior Galette
and
Martez Wilson
, and those guys need to become forces in a hurry. Atlanta has so many offensive weapons that the Saints need to get some pressure on the quarterback. Speaking of Atlanta's offensive weapons, is White completely healthy?
Fox:
The Falcons better hope so. And they say he is, more or less. White sprained an ankle in the second preseason game but finally returned to practice this week. He is Mr. Reliable, having started 128 straight games, and had only two drops last season, according to ESPN Stats & Information. Only Arizona's
Larry Fitzgerald
had fewer among receivers who were targeted at least 100 times. So the Falcons need White to be healthy and productive. What's up with the Saints' third receiver situation?
Yasinskas:
The Saints just brought back
Robert Meachem
, who didn't work out as a free agent in San Diego. I think Meachem can get back to being an impact player as a third or fourth receiver in time. But I think the Saints will open the season with rookie
Kenny Stills
as their third receiver. He has big-time speed, and the Saints need a downfield weapon to go along with
Marques Colston
and
Lance Moore
. Stills is an under-the-radar player who could have a big impact on this game. Do you see any Falcons who fall into that same category?
Fox:
There are two undrafted rookie free agents on defense who won't start but should see plenty of action. One is
Joplo Bartu
, a 6-foot-2, 230-pound linebacker out of Texas State. The other is
Paul Worrilow
, a 6-foot, 230-pound linebacker out of Delaware. Both are unheralded guys who are big and strong and really caught the coaches a little by surprise. Remember those two. OK, so give me a prediction. Who wins?