Atlanta Falcons:

Ra'Shede Hageman
May, 23, 2014
May 23
9:00
AM ET
The
Atlanta Falcons
should get a better idea about their nine drafted rookies when they join the veterans for organized team activities next week.
Team owner Arthur Blank is impressed with what he's seen of the draftees so far, but he also tempered his enthusiasm a bit.
Matthews
"Saw the kids last Saturday and they all looked great," Blank said. "They looked like Pro Bowl players to me, but it's a little bit early. But we're excited about where the team is right now and looking forward to camp and getting to work as soon as we can."
Blank attended the introductory news conference for first-round draft pick
Jake Matthews
and praised the new right tackle's ability and bloodlines. This week, Blank talked about second-round pick
Ra'Shede Hageman
, the defensive end out of Minnesota.
"He's a big man," Blank said. "He's a big, strong guy. Tremendously explosive. Very impressive, physically. A lot of the (rookies) that I saw, I liked a lot. But you know, they're running around without pads right now. You have to take it all with a little bit of a grain of salt.
"This is my 13th year as an owner and I've seen players that looked great running around in shorts and T-Shirts and put pads on them, they don't look quite the same. On the other hand, I've seen guys that don't look quite the same running around in shorts and T-Shirts but put the pads on and they look like football players. You've got to give it time and patience; give these guys a chance to be coached and to show what they're capable of doing."
The Falcons have signed or agreed to terms with eight of their nine draft picks, including a four-year, fully guaranteed $16,434,500
deal for Matthews
.
Third-round pick
Dez Southward
, the safety from Wisconsin, is the only draftee without a contract.
May, 22, 2014
May 22
5:35
PM ET
The
Atlanta Falcons
reached a contract agreement with fourth-round draft pick
Devonta Freeman
on Thursday, meaning eight of the Falcons' nine draft selections are either signed or have agreed to terms.
Financial terms for Freeman's four-year deal were not immediately available.
Freeman, the running back out of Florida State, could be the team's three-down back of the future. He stood out during rookie minicamp and will be worth watching when the rookies join the veterans for organized team activities next week.
The Falcons agreed to terms with first-round pick
Jake Matthews
and second-round pick
Ra'Shede Hageman
on Wednesday. Matthews received a four-year deal with a fifth-year option that included offsets. Hageman received a standard four-year deal.
The Falcons also signed fourth-rounder
Prince Shembo
, fifth-rounders
Ricardo Allen
and
Marquis Spruill
, and seventh-rounders
Yawin Smallwood
and
Tyler Starr
. All received four-year deals.
The lone draftee still without a contract is third-round pick
Dezmen Southward
, the safety from Wisconsin.
May, 21, 2014
May 21
4:40
PM ET
The
Atlanta Falcons
have agreed to terms on four-year contracts with first-round draft pick
Jake Matthews
and second-round pick
Ra'Shede Hageman
. Matthews' contract includes a fifth-year option.
Full financial terms for the deals were not immediately available.
Matthews, the offensive tackle from Texas A&M, was the sixth-overall pick in this year's NFL Draft. Last year's sixth pick, Cleveland's
Barkevious Mingo
, signed a four-year, $16 million deal that included a $10.268 million bonus.
As for Hageman, the player selected in his slot last season --
Cincinnati Bengals
running back
Giovani Bernard
-- received a $2.2 million signing bonus.
The base salaries are set to be $420,000 for 2014, $510,000 for 2015, $600,000 for 2016, and $690,000 for 2017.
The Falcons, with nine draft picks, have not reached contract agreements with safety
Dezmen Southward
(third round) and running back
Devonta Freeman
(fourth).
May, 16, 2014
May 16
8:15
PM ET
FLOWERY BRANCH, Ga. -- The
Atlanta Falcons
got going with their rookies Friday during the first of three minicamp practices.
Matthews
Of course, the center of attention was sixth overall pick
Jake Matthews
from Texas A&M. The right tackle looked as good as advertised in shorts. The most interesting part of the day was watching him work in drills against second-round pick
Ra'Shede Hageman
, the defensive end/nose tackle from Minnesota.
"He's a good player. It shows," Matthews said of Hageman. "It's understandable why he went in the second round. I wouldn't have been surprised if he went in the first. He's a hell of a player. Works hard. I actually trained with him all through the draft process. We both have the same agency [Athletes First]. He's a stud. He makes me better. And I know I'm making him better, so it's good for everyone."
Here are 10 other obversations from Day 1 of rookie minicamp:
Hageman (6-6, 318) seemed a little winded midway through practice, but he looked far from out of shape. If anything, he just has to get adjusted to the tempo of things in an NFL practices. He lined up primarily at left defensive end in the 3-4 look. His explosiveness was evident in individual drills.
Third-round pick Dez Southward, the free safety from Wisconsin, seems so eager to learn. He talked about already picking the brain of starting strong safety William Moore. Southward said he watched film of Earl Thomas and Eric Berry on Friday because they are two of the best safeties in the league.
New offensive line coach Mike Tice didn't bite his tongue in terms of yelling a few expletives at the rookies, particularly when they failed to pick up the pace during a sled drill. New defensive line coach Bryan Cox spoke in the same tongue.
Fourth-round pick Prince Shembo (6-0, 253), the outside linebacker from Notre Dame, is powerfully built compared to most linebackers. It particularly shows in his biceps and calves. He packs quite a punch. Defensive coordinator Mike Nolan singled out Shembo during one drill.
Speaking of outside linebackers, Matthews must have felt like he was going up against cousin Clay Matthews from the Green Bay Packers. That's because seventh-round pick Tyler Starr, the tatted-up outside linebacker from South Dakota, has the same dangling blonde hair as Clay Matthews does. And Starr has rush ability, too. He's no slouch by any means.
Undrafted quarterback Jeff Mathews from Cornell, at 6-4, looked like Matt Ryan standing in the pocket. And Mathews' first pass of the day was a dart. He wasn't outstanding, but solid. It was hard to get a read on the quarterbacks, running backs, receivers and tight ends with not much going on during Day 1.
Former practice squad defensive tackle Adam Repogle didn't look lost as the Falcons transition him to offensive guard from defensive line. He played left guard on the same unit that included Matthews at right tackle, William Wright (West Georgia) at right guard, James Stone (Tennessee) at center and Roderick Tomlin (Murray State) at left tackle.
New outside linebackers coach Mark Collins, who was previously a defensive line assistant, seemed detailed in his instruction with his crew of linebackers. His role in getting the players up to speed is crucial this year as the Falcons try to establish a better pass rush.
Running back Braden Wilson from Kansas State and defensive lineman Byron Jerideau from South Carolina, two players in for tryouts, watched Friday's practice with undisclosed injuries. That's a tough way to make a first impression.
General manager Thomas Dimitroff was around for the duration of practice and couldn't sit still while bouncing from position group to position group. Obviously his legs weren't tired from the 40-mile bike ride to work, as part of National Bike to Work Day.
May, 15, 2014
May 15
11:00
AM ET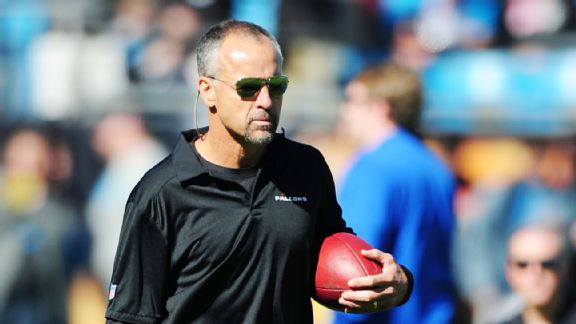 Scott Cunningham/Getty ImagesFalcons defensive coordinator Mike Nolan won't be lacking depth up front in 2014.
The
Atlanta Falcons
aren't panicking -- at least not yet -- over their inability to secure a top pass-rusher this offseason.
Sure, it would have been a nice luxury to land a proven talent such as
Brian Orakpo
or even a promising rookie such as
Jadeveon Clowney
,
Khalil Mack
or
Dee Ford
. But the Falcons have a game plan, regardless of what outside perception might say.
The coaches and players fully understand the urgency. They know how pathetic the pass rush was last season, when the Falcons sacked or put quarterbacks under duress on just 22.4 percent of dropbacks, second-worst in the NFL. Not to mention the Falcons allowed opponents to convert 45.93 percent on third down, resulting in the league's worst third-down defense.
You know you're in trouble when you make
Geno Smith
look like an All-Pro.
So how are things supposed to improve? There is plenty of reason to be skeptical, including the absence of a speed-rusher. But I believe a collective effort will help the Falcons take significant strides with their defensive pressure and compensate for the lack of an elite pass-rusher.
[+] Enlarge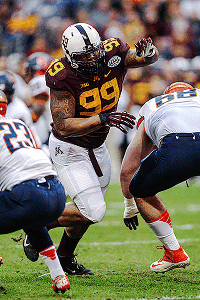 Troy Taormina/USA TODAY SportsAthletic rookie Ra'Shede Hageman could give a boost to the Falcons' pass rush in 2014.
Really. I do.
Altering the defensive approach is the first step. Although coach Mike Smith continues to preach defensive multiplicity without revealing much detail, the Falcons
will
have more of a 3-4 look in 2014. Believe that. It was obvious when players started talking about it immediately after last season. Then the Falcons added bulky nose tackle
Paul Soliai
and defensive end
Tyson Jackson
up front. Drafting defensive end
Ra'Shede Hageman
was further confirmation.
Think of it more as the Falcons building toward a 5-2 alignment, with three linemen and two outside linebackers getting pressure. As long as the Falcons can do so with consistency, they'll be fine.
The Falcons hope that having heavy hitters up front will create more stress on opposing offensive linemen and open lanes for the linebackers to make plays. And if he develops quickly, Hageman has the potential to be an outstanding inside rusher and a
J.J. Watt
-type pass-deflector. He is the wild card in this whole equation. He'll be motivated by fiery defensive line coach Bryan Cox.
In regard to the true pass-rushers, the Falcons have plenty of faith in third-year player
Jonathan Massaquoi
, who had four sacks last season and has played defensive end. His athleticism should be on display more often from the outside linebacker spot in 2014. Massaquoi told me this offseason that he feels the need to atone for not taking advantage of his opportunities last year.
Stansly Maponga
and rookie
Prince Shembo
are the other two young players that intrigue me. Both have pass-rush ability, although Maponga was used sporadically last season. Folks who watched every game Shembo played at Notre Dame believe he is a much better pass-rusher than run defender or coverage guy.
And don't forget about veteran
Osi Umenyiora
. He led the team with 7.5 sacks but wore down as the season went along. Yes, he's 32 years old and his best days are behind him. But the Falcons could get a lot out of him as a strictly designated pass-rusher, the same role he played at the end of last season. Umenyiora has spent a significant amount of time trying to improve his technique and speed this offseason. To me, that sounds like a veteran determined not to go out with a thud.
When guys like Massaquoi, Maponga and even Umenyiora don't have to bang against offensive tackles regularly, like they did most of the time in a typical 4-3 alignment, they'll be fresher and able to sustain a consistent pass rush. The defensive linemen also should benefit from a strong rotation, considering the Falcons brought back
Jonathan Babineaux
,
Corey Peters
and
Peria Jerry
while adding Soliai, Jackson and Hageman.
There will be an adjustment period all around, particularly for those players getting accustomed to standing up rather than playing with their hands in the ground. The guy who shouldn't flinch is
Kroy Biermann
, who has experience in both roles. But Biermann -- who played just two games in 2013 because of an Achilles injury -- will be counted upon more against the run than the pass.
Of course, let's not forget the key figure in this whole equation: defensive coordinator Mike Nolan. Last year wasn't indicative of what type of defensive mind he is. He's had success in the past out of a 3-4 base. He couldn't be too "multiple" last season, based on personnel. Nolan knows how to disguise coverages and dial up blitzes, when needed. And he'll have more to work with this season, including more capable bodies to sub in and out to keep the pressure consistent.
When you talk about facing the likes of
Drew Brees
and
Cam Newton
twice a year and having to contend with a pair of 6-foot-5 receivers in Tampa Bay's
Vincent Jackson
and
Mike Evans
, it only emphasizes the importance of pressure for a Falcons team trying to return to playoff contention. It won't be about a guy such as Massaquoi suddenly exploding with double-digit sacks, though the Falcons would take it. It will be more about consistency, getting contributions from a number of different players, and keeping bodies fresh over the duration of 60 minutes.
A more balanced offensive attack with a little more emphasis on the run surely wouldn't hurt in terms of keeping the defense off the field. But when it comes down to it, the Falcons' defenders have to pin their ears back and have the desire to get after it.
The pressure is on.
March, 25, 2014
Mar 25
8:00
AM ET
The
Atlanta Falcons
are sure to take a close look at a number of top prospects before the May 8 NFL draft, including players they've already seen up close recently.
[+] Enlarge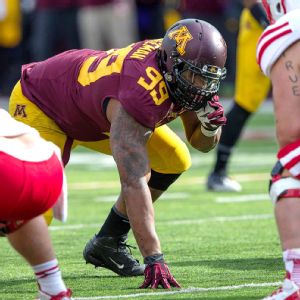 Jesse Johnson/USA TODAY SportsMinnesota defensive lineman Ra'Shede Hageman is on the radar of the Falcons, who feel he can fit into any defensive scheme.
Last week, they conducted a private workout with Minnesota defensive lineman
Ra'Shede Hageman
, according to league source. Hageman was on the North team coached by the Falcons at this year's Senior Bowl. He spent a lot of time with new Falcons defensive line coach
Bryan Cox
.
During the Senior Bowl week, Falcons head coach
Mike Smith
raved about how Hageman had the talent to play in any defensive scheme. With the Falcons moving toward a 3-4-based setup, Hageman could project as a defensive end in such a system. Some experts say he's too tall, a 6-foot-6 and 310 pounds, to play defensive tackle in a 4-3 scheme.
Whatever the case, Cox certainly took an interest in Hageman at the Senior Bowl. At one point, he rode Hageman about running behind for a meeting with a team. Cox's tough love symbolized the potential he sees in the talented linemen.
Hageman, who has drawn comparisons to
John Henderson
, has been projected as a late first- or early second-round pick. The Falcons seem destined to address their need for either an offensive tackle or pass rusher if they keep the sixth overall pick. They own the fifth pick (37th overall) in the second round. It makes you wonder if they might consider Hageman if he's still on the board by then, although safety is likely to be a more pressing need if one doesn't fall out of the sky soon.
Getting bigger and tougher up front has been the Falcons' theme this offseason. On the defensive side, it meant the additions of nose tackle
Paul Soliai
and run-stuffing defensive end
Tyson Jackson
. If
Corey Peters
isn't recovered from an Achilles' injury by the start of the season, the Falcons could need another young body up front at the other defensive end spot.
Hageman, a converted tight end, still is viewed as a raw talent although he'll enter the league as a 24-year-old rookie. Skeptics say he gets stood up too many times at the line of scrimmage.
Hageman comes from a rough background, having bounced around foster homes before being adopted, as detailed in
this excellent piece
written by ESPN's Adam Rittenberg.