Atlanta Falcons:

Steve Smith
December, 26, 2013
12/26/13
10:00
AM ET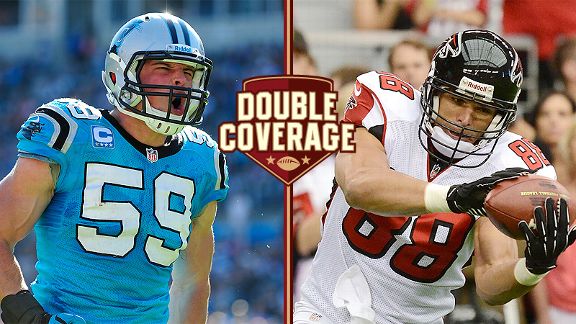 Getty ImagesLuke Kuechly and the Panthers will try to spoil the final game for the Falcons' Tony Gonzalez.
There should be plenty of electricity inside the Georgia Dome when the
Atlanta Falcons
close their season against the
Carolina Panthers
on Sunday. It will mark the final time
Tony Gonzalez
suits up in his No. 88 jersey, the final time the 17-year veteran walks out of the locker room with his teammates, set to do battle.
The Falcons (4-11) are sure to do everything possible to make sure Gonzalez's last NFL game is a memorable one, including a likely tribute of some sort. Could ruining the Panthers' NFC South title chances be a part of the Falcons' festivities?
ESPN.com Falcons reporter Vaughn McClure and Panthers reporter David Newton break down the matchup.
McClure:
David, I'm sure the Panthers (11-4) are aware that this is Gonzalez's last NFL game. Earlier in the season, Seahawks cornerback
Richard Sherman
exchanged jerseys with him, knowing that it would be the final time he'd see Gonzalez on the field. Which player from Carolina would be most likely to follow Sherman's lead with such a swap?
Newton:
I'm going with wide receiver
Steve Smith
. He has swapped items with a few players already this season and at this stage of his career. Besides, Smith won't need his own jersey; he's doubtful to play because of a sprained knee.
I suspect the Panthers will be more worried about covering Gonzalez than being nostalgic. He lit them up in the first half of the teams' first meeting before they adjusted coverage to shut him down. It's amazing that at 37 years old he's still a player teams have to plan for. Look for him to get a heavy dose of linebacker
Luke Kuechly
again.
A year ago, a Carolina team with nothing to play for beat Atlanta soundly in Charlotte late in the season, perhaps dulling some of the Falcons' momentum going into the playoffs. Are the Falcons hungry to play the spoiler, or just play out the string?
McClure:
I think they're just trying to finish up the season unscathed and build toward next year. Coach Mike Smith has started nearly a full-fledged youth movement. In a Week 15 win over the
Washington Redskins
, nine players in the starting lineup were either rookies or second-year players. Smith contends that the Falcons aren't worried about draft positioning and are more concerned with winning games. At the same time, I'm sure they don't want to fall out of the top five in the draft order; they stand at No. 6 right now. Whatever the case, Smith's job is secure going into next season.
I know there had been some talk before about Ron Rivera's status, but he has no doubt silenced his critics, correct?
Newton:
Rivera has pretty much slammed the door on his critics. If he doesn't get an extension out of this, it will be a shame. I've been really impressed with the way he remained the same during this hot streak to close the season as he was during a 1-3 start. That consistency, that unwillingness to waver from what he believed was the right way to build this team, is why the Panthers are in the position they're in.
He is indeed a players' coach. He doesn't ask anybody to do anything on the field that he wouldn't have done himself as a player. The biggest change since the season began is in his philosophy on fourth down. He has gone for it so many times that he's earned the nickname "Riverboat Ron." But most of that is more calculated than you'd think, and it has a lot to do with believing in what his players can do.
You mentioned Smith being solid in Atlanta, but there obviously needs to be some changes in personnel to shore up that defense during the offseason, right?
McClure:
Correct. The first changes I anticipate are among the coaching staff, likely first on the defensive side. Once those coaching changes are made, the Falcons can identify where they are going with their schemes and identify which players make the best fit. Obviously, they need help along the offensive and defensive lines, and having a high draft pick helps the cause. I wouldn't be surprised to see them go after a linebacker in free agency and maybe try to add an elusive running back to the mix. Safety also is an area that needs to be addressed. And if the Falcons aren't fully confident in rookie
Levine Toilolo
as Gonzalez's replacement, they need to target another tight end.
I think the Panthers showed this year that they can compete with anyone, but what will it take to get them to the next level in terms of consistently being among the NFC's top teams?
Newton:
They may be there now, but there are a few pieces that must be addressed after the offseason. Steve Smith isn't getting any younger, and No. 2 receiver
Brandon LaFell
is unsigned. The secondary, despite its rank, could use a shutdown corner. And a decision on re-signing left tackle
Jordan Gross
must be made.
Otherwise, you have a strong nucleus in 2011 Offensive Rookie of the Year
Cam Newton
at quarterback; Kuechly, the 2012 Defensive Rookie of the Year, at linebacker; and 2013 candidate
Star Lotulelei
at defensive tackle. General manager Dave Gettleman has done a good job of clearing cap room to re-sign key players and add needed pieces. I'd say it's more a matter of fine-tuning at this point.
November, 5, 2013
11/05/13
10:35
AM ET
Some wondered how
Atlanta Falcons
rookie
Desmond Trufant
would react to any trash talking from volatile
Carolina Panthers
wide receiver
Steve Smith
.
Well, guess what? Smith indeed had something to say to Trufant during the Panthers' 34-10 win over the Falcons this past Sunday.
"I told him early in the game that I respected his brothers and I respected him,'' said Smith, referring to the Trufant NFL triad of Desmond, Marcus and Isaiah. "The Trufants are always good. You can tell [Desmond's] brothers have taught him a lot of stuff. He's patient. Getting in and out of breaks, he's very fluid.
"When you have an opportunity like that with your brothers, I think that's pretty cool. I don't care how old you are, what your statistics are or all that type of stuff, that's always really cool that you have your family's legacy and you're part of that and you're seeing it unfold.''
Marcus Trufant
, now a 32-year-old free agent, was once a Pro Bowl cornerback with the
Seattle Seahawks
, whom the Falcons face this Sunday.
Isaiah Trufant
, 30, is a reserve cornerback and special-teamer for the
New York Jets
who faced his little brother during the Falcons-Jets matchup in Week 5.
Desmond Trufant, this year's first-round draft pick, is coming into his own with the Falcons and recorded his first career interception against the Panthers. His continued development will be crucial during the second half of the season and heading into next year.
Trufant reflected on the high praise offered by Smith.
"That's what the game is all about: respect,'' Trufant said. "That's what we play for. It's humbling because I've been watching him since I was young. He and my brother [Marcus] used to go at it all the time. That's just very humbling.''
In terms of Sunday's game, there appeared to be a heated exchange involving Trufant. Smith made sure to clarify the matter.
"That wasn't me,'' Smith said. "That was [Domenik] Hixon that was talking to him. I don't want to say ... you've got to ask Hixon about that one.''
Trufant was asked about what Hixon said.
"Man, it's just between the lines,'' Trufant said. "I don't want to even think about that because I was kind of hot about it.''