Atlanta Falcons:

Terry Robiskie
October, 24, 2013
10/24/13
8:45
PM ET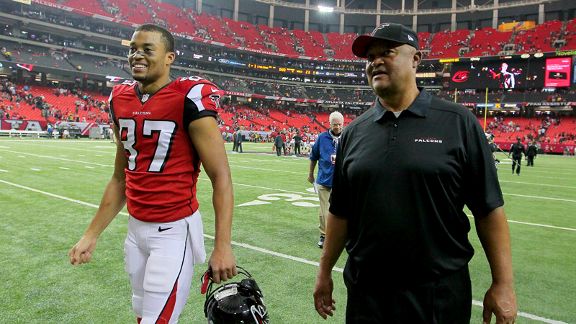 Todd Kirkland/Icon SMIBrian Robiskie and Terry Robiskie enjoyed their first game together, a Falcons victory.
FLOWERY BRANCH, Ga. -- If there was one thing Terry Robiskie always preached to his oldest son, Brian, it was not to worry about being pretty.
The advice had nothing to do with time spent in front of mirror or inside a high-end department store. It had everything to do with the manner in which the elder Robiskie, the
Atlanta Falcons
' assistant head coach, viewed the change in attitude for wide receivers over the years.
"These guys coming out of college now, they're always trying to worry about how they look," said Terry Robiskie, who works with the Falcons' receivers. "They always have their gloves on. They have their high stockings. Some of them have the white sleeves on. And when they run their routes, they run them to be pretty.
"I'm not concerned with you looking pretty. I'm concerned with you playing fast and making a play. I don't care how dirty and ugly and bad you look. But do it fast, and go make a play."
It the past, Terry Robiskie's only method of reiterating those words to his son was via telephone. He never coached Brian at any level and didn't try to intervene with his son's coaches.
[+] Enlarge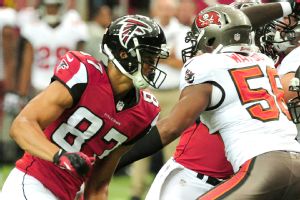 Scott Cunningham/Getty ImagesBrian Robiskie played mostly on special teams during his Falcons debut.
So when Brian, a former second-round pick of the
Cleveland Browns
in 2009, joined the Falcons' receiving corps on Oct. 10, you could imagine the feeling that trickled down the father's spine.
"It's a good feeling -- a great feeling -- being able to coach your son," Terry said. "I'm going to enjoy it. I'm going to have a great time with it.
"I was able to sit and watch him all those years and call him and say, 'Hey, you did this wrong. This was nice. This was wrong.' Now I've got a chance to stand up next to him and say, 'Do it this way, don't do it that way.' We just have to see if we can carry it over into the game."
Brian Robiskie
saw his first action for the Falcons last week with two snaps on offense and 11 on special teams. He didn't catch pass in his Falcons debut, but he was targeted once in the end zone.
It remains unclear if he'll have an increased role on offense Sunday at Arizona. But the 25-year-old already has made an impression on special teams, head coach Mike Smith said.
No matter how the remainder of the season unfolds, Brian Robiskie is sure to relish the experience of working alongside his father. He already appreciates the tough love given to him throughout the years.
"I remember one time in high school, I had like 10 catches in a game my junior year," Brian Robiskie recalled. "I thought I played well. My dad got the tape and looked at it and didn't like how I was blocking. He took me out the next day, found a field, and we were out there doing blocking drills until 10 p.m.
"I enjoy him all the time. I've got a dad who is coaching football, so he understands everything I'm going through."
It's no surprise who Brian turned to during the difficult times in his short NFL career. He came to the NFL with great promise out of Ohio State but didn't fulfill those expectations. His stint with the Browns lasted 31 games before he got released. He had a short stay in Jacksonville when current Falcons offensive coordinator Dirk Koetter orchestrated the Jaguars' offense, but Robiskie never appeared in a regular-season game while there.
"

It's a good feeling -- a great feeling -- being able to coach your son. I'm going to enjoy it. I'm going to have a great time with it.

"

-- Terry Robiskie
Last season, Brian played in six games for Detroit and even caught a pass in front of his father when the Falcons beat the Lions, 31-18. But he was released twice by the Lions this past offseason.
"My dad just told me to control the things I could control," Brian said. "That was something I didn't really understand at first. But there are only so many things you can do. And the end of the day, you have to just do your job."
Although the younger Robiskie made no excuses for why his NFL career hasn't panned out thus far, the father had no problem speaking up on his son's behalf.
"As you've watched over the years, I think Cleveland has gone through a lot of changes and a lot of things have happened," said Terry Robiskie, once the interim head coach for the Browns (2004). "I think sometimes, kids just end up in situations where you don't really get to jell. They ended up taking a quarterback -- Colt [McCoy, in 2010]. Then we went on strike. They had the lockout [in 2011]. Next thing you know, they're all down in Texas just kind of throwing the ball around. And everybody thinks that's football. It's not organized football. They never jelled.
"I thought Brian had a pretty good stint for Jacksonville. But Jacksonville, at that particular time, had a lot of money tied up in their receiver spots. I think he was going to be No. 5 or No. 6. Unfortunately, they had a guy they liked better on special teams. So he went to Detroit, and I thought he did well. Then unfortunately this summer, he was in the weight room doing some benching and he hurts his back. And lo and behold, they say it's going to be an eight-week injury, so Detroit decided to let him go."
Season-ending foot surgery for
Julio Jones
and lingering hamstring and ankle injuries to
Roddy White
have given Brian Robiskie a chance to stick with the Falcons. The father vowed not to be partial toward his son, despite the circumstances. In fact, he stopped and yelled at his son during their first practice together.
"It might be a different deal that I'm coaching a kid named Brian Robiskie," Terry Robiskie said, "but I tell people all the time that Roddy White isn't Roddy White and Julio Jones isn't Julio Jones. Roddy is Roddy Robiskie. Julio is Julio Robiskie.
Harry Douglas
is Harry Robiskie.
"All my guys that I coach, I coach them the same. I think the difference is with this one, I'm sleeping next to his mom."
October, 16, 2013
10/16/13
8:30
PM ET
Atlanta Falcons
assistant head coach Terry Robiskie, who works with the wide receivers, wants to make something clear: There is no way to replace
Julio Jones
.
Jones
In Robiskie's mind, no one is even close to Jones in terms of being an explosive deep threat.
"I can say it to you -- and it's just my opinion because I coach him -- but I don't know if
Calvin Johnson
could replace Julio Jones," Robiskie said in an interview Wednesday. "You're talking about a vertical, explosive guy who ... Julio moves the earth when he runs. People don't realize that. When Julio passes by you, the ground is shaking."
Jones was grounded the last time the Falcons played when he suffered a second fracture in his right foot, resulting in season-ending surgery. Robiskie has been in constant contact with his top receiver trying to keep Jones' spirits up.
"I told him when he got hurt in the game, I was standing right next to him and felt his pain," Robiskie said. "As he went in for surgery, from my playing days I've had nine surgeries, so I told him, 'I know what it feels like to be laying in the bed. If you need me, I'll come lay with you.' That certainly raised his spirits."
Robiskie emphasized how no one -- not even his own son, Brian, who was signed by the team last week -- will be expected to come in a fill the void left by Jones. Before the injury, Jones led the Falcons with 41 catches for 580 yards and two touchdowns.
"That's power, that's speed, that's explosion," Robiskie said of Jones. "I love Calvin [Johnson]. I coached Calvin in the Pro Bowl. But the only guy I've ever been close to that's powerful and explosive like Julio Jones is a guy named Bo Jackson. And I coached Bo for about three, four years with the Raiders. Bo, that's the only other guy that I've been around when he passes you, the earth was shaking and the breeze went by. You knew Bo just passed you.
"For me, Julio is the same guy. So the fans who are out there saying, 'How are you going to replace Julio?' Tell them I won't. Not only will I not replace him this week and next week and this season, I probably won't replace him in my lifetime."
October, 9, 2013
10/09/13
8:40
PM ET
Following the loss of top receiver
Julio Jones
to season-ending foot surgery, the
Atlanta Falcons
have agreed to terms with free-agent receiver
Brian Robiskie
on a one-year contract, a league source confirmed to ESPN.com.
Robiskie
The 6-foot-4, 212-pound Robiskie has the size to fill the role of a big receiver. He was a second-round pick of the
Cleveland Browns
in 2009 following a stellar career at Ohio State. Robiskie started 14 games in three seasons with the Browns. He then spent time with Jacksonville, and last season played in six games for Detroit.
Robiskie has 43 career receptions for 485 yards and four touchdowns. His longest reception was a 46-yard touchdown with the Browns. The Falcons became accustomed to such explosive-type plays with Jones.
Jones is scheduled to have surgery Monday, and will be placed on season-ending injured reserve. Robiskie will fill Jones' roster spot.
Robiskie is the son of Falcons assistant head coach Terry Robiskie, who works with the wide receivers.