Atlanta Falcons:

Thomas DeCoud
March, 11, 2014
3/11/14
5:45
PM ET
It was clear from the outset how the
Atlanta Falcons
wanted to approach free agency: Get stronger up front.
The offensive and defensive lines struggled miserably last season. So if money was going to be spent on free agents, it was bound to be spent on offensive and defensive linemen, not safeties or tight ends.
Such was the case when the Falcons agreed to terms with defensive linemen
Paul Soliai
and
Tyson Jackson
, and offensive guard
Jon Asamoah
.
Soliai
Asamoah
Starting with Soliai, the Falcons rewarded the big nose tackle with a five-year contract with a max value of $33 million with $14 million guaranteed, according to a source familiar with the negotiations. The 6-foot-4, 340-pound Soliai immediately becomes the Falcons' most intimidating defensive lineman. And he'll be counted upon to take on double teams and pave the way for the linebackers to make plays with the Falcons expected to move toward more of a 3-4-based scheme.
Jackson (6-4, 296) will be a key figure up front, too. The former third-overall pick in 2009 was drafted by Falcons assistant general manager Scott Pioli when Pioli was the Chiefs' general manager. Jackson reportedly received a five-year deal worth a max of $25 million.
And Asamoah, who also agreed to a five-year deal (financial terms were not immediately available), might be the guy with the biggest burden to carry. The offensive line has been horrendous, allowing
Matt Ryan
to be the league's most pressured quarterback last season. The Falcons hope Asamoah steps in at right guard and develops into a stabilizing force. He is known for his pass protection and should be able to provide support as a run-blocker.
"Jon is a physical, experienced offensive lineman that will add a veteran presence to our offensive line," Falcons coach Mike Smith said about Asamoah.
The Falcons got it right. They addressed the most pressing needs from the outside and also re-signed two other key figures in center
Joe Hawley
and defensive tackle
Jonathan Babineaux
. Hawley should start in the middle with Asamoah and left guard
Justin Blalock
next to him. Babineaux should add depth to the defensive line rotation.
It all could equal a climb back to the top for the Falcons, although other aspects still need to take shape. The release of former Pro Bowl free safety
Thomas DeCoud
means the Falcons have to find a capable replacement next to strong safety
William Moore
. There is still a void at tight end with
Tony Gonzalez
retiring, although
Levine Toilolo
will be counted upon to elevate his game.
More importantly, the Falcons need to look at adding an offensive tackle and pass-rusher, maybe through the draft. The names that immediately come to mind are Auburn offensive tackle
Greg Robinson
, Texas A&M offensive tackle
Jake Matthews
, Michigan offensive tackle
Taylor Lewan
and Buffalo outside linebacker
Khalil Mack
. Right now, the Falcons hold the sixth-overall pick in the draft.
It will make for some interesting decisions to come. But for now, the Falcons made the right choice.
"We were focused on adding pieces along our offensive and defensive lines, and I feel we were able to accomplish that today," general manager Thomas Dimitroff said.
Certainly the Falcons have much more to accomplish.
December, 16, 2013
12/16/13
3:50
PM ET
FLOWERY BRANCH, Ga. --
Atlanta Falcons
coach Mike Smith sounded cautiously optimistic about the knee injury suffered by linebacker
Sean Weatherspoon
, and expects free safety
Thomas DeCoud
back in the lineup off a concussion.
DeCoud
Weatherspoon
Weatherspoon injured his knee in Sunday's 27-26 win against the
Washington Redskins
. It remains unclear whether it is the same knee injury that landed him on the injury report prior to the Green Bay game.
"I do not have an update on Sean," Smith said Monday. "We met this morning, and there was no update. I anticipate that if there's anything that you guys need to know, we'll let you know. If not, (then) on Wednesday, we'll see where he's at. (I) believe that he'll be ready to go at some point in time this week."
The Falcons next play Dec. 23 at San Francisco on ESPN's "Monday Night Football."
If Weatherspoon is unable to go,
Stephen Nicholas
would return to the starting lineup alongside rookies
Paul Worrilow
and
Joplo Bartu
. Nicholas had five tackles and a forced fumble after Weatherspoon left Sunday's game.
As for DeCoud, he missed the Redskins game after suffering a concussion against Green Bay. DeCoud stood on the sideline Sunday.
"Thomas will go to the next step in the protocol," Smith said. "He will be participating in practice on Wednesday, but it will be non-contact. We're anticipating that we'll have Thomas back, barring any setbacks in practice."
Smith reiterated his stance from last week about not having any intentions of shutting DeCoud down for the season.
"The doctors will make that decision based on what they say," Smith said. "If they have cleared him to go out and play, we need to have Thomas out there on the field. It gives us the best chance to win."
The Falcons went with rookie seventh-round pick
Zeke Motta
in place of DeCoud on Sunday, and Motta admitted making a few mistakes in coverage.
"I thought Zeke did some good things," Smith said. "Obviously, as we mentioned, there are some learning opportunities, some learning situations on certain plays. I thought as the game went on, he played much better.
"There at the end of the ball game, I thought that he made some very physical tackles. And it was his first time starting in the National Football League, and he did a good job for us."
December, 15, 2013
12/15/13
11:52
AM ET
ATLANTA -- Tight end
Tony Gonzalez
and wide receiver
Roddy White
are active for the
Atlanta Falcons
, as expected, despite being listed as questionable for Sunday's game against the
Washington Redskins
.
Gonzalez
Gonzalez has been dealing with a nagging toe injury, and White banged up his left knee against the
Green Bay Packers
last Sunday.
Linebacker
Sean Weatherspoon
(shoulder) and safety
Zeke Motta
(hand) are active, also, despite being listed as questionable.
Safety
Thomas DeCoud
(concussion) and running back
Antone Smith
(knee) are inactive. Also inactive: linebacker
Omar Gaither
, tackle
Terren Jones
, tackle
Sean Locklear
, tight end
Chase Coffman
, and defensive tackle
Travian Robertson
.
For the Redskins, quarterback
Robert Griffin III
is inactive, and will be replaced by
Kirk Cousins
. The other inactives: safety
Bacarri Rambo
, cornerback
Chase Minnifield
, linebacker
Brandon Jenkins
, linebacker
Darryl Tapp
, guard Josh LeRibeaus, and tight end
Jordan Reed
.
December, 10, 2013
12/10/13
2:00
PM ET
A weekly examination of the Falcons'
ESPN.com Power Ranking
:
Preseason:
4 |
Last Week:
29 |
ESPN.com Power Ranking since 2002

The Falcons moved down a spot in the ESPN.com Power Rankings, back to No. 30, after Sunday's 22-21 loss to the
Green Bay Packers
at Lambeau Field.
At one point, the Falcons held a 21-10 edge but couldn't keep it despite creating two turnovers leading to touchdowns. They still haven't been able to string together consecutive wins this season after going 13-3 a year ago.
The Falcons did, however, get a chance to give their young players extensive playing time. Rookie cornerback
Robert Alford
played all the snaps at left cornerback after
Asante Samuel
was benched. Rookie right tackle
Ryan Schraeder
finished the game after
Jeremy Trueblood
started. And rookie safety
Zeke Motta
stepped in after
Thomas DeCoud
suffered a concussion.
The youth movement is certain to continue over the final three games as the Falcons try to establish momentum going into next season. At the same time, some of the veteran players surely want to show they deserve to stick around a little longer.
And from the standpoint of the fans, nothing would be greater than falling to the bottom of the NFL standings to secure the first overall draft pick. The Falcons current stand at the No. 3 position behind the
Houston Texans
and
St. Louis Rams
(via Washington).
December, 9, 2013
12/09/13
5:00
PM ET
FLOWERY BRANCH, Ga. --
Atlanta Falcons
coach Mike Smith said free safety
Thomas DeCoud
is going through concussion protocol after suffering the injury in Sunday's 22-21 loss to the
Green Bay Packers
.
DeCoud
DeCoud was injured while diving at Packers running back
Eddie Lacy
on Lacy's 1-yard touchdown run.
"He'll have to go through a number of steps before he'll be cleared to play, with the first one seeing the independent neurologist," Smith said of DeCoud. "Going through the different stages that they have in place."
If DeCoud is unable to go this week, rookie
Zeke Motta
would step in at safety. Motta played a season-high 55 snaps after replacing DeCoud on Sunday.
Smith also said
Antone Smith
is "day to day" coming off a knee injury. The running back apparently injured his patella while playing special teams and was to have an MRI.
"We do not think it's anything significant," the coach said of Antone Smith's injury. "We anticipate that he'll be able to join us for practices as the week goes on."
Linebacker
Sean Weatherspoon
injured his shoulder but finished Sunday's game.
November, 21, 2013
11/21/13
10:00
AM ET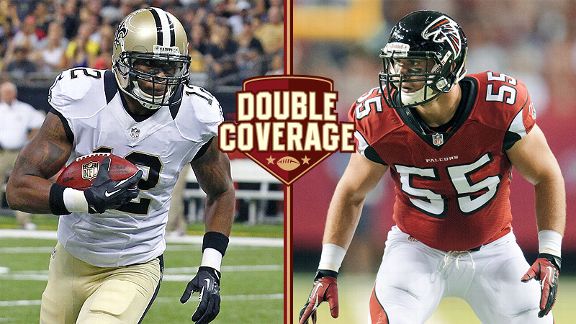 AP PhotoPaul Worrilow, right, and the Falcons defense will try to slow down Marques Colston and the Saints.
Atlanta Falcons
head coach Mike Smith seemed annoyed by the question, but he answered it.
A reporter asked Smith this week if he is concerned about there being more
New Orleans Saints
fans than Falcons fans at the Georgia Dome on Thursday night.
"Absolutely not," Smith said. "Our fans, I think, are the best in the NFL. We've got a great record since we've been here in terms of winning football games. They've been very supportive. I know that they are disappointed and they are discouraged, but there's nobody more disappointed and discouraged … than us here in this building and on this football team.
"We certainly hope that they'll be out there supporting us this week. It's a big division game."
The matchup would be much more intriguing if the 2-8 Falcons were on pace with the 8-2 Saints. But that's a far-fetched scenario now.
ESPN.com Falcons reporter Vaughn McClure and Saints reporter Mike Triplett break down the NFC South clash:
McClure
: Hey Mike, I know the Saints hold a decisive edge going into this game, but this is quite a rivalry and there is much hatred between the teams. Did any of the players give any specific examples of the bad blood that exists when these rivals collide?
Triplett
: No one really mentioned bad blood, but we know it exists from past examples. And no one denies the passion that exists in these annual matchups, even on these rare occasions when one of the teams is out of the playoff race. A few Saints players compared it to a college rivalry, like Stanford-Cal, insisting that the records don't matter when they square off. I think they'd also like to exorcise a few demons from their ugly Thursday night performance at Atlanta last season, so the Falcons shouldn't cling to any hopes that this might be some sort of trap game for New Orleans.
Vaughn, I haven't watched the Falcons too closely this season, but I keep being surprised that the hole gets deeper and deeper (especially after last week's loss to the
Tampa Bay Buccaneers
). Any signs that they're close to putting things together?
McClure
: I don't see the Falcons rebounding this season, not with the Saints,
San Francisco 49ers
,
Green Bay Packers
and
Carolina Panthers
still left on the schedule. They have to start building momentum for next season. I believe Coach Smith has already started the process by giving players such as center
Joe Hawley
, running back
Antone Smith
, tackle
Ryan Schraeder
and safety
Zeke Motta
more playing time. I wouldn't say that the Falcons are tanking it for a draft pick, but having a top-five selection has to be in their minds.
Smith talked about looking at scheme in terms of turning things around. I could see the Falcons running the ball more to balance out the offense. And defensively, they have to consider dialing up more blitzes to generate pressure, because the front four is not getting it done. They'll have a tough time contending with
Drew Brees
. Certainly Brees is itching for the opportunity to pick the Falcons apart, correct?
Triplett
: Yes, Brees should be the Falcons' biggest concern, as usual. He's playing about as well as ever. Even when he hasn't been dominant throughout games, he's been clutch in the fourth quarter. And he's as competitive as it gets, so he certainly hasn't forgotten his shockingly bad performance at Atlanta last season (five interceptions).
I'm not sure it would do much good to blitz Brees. Three of his biggest throws this past week came when the 49ers blitzed. The best formula for slowing down the Saints passing game has been getting physical with receivers at the line of scrimmage to disrupt routes and playing solid man coverage.
The best news for Atlanta is that
Jimmy Graham
and
Darren Sproles
are both a little banged up (Sproles' status is questionable). How will the Falcons match up against Graham in coverage?
McClure
: In watching the last game between the teams, I saw at least three different defenders try to match up with Graham, and Graham had no problem going up against Falcons safety
Thomas DeCoud
. In fact, Graham scored a 7-yard touchdown after DeCoud was late getting over in coverage. It will be hard to match up one-on-one against a player as talented as Graham -- no matter if his foot and elbow are still bothering him -- so I could see some bracket coverage. But I will mention that linebacker
Sean Weatherspoon
, who just returned to the lineup from a Lisfranc foot sprain, did an excellent job covering Graham on at least one play in Week 1. And I saw Weatherspoon working hard last week on his coverage skills coming off the injury.
Mike, I see the Saints lost cornerback
Jabari Greer
for the season with a torn ACL. The Falcons have
Roddy White
back somewhat healthy and have gotten great production from
Harry Douglas
. How will Greer's absence affect the Saints in terms of defending a capable receiving corps?
Triplett
: That's a great question, because the Saints' play at cornerback has really been one of the underrated reasons for their success this season. Their top corner has been
Keenan Lewis
, who is playing at a Pro Bowl level and generally shadows the opponent's top receiver. But Greer has been very reliable as the other starter, allowing the Saints to trust those guys in single coverage quite a bit.
The Saints have decent depth behind Greer. They're going to be counting on second-year cornerback
Corey White
, who has shown a lot of promise but will likely face a few growing pains. His performance will be worth watching, because I'm sure the Falcons will test him out. Of course, it helps the Saints that they don't have
Julio Jones
to deal with, so they won't feel too sorry for themselves.
November, 21, 2013
11/21/13
8:00
AM ET
FLOWERY BRANCH, Ga. -- The NFC South clash between the
Atlanta Falcons
and
New Orleans Saints
won't carry the same significance, with the 2-8 Falcons having a down year. But the battle is sure to be spirited regardless of records.
Here's what to watch for on Thursday night:
[+] Enlarge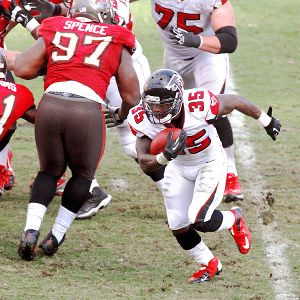 AP Photo/Reinhold MatayThe Falcons are looking to give Antone Smith more work after he ran for 88 yards on just two carries last week.
Schraeder's time?
Garrett Reynolds
is expected to regain his starting role at right guard after being benched last week while
Peter Konz
talked as if he has been replaced by
Joe Hawley
at center for the immediate future. But the interesting spot to watch on the Falcons offensive line is at right tackle, where
Ryan Schraeder
,
Jeremy Trueblood
, and newcomer
Sean Locklear
all got first-team snaps this week. Trueblood got benched for Schraeder last week while Locklear was inactive. One of the players seems destined to be inactive Thursday, but it would make sense for the Falcons to get a longer look at the rookie Schraeder. "I feel comfortable," Schraeder said. "I'm ready to go, if I need to be called on." He played 22 offensive snaps in the last game. "I got some positive feedback," Schraeder said. "Got coached up on a few things."
Free spirit
: Pro Bowl free safety
Thomas DeCoud
admitted he's not playing his best football right now. At the same time, he didn't appreciate all the blame being pointed his way and vented through social media about it. DeCoud has been nothing but a true professional in terms of dealing with the media, so one would expect him to handle this adversity in the same manner. He won't lose his starting job this week, but the Falcons need him to defend the deep ball better. How soon people forget that DeCoud scored the last defensive touchdown for the Falcons with a 30-yard return of a fumble recovery against the Buccaneers in Week 7.
Pressure point
: Speaking of the defense, DeCoud scored his touchdown a result of a perfectly timed blitz by himself and fellow safety
William Moore
. In fact, the high amount of blitzes dialed up by defensive coordinator Mike Nolan was a big factor in the Falcons' last win. Would the same work against
Drew Brees
and the Saints? Maybe not. According to ESPN Statistics and Information, Brees completed 8 of 9 passes for 148 yards and a touchdown in Week 1 when the Falcons sent five or more pass rushers.
In the running
: Mike Smith has said it was imperative to get
Antone Smith
more involved in the running game after Smith broke off a 50-yard touchdown run last week and gained 88 yards on two carries. That statement came a week after the Falcons said they needed to work their workhorse
Steven Jackson
more often. That's not to say that Smith will surpass Jackson as the primary ball carrier, but it will be interesting to see how the Falcons deploy Smith against the Saints.
Jacquizz Rodgers
was limited in practice with an ankle injury and
Jason Snelling
is in the doghouse following a marijuana arrest, so there will be opportunities for Smith. Plus the 5-foot-9, 192-pound special-teams ace Smith has the right approach. "I feel like I'm playing for a job every time I step in the building," he said.
Ryan's hope
: Rob Ryan obviously has made an impact. The Saints had the worst defense in league history in terms of yards allowed last season. Now with Ryan coordinating the defense, the Saints boast the league's fourth-best total defense and third-best passing defense. Ryan comes at you with a variety of different looks, which will test Falcons offensive coordinator Dirk Koetter's game plan. "He's really good at mixing his personnel groups," Koetter said of Ryan. "Some of how he mixes his groups is determined by the health of his guys. Whoever he's got up on game day, he uses all of his guys." The Saints lost top cornerback
Jabari Greer
to an ACL injury, which could benefit the Falcons.
October, 28, 2013
10/28/13
2:00
PM ET
GLENDALE, Ariz. -- A review of five hot issues from the
Atlanta Falcons
'
27-13 loss
to the
Arizona Cardinals
:
[+] Enlarge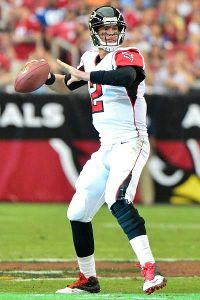 Matt Kartozian/USA TODAY SportsFalcons QB Matt Ryan spent much of Sunday's game trying to avoid being hit by Cardinals defenders.
Big problem:
The Falcons' defense continues to give up big plays, surrendering a backbreaking, 80-yard touchdown run to speedy Cardinals rookie running back
Andre Ellington
. Defensive tackle
Corey Peters
and linebacker
Paul Worrilow
missed the initial opportunity to bring Ellington down up the middle. Then Ellington bounced outside and sprinted by linebacker
Joplo Bartu
and safety
Thomas DeCoud
. Safety
William Moore
, who was on the other side of the play, tried to explain what happened. "Leverage is the name of the game," Moore said. "One person misses their leverage and some more people have to come put their hats on the ball. He got outside the defense, and that's going to happen nine times out of 10 when he gets outside. ... That's one of those plays where everybody could have gotten to the ball a little better." The Falcons have surrendered 11 plays of 40-plus yards this season.
No pointing fingers:
Although quarterback
Matt Ryan
could have used much better protection -- he was sacked four times and hit 11 times -- no one in the locker room said the offensive line needed to do a better job protecting. Wide receiver
Harry Douglas
even seemed to take offense when it was implied that the offensive line didn't do its job. "I'm not singling anybody out," Douglas said. "We win as a team. We lose as a team. We glorify each other as a team. And we're going to fix it as a team. I think everybody across the board -- offense, defense and special teams -- we all could have did something better to win this football game and step up."
Top target:
Speaking of Douglas, he finished with another stellar effort in the loss, catching 12 passes for 121 yards. He was targeted a team-high 18 times. The effort came a week after Douglas posted a career-high 149 receiving yards against Tampa Bay. With
Julio Jones
out for the season following foot surgery and
Roddy White
missing his second straight game due to hamstring and ankle injuries, Ryan looked to Douglas often. The Falcons need Douglas to continue that production when White returns to the lineup.
Drew Davis
, who had a career day versus the Cardinals with five catches for 77 yards and a touchdown, also could be a key part of the equation when White returns.
Tight spot:
Tony Gonzalez
caught three passes for 26 yards to extend his streak of consecutive games with a catch to 202. But all the talk over the next two days will likely relate to whether the Falcons might consider trading Gonzalez to a contender so he can have the chance to retire with a Super Bowl ring. Gonzalez maintains he wants to finish things out in Atlanta, but he's obviously frustrated by the team's 2-5 mark. Ryan was asked if he talked to Gonzalez following Sunday's game. "Talked to him briefly and same as after we lost in the past," Ryan said. "I think everybody takes it personal. He certainly does, and I do. I think the message across the board is that we just have to get back to work."
Rotating line:
When defensive coordinator Mike Nolan addresses the media on Tuesday, he's sure to be asked about his defensive line rotation. Against the Cardinals, veteran starters
Osi Umenyiora
and
Jonathan Babineaux
were pulled from the lineup on a few series, including when Ellington broke loose on that 80-yard touchdown run.
Cliff Matthews
and
Peria Jerry
were on the field with Peters and
Jonathan Massaquoi
. Babineaux said it was just the rotation that was decided upon. We'll see how that rotation pans out for the remainder of the season.
October, 5, 2013
10/05/13
10:15
AM ET
FLOWERY BRANCH, Ga. -- On Thursday, NFL commissioner Roger Goodell sent out a letter to fans emphasizing the league's safety programs as concussions continue to be a hot topic. In the letter, he talked about rules changes made through the decades to increase the protection for defenseless players.
DeCoud
Moore
If the league is indeed dissecting hits closer these days, then
Atlanta Falcons
safeties
William Moore
and
Thomas DeCoud
felt the effects of that increased scrutiny this week.
Both Moore and DeCoud were fined $15,750 each for plays in last week's 30-23 loss to the Patriots. Moore was fined for unnecessarily striking defenseless Patriots receiver
Kenbrell Thompkins
in the head with his forearm, which resulted in a 15-yard penalty. Moore seems likely to appeal after publicly denying he did anything wrong and explaining how he tried to make the hit "as legal as I could" based on his momentum.
DeCoud was fined for hitting Patriots receiver
Aaron Dobson
in the end zone. DeCoud was not penalized, as he lowered his shoulder and caused Dobson's head and neck to bend awkwardly. It appeared DeCoud was simply trying to make a play, not swarm in for a head shot. Dobson has been limited in practice this week and his status for the Patriots' game on Sunday is in question.
In terms of his fine, DeCoud never mentioned it this week. But he had plenty to say about the play involving Moore.
"That was a little bit questionable,'' DeCoud said. "It didn't seem to me like he really made contact with the guy's head or that there was any malicious intent in his attempt to hit him. But the front office, they saw it a different way.''
No doubt the players will continue to differ with the league about legal and illegal hits. Some have gone as far as to say the NFL is turning into flag football. Whatever the case, the rules are the rules.
Moore might have been one of the first players to be docked pay as a result of a newly implemented rule. He was fined $21,000 after Week 1 against the Saints for initiating contact with the crown of his helmet. Moore was not penalized.
The fallout surrounding that rule mostly related to running backs lowering their heads to run over defenders. But the rule, of course, applies to defensive players as well.
Since Moore has been fined at least twice already this season, one has to wonder if he might tone down his hard-hitting style a tad to avoid penalties and fines. He leads the Falcons with 39 tackles.
"The kind of football player he is and the kind of competitor he is, you can't just turn off the way you naturally play the game,'' DeCoud said of Moore. "You can be more mindful of it, but it's not going to happen overnight.''