Atlanta Falcons:

Zeke Motta
May, 17, 2014
5/17/14
11:45
AM ET
There appears to be some doubt about
Atlanta Falcons
safety
Zeke Motta
's playing status this season as he continues to recover from neck surgery.
Motta
Although Falcons coach Mike Smith wouldn't rule out Motta for 2014, Smith did indicate extra precautions are being taken with the second-year player.
"I know that he hasn't been cleared at this point in time," Smith said Friday. "I know that he has a scan. And right now, we're projecting that he's not going to participate in any of the offseason program. We're targeting, like a couple of our players, training camp."
Motta underwent surgery Dec. 22 after suffering a cervical fracture at C1 against the
Green Bay Packers
on Dec. 8. An indication of his toughness was the fact that he played through the injury the very next week against the
Washington Redskins
-- his first NFL start. Motta replaced then-starter
Thomas DeCoud
(concussion) and had five tackles while playing all 68 snaps.
Smith indicated Motta's injury flared up in practice, which resulted in the surgery. The initial recovery time was supposed to be four-to-six weeks. Obviously, the severity of the injury wasn't exactly known at that particular time.
Motta, a former seventh-round draft pick from Notre Dame, was expected to be more of a special-teams contributor than a regular in the defensive rotation. But the lack of depth and consistency at the safety position alongside former Pro Bowler
William Moore
increased Motta's value as a tough guy who could tackle.
If Motta is unable to play this season, the Falcons will rely on rookie
Dez Southward
and second-year player
Kemal Ishmael
for depth behind Moore and likely starting free safety
Dwight Lowery
, a veteran newcomer.
Southward, the third-round draft pick from Wisconsin, has an opportunity to contribute immediately if he lives up to the promise the Falcons see in him.
"The more intelligent thing to do is look at it as a situation where I don't care about the depth, it's more so about me," Southward said. "It doesn't matter what the depth chart looks like if I'm not good enough to play. So I pride myself in trying to work every single day to get better. And hopefully, I'll fill in some of the pieces to the puzzle. If not, I'll continue to work until I get there."
Besides Motta, the Falcons also are being extra cautious with wide receiver Julio Jones (foot surgery), defensive lineman Corey Peters (Achilles' surgery), and linebacker Sean Weatherspoon (knee sprain). Outside linebacker Kroy Biermann (Achilles' tear) also is coming off a major injury.
Starting left tackle Sam Baker is coming off major knee surgery, but Baker recently told ESPN.com he was set to be cleared for full activity.
December, 26, 2013
12/26/13
3:40
PM ET
FLOWERY BRANCH, Ga. -- The
Atlanta Falcons
officially placed starting defensive tackle
Corey Peters
on injured reserve Thursday, three days after Peters suffered an Achilles' injury against the
San Francisco 49ers
.
Peters, who is set to become an unrestricted free agent, finished the season with five sacks, including one against the 49ers. He now faces six to eight months of recovery.
The Falcons elevated rookie defensive tackle Adam Replogle from the practice squad to replace Peters on the 53-man roster.
In another roster move, the Falcons elevated rookie safety Sean Baker from the practice squad to take the place of
Zeke Motta
.
Motta, seventh-round draft pick from Notre Dame, underwent season-ending neck surgery last Sunday. It will take Motta four to six weeks to recover from the surgery.
December, 23, 2013
12/23/13
7:39
PM ET
Atlanta Falcons
linebacker
Sean Weatherspoon
, who injured his right knee in last week's win over Washington, is inactive for Monday night's game against the
San Francisco 49ers
.

Weatherspoon didn't practice all week leading up to the game and was listed as questionable on the final injury report. Without Weatherspoon, the Falcons will turn to
Stephen Nicholas
as the third linebacker in the base defense, alongside rookies
Paul Worrilow
and
Joplo Bartu
.
Rookie safety
Zeke Motta
, who injured his neck in practice last week, also is inactive after making his first career start last week. Veteran free safety
Thomas DeCoud
is back in the starting lineup after missing last week with a concussion.
Also inactive for the Falcons are wide receiver
Darius Johnson
(high-ankle sprain), running back
Josh Vaughan
, tackle
Terren Jones
, tackle
Sean Locklear
, and defensive tackle
Travian Robertson
.
December, 15, 2013
12/15/13
7:40
PM ET
ATLANTA -- It seemed only fitting that
Atlanta Falcons
rookie cornerback
Desmond Trufant
tipped away a gutsy two-point conversion attempt by the
Washington Redskins
to preserve Sunday's
27-26 win
.
No matter how the turnover-filled game was dissected, it marked yet another step in the Falcons' youth movement as the organization continues preparation for the future.
True, there are going to be some hiccups along the way, as was evident throughout Sunday's matchup. But the resilience shown by Trufant and some of the other young players to shake off their inconsistent play was an encouraging sign.
"At my position, sometimes you're going to give up some," said Trufant, who was displeased about allowing a touchdown. "That's just the nature of the game. This is the best in the world. You've got to stay mentally strong. You can't get down on yourself because it's a long football game. Like you saw, we can turn it around and make big plays."
[+] Enlarge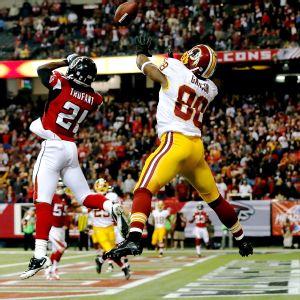 Photo by Kevin C. Cox/Getty ImagesRookie Desmond Trufant breaks up a two-point conversion attempt intended for Pierre Garcon.
A defense starting three rookies in the secondary and two at linebacker -- as well as second-year player
Jonathan Massaquoi
over
Osi Umenyiora
at right defensive end -- got exposed early and often by new Redskins starter
Kirk Cousins
. But the Falcons still managed to come up with seven turnovers, the most they've had in a game since 1988. They scored 20 points off those turnovers.
Days before the game, veteran safety
William Moore
expressed confidence in his rookie defensive backs, but vowed to step up his game in the process. He followed through with a key interception immediately after the Falcons' offense failed to punch it in on fourth-and-goal midway through the third quarter. Moore's turnover led to
Steven Jackson
's 2-yard touchdown run.
Trufant also had a fourth-quarter interception that set up
Matt Bryant
's 51-yard field goal.
Defensive coordinator Mike Nolan made an adjustment with the defensive backfield at halftime after the Falcons surrendered 320 first-half yards, including a 53-yard touchdown from Cousins to
Pierre Garcon
. In the second half, the secondary played more quarters coverage -- a four-deep, three-underneath zone. In the third quarter, the defense allowed the Redskins just 13 yards in 10 plays.
The defensive switch seemed to make rookie defensive backs
Robert Alford
and
Zeke Motta
more comfortable in their respective roles. Motta admitted he blew his over-the-top coverage on Cousins' 23-yard touchdown pass to tight end
Fred Davis
. But the rookie settled down afterward.
"It was a learning day for those rookies," coach Mike Smith said. "We gave up some big, explosive plays on the corners. Then we came back and made a play.
"That was a heck of an interception that Desmond Trufant had there in the second half of the ballgame. There's going to be plays made and there's going to be plays given up. We need to continue to focus on not giving up those explosive plays. It's been our Achilles' heel for the entire season on defense."
Although veteran such as Moore (interception, fumble recovery) and defensive tackle
Jonathan Babineaux
(two fumble recoveries) spearheaded Sunday's effort, Smith has plenty to be encouraged about in terms of his young players growing up. Trufant, the team's first-round pick, has been steady all season long and undrafted linebacker
Paul Worrilow
fell one tackle short of his seventh consecutive double-digit tackle game. Second-rounder pick Alford had nine tackles while fourth-round pick
Malliciah Goodman
came up with a fumble recovery.
"We're going to be around here a long time, so I think it's good for us to get out there and just get on the same page and get used to playing with each other," Alford said. "To finish strong, that's really what we're trying to do. We're trying to finish strong so we can have momentum coming into next year."
December, 13, 2013
12/13/13
10:56
AM ET
Come Sunday, the
Atlanta Falcons
could provide a glimpse of how their secondary might come together for years to come.

Three rookies – free safety
Zeke Motta
and cornerbacks
Desmond Trufant
and
Robert Alford
-- are slated to start in the defensive backfield as the Falcons prepare to face the embattled
Washington Redskins
.
Much was expected of Trufant, the first-round pick from Washington who has started all 13 games. He has met those expectations and has been a steady, disruptive force most of the season.
But Alford, a second-round pick from Southeastern Louisiana, and Motta, a seventh-round pick from Notre Dame, have been brought along at a slower pace. Alford recently surpassed veteran
Asante Samuel
for the starting job at left cornerback while Motta -- primarily a special-teamer -- will fill in on Sunday for veteran
Thomas DeCoud
, who is out with a concussion.
Fortunately for the rookies, they won't have to chase around
Robert Griffin
III as the Redskins opted to bench the struggling and not fully healthy quarterback. Yet new starter
Kirk Cousins
is certain to take some shots against the young secondary. Cousins connected with
Santana Moss
for a 77-yard touchdown in last year's meeting between the teams.
It will be intriguing to see how Motta responds in coverage, in particular.
All the Falcons have to be ready to help stop the run, and the sure-tackling Motta should thrive in that aspect. The Redskins, behind
Alfred Morris
, boast the league's second-best rushing offense at 143.8 yards per game. The Falcons have one of the league's worst run defenses, allowing 133.6 yards per game.
Defensive coordinator Mike Nolan recently discussed how disappointed he has been with tackling, and he specifically mentioned how the secondary has done a poor job in that aspect. Both DeCoud and Samuel have had their struggles tackling.
Veteran strong safety
William Moore
can't do it alone, so he'll need help from the rookies.
They're capable. They just need a lot more experience. So, Sunday should be another building block toward the future.
December, 10, 2013
12/10/13
2:00
PM ET
A weekly examination of the Falcons'
ESPN.com Power Ranking
:
Preseason:
4 |
Last Week:
29 |
ESPN.com Power Ranking since 2002

The Falcons moved down a spot in the ESPN.com Power Rankings, back to No. 30, after Sunday's 22-21 loss to the
Green Bay Packers
at Lambeau Field.
At one point, the Falcons held a 21-10 edge but couldn't keep it despite creating two turnovers leading to touchdowns. They still haven't been able to string together consecutive wins this season after going 13-3 a year ago.
The Falcons did, however, get a chance to give their young players extensive playing time. Rookie cornerback
Robert Alford
played all the snaps at left cornerback after
Asante Samuel
was benched. Rookie right tackle
Ryan Schraeder
finished the game after
Jeremy Trueblood
started. And rookie safety
Zeke Motta
stepped in after
Thomas DeCoud
suffered a concussion.
The youth movement is certain to continue over the final three games as the Falcons try to establish momentum going into next season. At the same time, some of the veteran players surely want to show they deserve to stick around a little longer.
And from the standpoint of the fans, nothing would be greater than falling to the bottom of the NFL standings to secure the first overall draft pick. The Falcons current stand at the No. 3 position behind the
Houston Texans
and
St. Louis Rams
(via Washington).
December, 8, 2013
12/08/13
11:51
AM ET
GREEN BAY, Wis. --
Atlanta Falcons
head coach Mike Smith said he anticipated having a healthy group of players for Sunday's game against the
Green Bay Packers
.

He was right on point.
Tight end
Tony Gonzalez
and safety
Zeke Motta
were the only players questionable for the game, and both players are active. Gonzalez has a nagging toe injury while Motta continues to wear a cast after breaking a finger on his right hand.
Linebacker
Sean Weatherspoon
(knee) and guard
Peter Konz
(ankle) were listed as probable coming off injuries and are active, as expected.
The full inactives for the Falcons are the following: running
Josh Vaughan
, safety
Kemal Ishmael
, linebacker
Omar Gaither
, guard
Harland Gunn
, tackle
Terren Jones
, tackle
Sean Locklear
, and defensive tackle
Travian Robertson
.
December, 5, 2013
12/05/13
6:55
PM ET
FLOWERY BRANCH, Ga. -- Mike Smith didn't get all his players back to full participation, as he had hoped, but the coach still likes the overall health of his
Atlanta Falcons
heading into Sunday's game against the
Green Bay Packers
.

Linebacker
Sean Weatherspoon
and offensive lineman
Peter Konz
, both of whom were limited during Wednesday's practice, had full participation during Thursday's session. Weatherspoon is coming off a knee injury, Konz a tweaked ankle.
Tight end
Tony Gonzalez
and safety
Zeke Motta
were the only two Falcons limited on Thursday. Gonzalez continues to deal with a toe injury but is healthier than he's been in weeks. Motta broke a finger on his right hand and continues to play with a cast.
Roddy White
's absence from the injury report for the second straight week means the receiver is close to full strength, although White told ESPN.com his previously sprained right ankle continues to bother him.
December, 4, 2013
12/04/13
5:40
PM ET
FLOWERY BRANCH, Ga. --
Atlanta Falcons
head coach Mike Smith said he doesn't anticipate any player missing Sunday's game against the
Green Bay Packers
due to injury.
Four players were limited during Wednesday's practice: tight end
Tony Gonzalez
(toe), linebacker
Sean Weatherspoon
(knee), offensive lineman
Peter Konz
(ankle) and safety
Zeke Motta
(hand).
"We're in pretty good shape," Smith said after practice. "Tony is ahead of schedule. He practiced more today than he did at this time last week. He's feeling better.
"I think the guys will be full-go tomorrow. We're all on track. Nobody is 100 percent at this time of the season, but everyone is healthy enough to go out and play. And that's a good thing this time of the season."
In Green Bay, quarterback
Aaron Rodgers
was limited coming off a broken collarbone and seems unlikely to play Sunday, although Rodgers hasn't been ruled out.
November, 27, 2013
11/27/13
5:26
PM ET
FLOWERY BRANCH, Ga. -- Tight end
Tony Gonzalez
, who continues to battle a toe injury, was one of six
Atlanta Falcons
limited during Wednesday's practice.
Gonzalez
Gonzalez was spotted catching a few passes without a helmet on at the end of practice. He was not on the field during the viewing portion, held indoors.
The veteran was questionable for the last two games but played regardless. He is expected to play Sunday against the
Buffalo Bills
in Toronto, barring any setbacks over the next two days.
Also limited at practice were defensive end
Malliciah Goodman
(calf), linebacker
Akeem Dent
(ankle), safety
Zeke Motta
(hand), cornerback
Desmond Trufant
(thigh) and linebacker
Sean Weatherspoon
(shoulder). Goodman missed the last two games due to his injury.
For Buffalo, three players showed up on the injury report but all three had full participation in practice: wide receiver Stevie Johnson (groin), wide receiver
Robert Woods
(ankle) and cornerback
Nickell Robey
(ankle).
November, 19, 2013
11/19/13
10:10
AM ET
FLOWERY BRANCH, Ga. -- It's hard to remember too many times this season when
Atlanta Falcons
head coach
Mike Smith
spoke positively about the play of one individual offensive lineman.

Smith
That's what Smith did, sort of, on Monday when he talked about
Joe Hawley
stepping in as the starting center against Tampa Bay as
Peter Konz
moved over to right guard.
"I thought Joe did a nice job at the center position in the ball game (Sunday), from my evaluation of watching the tape on the flight home," Smith said.
Hawley played all 71 snaps on a day the Falcons benched right guard
Garrett Reynolds
, then benched Konz for Reynolds, then inserted
Ryan Schraeder
at right tackle for
Jeremy Trueblood
.
Not to mention newly signed veteran
Sean Locklear
might be in the mix at right tackle soon.
Yes, the offensive line is still a mess.
"We will continue to evaluate everything," Smith said of the line. "When you've played like we've played, especially the last four weeks, you've got to look at all options. And I felt like the moves helped us in some areas and hindered us in others.
"We will continue to tweak the play time of our players as we move through this last part of the season. We've got to get a combination where we feel we give ourselves the best opportunity to win."
Hawley is confident he can do the job at center moving forward.
"Obviously they've shown that the best players are going to play, so I've just got to keep playing good and prove that I belong out there," Hawley said.
Hawley isn't the only unheralded player the Falcons will take a closer look at moving forward. Smith said running back
Antone Smith
earned more carries after gaining 88 yards on two runs against the Buccaneers, including a 50-yard touchdown. And rookie
Zeke Motta
played 26 snaps while taking over at free safety after starter
Thomas DeCoud
played 42 snaps.
By the way, DeCoud remained with the starters when the team went through a walkthrough on Monday night. Not to mention Motta has a broken finger on his right hand and is expected to play with a cast, which could limit his production. So, the chatter about Motta replacing DeCoud in the starting lineup might have to calm down for now.
"It was a good opportunity for me to get out and get some snaps on defense, get some good experience, and get a feel for the NFL game aside from special teams," Motta said. "It was fun, from that aspect; to go out there and kind of test my skills. And I felt comfortable. I felt like I belonged out there.
"I'll do whatever the coaches ask me to do. Whatever I can do to help this team and make this team better, I'm going to do."
The Falcons hope all their inexperienced players proceed with the same attitude.