Baltimore Ravens:

2014 NFL Draft
May, 10, 2014
May 10
7:35
PM ET
»
NFC wrap-ups
:
East
|
West
|
North
|
South
»
AFC
:
East
|
West
|
North
|
South
OWINGS MILLS, Md. -- A wrap-up of the
Baltimore Ravens
' draft.
Click here
for a full list of the Ravens' draftees.
[+] Enlarge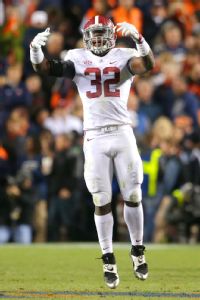 AP Photo/Dave MartinCan rookie linebacker C.J. Mosley become the heir apparent to Ray Lewis for the Ravens?
Best move
: Sticking with their board. The Ravens' middle of their defense was significantly upgraded because the team took the best player available instead of addressing a more pressing need at offensive tackle and safety. The result: the Ravens landed a top-10 prospect (Alabama inside linebacker
C.J. Mosley
) at No. 17 overall and a first-round talent (Florida State defensive tackle
Timmy Jernigan
) in the middle of the second round. Mosley and Jernigan are two of the best in this draft in shedding blocks and stopping the run. The Ravens could've taken Alabama safety
Ha Ha Clinton-Dix
in the first round and Virginia offensive tackle
Morgan Moses
in the second if they were trying to fill holes. But the Ravens haven't finished in the top 10 in defense since 2011, and Mosley and Jernigan are impact players who can get this defense back to its traditionally strong level.
Riskiest move
: Not taking an offensive tackle. The Ravens showed a lot of faith in
Rick Wagner
when they didn't draft a tackle with any of their nine picks in this year's draft. Wagner, a fifth-round pick from a year ago, is now penciled in as the starting right tackle. Even though
Michael Oher
never lived up to expectations, this is a downgrade on the right side of the line. If Wagner struggles, the Ravens could start
Ryan Jensen
, a sixth-round pick from a year ago, at left guard and move
Kelechi Osemele
to right tackle. Another option is signing veteran free agent
Eric Winston
, who played six years under Gary Kubiak in Houston. While it's a risky move not to draft an offensive tackle, it's difficult to argue with their strategy. The top four tackles were gone before the Ravens were on the clock in the first round, and it would've been a reach to take Moses or North Dakota State's
Billy Turner
in the second round. An offensive tackle just failed to fall to them this year.
Most surprising move
: Drafting a blocking tight end in the third round. This was the one head-scratcher of the Ravens' draft. Colorado State's
Crockett Gilmore
is a blocking tight end who's only played the position for three years. ESPN's Todd McShay rated him as the 165th prospect in this draft, and the Ravens selected him at No. 99. By the time the Ravens picked again, five running backs (Florida State's
Devonta Freeman
, Boston College's
Andre Williams
, Arizona's
Ka'Deem Carey
, Oregon's
De'Anthony Thomas
and Wisconsin's
James White
) and two other players previously linked to the Ravens (Clemson wide receiver
Martavis Bryant
and Utah cornerback
Keith McGill
) were gone. Tight ends play a major role in Kubiak's offense, and the Ravens underscored their importance by taking Gilmore on Day 2.
File it away
: The future starting center of the Ravens may have been drafted in the fifth round.
John Urschel
started at right guard the past two years at Penn State, but he can play all three spots on the interior of the line. There's no question he's smart enough to handle the center position. Urschel won the William V. Campbell Trophy, also known as the academic Heisman, and he has a master's degree in math. The Ravens don't need a center right now after trading for
Jeremy Zuttah
, but no one should be surprised if Urschel finds his niche there in a few years.
May, 10, 2014
May 10
4:55
PM ET
Here's a roundup of what the
Baltimore Ravens
did on Day 3 of the NFL draft:

FOURTH ROUND
Brent Urban, DL, Virginia
(No. 134 overall): The Canadian native is a potentially exciting pick for the Ravens because of his size (6-foot-7) and athleticism. Urban can be used at different spots along the line and could develop into a starter, according to director of college scouting Joe Hortiz. He had ankle surgery and may miss all of the offseason spring workouts.
Lorenzo Taliaferro, RB, Coastal Carolina
(No. 138): The small-school back is the type of bruising, big runner the Ravens have wanted for the past couple of years. A one-cut runner who is a good fit for Gary Kubiak's offense, Taliaferro doesn't have a great burst but he provides insurance behind starter
Ray Rice
(who could face an NFL suspension) and backup
Bernard Pierce
(who won't suit up until training camp because of offseason shoulder surgery).
FIFTH ROUND
John Urschel, G Penn State
(No. 175): The two-time All-Big Ten guard has excelled in the class room, winning the William V. Campbell Trophy, also known as the academic Heisman. He can play all their interior positions on the line, and his football intelligence could translate to being a center down the road.
SIXTH ROUND
Keith Wenning, QB, Ball State
(No. 194): A four-year starter who threw for more than 4,000 yards with 35 touchdowns and 10 fourth-quarter comebacks. He will likely serve as the No. 3 quarterback this year and get a chance to become
Joe Flacco
's primary backup in 2015, when
Tyrod Taylor
is a free agent.
SEVENTH ROUND
Michael Campanaro, WR, Wake Forest
(No. 218): The Ravens traded a 2015 sixth-round pick to the Cleveland Browns for a seventh-rounder this year, which they used on the Columbia, Md., native. Campanaro is a shifty slot receiver and returner who really sold the Ravens with an impressive private workout.
May, 8, 2014
May 8
8:00
PM ET
In case you forgot when the
Baltimore Ravens
are picking, here is their 2014 draft order. I put the player picked at that spot in 2013 in parentheses.
First round
: 17th overall (Steelers linebacker
Jarvis Jones
)
Second round
: 48th overall (Steelers running back
Le'Veon Bell
)
Third round
: 79th (Steelers wide receiver
Markus Wheaton
) and 99th* overall (Chiefs linebacker
Nico Johnson
)
Fourth round
: 134th* (Chiefs cornerback
Sanders Commings
) and 138th* overall (Seahawks cornerback
Tharold Simon
)
Fifth round
: 175th* overall (Browns safety
Jamoris Slaughter
)
Sixth round
: 194th overall (Seahawks running back
Spencer Ware
)
* -- Compensatory picks
May, 8, 2014
May 8
5:40
PM ET
As we count down to the start of the NFL draft, the
Baltimore Ravens
blog has addressed the different scenarios: the
dream one
, the
great ones
and the
most likely one
.
Now, it's time to discuss the awful scenario, or the least favorable one in my opinion. It would be a nightmare if these six prospects -- Michigan offensive tackle
Taylor Lewan
, North Carolina tight end
Eric Ebron
, Alabama safety
Ha Ha Clinton-Dix
, Notre Dame offensive lineman
Zack Martin
, Alabama linebacker
C.J. Mosley
and LSU wide receiver
Odell Beckham Jr.
-- were gone before the Ravens were on the clock at No. 17.
This could happen if the Falcons pick Lewan at No. 6, the Bills select Ebron at No. 9, the Lions take Clinton-Dix at No. 10, the Giants grab Martin at No. 12, the Bears draft Mosley at No. 14 and the Steelers go with Beckham at No. 15.
The awful scenario comes into play if the Ravens draft Virginia offensive tackle
Morgan Moses
at No. 17 or trade back for Indiana wide receiver
Cody Latimer
later in the first round.
Moses is considered the fifth- or sixth-best tackle prospect, but he isn't a good fit for the Ravens. In offensive coordinator Gary Kubiak's run-blocking scheme, the Ravens need athletic lineman. Moses recorded the slowest 10-yard split (2.08 seconds) of any participant at the NFL combine and he has weight issues. Think
Bryant McKinnie
.
Likewise, it would be a stretch for the Ravens to take Latimer at the bottom of the first round. He received a third-round grade from the NFL Draft Advisory Committee when he declared for the draft in January. Why has he risen up draft boards? He bench-pressed 225 pounds 23 times, the most by a wide receiver at the NFL combine. He also ran the 40-yard dash in 4.38 seconds at his private workout. The Ravens can find better value at one of the deepest positions in the draft.
May, 8, 2014
May 8
4:30
PM ET
Our weekly
Baltimore Ravens
chat focused on all of the draft possibilities for the team. You can
click here
for a full transcript. Here are some highlights:
Chris (Baltimore)
: If Texas A&M wide receiver
Mike Evans
falls past Tampa Bay at No. 7, could you see the Ravens trading up to get him?
Jamison Hensley (ESPN)
: Not really. The Ravens could trade up as high as No. 8 if they're willing to give up their second-round pick. But the Ravens aren't going to do that. That would mean the Ravens' next pick would be 79th overall in the third round. If the Ravens traded their third-round pick, the highest they could trade up is No. 14. I could see them doing this if there is someone they really covet is sitting there at that spot. But Evans isn't going to last past the top 10.
Steve (Sydney)
: Jamison, sure you'll get lots of questions about this. With Alabama linebacker
C.J. Mosley
as the mock pick and with that being as good a chance as any of being the real pick, how do you think the Ravens would use him? Surely they have to see what
Arthur Brown
has, so does Mosley alternate downs with
Daryl Smith
to rest him, or is he spelling
Terrell Suggs
on the outside in coverage or something else?
Jamison Hensley (ESPN)
: Inside linebacker isn't a glaring need but the Ravens aren't comfortable with that position. That's why they showed so much patience with
Rolando McClain
. Let's not forget that Daryl Smith is 32, and Arthur Brown didn't develop as quickly as everyone envisioned. Mosley is a guaranteed starter in 2014 and has Pro Bowl potential. He would start immediately next to Smith, and Brown would remain a role player for another year.
Mickey (Boston)
: What do you think is the earliest round the Ravens would consider taking a QB?
Jamison Hensley (ESPN)
: Fourth round. Two compensatory picks at the bottom of that round, so essentially they're both early fifth-round picks in some regard.
Nick (Maryland)
: The first three games on the Ravens schedule are against divisional opponents and
Ray Rice
may be suspended to start the year. With that being said, how early do you think the Ravens will pick a RB? And which RB is most likely to end up in Baltimore?
Jamison Hensley (ESPN)
: The Ravens will start looking at running backs in the third round. Washington's
Bishop Sankey
, West Virginia's
Charles Sims
and Florida State's
Devonta Freeman
would be good fits.
Jeff (Washington)
: Can you please rank the five following players as you think the Ravens will on their draft board? North Carolina tight end
Eric Ebron
, Alabama linebacker C.J. Mosley, Alabama safety
Ha Ha Clinton-Dix
, Notre Dame offensive lineman
Zack Martin
and Louisville safety
Calvin Pryor
.
Jamison Hensley (ESPN)
: Ebron, Clinton-Dix, Mosley, Martin, Pryor.
May, 8, 2014
May 8
1:30
PM ET
The
Baltimore Ravens
have traded back in the first round in 2008, 2010 and 2012. Could they do it again in 2014?

The Ravens will likely have the opportunity to do so. In the past, teams have wanted to trade up in the draft because of quarterbacks. This year, teams will be looking to move up to the Ravens' No. 17 spot for a wide receiver, especially if LSU's
Odell Beckham Jr.
is sitting there.
The
Philadelphia Eagles
(No. 22),
New Orleans Saints
(No. 27) and
San Francisco 49ers
(No. 30) are potential trade partners with the Ravens. What could the Ravens expect to get in return? The Eagles would need to give up a third-round pick to move up five spots, and the Saints and 49ers may need to hand over second-rounders.
Still, is trading back worth it for the Ravens? Let's look at the three previous times they moved back in the first round:
2008 DRAFT
The Ravens dropped from No. 8 to No. 26 and received two third-round picks (Nos. 71 and 89) and a fourth-round one (No. 125) from the
Jacksonville Jaguars
. The Ravens needed to trade one of those third-round picks (No. 89) to move back up to No. 18 to make sure they got quarterback
Joe Flacco
.
The net result of moving back was linebacker
Tavares Gooden
(No. 71 pick overall) and cornerback
Fabian Washington
(acquired for the No. 125 pick from the
Oakland Raiders
). Gooden started 12 games in three injury-filled seasons with the Ravens, and Washington started three seasons before being benched.
2010 DRAFT
The Ravens moved out of the first round, going from No. 25 overall to No. 43. In return, the Ravens got a third-round pick (No. 70) and a fourth-round one (No. 114) from the
Denver Broncos
.
Those extra picks became tight ends
Ed Dickson
and
Dennis Pitta
, both of whom were fixtures in the offense for the past three seasons. While Dickson is considered a disappointment, Pitta has become one of Flacco's go-to receivers.
But the top picks didn't work out for the Ravens or the Broncos. Denver traded up to get quarterback
Tim Tebow
, and the Ravens selected linebacker
Sergio Kindle
in the second round. Kindle was the worst top pick in Ravens' history.
Still, the Ravens likely wouldn't have fared much better if they stayed in the first round. The Ravens were eyeing pass rusher
Jerry Hughes
, who struggled his first three seasons before recording 10 sacks last season.
2012 DRAFT
Like the Ravens did in 2010, they moved out of the first round. This time, the Ravens fell just six spots from No. 29 to No. 35 and received a fourth-round pick (No. 98) in return.
The Ravens were still able to get linebacker
Courtney Upshaw
, their possible selection in the first round, even though they dropped into the second round. That fourth-round pick became center
Gino Gradkowski
, who started last season but is expected to be a backup this year.
May, 5, 2014
May 5
4:00
PM ET
With the
Baltimore Ravens
looking to add a running back, here are some numbers from ESPN Stats & Information on some of the draft's top prospects at that position:
SECOND ROUND
Carlos Hyde, Ohio State
: Averaged 7.3 yards per carry and failed to gain positive yards on just 12 of his 208 carries
.
Bishop Sankey, Washington
: Carried the ball 616 times in the past two seasons, which trailed only Arizona's Ka'Deem Carey. Sankey finished strong, gaining at least 175 yards in three of his final six games.
Tre Mason, Auburn
: Produced four games with at least 150 rushing yards against a SEC defense, the most since Cam Newton had five in 2010. His seven 100-yard rushing games against an SEC defense are the most for any player in a single season in the last 10 years.
THIRD ROUND
Jeremy Hill, LSU
: Averaged 7.9 yards per carry (best among qualifiers) on running plays inside of the tackles with about one in every five attempts going for at least 10 yards.
Andre Williams, Boston College
: Gained 963 yards after contact last season, 110 more than any other qualifying player.
Charles Sims, West Virginia
: Recorded 133 receptions and 1,349 receiving yards, both of which led FBS running backs over the past three seasons.
FOURTH ROUND
Devonta Freeman, Florida State
: Averaged 3.9 yards before first contact per rush and gained more than 67 percent of his rushing yards before contact. Both ranked in the top 10 among qualifying running backs (minimum 100 carries).
FIFTH ROUND
De'Anthony Thomas, Oregon
: Averaged 5.4 yards before first contact, which ranked second among running backs with at least 100 rush attempts over the past three seasons.
April, 30, 2014
Apr 30
12:00
PM ET
With eight days until the NFL draft begins, here is another potential draft prospect for the
Baltimore Ravens
:
KEITH McGILL
Position:
Cornerback
School:
Utah

McGill
Height/weight:
6-foot-3, 211
Round projection:
Second
File this away:
Instead of playing college football immediately after high school, McGill worked as a parking attendant at Disneyland before enrolling at an automotive and mechanic trade school.
Good:
McGill certainly has the look of an NFL cornerback. His height, muscular build and long arms makes him one of the most intriguing defensive prospects in the draft. The Sporting News said he has the highest ceiling of any corner at the event. McGill fits the
Seattle Seahawks
' trend of taller cornerbacks such as
Richard Sherman
and
Brandon Browner
. McGill has above average speed for his size. He holds up against the run.
Bad:
There's a risk involved because McGill only played cornerback for one season after converting from safety. McGill has to work on his technique when jamming receivers, which is critical because he has the size to excel in press coverage. Durability is a concern because he was sidelined for as many games as he played. McGill missed the entire 2012 season because his recovery from shoulder surgery didn't progress as fast as expected. His toughness doesn't always match up to his imposing size.
Bottom line:
Even though the Ravens are set with their starting cornerbacks, it wouldn't be a surprise if the team decided to take a cornerback like McGill in the second round. The Ravens are looking to fill the void at the third cornerback spot after
Corey Graham
left in free agency, and they may need an eventual replacement for
Lardarius Webb
, who could be a cap casualty in 2015. McGill doesn't have the same level of athleticism as
Jimmy Smith
, but he would form a sizable tandem with him. The Ravens brought in McGill for a pre-draft visit.
What McGill said:
"The coaches wouldn't have moved me to corner if I didn't have the length, if I didn't have the size or the flexibility or the hips or the speed. I'm able to play it successfully. I did a lot of trial and error this year. Not that I got outright beat or anything like that, but I'm still working through the things in my toolbox that I need to improve on."
April, 28, 2014
Apr 28
2:00
PM ET
With 10 days until the NFL draft begins, here is another potential draft prospect for the Baltimore Ravens:
TAYLOR LEWAN

Lewan
Position:
Offensive tackle
School:
Michigan
Height/weight:
6-foot-7, 309
Round projection:
First
File this away:
Lewan added 50 pounds since his senior year of high school, when he made the switch from defensive end.
Good:
Lewan has the size, speed and athleticism to become a starting left tackle in the NFL. He's rated as the third-best offensive tackle prospect by Mel Kiper Jr. and Todd McShay. Lewan combines a great motor with a nasty streak. No team is going to find an offensive tackle with more game experience (four-year starter in Big Ten) and more quickness (posted best 40 time of any offensive lineman at the NFL combine). There is a high ceiling for Lewan, who has only played this position for five years.
Bad:
Lewan is dealing with a couple off-the-field issues. His arraignment on one charge of aggravated assault and two charges of assault and battery is currently set for nine days after the draft. Lewan has also denied allegations that he intimidated a woman in 2009 who said she was sexually assaulted by one of his former teammates. On the field, Lewan is considered more of a finesse blocker than a mauler. He won't drive defenders in short-yardage situations. Lewan is still raw as a technician and will commit penalties because of that.
Bottom line:
It's highly unlikely that Lewan falls to the Ravens at No. 17. But you can't rule it out completely because teams could be scared off by his off-the-field incidents. Most believe Lewan will go No. 6 to the
Atlanta Falcons
, and Kiper wouldn't be surprised if the
St. Louis Rams
selected him at No. 2. If Lewan somehow slid to the Ravens, they would jump at the chance to take him. He's got the awareness and agility to be a perfect fit in the Ravens' zone-blocking scheme.
What Lewan said
: "I don't know if I have swagger. My main focus in my game is to give my running back an opportunity to gain yards and give my quarterback the opportunity to be successful in the pocket. My job doesn't get me highlights or stuff like that. I love doing what I do, whether it's right tackle, left tackle, center or guard. It doesn't matter as long as I have the opportunity."
April, 17, 2014
Apr 17
12:15
PM ET
In Mel Kiper Jr.'s previous three mock drafts, he had the
Baltimore Ravens
going offense in the first round. He had the Ravens picking North Carolina tight end
Eric Ebron
in his first two mock drafts, and he went with Oregon State wide receiver
Brandin Cooks
in his third one.
Kiper's latest mock draft
is out on ESPN Insider on Thursday
,

and he has the Ravens taking a defensive player with the No. 17 overall pick.
March, 6, 2014
Mar 6
11:00
AM ET
Todd McShay's third NFL mock draft for 2014 is out on ESPN Insider today.
The
Baltimore Ravens
are another team that needs wide receiver help. They will also very much be in the market for an athletic offensive tackle that fits Gary Kubiak's zone-blocking scheme. But we also know that Ozzie Newsome will not reach in the draft for a lesser player. In such a deep draft, the Ravens could be a team that just sits back and waits (as they always do) and lands a true bargain in the middle of the first round who ends up being a star for years to come.
Whom does McShay have the Ravens drafting at No. 17?
Let's take a look

:
To continue reading this article you must be an Insider