Baltimore Ravens:

2013 Week 5 BAL at MIA
October, 6, 2013
10/06/13
8:40
PM ET
MIAMI --
Baltimore Ravens
running back
Ray Rice
sported a welt over his right eye. In Sunday's
26-23 win
over the
Miami Dolphins
, it represented a badge of honor.
A funny thing happens when the Ravens commit to the running game -- they usually win. The Ravens are 38-6 (.863) when running back Ray Rice gets at least 15 carries in a game. Rice had 16 carries in the second half alone and finished with 27.
So while Rice took a beating, the Ravens didn't get beat.
"Jim (Caldwell, offensive coordinator) didn't let his foot off the pedal," said Rice, who had 74 yards rushing Sunday after gaining 89 in his first three games. "No matter what, we were going to run the football. That's a good feeling."
[+] Enlarge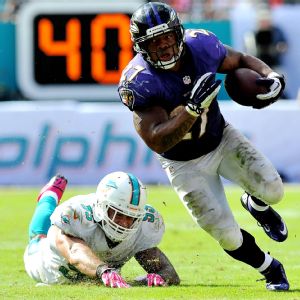 Steve Mitchell/USA TODAY SportsRay Rice rushed for 74 yards and two touchdowns on 27 carries against the Dolphins.
I'm not going to say the Ravens learned their lesson after running the ball twice in the second half of last Sunday's loss at Buffalo. The Ravens nearly beat the Bills by exclusively throwing the ball.
But on Sunday, the Ravens got a sense they could outlast the Dolphins and they wanted to reduce the times that
Joe Flacco
got hit. Sticking to the run paid off in the second half. The Ravens, who had not gained 100 yards rushing in a game this season, totaled 100 yards rushing after halftime against the Dolphins.
"We definitely wore them out a little bit," Flacco said.
The subplot of the return of the Ravens' running game was the redemption of Rice. He fumbled at his own 28-yard line in the first quarter, which resulted in a game-tying field goal. Dating back to the playoffs, this marked the fifth time that Rice had fumbled in his past eight games.
But Rice came back to score two touchdowns in the second half. His first score was a power run in between the tackles. His last one came as a result of him cutting to the outside when the Dolphins crashed to the inside, allowing him to walk into the end zone.
"That nose guard, he reminds me of
Haloti Ngata
. He's a very strong," Rice said of the fumble caused by
Paul Soliai
. "Once he got his arms around me and bear-hugged me, he made a heck of a play. I was just able to keep my head in the game and bounce back and keep grinding."
Grinding out yards is exactly what the Ravens offense did Sunday. It would have been easy for the Ravens to run the ball 40 times if they were averaging 5 yards per carry. That's why you have to admire them more by running the ball 40 times when they only averaged 3.3 yards per attempt.
The Ravens aren't going to proclaim that the running game is fixed. But, for one of the few times this season, there is hope that the ground attack can get back on track.
"We decided to run because we thought (that's how) we had the best chance of winning," coach John Harbaugh said. "But more than that, in this heat, the 1-yard run becomes a 3-yard run. And a 3-yard run becomes a 7-yard run. That's what happened."
October, 6, 2013
10/06/13
7:45
PM ET
MIAMI -- There were questions whether
Baltimore Ravens
linebacker
Terrell Suggs
would be the same defensive player after tearing his Achilles last year. No one ever thought Suggs would be better.
Suggs continued to dominate this season with three sacks in the fourth quarter of Sunday's 26-23 win, which is a tribute to his conditioning. A motivated Suggs reported to training camp in the best shape of his career, and when others were wilting under the hot South Florida sun, he proved to be the strongest player on the field. He powered his way through a lackluster Dolphins offensive line, getting to quarterback
Ryan Tannehill
three times in an eight-play stretch in the final quarter.
[+] Enlarge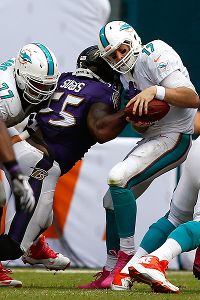 Robert Mayer/USA TODAY SportsTerrell Suggs sacked Dolphins QB Ryan Tannehill three times in an eight-play span during the fourth quarter Sunday.
"That guy is a freak of nature," safety
James Ihedigbo
said. "He played phenomenal. That second-half performance made our job in the secondary so much easier."
When it looked like the Ravens were losing grasp of the momentum, that's when Suggs started wrapping his arms around Tannehill. The Dolphins had just tied the game at 23 on an interception return for a touchdown, and the Ravens' offense punted the ball back to Miami.
But Suggs delivered a sack on Miami's first play and then stopped the drive by taking down Tannehill on third-and-14. The Ravens then went down the field to hit the game-winning field goal.
So, what inspired Suggs in the fourth quarter?
"My wife told me to bring momma three sacks," Suggs said. "It came down the stretch in the fourth quarter and I said, 'All right, momma said she wanted three, so go get it.'"
"Momma" must have known the Dolphins had allowed the second-most sacks in the NFL. In total, the Ravens recorded six sacks with Suggs accounting for half of them.
The Ravens are 14-1 when Suggs records multiple sacks in a game.
"You could say that he could be the defensive player of the year every year with the impact that he has on the game and the plays he can make," Dolphins wide receiver
Brandon Gibson
said.
When Suggs was the NFL Defensive Player of the Year in 2011, he finished with 14 sacks. He has half that many just five games into the 2013 season.
Some will say the increase in Suggs' sacks comes from the addition of
Elvis Dumervil
on the other side. Others believe Suggs is determined to show he's back after recording four sacks in 12 games (including playoffs) last season.
Whatever the reason, Suggs now has a sack in each of the first five games, which ties a franchise record.
"Terrell Suggs was just off the scale," coach John Harbaugh said.
October, 6, 2013
10/06/13
6:50
PM ET
MIAMI -- Of
Joe Flacco
's 16 career game-winning drives, the one in the
Baltimore Ravens
' 26-23
win
over the
Miami Dolphins
isn't his most memorable. But, after Flacco gets to rest his aches and pains, he may consider this his most satisfying one.
During a game in which nothing seemed to go his way -- from warm-ups to the fourth quarter -- Flacco showed winning perseverance in taking all of those shots and coming back to deliver the key offensive play. His 14-yard pass to
Torrey Smith
set up
Justin Tucker
's 44-yard, go-ahead field goal with 1:42 left in the game.
This tested Flacco physically. He's getting hit so many times he should invest some of that $120.6 million contract into life insurance. This also tested Flacco mentally. After having an interception returned for a touchdown -- which wasn't his fault -- he had the Ravens back ahead about six minutes later.
[+] Enlarge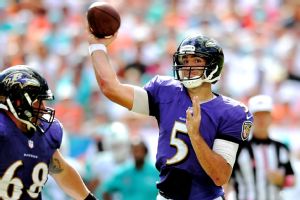 Steve Mitchell/USA TODAY SportsJoe Flacco completed 19 of 32 passes for 269 yards against the Dolphins.
"Joe doesn't ever get phased," coach John Harbaugh said. "It seems Joe never gets shaken. Joe is not the kind of guy that's going to get rattled. That's just who he is. That's part of his greatness. And that's why he is who he is as a player."
Flacco was undone by injuries. The Ravens were down to three healthy wide receivers because
Jacoby Jones
(knee) and
Marlon Brown
(hamstring) were inactive and
Brandon Stokley
(groin) was cut Saturday. To make matters worse, left guard
Kelechi Osemele
suffered back spasms and lasted only one play before backup center
A.Q. Shipley
took over.
Flacco didn't get any protection from his offensive line, getting hit a half-dozen times and was sacked twice. With a collapsing pocket, Flacco had to throw the ball before he wanted to do so and couldn't follow through on his passes.
On the final play of the first half, soon-to-be demoted left tackle
Bryant McKinnie
was so slow that
Koa Misi
went untouched off the edge in sacking Flacco. Then, in the fourth quarter, McKinnie's failure to block
Dion Jordan
led to Flacco getting hit from behind and an interception returned for a score. By that point, the Ravens had to be second-guessing not suiting up
Eugene Monroe
, who was acquired last week.
Speaking of that touchdown, Flacco didn't get help from offensive coordinator Jim Caldwell either. With the Ravens ahead by a touchdown in the fourth quarter, there was no reason for Flacco to be throwing from his goal line on third-and-22.
"We want that one back," Harbaugh said. "That was a mistake. We should have run the ball there. I think we'll all agree there. We should have punted it out of there the way our defense was playing. We put Joe in a tough spot there."
Flacco, though, simply shook off his eighth interception of the season.
"It was frustrating but you come off the sidelines, you get pissed for a couple of seconds and then you regroup because you're getting the ball right back," said Flacco, who was 19-of-32 for 269 yards. "Stuff like that happens. It was still a tie game with a lot of game left and we knew we had to go win it."
Rebounding has been a recurring storyline in Flacco's career. He improved to 4-0 the week after throwing multiple interceptions in a game (he was picked off a career-worst five times last Sunday), and he won this time with some dramatic flair. This was his first game-winning drive since leading the Ravens back in Denver in last season's AFC divisional playoff game.
October, 6, 2013
10/06/13
5:35
PM ET
MIAMI -- Observed in the locker room after the
Baltimore Ravens
' 26-23
win
at the
Miami Dolphins
:

Harbaugh
Answering that question
: The Ravens didn't get rattled when the Dolphins scored 10 straight points in the fourth quarter, including an interception return for a touchdown, to tie the game at 23. Coach John Harbaugh talked about how
Joe Flacco
,
Terrell Suggs
and
Marshal Yanda
kept the team together. "Did somebody ask about leadership?," Harbaugh asked. "We got great leadership." This was a response to linebacker
Ray Lewis
saying the Ravens lacked leadership a couple of weeks ago.
Road-field advantage?
: Ravens fans took over Sun Life Stadium, where there was purple throughout. The sections behind the Ravens' bench were nearly all Ravens fans and it made this look like a college bowl game. In my 14 years of covering the team, I can't remember a bigger turnout on the road by Ravens fans. When a reporter suggested there were at least 10,000 Ravens fans at the game, coach John Harbaugh said. "It seemed like half of the stadium." Ravens players went over to the stands to thank the fans after the win.
Offensive line shuffle
: Backup center
A.Q. Shipley
played nearly the entire game at left guard after back spasms forced
Kelechi Osemele
out of the game after the first series. Osemele had his back tighten up on him in pregame after the Ravens had already set their inactive list (which had their top backup guard
Jah Reid
on it). So, Osemele tried to play but couldn't last. "That's why we had to make the change," Harbaugh said.
Turning out the lights
: About four minutes into Harbaugh's postgame press conference, linebacker Terrell Suggs accidentally hit the switch that turned off the lights in the interview room. "It wasn't the commissioner," Harbaugh said. "It was Suggs." Harbaugh was alluding to Suggs' recent comments that NFL commissioner Roger Goodell had a hand in the Super Bowl blackout. Suggs laughed and said, "That was pretty good coach."
October, 6, 2013
10/06/13
4:17
PM ET
MIAMI -- A few thoughts on the
Baltimore Ravens
'
26-23 victory
over the
Miami Dolphins
:

What it means:
The Ravens (3-2) kept pace in the AFC North and remain tied for first place by beating the Dolphins (3-2). It wasn't pretty, but a shorthanded Ravens offense remained committed to the run (first time Baltimore gained more than 100 yards rushing this season) and their defense continually put pressure on Miami quarterback
Ryan Tannehill
(six sacks). Rebounding after tough losses has been a trend under coach John Harbaugh. Since 2008, the Ravens are 21-7 after losses.
Sweating it out:
The Ravens had an impressive 94-yard touchdown drive in the second half, but it was a 34-yard one that won the game for Baltimore. With the score tied at 23,
Joe Flacco
hit
Torrey Smith
on a 14-yard pass to put the Ravens in field goal position.
Justin Tucker
's 44-yard kick put the Ravens ahead 26-23 with 1:46 remaining. It marked the 16th career game-winning drive for Flacco. The Ravens had to sweat out a 57-yard miss by
Caleb Sturgis
, who went wide left with 33 seconds left.
Stock watch:
Rising: Linebacker
Terrell Suggs
. He continues to look like the NFL Defensive Player of the Year from two years ago. He recorded three sacks, including two on a critical fourth-quarter series. Suggs now has seven sacks this season and at least one in each game thus far.
Redemption for Rice:
Running back
Ray Rice
fumbled once again but also scored two touchdowns. He powered his way for a 2-yard touchdown in the third quarter, tying the game at 13. This made up for a fumble earlier in the game, which had led to a field goal. Dating back to the playoffs, Rice has fumbled five times in eight games.
Another costly turnover:
A week after getting picked off a career-worst five times, Flacco had an interception returned for a touchdown in the fourth quarter that tied the score at 23. But much of the blame can go to left tackle
Bryant McKinnie
or to the play call. On third-and-22, Flacco threw from his own goal line and was hit from behind by
Dion Jordan
, who beat McKinnie on the quarterback's blind side. Offensive tackle
Eugene Monroe
, who was acquired this week in a trade, was inactive after only two full practices with the team.
What's next:
The Ravens return home to play the
Green Bay Packers
. It will be Baltimore's first home game since Sept. 22.