Baltimore Ravens:

A.Q. Shipley
November, 16, 2013
11/16/13
9:00
AM ET
There was a lot of playoff talk in our weekly
Baltimore Ravens
chat. It should be a hot topic with all of the races remaining tight with seven games left. The Ravens (4-5) are 1 1/2 games behind the
Cincinnati Bengals
(6-4) in the AFC North, and one game behind the
New York Jets
(5-4) for the last playoff spot in the AFC.
If you want a full transcript of the chat, you can
click here
. Here are some highlights:
Rich (New Jersey)
: Great win for the Ravens on Sunday. But with everyone in the division within two games of each other, for the Ravens to get into the playoffs, do they need to win the division or go 5-2 over the last seven and get in as a wild card if they wind up with a 9-7 record?
Jamison Hensley (ESPN)
: I feel 10-6 still wins the division. That being said, the Ravens will have to go 5-1 leading up to the season-ending game at Cincy. If they beat the Bengals, they'll sweep and take the AFC North. As far as the wild card, I wouldn't be surprised if 9-7 gets the last playoff spot in the AFC.
James (Baltimore)
: The Ravens running game has struggled since Week 1, and when one breaks down the film, one sees an ineffective blocking scheme. John Harbaugh insists that changes are being made. Quite frankly, he downplays the role of the ineffective O-line play on the poor seasonal record. Is this a case of doing the same thing and expecting different result or are they doing something behind the scene to correct it?
Jamison Hensley (ESPN)
: I've seen changes as far as formations. The Ravens have tried two tight ends, I-formation with
Vonta Leach
, using an extra blocker with Rick Wagner as well as shotgun/pistol formations. Baltimore also has a new left side of the line since the season started with
Eugene Monroe
and
A.Q. Shipley
. I know fans are quick to criticize Castillo, but this line hasn't executed all season.
PJ (Midlo)
: Hi Jamison, well it was one of those drive over the cliff only to be saved by a parachute games this past Sunday - Wow! What poison does the Raven Defense takeaway from the Bears this week (
Matt Forte
or
Brandon Marshall
?) Thanks.
Jamison Hensley (ESPN)
: Has to be Forte. The Bears are starting McKown, who is more of a game manager. He doesn't have the arm to stretch the field to Marshall, if the wind in Chicago gusts over 20 mph (which likely will be the case). The biggest thing with Marshall is getting him to the ground after he makes the catch. As far as Forte, the Ravens have to make sure they know where he's at whether it's running or passing. He has to be the priority of the Ravens' defense.
Renn (Columbia)
: Do you think the Ravens could still feasibly take the AFC North? The Bengals have played better than the Ravens overall but still have had their fair share of struggles.
Jamison Hensley (ESPN)
: The Ravens have to get to 10 wins. That's how they win the North. The Bengals have lost two games but both have been on the road and in overtime. What they have to prove is their defense can withstand the loss of
Geno Atkins
and
Leon Hall
. Injuries have hurt Cincy this month.
November, 11, 2013
11/11/13
12:00
PM ET
Grading the
Baltimore Ravens
in their
20-17 overtime win
against the
Cincinnati Bengals
.
Quarterback
: After
Joe Flacco
bought time before throwing his first touchdown, it was a shaky performance for most of the way. He would've been picked off four times if the Bengals defenders could catch. His first interception was a case of him doing too much. When you're wrapped up, you need to just take the sack and, to his credit, Flacco didn't make that mistake again this game. His fumble, when he got stripped while trying to throw the ball, showed a lack of pocket awareness. Despite the struggles, Flacco did make the two short passes in overtime to get in range for the winning field goal.
Grade
: C-minus.
[+] Enlarge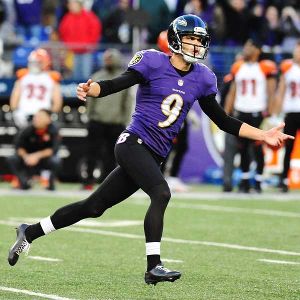 Evan Habeeb/USA TODAY SportsBaltimore's Justin Tucker celebrates his game-winning FG to beat the Bengals 20-17 in overtime.
Running backs
: Just like he has all season,
Ray Rice
struggled to run the ball and break tackles in the open field. He averaged 1.7 yards per carry (30 yards on 18 attempts) and managed 4.3 yards per reception (26 yards on team-high six catches). His longest run was five yards and, as fantasy owners know, he failed to score a touchdown on two red-zone carries.
Bernard Pierce
ran harder than he's had this season, although the effort only produced 31 yards on eight carries (3.9-yard average). The longest run of 18 yards was from backup quarterback
Tyrod Taylor
, who took a pitch after lining up in the slot.
Grade
: D.
Wide receivers/tight ends
: The Ravens did what they should do all season -- get the ball to
Torrey Smith
. He only totaled 46 yards, but Flacco targeted him 14 times. Smith made a leaping grab for a seven-yard touchdown, which proved he has no fear in going over the middle. The tight ends came up big at critical times.
Ed Dickson
's eight-yard catch put the Ravens in field-goal range in overtime, and
Dallas Clark
's only catch was a one-yard touchdown. Wide receiver
Jacoby Jones
drew a 48-yard pass interference penalty after getting behind the defense on a flea flicker, setting up that Clark score. The other receivers were nonexistent.
Grade
: C-plus.
Offensive line
: It's easy to access the line's play when you see the Ravens' running backs averaged 2.8 yards per carry and Flacco got sacked five times. The line is getting beat physically in run blocking. In pass protection, there are too many lapses in communication. A Bengals defender had a free run at Flacco by coming up the middle after left guard
A.Q. Shipley
and center
Gino Gradkowski
failed to pick him up. Right tackle
Michael Oher
struggled against
Carlos Dunlap
and allowed too much penetration on that forced fumble of Flacco. Left tackle
Eugene Monroe
was the team's best lineman for a second straight week. Right guard
Marshal Yanda
does get style points for hoisting up Torrey Smith after his touchdown.
Grade
: D.
Defensive line
:
Haloti Ngata
must have been hearing the criticism because he delivered his best game in recent memory. He was a force inside and slammed shifty running back
Giovani Bernard
to the ground in the first quarter when there was a lot of space on the left side. Even after he injured his left knee, Ngata made an impact and finished with five tackles and one batted down pass.
Arthur Jones
sacked
Andy Dalton
in the red zone, which held the Bengals to a field goal on the opening drive in the third quarter.
Chris Canty
added a quarterback hit.
Grade
: B.
Linebackers
: It's been a hot-and-cold season for
Elvis Dumervil
, who led the team with 2.5 sacks after disappearing in Cleveland. He made his presence known Sunday with three quarterback hits, two tackles behind the line and one batted down pass. In the fourth quarter, Dumervil had 1.5 sacks. Inside linebacker
Daryl Smith
did his best in trying to limit Bernard and stopped him short of the first down in the opening drive.
Terrell Suggs
had a quiet day with no sacks or quarterback hits.
Grade
: B.
Secondary
: This was the secondary's most aggressive effort of the season, and it came against a talented group of Bengals receivers. Cornerback
Lardarius Webb
ripped the ball away from receiver
Marvin Jones
for an interception and caused havoc on his repeated blitzes.
Jimmy Smith
stripped
Mohamed Sanu
to break up another pass. The star of the defensive backfield was
James Ihedigbo
, who had his first two career interceptions and helped stop Bernard on fourth down in overtime. What kept this from being an 'A' game was the "bone-head" play by Ihedigbo on the Hail Mary touchdown that sent the game to overtime.
Grade
: B-plus.
Special
teams
:
Justin Tucker
won the game with a 46-yard kick in overtime, but don't forget about him making a 36-yarder into the swirling wind earlier in the game. He's automatic these days.
Sam Koch
had a more consistent effort with three punts inside the 20-yard line and a 55-yarder that helped change field position. Returners
Tandon Doss
and Jacoby Jones were non-factors.
Grade
: B-plus.
November, 7, 2013
11/07/13
8:00
AM ET
Back in 2011, the Baltimore Ravens rarely spread out defenses, using three wide receivers one-quarter of the time. What a difference a couple of years make.
According to
The Baltimore Sun
's Matt Vensel, the Ravens have gone with three-receiver sets 63.6 percent of the time. In the loss at Pittsburgh, the Ravens used three-wide on 55 of their 61 offensive plays. In last Sunday's loss at Cleveland, Baltimore lined up in three-wide on 64 of its 67 offensive plays.
As The Sun pointed out, the player hurt the most in this change has been fullback Vonta Leach, who has played just 14 snaps in the past two games. But reduced playing time hasn't cost Leach. Based on his $840,000 salary, Leach earned $7,058 per play against the Steelers and Browns.
I advocated the Ravens
spreading out defenses
before they relied on it so heavily the past two games. The reason is that coach John Harbaugh always stresses that the Ravens will put the best 11 offensive players on the field, and that includes the No. 2 and No. 3 receivers Marlon Brown and Jacoby Jones.
Here's the rest of your wake-up caw ...
November, 2, 2013
11/02/13
9:00
AM ET
OWINGS MILLS, Md. -- The
Baltimore Ravens
' only lineup change coming out of the bye is replacing injured offensive lineman
Kelechi Osemele
with
A.Q. Shipley
.

On paper, it looks like a downgrade. Osemele is a second-round pick from a year ago, and Shipley is on his third team since being a seventh-round pick in 2009.
It doesn't look good for the Ravens on the eye test, either. Osemele is a powerful 6-foot-5, 330 pounds. Shipley resembles a bouncer at a bar at 6-1, 305 pounds.
Still, it's hard to overlook what coach John Harbaugh said Friday when announcing Osemele was likely done for the season.
"I'm excited to see how [the offensive linemen] play going forward," he said. "We'll actually be better there with a healthier player."
Harbaugh isn't putting a positive spin on this development. You could see he actually believes this. Osemele is clearly the best option when he wants to be out there. But you got the sense that he wasn't mentally committed to playing anymore.
Heading into the bye, Osemele told reporters, "They feel like I'm the best chance to win games at my position. So, I'm going to deal with it."
This sounded like a player being told to play, not one wanting to play. There are no such questions with Shipley, a blue-collar journeyman. He was pressed into the starting lineup for Osemele four weeks ago in Miami, where the Ravens had their best rushing game (133 yards) of the season.
"He's definitely proven we can win with him and he can play," right guard
Marshal Yanda
said.
The Ravens are going with Shipley for now, but there's no guarantee he'll remain the starter. Harbaugh mentioned
Jah Reid
"will be in the mix." There's been questions whether Reid, a third-round pick in 2011, has the toughness to be a starter in the NFL.
There's going to be a transition period with Shipley, whose natural position is center. He has never started a game at guard in the NFL. His teammates are going to help him as much as possible.
"You have to communicate a little more with the cadence and the calls when we're running the checks," Yanda said. "You don't want him to be mentally thinking about the play too much instead of just coming off the ball."
It's been quite a change for the Ravens' offensive line. For the first five games this season, the left side of Baltimore's offensive line was Osemele and tackle
Bryant McKinnie
. Now, the Ravens are going forward with Shipley and tackle
Eugene Monroe
.
"That's the thing -- you want your guys at 100 percent," Harbaugh said. "A.Q. has played very well when he's been in there. He's a football player."
Whether this change is for the better remains to be seen.
November, 1, 2013
11/01/13
2:20
PM ET
OWINGS MILLS, Md. --
Baltimore Ravens
left guard
Kelechi Osemele
has been ruled out for Sunday's game at the
Cleveland Browns
and is likely done for the season, coach John Harbaugh said after Friday's practice.
Osemele
A.Q. Shipley
told reporters that he will be starting Sunday at Cleveland. It will mark the first start at guard for the second-year lineman.
Osemele has been dealing with a back injury for the past two seasons and acknowledged last week that he would need surgery after the season. His status changed this week when he couldn't practice the past two days.
Harbaugh said the chances of Osemele playing the rest of the season "are probably pretty slim."
"The back was just getting a little worse and a little worse as we went," Harbaugh said. "We went back in and looked at it, and there are some things that may need to get taken care of."
Shipley
Osemele was limited in practice Wednesday but sat out Thursday and Friday. Shipley said he took most of the reps Thursday and was told he would start Friday.
It was four weeks ago when Shipley was pushed into the starting lineup after Osemele abruptly left with back spasms in the opening series. Since then, Shipley has received reps at left guard in case Osemele went down again.
"I'm ready. I know the position," said Shipley, who acknowledged center is his natural position. "It's a little different (than center) and a little easier in terms of the mental aspect. It's just a little more space to deal with now."
Durability had been a strength for Osemele. He had started 27 straight games, including playoffs, since he was selected in the second round by the Ravens last year.
"I've been on three different teams and he's one of the toughest guys I've been around," Shipley said. "To be able to push through it, we all know how hard back injuries are. The fact that he's been fighting, he's a heck of a player."
Osemele becomes the 11th starter from the Ravens' Super Bowl team to either retire, sign elsewhere in free agency, get cut, get traded or go down with a serious injury. He joins linebacker
Ray Lewis
(retired), safety
Ed Reed
(signed with Houston), wide receiver
Anquan Boldin
(traded to San Francisco), left tackle
Bryant McKinnie
(traded to Miami), center
Matt Birk
(retired), tight end
Dennis Pitta
(hip injury), nose tackle Maake Kemoeatu (not re-signed), linebacker
Dannell Ellerbe
(signed with Miami), cornerback
Cary Williams
(signed with Philadelphia) and safety
Bernard Pollard
(cut).