Baltimore Ravens:

Aaron Mellette
September, 1, 2014
Sep 1
8:00
AM ET
Only half of the members of the
Baltimore Ravens
' 2013 draft class are part of the team's 53-man roster. That's just 17 months after drafting those players.
The initial reaction is that this class has been underwhelming. There's only one established starter (safety
Matt Elam
) among those 10 players drafted, and two of the first four picks are either buried on the depth chart (second-round pick
Arthur Brown
) or on the practice squad (fourth-rounder
John Simon
).
[+] Enlarge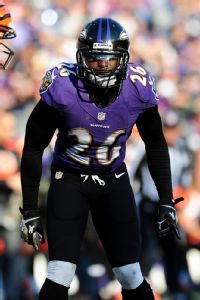 Evan Habeeb/USA TODAY SportsMatt Elam is the only established starter from the Ravens' 2013 draft class thus far.
What can save this draft class is the expected emergence of a handful of starters this season. There are four projected starters from the remaining five players from this draft class: Elam, nose tackle
Brandon Williams
, fullback
Kyle Juszczyk
and right tackle
Rick Wagner
.
Getting that many starters out of a draft class is a strong accomplishment when you consider the number of multi-year starters from the Ravens' draft classes in 2009 (two,
Michael Oher
and
Lardarius Webb
), 2010 (three,
Ed Dickson
,
Dennis Pitta
and
Arthur Jones
), 2011 (two,
Jimmy Smith
and
Torrey Smith
) and 2012 (two,
Courtney Upshaw
and
Kelechi Osemele
).
When evaluating this class, it should be pointed out that the Ravens drafted at the bottom of each round because they were defending Super Bowl champions. The Ravens also did well after the draft, picking up undrafted receiver
Marlon Brown
, who tied a team rookie record with seven touchdown catches.
Let's go pick-by-pick in the Ravens' 2013 draft:
SS Matt Elam
: The first-round pick didn't immediately live up to expectations of being the third safety taken in the 2013 draft. Elam finished with 76 tackles (fourth on the team), but he made only one interception and broke up three passes. He also missed 11 tackles and gave up two touchdowns. The Ravens are hoping Elam plays better after moving to strong safety, which is his more natural position.
ILB Arthur Brown
: The second-round pick isn't close to becoming a starter anytime soon. Although he plays fast, Brown too often gets gobbled up by big-bodied guards. He got on the field last year in passing situations, but that may not happen with the addition of first-round pick C.J. Mosley. This isn't exactly what the Ravens envisioned when they traded three picks to move up to get Brown.
NT Brandon Williams
: The third-round pick was inactive for six of the final eight games last season. There are heightened expectations for Williams this season. He is a first-year starter who made big plays in the preseason when the Ravens' defense was backed up. Williams doesn't want to be a space-eater inside. He wants to be a difference maker.
LB John Simon
: The fourth-round pick was cut Saturday and later signed to the practice squad. He could eventually return to active roster, but he's had trouble playing in space.
FB Kyle Juszczyk
: The second fourth-round pick wasn't able to handle the fullback job last season, which is why the team re-signed
Vonta Leach
. If the preseason is any indication, Juszczyk is primed for a breakout season. He led the team with 10 catches this preseason.
OT Rick Wagner
: The fifth-round pick struggled mightily when he was forced to fill in for an injured Michael Oher in last year's opener. Wagner steadily improved throughout his rookie season, and he's been solid in his first preseason as a starter. He was the Ravens' highest-graded offensive lineman this preseason, according to Pro Football Focus.
DE Kapron Lewis-Moore
: An injury sidelined the sixth-round pick for a second straight season. He was placed on injured reserve last week after being earmarked as the top backup to
Chris Canty
this season.
OL Ryan Jensen
: The sixth-round pick took a step back and lost his roster spot to rookie
John Urschel
. Jensen was the Ravens' lowest-rated guard this preseason.
WR Aaron Mellette
: The seventh-round pick spent last season on injured reserve and was released in June after failing a physical.
CB Marc Anthony
: The Ravens' last pick in this draft was waived in the final major cutdown and spent last season on the
Tampa Bay Buccaneers
' practice squad. Anthony was cut by the
Tennessee Titans
and Buccaneers this summer.
May, 31, 2014
May 31
10:00
AM ET
May, 30, 2014
May 30
11:00
AM ET
Baltimore Ravens
coach John Harbaugh gave an update on all of his injured players:
Cody
May, 28, 2014
May 28
3:20
PM ET
The weekly
Baltimore Ravens
chat tackled the chances of the Ravens going with three quarterbacks, the best plays in Ravens history and the probable starting lineup for the defensive line. If you want
full transcript
, click right here. Here are some highlights:
Rich (New Jersey)
: Since 2010, John Harbaugh has gone with two quarterbacks during the regular season, will he go with three this and if show who'll be that third QB on the depth chart?
Jamison Hensley (ESPN):
The Ravens haven't gone with three quarterbacks since 2009, when they had
Joe Flacco
, Troy Smith and John Beck. But I can see the Ravens going with three this year if they really feel like
Keith Wenning
, a sixth-round pick, is going to be the primary backup in 2015. The Ravens lost
Derek Anderson
, who was also a sixth-round pick, in 2005 when they tried to sneak him on the practice squad. That's why I see the Ravens going with Flacco,
Tyrod Taylor
and Wenning this year.
Natalie (New York City
): How would you assess the depth of the O line? If the Ravens suffer 1 or 2 injuries, how big would the dropoff be and are we looking at another lost year if these guys don't all stay perfectly healthy (which is a lot to ask)?
Jamison Hensley (ESPN)
: The depth is very young with
Ryan Jensen
,
Gino Gradkowski
,
John Urschel
and
James Hurst
. The Ravens did sign a veteran guard in
Will Rackley
, but there's no guarantee he'll make the team. He struggled a lot last year. I get the sense that Jensen is the next man up. If a tackle goes down,
Kelechi Osemele
will go to tackle and Jensen will step in at left guard. If a guard gets hurt, I expect Jensen to get the nod as well.
James (Towson):
If
Brandon Flowers
is cut, do you think the Ravens would look to sign him? Or would he still cost to much after being cut?
Jamison Hensley (ESPN)
: Flowers is making $5.2 million this year. If he's cut, he won't make that money but he won't be cheap. I'm not sure he'll come down enough to get in the Ravens' price range. He may also get a better shot at starting elsewhere. He's not going to get that chance with
Jimmy Smith
and
Lardarius Webb
being here.
Brandon (Pennsylvania)
: I saw your early predictions for the 53-man roster and I agree with all of it except not having
Aaron Mellette
on it. I think he can be a hidden gem for us, and not having
Sammy Seamster
who I think could be more useful to us then
Asa Jackson
. Your thoughts?
Jamison Hensley (ESPN)
: Mellette has a shot but he'll need to show up on special teams to get one of the final roster spots. He may end up on practice squad. Seamster has the size-speed combination that teams want out of a cornerback, but it's a big step up from Middle Tennessee State. The Ravens don't often like to rely on young cornerbacks. That's why you've seen them sign veterans like
Corey Graham
, Corey Ivy, Frank Walker and Corey Fuller over the years. I suspect they will find another veteran after the final major cutdown.
Renn (Columbia, Md.)
: Your take: best play in Ravens history?
Jamison Hensley (ESPN)
: Craziest play: Mile High Miracle to
Jacoby Jones
. Monumental play:
Jermaine Lewis
returning kickoff for a touchdown in the Super Bowl. Best play:
Ray Rice
converting fourth down-and-21.
D'Juan (Pennsylvania):
Most people believe the defensive line starting lineup will be
Chris Canty
,
Brandon Williams
and
Haloti Ngata
but I have high expectations on
Timmy Jernigan
. I also see
Kapron Lewis-Moore
beating out Canty sooner than later. So my lineup would be Kapron, Timmy, Ngata. Your thoughts?
Jamison Hensley (ESPN)
: Ngata and Canty should be the starters. If the Ravens had that much faith in Lewis-Moore, they wouldn't have used a fourth-round pick on
Brent Urban
. The other starting spot is between Brandon Williams and Timmy Jernigan.
September, 13, 2013
9/13/13
1:40
PM ET
Baltimore Ravens
starting defensive lineman
Arthur Jones
has "a chance" of playing Sunday after missing the past two weeks with a heart condition, coach John Harbaugh said Friday.
Jones
Jones revealed this week that he hasn't played since the Aug. 22 preseason game because of a racing heartbeat that would not settle down. He was cleared to return to practice this week and has been limited in workouts.
Marcus Spears
replaced Jones in the starting lineup in the season opener.
"He didn't get too out of shape," Harbaugh said. "He's progressing well. We're going to have to see how he feels on Sunday. He looked OK at practice. But that's something we're going to have to see how he's feeling on Sunday. So, he's got a chance."
Harbaugh also addressed the team's decision to place rookie wide receiver
Aaron Mellette
on injured reserve Wednesday. There were questions about Mellette's knee injury, because he wasn't on the injury report last week and he didn't play in the season opener.
According to Harbaugh, Mellette's knee bothered him throughout training camp, and the seventh-round pick had to sit out when the knee swelled up. Harbaugh said Mellette learned he had two cartilage tears after seeing a specialist.
"It's not major, major," Harbaugh said. "But they're four-to-six week deals, and we don't really have time for that in terms of holding a roster spot. So, we figured we'd go and make the roster move and get him healthy."
September, 11, 2013
9/11/13
4:10
PM ET
In a move that was unexpected, the
Baltimore Ravens
placed wide receiver
Aaron Mellette
on injured reserve, opening up a roster spot for running back/returner
Shaun Draughn
.

It makes sense in one respect. Putting Mellette, a rookie seventh-round pick out of Elon, on IR ends his season, but it's one way to keep a developmental player. If you try to put him on the practice squad, you risk him getting picked up by another team.
Still, there was no indication that this move was coming or that Mellette was even injured. It was announced that Mellette has a knee injury. Mellette wasn't on the Ravens' Week 1 injury report (which means he had full practices) and he didn't play in the season opener. The Ravens did practice twice since Thursday's game, but coach John Harbaugh sounded optimistic about Mellette playing at some point this season after Monday's practice.
"He's playing well," Harbaugh said of Mellette. "There's nothing that he's doing that wouldn't make him a possibility to be active."
Mellette showed potential in the preseason, but he was surpassed on the depth chart by undrafted rookie
Marlon Brown
. The Ravens currently have six wide receivers on the roster, although only four are healthy: Brown,
Torrey Smith
,
Jacoby Jones
(injured, knee),
Brandon Stokley
,
Tandon Doss
and
Deonte Thompson
(injured, foot).
August, 30, 2013
8/30/13
10:50
AM ET
There's only one certainty about the logjam at the
Baltimore Ravens
' wide receiver battle:
Marlon Brown
,
Tandon Doss
and
Aaron Mellette
didn't make the decisions for Saturday's final cutdown any easier.

All three receivers delivered their best performances of the preseason in
Thursday's 24-21 loss at St. Louis
. The Ravens have to determine how many receivers they want to carry in addition to
Torrey Smith
,
Jacoby Jones
and
Brandon Stokley
.
LaQuan Williams
, a special teams standout, and
Deonte Thompson
, who has missed the last three preseason games with a foot injury, also figure into the wide receiver equation.
Let's look at the five receivers who are trying to survive the final cutdown:
Marlon Brown
: He looks like he'll become the latest undrafted rookie to force his way onto the team, just like Jameel McClain,
Justin Tucker
and
Dannell Ellerbe
in recent years. In my projections, Brown was a lock before the preseason finale. His 50-yard touchdown just further confirmed his standing as the team's No. 4 receiver. Brown's got the size (6 feet 5), explosiveness and physical play (he had the final block on
Bobby Rainey
's first touchdown run) that the Ravens desperately needed this year. The Ravens should thank the Texans for not signing Brown after his tryout, because it led him to Baltimore.
LaQuan Williams
: He was limited in St. Louis because of a hamstring injury, according to
The Baltimore Sun
. Unless this turns out to be a significant injury, Williams should make the team on his special teams ability alone. Remember, the Ravens lost three experienced core special teams players in
Brendon Ayanbadejo
,
Sean Considine
and
David Reed
from last year's team. That increases Williams' value. And, given the fact the Ravens traded Reed this month, I don't see them getting rid of Williams, too.
Aaron Mellette
: After the first two preseason games, I thought the Ravens could store the rookie seventh-round pick on the practice squad. Now, following Mellette's five catches for 70 yards Thursday night, I don't see him clearing waivers. The Ravens have to either make room for him on the roster or be resigned to losing him to another team. He's shown too much in the preseason, and other teams have had to take notice. This is why I have Mellette getting the sixth receiver spot.
Tandon Doss
: The 2011 fourth-round pick showed up for the first time this preseason, making five catches for 75 yards. Doss went over the middle. He beat a defender down the field. This is what the Ravens have wanted to see out of Doss. "I finally got some balls thrown my way," Doss told reporters after the game. But I'm wondering whether this performance against the Rams' backups came too late to save him. What hurts Doss is he doesn't have as much value on special teams as Brown and Mellette. If the Ravens keep seven receivers, which they didn't last year, Doss makes the cut. If the Ravens carry six, I'm not sure if Doss is on the team.
Deonte Thompson
: Thompson drew a lot of buzz during offseason camps, and some believed he had a shot at being one of the Ravens' top three receivers. But a sprained foot has sidelined him for the last three preseason games. He hasn't even begun to practice, which is a sign that the Ravens may have to put him on injured reserve. The Ravens could give him a designation to return, which would allow the team to bring him back after missing the first eight weeks of the regular season. But the Ravens can only use that designation once, so that has to figure into the decision.