Baltimore Ravens:

Andy Moeller
July, 31, 2014
Jul 31
4:59
PM ET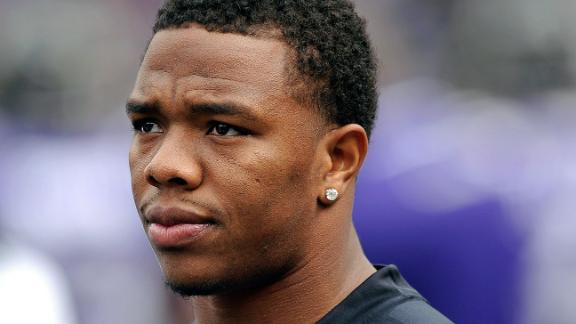 OWINGS MILLS, Md. -- In stark contrast to
Ray Rice
's awkward news conference in May, the
Baltimore Ravens
running back showed Thursday that he finally understood the weight of his actions from the alleged altercation with his then-fiancée in February.
He delivered the correct message, one the NFL failed to do last week with the two-game suspension, by not only apologizing to his wife Janay Palmer but also expressing a desire to become an advocate for domestic-violence causes.
Rice was compelling in his contrition, calling it the biggest mistake of his life. He stood in front of the microphone alone, without his wife standing by his side, and took full responsibility for the incident. Perhaps more importantly, Rice actually said the words "domestic violence," which weren't heard in his statement two months ago.
"My actions were inexcusable," Rice said. "That's something I have to live with the rest of my life."
Before anyone pats Rice on the back, this is what he should have said the first time when he broke his silence in May. Instead, Rice nervously fumbled through notes on his phone and apologized to team officials and his sponsors. That debacle of a news conference came across as damage control to his image.
His 17-minute news conference Thursday hit the right tones. He apologized to all women affected by domestic violence. He accepted the blame for losing the respect of fans. Rice came across as genuinely sorry.
"I let my wife down, I let my daughter down, I let my wife's parents down, I let the whole Baltimore community down," Rice said.
Rice's biggest misstep was not talking about what happened in the elevator. He was asked twice about it and declined to answer both times. His stance against domestic violence would have resonated stronger if he had explained his transgressions.
"I'll be honest: Like I said, I own my actions," Rice said. "I just don't want to keep reliving the incident. It doesn't bring any good to me. I'm just trying to move forward from it. I don't condone it. I take full responsibility for my actions. What happened that night is something that I'm going to pay for the rest of my life."
The only way Rice can move forward from this incident and show he's truly sincere is through his actions. It's not by his words. It's not by a hefty donation, which is merely a gesture. It's by proving this will remain a "one-time incident" and by supporting domestic-violence causes.
Thursday represented a small step forward for Rice. But it was an important one.
February, 6, 2014
Feb 6
1:30
PM ET
By my count, the
Baltimore Ravens
parted ways with six coaches. They either moved on to other jobs or got fired. Let's take a look at where they landed:
Jim Caldwell, offensive coordinator:
Detroit Lions
head coach
Teryl Austin, secondary coach:
Lions defensive coordinator
Wade Harman, tight ends:
Atlanta Falcons assistant offensive line coach
Jim Hostler, wide receivers:
Buffalo Bills
senior offensive assistant
Andy Moeller, offensive line:
Cleveland Browns
offensive line coach
Wilbert Montgomery, running backs:
Browns running backs coach
January, 9, 2014
Jan 9
7:00
AM ET
In a move that makes a lot of sense, the
Baltimore Ravens
could lose one of their offensive line coaches to LSU.
Andy Moeller, the Ravens' offensive line coach for the past for the past three seasons, and Todd Washington, the Ravens' assistant offensive line coach, have been linked to the offensive line coaching job at LSU, according to the
New Orleans Times-Picayune
.
Moeller is the more likely candidate considering Ravens coach John Harbaugh announced Wednesday that Juan Castillo has taken Moeller's title as offensive line coach. Washington, who recently turned down the offensive line coaching job at USC, could remain and work under Castillo.
Hiring either one would be a reunion with LSU offensive coordinator Cam Cameron, who was the Ravens' offensive coordinator for five seasons.
The Ravens have already parted ways with one coach this offseason, when they announced running backs coach Wilbert Montgomery won't return. Baltimore could also lose offensive coordinator Jim Caldwell, who has interviewed for the head coaching jobs with the
Washington Redskins
,
Detroit Lions
and
Tennessee Titans
.
Here's the rest of your wake-up call ...
Ravens owner Steve Bisciotti defended coach John Harbaugh's decision to retain Castillo, who received tremendous criticism as the team's run game coordinator last season. "At the end the players were a lot more pleased with him than in the first four weeks," Bisciotti told The Baltimore Sun. "I don't think that relationship is deteriorating. I actually think Juan came in under a lot of pressure, working for a guy he used to work side-by-side with in John. Juan has had sustained success and he didn't stop being a great coach. He came in, saw some flaws and said 'I'm going to change this.' He got the natural resistance from guys who don't want to make changes. I have to admit that he did come on too strong and ruffled some feathers."

General manager Ozzie Newsome said using a franchise tag is "a possibility." One of the likely targets would be tight end Dennis Pitta. The tag for a tight end would cost approximately $6.7 million next season. "He still has the skill set to be a very productive receiver in this league," Newsome said, via

Comcast SportsNet

. "Going forward, we would like to have Dennis on our football team. He plays winning football for us. He's a mismatch problem for defenses."

Here's the entire "State of the Ravens" news conference, courtesy of the

team's official website

. Show of hands for everyone who watched all 52 minutes of it?