Baltimore Ravens:

Anquan Boldin
October, 25, 2013
Oct 25
10:30
AM ET
With the
Baltimore Ravens
on their bye, it's a good time to check out how the key members of last season's Super Bowl team are faring with their current teams. A special thanks to the ESPN.com team reporters who provided their assessment of the ex-Ravens. I then give my take on whether the Ravens miss these players.
ANQUAN BOLDIN
Boldin
A look at the numbers:
Boldin was traded to the
San Francisco 49ers
for a sixth-round draft pick. The wide receiver ranks 19th in the NFL with 495 yards receiving. He has 34 catches and two touchdowns. Boldin made an immediate splash with 208 yards receiving in the season opener, but he's come back down in the next six games.
Bill Williamson, ESPN.com 49ers reporter:
With
Michael Crabtree
and
Mario Manningham
out, Boldin is the 49ers' only legitimate threat at receiver. He will be even more dangerous when Manningham and Crabtree return and he sees fewer double-teams.
Do the Ravens miss Boldin?
Yes. Even though they miss tight end
Dennis Pitta
more, the Ravens could use Boldin on third down and in the red zone.
Marlon Brown
has stepped up, but
Joe Flacco
had a certain trust with Boldin.
DANNELL ELLERBE
Ellerbe
A look at the numbers:
Ellerbe signed a five-year, $34.75 million contract with the
Miami Dolphins
that included $14 million guaranteed. The inside linebacker ranks third on the Dolphins with 40 tackles. Ellerbe has no sacks and no passes defensed, but he has recovered two fumbles. He's missed one game this season with a shoulder injury.
James Walker, ESPN.com Dolphins reporter:
Ellerbe has been a mostly good addition for the Dolphins. He's taken to his new role as a leader and defensive playcaller, leading the Dolphins in tackles before his shoulder injury, but he has struggled at times against the pass.
Do the Ravens miss Ellerbe?
Yes. But it's not like the Ravens had the salary-cap room to match the Dolphins overpaying for Ellerbe. He would be an upgrade over
Josh Bynes
as well as
Jameel McClain
, who is 10 months removed from a spinal-cord contusion.
PAUL KRUGER
Kruger
A look at the numbers:
Kruger signed a five-year, $40.5 million contract with the
Cleveland Browns
that includes $20 million guaranteed. The outside linebacker has had more penalties (two) than sacks (1.5). His 19 quarterback hurries lead the Browns, and his eight missed tackles are tied for the most on the team.
Pat McManamon, ESPN.com Browns reporter:
Kruger has been solid but not spectacular for the Browns. The main issue: His sack numbers are not what he or the team had hoped for. Through seven games, Kruger has 1.5 sacks, and he admits that's not enough. Especially for a guy paid as handsomely as he was in the offseason.
Do the Ravens miss Kruger?
Not at all, especially after
Elvis Dumervil
fell into their laps. Dumervil has 5.5 sacks, two forced fumbles and seven quarterback hits.
BERNARD POLLARD
Pollard
A look at the numbers:
Pollard signed a one-year, $2 million contract with the
Tennessee Titans
after being cut by the Ravens. The strong safety leads the Titans with 47 tackles. He also has two interceptions and three passes defended, and has even blocked a kick.
Paul Kuharsky, ESPN.com Titans reporter:
Pollard has been great for the Titans. He's been the sort of outspoken leader they needed, and he's backed it up with solid play. The Titans have schemed in a way that's kept him out of difficult coverage situations, and he's been good in pass defense.
Do the Ravens miss Pollard?
Yes.
James Ihedigbo
has exceeded expectations, but Pollard brought a level of intimidation that the Ravens' defense misses. You have to wonder whether the Ravens' run defense would be better with Pollard and whether receivers would think twice going over the middle with him in the defensive backfield.
ED REED
Reed
A look at the numbers:
Reed signed a three-year, $15 million contract with the
Houston Texans
that included $6 million guaranteed. The free safety missed the first two games of the season with a hip injury, and he doesn't have an interception or a pass defended this season. He ranks 13th on the Texans with 14 tackles.
Tania Ganguli, ESPN.com Texans reporter:
Reed has not yet made the kind of impact many expected from him. He wants to be tested more than he has been -- he's only been targeted three times by quarterbacks this season.
Do the Ravens miss Reed?
For the short term? Probably. In the long term? Probably not. Quarterbacks likely wouldn't test the Ravens deep as much with Reed playing center field. But the Ravens will be better in the future with
Matt Elam
, a first-round pick who is learning on the job this season.
CARY WILLIAMS
Williams
A look at the numbers:
Williams signed a three-year, $17 million contract with the
Philadelphia Eagles
that includes $10.5 million guaranteed. The cornerback has two interceptions and five passes defended this season. He's allowed two touchdowns and has been flagged for four penalties.
Phil Sheridan, ESPN.com Eagles reporter:
Williams got off to a bit of an odd start, missing some voluntary workouts for personal reasons (and famously saying he was picking out sconces for the home he was building), then fighting with
Riley Cooper
in practice. But he brings that same attitude to the field, which has helped give this rebuilding Eagles defense a personality. He hasn't been great on the field, but he's been good and getting better as the defense in front of him becomes more competent. Mostly, I'd say he's a guy who knows what it's like to be part of a winning, intimidating defense, and that's in short supply around here.
Do the Ravens miss Williams?
Hard to say. Once again, this is a case where the Ravens couldn't have come close to matching the offer from the other team. Even if the Ravens had Williams, I'm not sure he starts.
Lardarius Webb
was going to reclaim his starting job, and
Jimmy Smith
was going to start because it was time to see if he was worth a first-round pick.
September, 13, 2013
Sep 13
1:00
PM ET
Trading wide receiver
Anquan Boldin
to the
San Francisco 49ers
was the
Baltimore Ravens
' biggest mistake of the offseason. Was it the worst trade in NFL history?
Boldin
That's the assertion of
ESPN's Rick Reilly
:
Just to repeat: They wanted the guy who helped lead them to a world championship to take a $2 million pay cut! And what else? Sweep out the boxes afterward? And what did the Ravens do with all the money they saved on Boldin? They spent it on defense. That defense then went to Denver and gave up the most points in franchise history. It may be the worst trade in NFL history.
Here's the real bottom line: the Ravens were either going to trade Boldin or release him because he refused a pay cut. So, the fact that the Ravens got a sixth-round pick was a good trade for the Ravens in one respect. They would've got nothing for Boldin if they cut him. Baltimore used that sixth-round pick to move up in the second round to draft
Arthur Brown
, who is considered the future at inside linebacker.
Would I have traded Boldin? No way. I've repeatedly written that shipping Boldin was the one move that the Ravens would regret. But it's hardly the worst trade in NFL history, and I get the sense that Reilly is poking fun at the situation when ranking Boldin behind the acquisition of Alaska in terms of worst deals. When you're debating the worst trades in NFL history, it's hard to forget the Saints trading their entire draft for Ricky Williams or the Falcons trading Brett Favre for a first-round pick (which turned out to be the far-from-legendary running back Tony Smith).
In fact, this can't go down as the worst trade in Baltimore NFL history. In 1983, the Colts sent John Elway to the Broncos. About 10 months later, the Colts relocated to Indianapolis. When you put it in that context, it's hard for Baltimore football fans to wring their hands over losing Boldin.
September, 10, 2013
Sep 10
8:00
AM ET
The
Baltimore Ravens
aren't the only playoff team off to a slow start. With the Redskins losing Monday night, last season's division winners were 4-4 in Week 1. Here's your Wake-up caw ...
In his first comments about his new contract, John Harbaugh called it an honor to coach the Ravens. "I'm just very excited about it and ready to move on and prove that decision was the right one," Harbaugh said, via the team's official website. His last new contract, which came in February 2011, averaged $4 million per season and put him on the fringe of the top-10 highest paid coaches. This latest one reportedly will pay him nearly $7 million per year. Only three coaches make more than $7 million: the Patriots' Bill Belichick, Saints' Sean Payton and Chiefs' Andy Reid.
Defensive lineman Arthur Jones received positive news about his illness, which The Baltimore Sun described as a virus near his heart. But coach John Harbaugh doesn't know if Jones will be available for Sunday's game. "Good news, it seems to have cleared up," Harbaugh said. "He should be good, and we'll just have to see how ready he is to play this week. That will obviously be the issue football-wise. I can't make a prediction on that right now."
The Baltimore Sun's Mike Preston believes Anquan Boldin is a better fit for the 49ers. "Because of Colin Kaepernick's running ability, most teams play zone against him and that helps Boldin," Preston wrote. "He is able to find the holes and creases in zones as he did Sunday against the Packers. Here in Baltimore with Joe Flacco as quarterback, the Ravens would probably see more man-to-man defense because Flacco isn't a scrambler. When most teams pressed up on Boldin last season, especially big cornerbacks, he couldn't get separation."
Cornerback Corey Graham said the Ravens lost sleep over their season-opening performance, but not their confidence. "We have to play better," Graham said, via Comcast SportsNet. "We know what we've got to do, and that was unacceptable. When you lose guys like Ray Lewis and Ed Reed, obviously it's big, but I feel like we definitely have the guys to get it done. We've just got to get on the same page, find a way to go out there and win games." Graham, in particular, had a brutal game. According to Pro Football Focus, Graham graded out as the third-worst corner in Week 1 (only Darius Slay and Cortland Finnegan were worse).
Harbaugh indicated wide receiver Jacoby Jones and offensive tackle Michael Oher are "day-to-day, week-to-week." Jones' knee injury is reportedly more of a concern than Oher's ankle injury. Jones is expected to miss four to six weeks. "We'll see how that goes with Jacoby," Harbaugh said, via the team's website. "He has a sprain. It's not a serious-type thing. But we'll just have to see how that goes."
September, 9, 2013
Sep 9
5:55
PM ET
The 13-catch, 208-yard performance by wide receiver
Anquan Boldin
has caused many reporters and fans to second-guess the
Baltimore Ravens
' decision to trade him to the
San Francisco 49ers
for a sixth-round pick.

Boldin
"I haven't heard any of it, probably by design," coach John Harbaugh said before cracking a smile. "My wife did mention it to me -- a couple of times."
As
I wrote earlier
, the struggles of the Ravens' passing attack in the season opener were underscored by Boldin's dominating performance. While this looks like a bad decision by the Ravens, Harbaugh said there are no hard feelings with Boldin.
"He's a great player. There's nobody here that didn't want Anquan back," Harbaugh said Monday. "He plays for another team now. I have a rooting interest in that team, I guess. So I happened to watch the game. I've got a rooting interest in Anquan, too. We all do."
In March, the Ravens asked Boldin to take a $2 million pay cut even though he played an integral part in the team's Super Bowl win a month earlier. When Boldin refused, Baltimore traded him to the 49ers to create $6 million in salary-cap room, which was used to sign three starters on defense (linebacker
Elvis Dumervil
, safety
Michael Huff
and defensive lineman
Chris Canty
).
The Ravens also packaged that sixth-round pick with two others to move up in the second round this year to draft linebacker
Arthur Brown
.
"It was a business decision both ways," Harbaugh said. "It was definitely disappointing that it ended the way it did. We're happy for his success, and I'm looking forward to our success as well."
September, 9, 2013
Sep 9
10:30
AM ET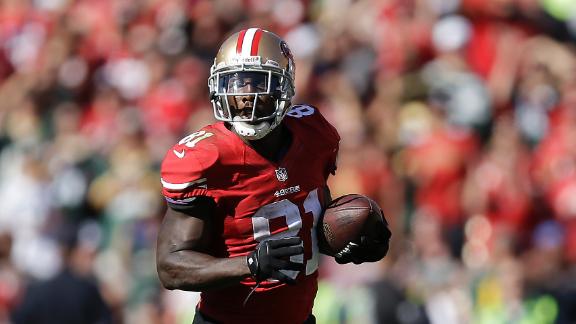 While I don't plan to run a weekly scorecard on this, here's your Week 1 results ...
Anquan Boldin
: 13 catches, 208 yards and one touchdown.
Ravens wide receivers: 15 catches for 215 yards and one touchdown.
Winner: Boldin.
It's easy after one game to pile on the
Baltimore Ravens
and general manager Ozzie Newsome for trading Boldin, but I believed the defending Super Bowl champions would
regret the move
back in March. Boldin's monster game just magnifies the rare misstep by the Ravens' front office and the deficiencies of Baltimore's passing attack. The season-opening loss in Denver showed the Ravens need someone who can make clutch catches, whether it's at the goal line or on third down. The receiver the Ravens needed was Boldin.
Instead, San Francisco coach Jim Harbaugh couldn't help gushing about the offseason gift from his brother John.
"It feels great to have him," Jim Harbaugh said after the 49ers' win against the Packers. "We did give up a draft choice for him and [we're] paying him a lot of money, but definitely think he's worth every penny. I think he's worth every penny."
To be fair, the Ravens shipped Boldin to the 49ers for a sixth-round pick when they had tight end
Dennis Pitta
ready to become
Joe Flacco
's next security blanket. The Ravens didn't want to restructure a veteran's contract (like
Terrell Suggs
or
Haloti Ngata
) to keep Boldin, and this organization has made a living on parting ways with older players just before they decline (see
Derrick Mason
,
Todd Heap
and
Kelly Gregg
, to name a few).
In the Ravens' minds, the $6 million in salary cap space created by trading Boldin allowed the Ravens to add three defensive starters in March -- outside linebacker
Elvis Dumervil
, safety
Michael Huff
and defensive lineman
Chris Canty
-- who accounted for $5.35 million in cap space this year. But, as one team official in the AFC has repeatedly told me, you can always find a way to make cap room for a player if you really want him. It just costs you down the line.
My contention six months ago and now is the Ravens didn't have a suitable backup plan at wide receiver when they got rid of Boldin. I didn't see
Jacoby Jones
consistently moving the chains. I didn't see
Tandon Doss
making that tough catch in the red zone. It took a while, but Flacco had finally built a trust with Boldin that was apparent in last season's championship run.
Ravens fans will keep an eye on Boldin's numbers throughout the season, and it obviously won't be like this every week. Boldin caught five passes of least 15 yards downfield Sunday, his most in a game in five seasons. He had one of those top-five career games. But, as those who follow the Ravens know, it's not about gaudy receiving numbers for Boldin. It's about when he makes those catches.
In his 49ers' debut, Boldin caught all four passes thrown his way on third down and converted all four. He also had two receptions in the red zone and one on fourth down in the fourth quarter, which sealed the game. The 49ers know all about Boldin's timely catches after witnessing the key third-and-short reception in the fourth quarter of the Super Bowl.
Boldin isn't going to finish in the top five in receiving yards or catches like
Calvin Johnson
. But he's going to do all the things that helps a team win. That's why Boldin is such a big loss to the Ravens.
September, 3, 2013
Sep 3
2:00
PM ET
In ESPN.com's NFL preview, the
Baltimore Ravens
were the
consensus pick to finish second
in the AFC North. I was one of two prognosticators (Ashley Fox was the other) who has the Ravens winning the division for a third straight season, but I was obviously outnumbered on this point. The
Cincinnati Bengals
are the favorite to win the division. As I put it, The defense is faster and more athletic, and the offense can score points with
Joe Flacco
,
Ray Rice
and
Torrey Smith
. The demise of the defending Super Bowl champions has been greatly exaggerated.
Here is the Intelligence Report that I wrote on the Ravens:
1. Backing up the contract:
Most quarterbacks don't have anything to prove after winning a Super Bowl and earning the game's MVP honors. But there's still a chip on Joe Flacco's shoulder, or more specifically, a $120.6 million contract on it. He has to put up more than pedestrian numbers to back up being one of the highest-paid players in the game. In five NFL seasons, Flacco has never thrown for 4,000 yards or more than 25 touchdowns in a season. The Ravens' belief is, with Jim Caldwell remaining the playcaller, Flacco will carry over his spectacular postseason -- 11 touchdowns and zero interceptions -- into the 2013 regular season.
2. Replacing Ray Lewis and Ed Reed:
No one is ever going to replace Lewis and Reed as far as what these future Hall of Fame players have meant to the franchise, and the Ravens aren't trying to do that. Baltimore, though, thinks it can replace two great players who were at the end of their careers.
Daryl Smith
, the all-time leading tackler in Jaguars history and the Ravens' new middle linebacker, has been Baltimore's best defensive player this preseason. Safety
Michael Huff
is more versatile than Reed and provides more of a physical presence. Plus, Smith and Huff will combine to make $1.7 million this season, which is $13 million less than what the Ravens paid Lewis and Reed last season. The biggest challenge is filling the leadership void.
3. Offensive identity:
Are the Ravens going to pass more because of the big-money contract given to Flacco? Or are they going to be a run-first team after the losses of wide receiver
Anquan Boldin
and
Dennis Pitta
? The Ravens' identity is going to be a little of both. A balanced attack isn't a haphazard guess. This is based on what the Ravens did in the playoffs with Caldwell running the show. In the postseason, Flacco dropped back to throw 132 times and the running backs received 128 carries. The two most proven playmakers are Flacco and Ray Rice, and it would be unproductive to take the ball out of either one of their hands for an extended period.
4. Dynamic defensive duo:
Over the past six seasons,
Terrell Suggs
has had one only teammate record more than seven sacks in a season. That's why no one is more excited than the 2011 NFL Defensive Player of the Year over the Ravens landing an elite pass-rusher like
Elvis Dumervil
in free agency. Since Dumervil entered the league in 2006, his 63.5 sacks are tied for seventh most in the NFL. This addition certainly got the attention of
Ben Roethlisberger
,
Andy Dalton
and
Brandon Weeden
.
5. Receivers need to step up:
The Ravens lost more than their top two receivers when Boldin was traded and Pitta went down with a dislocated hip. They also lost their most-clutch receivers. Over the past two seasons, Boldin and Pitta combined for 17 touchdowns in the red zone. Last year, Boldin and Pitta led the team in third-down catches. The pressure to convert inside the 20-yard line and move the chains falls on wide receiver Torrey Smith, tight end
Ed Dickson
and two recent veteran additions in
Brandon Stokley
and
Dallas Clark
.