Baltimore Ravens:

Ben Roethlisberger
November, 28, 2013
11/28/13
11:39
PM ET
BALTIMORE -- A few thoughts on the
Baltimore Ravens
' 22-20
win
against the
Pittsburgh Steelers
.

What it means:
In a rivalry that has been defined by close finishes, the Ravens (6-6) came up big in a must-win game and took over sole possession of the sixth and final playoff spot in the AFC. Baltimore ended the Steelers' three-game winning streak and split the season series with Pittsburgh (5-7). With their third win in four weeks, the Ravens closed to within 1½ games of the AFC North-leading
Cincinnati Bengals
(7-4). Baltimore also evened its record for the first time since Week 6.
Game-saving stand:
After allowing a 1-yard touchdown to
Jerricho Cotchery
, the Ravens broke up a game-tying two-point conversion with 63 seconds left in the game. Backup cornerback
Chykie Brown
had coverage on
Emmanuel Sanders
and didn't let him have a clear look at
Ben Roethlisberger
's pass to the end zone. It's the fifth straight meeting between the Ravens and Steelers decided by three or fewer points. This was redemption for a Ravens defense that allowed a game-winning drive in Pittsburgh as time expired last month.
Stock watch:
Rising:
Torrey Smith
. The wide receiver scored Baltimore's only touchdown of the game when he caught a 7-yard pass in the end zone. It's his third touchdown in four games. Smith finished with five catches for 83 yards.
Where's the flag?
Jacoby Jones
returned a kickoff 73 yards following the Steelers' touchdown in the third quarter. He would have run it back for a touchdown, but he was slowed by Steelers coach Mike Tomlin, who had his back turned to the play and was in the field of play. The Ravens eventually settled for a field goal on that drive.
Tucker for MVP
: Kicker
Justin Tucker
is making a strong case to be the Ravens' Most Valuable Player. He kicked five field goals, hitting from 43, 34, 38, 45 and 48 yards, respectively. Tucker has made 27 straight field goals, which is the longest current streak in the NFL and second-longest in Ravens history.
Rough in red zone
: The Ravens, who entered the game with the best red-zone defense in the NFL, gave up touchdowns on both drives inside their 20-yard line. Baltimore also allowed a one-yard touchdown to
Le'Veon Bell
. It was only the second rushing touchdown given up by the Ravens this season.
What's next
: The Ravens wrap up their three-game homestand by playing the
Minnesota Vikings
(2-8-1) on Dec. 8.
November, 28, 2013
11/28/13
12:00
PM ET
BALTIMORE -- The
Baltimore Ravens
are looking to make life rough again for
Pittsburgh Steelers
quarterback
Ben Roethlisberger
at M&T Bank Stadium.
In November 2006,
Bart Scott
leveled Roethlisberger for one of nine Ravens sacks in the game. In December 2010,
Haloti Ngata
bloodied Roethlisberger's nose.
It's no surprise that Baltimore has been the toughest place for Roethlisberger to play in the division. For his career, Roethlisberger is 2-2 at M&T Bank Stadium with five touchdowns and eight interceptions (65.7 passer rating). Compare that to Cincinnati and Cleveland, where Roethlisberger has a combined 16-3 record with 25 touchdowns and 12 interceptions.
Here are the
official ESPN predictions
(with their prediction record for the Ravens in parentheses):
Jamison Hensley (8-3), Ravens team reporter:
Ravens, 20-16. The Ravens are tough to beat at home, and they are the more desperate team. Their playoff hopes are basically over if the Steelers sweep them. It will be close as always, but I like Joe Flacco's recent track record late in games against Pittsburgh.
Scott Brown, Steelers team reporter:
Ravens, 24-20.
Eric Allen (5-6):
Steelers
Mike Golic (8-3):
Steelers
Merril Hoge (6-5):
Steelers
Ron Jaworski (7-4):
Ravens
KC Joyner (7-4):
Steelers
Chris Mortensen (5-6):
Ravens
Adam
Schefter (6-5):
Ravens
Mark
Schlereth (7-4):
Steelers
Seth
Wickersham (6-5):
Ravens
Tom
Jackson (6-5):
Steelers
Keyshawn
Johnson (6-5):
Steelers
Mike
Ditka (5-6):
Steelers
Cris
Carter (5-6):
No pick
November, 27, 2013
11/27/13
7:00
PM ET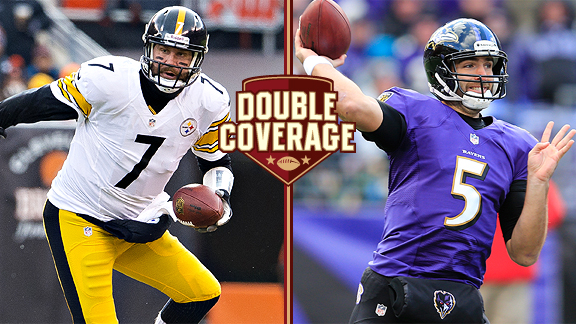 Getty ImagesBen Roethlisberger, left, and Joe Flacco are trying to keep their teams in the playoff hunt.
BALTIMORE -- A few weeks ago, it looked like the
Baltimore Ravens
and
Pittsburgh Steelers
would only be playing for bragging rights on Thanksgiving night. Not so anymore.
There are major playoff implications in the 39th meeting between the AFC North rivals who respect -- but certainly don't like -- each other. The winner of Thursday night's Ravens-Steelers game closes to within 1.5 games of the division-leading
Cincinnati Bengals
and becomes the front-runner for the final playoff spot in a log-jammed AFC wild-card race.
The Steelers (5-6) have rebounded from an 0-for-September start and won three straight, becoming the hottest team in the division. The Ravens (5-6) have won two of their past three and are looking to avoid being swept by Pittsburgh for the first time since 2008.
This is how ESPN.com Steelers team reporter Scott Brown and Ravens team reporter Jamison Hensley see this physical showdown unfolding:
Jamison Hensley
:
Ben Roethlisberger
has been on a tear in the Steelers' three-game winning streak with seven touchdowns and one interception. What began to click for Roethlisberger this month?
Scott Brown
: The Steelers have really put the game in Roethlisberger's hands the past couple of weeks with their use of the no-huddle offense, and I think it is safe to say that approach agrees with them. It's no secret how much Roethlisberger likes running the no-huddle offense, and I'm not sure why it took the Steelers this long to really take the reins off that attack.
Maybe there were concerns about using it extensively with a rookie running back and an offensive line that always seems to have moving parts because of injuries. Maybe Mike Tomlin is wary of exposing the offense too much and making it easier for opponents to devise ways to stop it. I will be very interested in seeing how much they use it against the Ravens in a loud stadium after a short week of practice.
While Roethlisberger is No. 8 in the NFL in passer rating (92.2), the Ravens'
Joe Flacco
is 29th (76.8). What has been his biggest problem this season?
Hensley
: Well, it's been interceptions, interceptions and ... did I happen to mention interceptions? Flacco has never been picked off more than 12 times in the regular season. This season, he has thrown 14, and it's not even December. Only four quarterbacks have been intercepted more than Flacco this season. And honestly, the increased turnovers shouldn't come as a surprise in a year when he hasn't had his top two targets (
Anquan Boldin
was traded and
Dennis Pitta
is on injured reserve-designated for return).
What Flacco has going for him Thursday night is he always plays better at home, and he comes up big late in games against the Steelers. He has two game-winning drives in Pittsburgh, and he tied the Steelers with a late drive last month. In his past six games against Pittsburgh, Flacco has thrown seven touchdowns and one interception.
But a big reason for Flacco's increased turnovers this season is the increased pressure getting to him. What is the state of the Steelers' pass rush?
Brown
: The pass rush has gotten better, but it's still not where it was when
James Harrison
was in peak form and
LaMarr Woodley
was able to actually stay on the field instead of dealing with nagging injuries. Woodley has missed the past two games with a calf issue, but his absence has allowed
Jason Worilds
to really emerge.
Worilds is finally showing why the Steelers drafted him in the second round in 2010, passing on local product
Sean Lee
, among others. Worilds has been extremely disruptive the past two games coming off the left edge, and he is playing so well, I'm wondering if he is the Steelers' best long-term option at left outside linebacker.
The Ravens' pass rush has been a strength of the team. Baltimore is tied for the NFL lead with 37 sacks. Will the Ravens be able to get to Roethlisberger?
Hensley
: History says yes. The Ravens have recorded at least two sacks in 19 straight games, dating back to the 2012 season. It ties the
Philadelphia Eagles
(2003-2004) for the NFL's longest such streak since 1990. Most of the attention is on the pressure the Ravens bring from the edges with
Elvis Dumervil
(9.5 sacks) and
Terrell Suggs
(nine sacks). But defensive tackle
Arthur Jones
(four sacks) and blitzing inside linebacker
Daryl Smith
(3.5 sacks) collapse the middle of the pocket.
That being said, sacks aren't the primary goal with Roethlisberger. The Ravens want to contain him in the pocket as much as possible. They know how dangerous he is when he escapes and finds an open receiver downfield.
Roethlisberger isn't the only concern for the Ravens' defense. One reason why the Ravens lost in Pittsburgh was their inability to stop rookie running back
Le'Veon Bell
, who rushed for a season-high 93 yards that day. Is he one of the X factors for the rematch?
Brown
: I actually forgot Bell came that close to a 100-yard rushing game the last time the Steelers and Ravens played. Bell is having a strange season in that the rookie is averaging just 3.2 yards per carry, yet he has completely stabilized the running game and given it hope for the future. He looks like an NFL back, and his skills allow him to pick up yards in the passing game when running lanes are clogged. He can also grind out the tough yards, and he has shown enough flashes as a runner that I think it's only a matter of time before he becomes a really good back.
Mike Tomlin talked about the success
Ray Rice
has had in recent weeks, and since he takes lavishing praise on the opponent to another level, I figured you would provide more of a straight answer. Is Rice hitting his stride or is he still struggling and looking like a back who might have lost his burst?
Hensley
: It's easy to sum up the past two weeks for Rice. When he played against the NFL's worst run defense (
Chicago Bears
), he ran for 131 yards. When he went against the best run defense (
New York Jets
), he was held to 30 yards. Rice has certainly been a more determined runner the past couple of weeks. He just hasn't been the same playmaker this season.
But this isn't the same Steelers run defense from previous seasons, either. Pittsburgh ranks 23rd in the league in stopping the run. Six running backs have gained at least 70 yards against the Steelers this season. Could Rice be the next one to do this?
.
November, 27, 2013
11/27/13
10:00
AM ET
OWINGS MILLS, Md. -- A victory over the
Pittsburgh Steelers
on Thursday night would improve the
Baltimore Ravens
' playoff hopes and help them avoid getting swept by their AFC North rival.
It would also represent the Ravens' first win over a top-tier quarterback.
The Ravens' five victories this season have come against quarterbacks whose passer ratings are ranked 20th or worse: the
Cleveland Browns
'
Brandon Weeden
(33rd in passer rating), the
Houston Texans
'
Matt Schaub
(28th), the
Miami Dolphins
'
Ryan Tannehill
(25th), the
Cincinnati Bengals
'
Andy Dalton
(20th) and the
New York Jets
'
Geno Smith
(34th).
Two of those quarterbacks lost their jobs this season (Weeden and Schaub) and another is on the brink of getting benched (Smith). These quarterbacks have totaled for 57 touchdowns and 64 interceptions this season. The combined passer rating is 75.0. To put that in perspective, the often-criticized
Joe Flacco
has a 76.8 passer rating.
The Ravens have gone against a top-10 quarterback twice and lost both times. Baltimore fell to
Peyton Manning
in the season opener and came up short against
Ben Roethlisberger
last month. In each of those games, the Ravens allowed Manning and Roethlisberger to post passer ratings over 100. In fact, Manning tied an NFL record with seven touchdown passes.
Thanksgiving night represents another shot to knock off a top quarterback with Roethlisberger coming to town.
"We're going to be ready for Ben," safety
James Ihedigbo
said. "He's a great quarterback, he can break tackles and he can make big-time throws. But we have a great front four, a great group of linebackers and a great secondary. We'll be ready."
Does a defense measure itself against top-tier quarterbacks?
"No. At the end of the day, the only thing that really matters is the win and the loss," linebacker
Terrell Suggs
said. "You can't really measure yourself by [that], because when we played a top quarterback in Week 1, it didn't work out so well for us. But if we had got down on ourselves, who knows? We would probably be packing it up, ready to go home. But we knew that it was just one game. When you play elite quarterbacks, you do want to play good and firm on defense. That's just the No. 1 thing. If we score more points than them, then we win."
October, 18, 2013
10/18/13
12:00
PM ET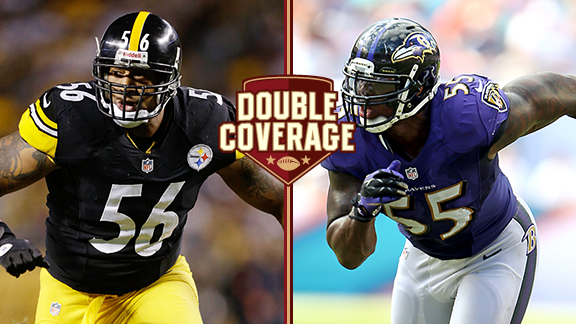 AP PhotosRecords matter little when LaMarr Woodley and the Steelers meet Terrell Suggs and the Ravens.
.
The
Baltimore Ravens
and the
Pittsburgh Steelers
renew their storied rivalry Sunday at Heinz Field, and both teams are badly in need of a win. That should only increase the intensity, which is never an issue anyway when these teams meet.
What is a bit unfamiliar, however, is how both teams have struggled this season. The 1-4 Steelers went winless in September. The defending Super Bowl champion Ravens are just 3-3 and have issues on both sides of the ball.
ESPN.com Ravens reporter Jamison Hensley joins me for Double Coverage, and, Jamison, one thing I have wondered is whether this rivalry has lost some of its luster. Forget that the teams are a combined 4-7 and simply consider some of the faces of the rivalry who are either retired or playing elsewhere.
When I think of Ravens-Steelers, I see
Ray Lewis
ending
Rashard Mendenhall
's rookie season with a devastating hit, and
Ed Reed
covering all kinds of ground in the secondary. I see
Hines Ward
infuriating
Bart Scott
to the point that Scott threatened to kill him, and
James Harrison
's breakout game against Baltimore in his first season as a starter.
Game-winning drives engineered by
Ben Roethlisberger
and
Joe Flacco
have been a constant in this rivalry since 2008, but I'm wondering if raw emotion and animosity are still as much a part of this game as in years past.
Jamison, you have seen your share of alley brawls masquerading as football games between the Steelers and Ravens. What is your take on where the rivalry is with their first meeting of the 2013 season just days away?
Hensley:
I agree with you that the "bad blood" between these teams is significantly lower these days.
Daryl Smith
, who replaced Ray Lewis, isn't a trash-talker. He isn't a talker, period. And
Antonio Brown
isn't going to knock a cornerback down on a running play. This is what got under the players' skin.
The only player on the Ravens who will carry the emotional torch is linebacker
Terrell Suggs
. He once wore a shirt in training camp that had a cartoon Raven flashing a certain finger at the Steelers' logo. Suggs has never hidden the fact that he has an extreme dislike for Pittsburgh, which is why he probably plays so well against the Steelers. Honestly, rivalries are only as good as the stakes involved. The Ravens and Steelers are usually playing for first place in the division or in the playoffs. With neither team holding a winning record, the aura of Sunday's meeting isn't the same as previous years.
This rivalry is also considered one of the most physical in all of sports. These two franchises were built on running the ball and pushing defenders off the line. But the days of
Jamal Lewis
and
Jerome Bettis
are long gone. The Ravens have the NFL's 27th-ranked run game and the Steelers are 31st in rushing yards per game. What's been the biggest problem with the Steelers' ground attack this season?
Brown:
The biggest issue is that the Steelers' plans for the running game were blown up when
Le'Veon Bell
went down with a mid-foot sprain in the second preseason contest. The Steelers simply don't have a viable No. 1 back behind him, and problems with the running game were compounded when Pro Bowl center
Maurkice Pouncey
went down in the opener with a season-ending knee injury.
The Steelers haven't rushed for 100 yards in a game since the last time they played the Ravens at Heinz Field, and that was almost a year ago. Despite that and despite the fact the Steelers are averaging a feeble 61 rushing yards per game, the arrow for the running back, to paraphrase coach Mike Tomlin, is pointing up.
Bell has two NFL starts under his belt, and while his numbers haven't been great, he looks the part of a No. 1 back, and he has impressed the Steelers with his physical running style. He is only going to get better with experience, and it looks like the Ravens are vulnerable against the run this season.
As you mentioned earlier, the Ravens aren't exactly putting on clinics when it comes to running the ball, and it is shocking, at least from this end, to see how pedestrian
Ray Rice
has looked. He is one of the few backs who had success against the Steelers when they were one of the top run defenses in the NFL. Is this the kind of opponent, the kind of game that he needs to get back on track?
Hensley:
Rice certainly hopes so. He has gained more than 36 yards rushing just once this season, and has not averaged more than 3.4 yards a carry in any of his five games. After being limited to 34 yards on the ground last Sunday, Rice acknowledged that he's "a little frustrated."
Unlike in previous seasons, Rice has been more hesitant when running to the line. Some of it can be traced back to poor blocking by the offensive line. Coach John Harbaugh said the team is changing its run scheme because the Ravens can't keep allowing their running backs to get hit behind the line of scrimmage. But Rice is partly to blame as well. He lacks the same explosiveness and power. He's broken only three tackles this season, and is averaging 1.1 yards after contact (39th in the NFL). The Ravens are still committed to the run, but Rice can't keep getting stopped for just a couple of yards.
The offensive line has been a problem in pass protection, too. This is why the Ravens traded multiple draft picks to Jacksonville for
Eugene Monroe
, who replaced
Bryant McKinnie
in the starting lineup Sunday. Flacco has been sacked 19 times this season; only three quarterbacks have been dropped more. Is there any chance the Ravens can keep a safe pocket against the Steelers?
Brown:
The Steelers' pass rush hasn't been great this season, and they had just four sacks before dropping
Geno Smith
three times in their win over the Jets last Sunday. Rookie
Jarvis Jones
is still adjusting to the NFL game, sharing time at right outside linebacker with
Jason Worilds
.
The Steelers have been getting pressure from their defensive ends, and
Cameron Heyward
could be one to watch Sunday. He has overtaken
Ziggy Hood
as a starter and really seems to be coming into his own in his third season. I will be interested to see how frequently the Steelers blitz Flacco. Other than
Torrey Smith
, no one in the Ravens' receiving corps really scares you, and that could allow the Steelers to leave their defensive backs in single coverage a lot and really go after Flacco.
That leads me to my final question: Are Flacco's early struggles related to his supporting cast more than anything else?
Hensley:
Flacco would be the first to tell you that he hasn't performed as well as the Ravens need him to. But he really has become a victim of circumstance. It starts with the run game, which has struggled to get yards on first and second downs. That leads to third-and-long situations, where Flacco has become a piñata at times because of the pass-protection problems. Plus, Flacco's top two targets from last season --
Anquan Boldin
(traded) and
Dennis Pitta
(injured reserve-designated for return) -- are gone. Two of his wide receivers (
Marlon Brown
and
Deonte Thompson
) are undrafted players, and another (
Tandon Doss
) had been cut before the regular season started.
Some of Flacco's mistakes have come when he's tried to throw into tight windows like he used to do with Boldin and Pitta. The result has been interceptions. Of all the quarterbacks who have thrown for more than 1,500 yards this season, only three have more interceptions than touchdowns: Flacco,
Matt Schaub
and
Eli Manning
. Flacco has had most of his trouble on the road this season, but he has won his last three regular-season games at Heinz Field. Before Flacco, the Ravens had won four times in their 13 trips to Pittsburgh.
How would you rate the play of the other Super Bowl-winning quarterback in the division. How much has Big Ben factored into the slow start?
Brown:
Roethlisberger has played reasonably well, especially considering how handcuffed he was in the first two games because of injuries. The only loss you can put on him is the one against the Bears, when he committed four turnovers, and those games are few and far between for him.
Roethlisberger has played really well since then, nearly bringing back the Steelers from a 17-point deficit against the Vikings in London, and then playing turnover-free ball against the Jets last Sunday while also completing nearly 77 percent of his passes.
I think the Steelers win if they protect Roethlisberger reasonably well. The games in which they have really struggled against the Ravens were when Roethlisberger had no chance against Baltimore's pass rush.
.
October, 17, 2013
10/17/13
2:05
PM ET
OWINGS MILLS, Md. -- The
Baltimore Ravens
face the
Pittsburgh Steelers
'
Ben Roethlisberger
for the first time in 23 months, and the concern isn't really the two-time Super Bowl-winning quarterback. It's how the Steelers wide receivers play when Roethlisberger is running around with the ball.
"The play starts three seconds after the ball is snapped," Ravens defensive coordinator Dean Pees said. "This is the best group of receivers every year of getting open off of scrambles. I don't know how they practice it or what they do, or maybe it's just habit because it happens in the game all of the time."
[+] Enlarge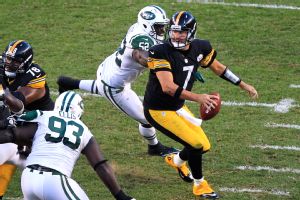 AP Photo/Gene J. PuskarThe Steelers' offense is at its most dangerous when Ben Roethlisberger is on the move.
Pees added, "But you see a lot of times when a quarterback starts scrambling and the receiver stands there like he's open. But he's not open. The defense has got a cover on him. These guys (for the Steelers) move. If you're looking back at (Roethlisberger) and this (receiver) is moving, he's open. That's what they do best."
The Ravens cornerbacks have to make sure where
Antonio Brown
,
Emmanuel Sanders
and
Jerricho Cotchery
are at all times. They've combined for 69 percent of Roethlisberger's passing yards and 18 catches over 20 yards.
Roethlisberger is the fifth-highest rated quarterback when throwing outside the pocket. His 144 yards passing outside the pocket (12 yards per completion) ranks seventh in the NFL.
"The thing of it is we emphasize it obviously in the meetings and on film is that if you're watching Ben, you're watching the wrong thing," Pees said.
When Roethlisberger begins to scramble, the Ravens' zone defense changes to man-to-man so receivers can't slip free. And, when the Ravens are in man coverage, they have to stick to man coverage. When you're covering the running back, you have to keep track of the back even if it looks like he is pass blocking. If that defender comes after Roethlisberger, he will flip the ball out to the uncovered running back for a big gain. Pees said he's seen it one hundred times.
"If Ben gains 100 yards rushing, he gains 100 yards rushing," Pees said. "You can't come out of coverage against the guy. And we've got to do a good job with our pass rush so that he doesn't get out of it, too."
Giving up big plays has been the biggest blemish for the 17th-ranked defense in the NFL. The Ravens excel in some of the most critical areas of the game, ranking fourth on third downs (31.2 percent) and first in the red zone (25 percent).
If you take away the four biggest plays allowed by the Ravens, they would rank as the No. 7 defense in the NFL.
"But we're not," Pees said, "and we're never going to be until we quit giving up those plays."
When playing the Steelers, the Ravens understand the big plays often start when Roethlisberger begins to scramble.
September, 9, 2013
9/09/13
1:00
PM ET
The AFC North built a reputation on physically beating up on other divisions. In Week 1 of the 2013 season, they beat themselves up.
The division teams allowed too many hits on their quarterbacks, made too many costly penalties and turned the ball over too many times. The result: the first winless Week 1 for all of the AFC North teams since 2002, the division's first year of existence. According to ESPN Stats & Information, this is the first time the
Baltimore Ravens
,
Cincinnati Bengals
,
Cleveland Browns
and
Pittsburgh Steelers
all lost in the same week since Week 10 of the 2010 season.
[+] Enlarge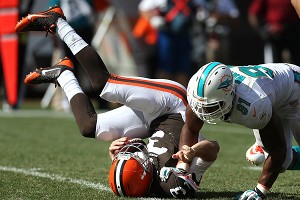 Ron Schwane/USA TODAY SportsCleveland's Brandon Weeden and the rest of the AFC North quarterbacks took their lumps in Week 1.
This has been regarded as one of the best divisions in football recently. Three teams made the playoffs in 2011, and two returned in 2012. But no one in the AFC North made a championship-caliber first impression in 2013.
The Steelers had the most devastating defeat, losing three players (Pro Bowl center
Maurkice Pouncey
, inside linebacker
Larry Foote
and backup running back
LaRod Stephens-Howling
) to season-ending injuries in a 16-9 loss to the
Tennessee Titans
. The Ravens had the most embarrassing defeat, falling by 22 points on the road against the
Denver Broncos
on national television -- the worst season-opening loss for a defending Super Bowl champion. The Bengals had the most frustrating loss, failing to hold an 11-point lead in Chicago with 23 minutes left to play. And the Browns had, well, another season-opening loss (their 14th in the past 15 seasons).
Here are the common themes in the losses for the AFC North teams:
Too many hits on the quarterbacks
:
Ben Roethlisberger
,
Brandon Weeden
and
Joe Flacco
combined to get sacked a total of 15 times. It's no wonder they also combined to throw six interceptions. Weeden was hit 16 times by Miami. Has he ever been hit that much before? "I don't think so," he said. Defenses could tee off on the quarterbacks because there was no threat of a running game. All four teams averaged less than 3.7 yards per carry. The days of Jerome Bettis, Jamal Lewis and Corey Dillon are long gone.
Too many penalties
: The Bengals, Browns and Ravens were flagged 24 times for 194 yards. This is a reflection of a lack of poise. Browns guard
Oniel Cousins
' holding penalty in the fourth quarter negated a touchdown. The Ravens were called for three personal fouls. The biggest blunder was committed by Bengals linebacker
Rey Maualuga
, who has been on the hot seat with fans for more than a year now. His unnecessary roughness penalty with 1:06 to play gave the Bears an automatic first down when they were looking at having to punt. The Bengals lost by a field goal. "We had a lot of guys lose their composure today," Bengals coach Marvin Lewis said.
Too many turnovers
: The AFC North teams collectively turned the ball over 10 times. Weeden threw three interceptions in the first half. Flacco was picked off twice, including one that should have been returned for a touchdown. Bengals receiver
Mohamed Sanu
fumbled at the Bears' 19 in the fourth quarter with Cincinnati ahead by four points. And Steelers running back
Isaac Redman
fumbled into the end zone on the opening series. "It was kind of slow coming from center -- we were working with a new center," Redman said after the game. "It's a quick-hitting play, a bang-bang, and we messed up the quarterback-running back exchange. I never felt like I had it."
It will be a better week for half of the teams in Week 2, and I can guarantee it. The Ravens play host to the Browns on Sunday, and the Steelers play at the Bengals next Monday night.