Baltimore Ravens:

Brian de la Puente
July, 31, 2014
Jul 31
4:59
PM ET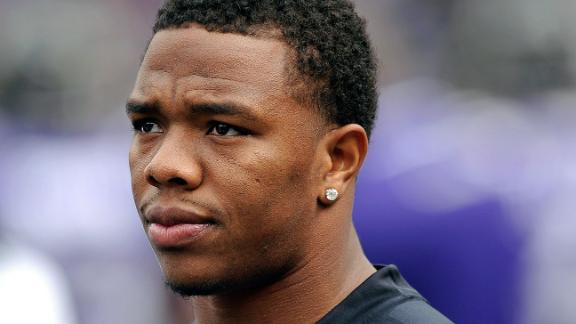 OWINGS MILLS, Md. -- In stark contrast to
Ray Rice
's awkward news conference in May, the
Baltimore Ravens
running back showed Thursday that he finally understood the weight of his actions from the alleged altercation with his then-fiancée in February.
He delivered the correct message, one the NFL failed to do last week with the two-game suspension, by not only apologizing to his wife, Janay Palmer, but also expressing a desire to become an advocate for domestic-violence causes.
Rice was compelling in his contrition, calling it the biggest mistake of his life. He stood in front of the microphone alone, without his wife standing by his side, and took full responsibility for the incident. Perhaps more importantly, Rice actually said the words "domestic violence," which weren't heard in his statement two months ago.
"My actions were inexcusable," Rice said. "That's something I have to live with the rest of my life."
Before anyone pats Rice on the back, this is what he should have said the first time when he broke his silence in May. Instead, Rice nervously fumbled through notes on his phone and apologized to team officials and his sponsors. That debacle of a news conference came across as damage control to his image.
His 17-minute news conference Thursday hit the right tones. He apologized to all women affected by domestic violence. He accepted the blame for losing the respect of fans. Rice came across as genuinely sorry.
"I let my wife down, I let my daughter down, I let my wife's parents down, I let the whole Baltimore community down," Rice said.
Rice's biggest misstep was not talking about what happened in the elevator. He was asked twice about it and declined to answer both times. His stance against domestic violence would have resonated stronger if he had explained his transgressions.
"I'll be honest: Like I said, I own my actions," Rice said. "I just don't want to keep reliving the incident. It doesn't bring any good to me. I'm just trying to move forward from it. I don't condone it. I take full responsibility for my actions. What happened that night is something that I'm going to pay for the rest of my life."
The only way Rice can move forward from this incident and show he's truly sincere is through his actions. It's not by his words. It's not by a hefty donation, which is merely a gesture. It's by proving this will remain a "one-time incident" and by supporting domestic-violence causes.
Thursday represented a small step forward for Rice. But it was an important one.
March, 11, 2014
Mar 11
1:00
PM ET
There are multiple reports indicating the
Baltimore Ravens
are close to re-signing left tackle
Eugene Monroe
, and a deal could be complete before the start of free agency at 4 p.m.
This likely will be the first of a handful of moves in free agency as the Ravens look to improve the NFL's 29th-ranked offense. Let's take a look at who else could be on the team's radar:
WIDE RECEIVER
Smith
Steve Smith, Carolina:
The Panthers are reportedly trying to trade Smith, and they could ultimately release him. Smith is the type of clutch, go-to receiver the Ravens need. He also brings an intensity and work ethic that can rub off on young receivers. The biggest problem is Smith turns 35 in May and he's coming off his second-least productive season over the past nine years. He had 64 catches for 745 yards and four touchdowns.
Julian Edelman, New England:
He fits what the Ravens want: a receiver who can make the tough catches underneath and can break tackles to convert third downs. Edelman's skill set would complement
Torrey Smith
's deep speed and give the Ravens two receivers hitting their prime. What is tough is gauging whether Edelman can come close to matching his 2013 breakthrough season (105 catches for 1,056 yards) without
Tom Brady
throwing him the ball.
Golden Tate, Seattle:
Tate would be at the top of my list for the Ravens. At 25, he's just reaching the prime of his career. His receiving stats aren't overly impressive because he has played in a run-heavy offense, but the key is his numbers have improved each season. Tate's biggest selling point: He led the league in yards after catch per reception (7.75), according to ESPN Stats & Information. Plus, he's not afraid to block, and he's known for being a high-character player in the locker room.
TIGHT END
Pettigrew
Brandon Pettigrew, Detroit:
Even though the Ravens signed
Dennis Pitta
, the Ravens are expected to line up in two tight ends a lot under offensive coordinator Gary Kubiak. Pettigrew, who is more of a complete tight end than Pitta, would be an excellent fit for the Ravens. General manager Ozzie Newsome liked Pettigrew in the 2009 draft, but the Lions selected him six picks ahead of the Ravens. Pettigrew, 29, never delivered the pass-catching numbers expected of a first-round pick. Last season's production (41 catches for 416 yards and two touchdowns) was his lowest since his rookie season. The Ravens need him as much for his blocking as pass-catching skills. He would be an upgrade over
Ed Dickson
, who is a free agent.
Owen Daniels, Houston:
Daniels, who was released by the Texans on Tuesday, is on the list because of his obvious connection with Kubiak, the former head coach of the Texans. He runs great routes, can catch most passes thrown his way and has proved to be a functional blocker. Durability is the biggest concern. He has been limited to 11 games or fewer in three of the past five seasons. Last season, Daniels played only five games because of a fractured fibula.
Garrett Graham, Houston:
Just like Daniels, Graham is here because of his history with Kubiak. He proved he could be effective in the passing game (49 catches and five touchdowns last season) and is an above-average blocker. With his age (27) and upside, some teams (like the Buccaneers) will view him as a potential No. 1 tight end. He wouldn't have that high-profile role with the Ravens.
CENTER
Mack
Alex Mack, Cleveland:
There are reports the Ravens could turn their attention to Mack if they can't get a deal done with Monroe. What is going to be difficult is prying the Pro Bowl center away from the Browns, who put the transition tag on him. That means they can match any offer. If the Ravens can somehow pull this off, this would be a major step toward improving the offensive line. I know I'm in the minority on this one, but I believe adding Mack would be a better move than keeping Monroe.
David Baas, New York Giants:
Baas, who was cut by the Giants on Monday, would serve as a stopgap until
Gino Gradkowski
can get stronger. Baas is 32 and has an injury history, which is why he can be had for a one- or two-year deal. He has been the Giants' starting center since signing as a free agent in 2011, but has struggled to stay healthy. His 2013 season ended early as a result of a neck injury. The Giants could target Packers center
Evan Dietrich-Smith
, who could follow offensive coordinator Ben McAdoo from Green Bay to New York.
Brian De La Puente, New Orleans:
He's a three-year starter for the Saints who will draw interest because of a weak free-agent market for centers. Before joining the Saints, he was a journeyman who played on six teams in three seasons. At 28, De La Puente could be coming into his own at the right time. He's not considered a power player inside.