Baltimore Ravens:

Eric DeCosta
May, 4, 2014
May 4
9:00
AM ET
There was a time when the
Baltimore Ravens
built their teams by almost exclusively taking players from big programs like Miami, Arizona State and Alabama. These days, their starting quarterback is from Delaware and the second-highest paid player on the team is from Nicholls State.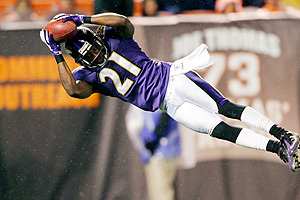 AP Photo/Paul SpinelliLardarius Webb is one example of the Ravens finding success within the ranks of the smaller schools.
The Ravens take pride in finding big-time players from small schools. In this week's draft, no one should be surprised if the Ravens select players from Towson, North Dakota State or Lindenwood. For the record, the Division II Lions of Lindenwood play in Saint Charles, Mo.
In the last two drafts, seven of the 18 players taken by the Ravens have come from programs below the Division I FBS (formerly I-A) level. Defensive tackle
Brandon Williams
, a 2013 third-round pick from Missouri Southern, could join quarterback
Joe Flacco
and cornerback
Lardarius Webb
as another small-school starter for the Ravens.
Asa Jackson
, a 2012 fifth-round pick out of Cal Poly, has a chance to be the team's third cornerback.
"We believe in it," said Eric DeCosta, the Ravens' assistant general manager. "We look at all players across the board, regardless of level of competition, division or conference, and pick the best players."
The Ravens have been linked to small-school prospects this year. They had a pre-draft visits with Eastern Illinois quarterback Jimmy Garoppolo and Towson running back Terrance West. There's a chance that the Ravens, who need help on the offensive line and secondary, could take North Dakota State offensive tackle Billy Turner or Lindenwood cornerback Pierre Desir somewhere around the third round.
Ravens officials believe their success with small-school players comes from the fact that they put in the same amount of work as they do with big schools. Their scouts go to the schools and get to know the coaches.
"Obviously, the biggest challenge would be level of competition," DeCosta said. "How does that player play? How is he going to play against better players? Is he going to be able to adjust? All-Star games are a nice way of seeing that play out, so we get the chance to see a d-school guy at the Senior Bowl, you get a chance to see him at the combine to compare against the big-school guys. That's always a big challenge."
The Ravens have missed on small-school prospects, too.
David Pittman
, a 2006 third-round cornerback out of Northwestern State, started one game, and
Christian Thompson
, a 2012 fourth-round safety from South Carolina State, didn't last two full seasons.
But the Ravens' success rate with small-school prospects is similar to what they have with players from major programs. In some instances, the Ravens see a faster rate of growth with players from smaller schools.
"At small schools, sometimes they don't have the luxury of having a nice weight room, nutritional programs or support staff," DeCosta said. "We feel like sometimes these guys come into our facility, our building, with our coaches and our doctors and trainers, and get better quickly because they have the advantage of all these new things."
May, 2, 2014
May 2
11:30
AM ET
With the 17th overall pick of this year's draft, the
Baltimore Ravens
have a shot at finding an immediate starter, an impact player and someone who can end a once unthinkable streak.
Widely regarded as the gold standard in digging up the best talent in college football, the Ravens have gone five drafts without selecting a Pro Bowl player. There have been 47 players drafted by the Ravens since their last Pro Bowl player, running back
Ray Rice
in 2008.
No one could have envisioned such a stretch from the Ravens, who have drafted the likes of
Ray Lewis
,
Jonathan Ogden
,
Ed Reed
,
Jamal Lewis
and
Terrell Suggs
. In the franchise's first 13 drafts, the Ravens selected 19 Pro Bowl players, which was tied with the
New England Patriots
for the most during that period. Now, the Ravens are one of four teams who have failed to select a Pro Bowl player since 2009, and the others (Jaguars, Jets and Raiders) have all fired their general managers during that time.
You would be hard-pressed to find anyone in the NFL who would suggest Ravens general manager Ozzie Newsome and assistant general manager Eric DeCosta have lost their touch. It's just a startling trend for a franchise that has not only drafted NFL defensive and offensive players of the year but potentially three Hall of Fame ones.
"We don't care about Pro Bowls," DeCosta said this week. "We care about Super Bowls."
It's difficult to criticize the Ravens when they put it that way. In 2012, the Ravens won their second Super Bowl with 39 homegrown players on their 53-man roster. In comparison, the Seahawks won the championship three months ago with 29 players who were drafted by the team or signed as undrafted rookies.
While the Ravens haven't landed all-star players lately, the fact that they have been a perennial playoff team shows they've been able to add productive starters such as offensive tackle
Michael Oher
, cornerback
Lardarius Webb
, tight end
Dennis Pitta
, defensive lineman
Arthur Jones
linebacker
Courtney Upshaw
and wide receiver
Torrey Smith
. The Ravens aren't raising the Lombardi Trophy in 2012 without contributions from those players.
The Ravens, though, realize their recent drafts haven't reached their usual level of excellence. In their last five, there are more players who are no longer with the team (14) than who became starters (11). An argument could be made that the Ravens' top rookies the past two years were undrafted (kicker
Justin Tucker
and wide receiver
Marlon Brown
).
So, why haven't the Ravens' drafts been as flashy? They are a victim of their own success. Being a playoff team every season means you draft at the bottom of each round.
From 2009 to 2013, the Ravens entered the draft with these first-round picks: No. 26, No. 25, No. 26, No. 29 and No. 32. It's difficult to pick a Pro Bowl player at this point in the first round. Since 2009, only four Pro Bowl players have been drafted after pick No. 25 in the first round. This shows the Ravens aren't the only ones who aren't finding the flashy players in this area of the first round.
"When you pick higher in the draft, you have a greater chance of hitting a home run," DeCosta said. "When you're picking lower, you're going hit a lot of singles and doubles. A lot of our top picks were guys who were the fourth pick in the draft, the sixth pick in the draft. You don't want to pick up there. The challenge is when you do, you have to nail it. You have to find one of those impact guys. For us, we want guys who contribute, they're good citizens and play right away."
There have been other factors as well. In 2009, the Ravens could've ended up with linebacker
Clay Matthews
and offensive tackle
Sebastian Vollmer
with their top two picks instead of
Paul Kruger
and Oher. A year later, the Ravens gambled and lost when they traded out of the first round and took linebacker
Sergio Kindle
with their first pick. Kindle fractured his skull after falling down stairs before his first training camp and only played three games in his career.
"The process is we grade the players, and we allow the tape to give us the most information," Newsome said. "And our scouts do an unbelievable job of getting background information and bringing that to the table. What we try to do is -- I guess I learned this from the very first draft I went in by Milt Davis who had played for the Colts and was a Colt scout -- you check your ego at the door. And when you check your ego at the door and we allow all of the information to dictate how we are going to set the board, then we just pick the player that is available to us."
The player available to the Ravens this year is expected to be better than any during this five-year draft drought, just based on where they're selecting. After missing the playoffs for the first time since 2007, the Ravens find themselves in the middle of the first round. Pro Bowl players who were taken in this range include: defensive end
Ryan Kerrigan
, guard
Mike Iupati
, linebacker
Brian Cushing
and offensive tackle
Branden Albert
.
"I'm excited because I see the quality of player that we can get," DeCosta said. "We haven't seen that type of player in a few years. It's exciting. We just can't miss the pick. We've got to nail the pick."
January, 10, 2014
Jan 10
11:45
AM ET
Baltimore Ravens
assistant general manager Eric DeCosta has been contacted by the
Miami Dolphins
about their general manager opening, according to the
Miami Herald
.
It would be a surprise if DeCosta interviewed for the position because the Ravens have made him the general manager-in-waiting and he's turned down other opportunities in the past.
The Ravens showed their commitment to DeCosta and rewarded his loyalty to the team when they promoted him to assistant GM nearly two years ago. DeCosta, 42, has long been one of the hot general manager candidates after helping the Ravens become a perennial playoff team and a Super Bowl champion last season.
In March 2012, owner Steve Bisciotti told
The Baltimore Sun
that the Ravens structured DeCosta's contract in a way "where he's off the market for a few years."
It's unknown when general manager Ozzie Newsome (who turns 58 in March) plans to step down, but DeCosta has shown patience in the past. Since 2009, DeCosta has pulled his name out of the
Seattle Seahawks
' general manager search and has turned down three teams (the
Indianapolis Colts
,
St. Louis Rams
and
Chicago Bears
) when they sought permission to speak to him.
It's difficult to see DeCosta pursuing the Dolphins' job when he turned down opportunities with more stable franchises.