Baltimore Ravens:

Houston Texans
December, 17, 2014
12/17/14
7:00
PM ET
OWINGS MILLS, Md. --
Baltimore Ravens
tight end
Owen Daniels
remembers receiving the sheet of paper from the
Houston Texans
informing him of his release. Recounting the situation Wednesday, Daniels said there was a check mark by "wasn't good enough" on why the Texans were releasing him.
"I have [the sheet] with me in the house," Daniels said. "I don't have it up in my locker. I can see it. I have a decent memory."
Daniels
Daniels acknowledges that it's "going to be weird" when he plays in Houston for the first time since that divorce nine months ago.
The 32-year-old tight end left as the Texans' No. 2 all-time leading receiver with 385 catches and 4,617 yards. Daniels, who still lives in Houston, was one of the most popular players in franchise history as a result of his community work and two Pro Bowl seasons.
Leaving no doubt that his ties to the Texans still tug at his emotions, he didn't downplay the motivation of stepping on the same field where he starred for eight years.
"Obviously, when you work somewhere for so long and they say you're not good enough to play there anymore and you get a chance to play them that following season, you definitely want to prove to them that they made a mistake," Daniels said. "But I've been trying to do that all season with my play, and not just in this one game."
Daniels has exceeded expectations with the Ravens, filling the void left when tight end
Dennis Pitta
went down with a season-ending hip injury in Week 3. He is the Ravens' second-leading receiver with 45 catches and has scored four touchdowns. In last Sunday's 20-12 victory over the Jacksonville Jaguars, Daniels delivered the two clutch catches -- a 29-yard reception followed by a 3-yard touchdown catch -- that helped the Ravens avoid the upset.
"I want to get him more involved because he is a good player," quarterback
Joe Flacco
said. "I think he makes us go when we get him involved."
The biggest concern about Daniels throughout his career has been durability. Last season, he missed the final 11 games because of a broken leg. This year, Daniels has only missed one game, and the Ravens have been keeping him fresh by giving him one day off from practice each week.
Ravens coach John Harbaugh said you can see the difference in Daniels when you compare the tape of the tight end from last year to this year.
"I'm just amazed at how well he's done as far as getting himself ready to play coming off the injury last year -- how fresh and young and how well he's running," Harbaugh said.
It's not lost on Daniels that he could possibly clinch a playoff berth against his former team. "A 'W.' That's the best thing that can happen," he said. But he made it clear that he still respects his original team.
"That organization gave me a chance to play in the NFL for the first time," Daniels said. "I can't be more thankful for Mr. [Bob] McNair and that organization for giving me that opportunity. They did what they had to do business-wise last year. I'm trying to be the best player I can be here. I have no ill will toward them at all."
September, 22, 2013
9/22/13
12:40
PM ET
By
ESPN.com staff
| ESPN.com
Join our ESPN.com NFL experts as they break down the Houston Texans' visit to the Baltimore Ravens. Contribute your thoughts and questions beginning at 1 p.m. ET. And, be sure to visit our
NFL Nation Blitz page
for commentary from every game, as well as fan photos and the latest buzz from Twitter. See you there.
September, 19, 2013
9/19/13
12:00
PM ET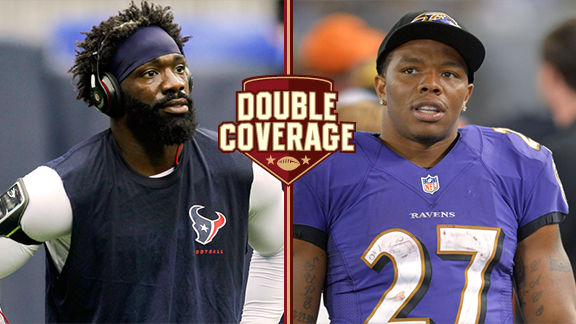 Getty ImagesEd Reed returns to Baltimore for the first time as a Texan, while Ray Rice looks to improve from his slow start.
Sunday's AFC showdown between the
Houston Texans
and
Baltimore Ravens
features the return of safety
Ed Reed
to Baltimore. Reed went to nine Pro Bowls during his 11 seasons with the Ravens and was named NFL Defensive Player of the Year in 2004. He has missed the first two games of the season because of his surgically repaired hip and would make his Texans debut if he plays.
While there will be plenty of attention placed on the reunion with Reed, this game will factor into how the balance of power in the AFC shakes out. The Texans (2-0), one of five undefeated teams in the AFC, are the first team since the merger in 1970 to win each of their first two games of a season on the final play of the game. The Ravens (1-1), the defending Super Bowl champions, are trying to get back on track after getting routed by the
Denver Broncos
and struggling to beat the
Cleveland Browns
.
Texans team reporter Tania Ganguli and Ravens team reporter Jamison Hensley discuss how this emotional and pivotal game will unfold.
Hensley:
The big storyline heading into this game is whether Reed will play. Like Ravens coach John Harbaugh, I would be surprised if Reed sat out this reunion game. But it was only three years ago when Reed underwent a procedure on his hip while with the Ravens and missed the first six games of the season. When Reed returned, he picked off two passes in his first game and eventually led the NFL in interceptions despite playing just 10 games. If Reed plays, how much of an impact can he make in his first game with a new team and a new defense?
Ganguli:
Anything can happen when Reed plays. He'll have a lot of free rein when he returns, as he's helped not just his teammates but also given coaches advice. The Texans are being cautious with him. He had a blood-spinning procedure done three weeks ago that has a range of results in patients. Reed said it helped his hip feel better. He also said this hip injury feels more mild than the surgery he had three years ago. He practiced more last week than he did before the Texans' season opener against the
San Diego Chargers
, so he is progressing toward playing.
Texans coach Gary Kubiak said last week that if Reed does play, the Texans don't plan on starting him in his first game back. They'll use him in certain defensive packages and continue to start
Shiloh Keo
. Asked about it this week, though, Kubiak said he would listen to Reed's evaluation of his health.
Reed isn't the only legacy gone from the Ravens' defensive roster. How has that changed Baltimore's defense?
Hensley:
The two longtime faces of the Ravens defense will be there at M&T Bank Stadium, but both won't be wearing purple. Reed is on the other sideline, and
Ray Lewis
will be inducted into the Ring of Honor at halftime. The Ravens have seven different starters from the defense that lined up against -- and got beaten up by -- the Texans last October.
The biggest improvement has been the Ravens' run defense, especially with
Daryl Smith
in the middle. This is key because the Ravens gave up 98 yards and two touchdowns to
Arian Foster
in the last meeting.
Baltimore also upgraded its pass rush with
Elvis Dumervil
, but there are questions in the secondary. The Ravens have already benched cornerback
Corey Graham
and safety
Michael Huff
and replaced them with cornerback
Jimmy Smith
and safety
Matt Elam
.
Talking about new looks, how much has rookie receiver
DeAndre Hopkins
-- whom the Ravens liked in the draft -- helped the Texans passing game?
Ganguli:
Hopkins had a breakout game in Week 2, catching seven passes for 117 yards and scoring the game-winning touchdown. He wears size 3X gloves, only one size smaller than
J.J. Watt
, who is four inches taller and 70 pounds heavier than Hopkins. Those big hands give him the confidence to catch with his hands and not worry about bringing the ball into his body. Because of that, Hopkins is excellent on contested catches.
Getting to the heart of your question, though, Hopkins' impact will be big this season. He finally gives the Texans a complementary threat to
Andre Johnson
. Quarterback
Matt Schaub
became more confident in Hopkins through the game, especially when Johnson left with a concussion and he had to. That trend will continue during the season. The Texans threw to Johnson more than all their other wide receivers combined last year, and that will surely change this season.
Sticking with offense, what would be the impact of not having
Ray Rice
if his injury prevents him from playing?
Hensley:
Rice injured his hip toward the end of the Ravens' not-so-thrilling win over the Browns. He will likely be questionable for Sunday's game against the Texans. He's always been a big factor in the Ravens offense. Rice was one of three running backs last year (with
Doug Martin
and
C.J. Spiller
) to produce more than 1,000 yards rushing and 400 yards receiving. The Ravens are 37-6 when Rice gets at least 15 carries.
The problem is the offensive line hasn't opened many holes for Rice, who is averaging 2.9 yards per carry. Backup running back
Bernard Pierce
has been the more physical back and has broken more tackles than Rice this season. The Ravens need to establish the run because they've lost too many weapons -- wide receiver
Anquan Boldin
was traded, tight end
Dennis Pitta
is on injured reserve and wide receiver
Jacoby Jones
is sidelined -- to rely solely on the passing game. Any chance the Ravens' ground game can come to life against the Houston front seven?
Ganguli:
The Texans' front seven has played inspired football in spurts this season, especially inside linebacker
Brian Cushing
, whose play is showing just how much he missed being out there for most of last season. The Texans gave up an 80-yard touchdown drive to start the third quarter against the San Diego Chargers but contributed to the biggest comeback in franchise history by allowing just 10 yards the rest of the game. In Week 2,
Chris Johnson
had only five rushing yards in the third quarter and 19 in the second half.
On one hand, the Texans defense hasn't put together a complete game yet. On the other hand, it's been excellent with halftime adjustments. Even if the Ravens get going early, there's a strong chance that won't last.
A big part of that is Cushing, who has resumed his position as a leader on the defense. We talked about the on-field differences on the Ravens defense, but has anyone filled the leadership void?
Hensley:
The Ravens' leadership in the past came from the veterans, like Lewis, Reed and Boldin. This team is going to rely on the likes of
Terrell Suggs
, Dumervil and
Lardarius Webb
. Suggs has taken over Lewis' role as the vocal leader, and I can see Webb becoming a more behind-the-scenes influence like his mentor Reed. The Ravens offense has strong character players such as Rice and wide receiver
Torrey Smith
.
Suggs and Dumervil have made a similar impact on the field. Last year against the Texans, Suggs played his first game since tearing his Achilles. Now, fully recovered, Suggs looks even better than before because he is in the best shape of his career. Dumervil has been just as disruptive and destroyed right tackle
Mitchell Schwartz
last week. They've each had a sack in the first two games. How are the Texans tackles going to hold up against these Ravens' edge rushers?
Ganguli:
That will be an interesting thing to watch in this game.
Derek Newton
is new as the Texans' starting right tackle this year, and left tackle
Duane Brown
thinks he could be a game-time decision after suffering a turf toe injury against the
Tennessee Titans
. Losing Brown would be damaging to the Texans, who rely on him to win one-on-one matchups. Another matchup to watch is the kicking game.
Hensley:
One of the biggest surprises last season was the consistent kicking from
Justin Tucker
, who hit 30 of 33 field goals. The biggest surprise Sunday was Tucker's inconsistency, missing twice wide right after only missing once in Baltimore as a rookie. Tucker isn't worried, and a short but strong body of work doesn't have the Ravens panicking either. But given all the injuries on the Ravens offense, they can't afford for Tucker to be off his game. It seems like the Ravens aren't the only team having a problem with a kicker.
Ganguli:
Randy Bullock
has struggled in his first two games, making only one of five attempts. They haven't been easy attempts, none shorter than 40 yards and three longer than 50, but the Texans know he has the leg for making those. It might help his confidence if he was put in the position to kick shorter field goals. Though fans are upset, the Texans aren't giving up on him. Why would they? He's only two games into his NFL career, having spent his rookie season on injured reserve.