Baltimore Ravens:

Jamal Lewis
February, 9, 2015
Feb 9
4:10
PM ET
The
Baltimore Ravens
are holding no hard feelings against Jamal Lewis after the franchise's leading rusher
sold a Super Bowl ring
, which was given to him as a gift, for $50,820.

This is the statement that was released by the Ravens on Monday: "Jamal Lewis informed us that he was forced to sell the Super Bowl XLVII ring due to financial difficulties. We understand and respect his decision."
The organization didn't have to say anything about Lewis, who filed for bankruptcy in 2012. So, this was a nice gesture by the Ravens, almost as nice as owner Steve Bisciotti giving out Super Bowl rings to every member of the team's Ring of Honor.
While this serves as a reminder of how many athletes quickly fall on dire financial straits, it shouldn't diminish what Lewis did for the franchise. The Ravens wouldn't have won the Super Bowl in 2000 without Lewis carrying the offense, and they wouldn't have reached the playoffs in 2003 without Lewis producing one of the best seasons in NFL history.
It didn't matter whether defenses stacked the box with eight or nine players. Lewis used his unique combination of power and speed to muscle past defensive linemen and outrun defensive backs. He also took a hit instead of going out of bounds if it meant gaining some yards.
Lewis was the Ravens' best offensive player behind Hall of Fame left tackle Jonathan Ogden. During the Ravens' 11-game winning streak in 2000, Lewis accounted for 42 percent of the offense and gained 102 yards in the Super Bowl victory against the Giants. Three years later, he ran for 2,066 yards, which ranked second all time in the NFL at that point.
Selling a Super Bowl ring is far from Lewis' proudest moments. But let's not forget about all of the unforgettable moments he gave to this franchise.
April, 15, 2014
4/15/14
8:00
AM ET
Occasionally on the Baltimore Ravens blog, we'll revisit important dates in team history ...
It was 14 years ago on April 15 that the Ravens selected running back
Jamal Lewis
and wide receiver
Travis Taylor
in the first round of the 2000 draft. Lewis went on to become the Ravens' all-time leading rusher, while Taylor will be remembered as one of the biggest first-round busts in team history.

The Ravens were initially criticized for taking Lewis at No. 5 overall because some analysts had
Thomas Jones
(No. 7 to Arizona) and
Shaun Alexander
(No. 19 to Seattle) rated higher. Lewis quickly proved the Ravens right, carrying the offense in the second half of the 2000 Super Bowl season. Three years later, Lewis became the fifth player in NFL history to rush for over 2,000 yards.
Taylor was drafted by the Ravens with the No. 10 overall pick. Expected to be the future centerpiece of the Ravens' passing attack, Taylor eclipsed 60 catches once and produced a grand total of two 100-yard games. It turned out to be a bad draft for wide receivers. Of the 35 wide receivers selected that year, only two ever made a Pro Bowl:
Laveranues Coles
(2003) and
Dante Hall
(2002 and 2003 as a returner).
The Ravens had two top-10 picks in 2000 because of trades. Baltimore gave its second-round pick in 1999 to Atlanta in exchange for the Falcons' first-round pick in 2000. The Falcons used that second-round pick on tight end
Reggie Kelly
, and their first-round pick turned out to be No. 5 overall in 2000. A few days before the 2000 draft, the Ravens decided to trade their second-round pick to the
Denver Broncos
to move from No. 15 to No. 10.
One trade worked out for the Ravens, while the other didn't turn out as planned.
March, 18, 2014
3/18/14
12:00
PM ET
Offensive tackle
Michael Oher
signed
a four-year, $20 million deal
with the
Tennessee Titans
last week, becoming one of a handful of
Baltimore Ravens
' first-round picks not to remain with the team beyond their rookie deal.
Oher, the 23rd overall pick of the 2009 draft, will be known as a durable yet not dominant offensive tackle during his five seasons with the Ravens.
Let's take a look at where Oher ranks among the Ravens' first-round picks:
1. Ray Lewis, linebacker (1996)
: He will be remembered as one of the greatest players in NFL history. Few can match Lewis' resume: Two NFL Defensive Player of the Year awards, two Super Bowl rings, 13 Pro Bowls and one Super Bowl MVP award.
[+] Enlarge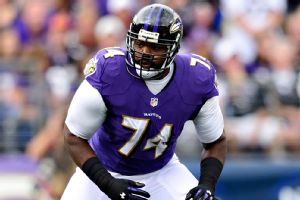 AP Photos/David DrapkinMichael Oher has been a durable, if not outstanding, tackle for the Ravens.
2. Jonathan Ogden, offensive tackle (1996)
: How revered is Ogden? He became the first pure offensive tackle to be voted into the Hall of Fame in his first year of eligibility since
Jackie Slater
in 2001. Ogden went to the Pro Bowl in each of his final 11 seasons in the NFL.
3. Ed Reed, safety (2002)
: He was the 2004 NFL Defensive Player of the Year, the first safety in 20 years to win the award. Reed led the league in interceptions for three seasons, and he holds the NFL record for most career interception return yards (1,541) and longest interception return (108 yards).
4. Jamal Lewis, running back (2000)
: In 2003, Lewis was named the NFL Offensive Player of the Year for rushing for 2,066 yards, falling just 39 yards short of the NFL's all-time single season rushing record. He carried the Ravens' offense in the 2000 Super Bowl run and still ranks as the franchise's all-time leading rusher.
5. Terrell Suggs, linebacker (2003)
: He became the third Ravens player to win NFL Defensive Player of the Year, earning the award in 2011 by leading the AFC with 14 sacks and topping the NFL with seven forced fumbles. Suggs has recorded 94.5 career sacks, which is 24.5 more than any other Ravens player.
6. Haloti Ngata, defensive tackle (2006)
: A five-time Pro Bowl player, Ngata was considered the NFL's best interior defensive lineman a few years ago.
7. Chris McAlister, cornerback (1999)
: The Ravens' first shutdown cornerback, McAlister forced quarterbacks to throw away from him for years before a knee injury and off-the-field issues caught up to him.
8. Joe Flacco, quarterback (2008)
: He led the Ravens to a Super Bowl with a
Joe Montana
-like run and has produced more wins than any other quarterback since 2008. But Flacco's pedestrian regular-season numbers have stopped him from becoming an elite NFL quarterback.
9. Todd Heap, tight end (2001)
: Overshadowed by
Tony Gonzalez
and
Antonio Gates
in the AFC, Heap remains the Ravens' all-time leader with 41 touchdown catches.
10. Peter Boulware, linebacker (1997)
: The 1997 NFL Defensive Rookie of the Year, Boulware finished with 70 sacks (second all-time for the Ravens), including a team-record 15 sacks in 2001.
11. Duane Starks, cornerback (1998)
: He struggled mightily at times, but he had three interceptions in the Ravens' 2000 championship run including a 49-yard return for a touchdown in the Super Bowl.
12. Ben Grubbs, guard (2007)
: He started 70 of 74 games for the Ravens and made the Pro Bowl in 2012, his last season with the team.
13. Jimmy Smith, cornerback (2011)
: It's still early to give a true evaluation on Smith. He struggled his first two seasons before becoming the Ravens' top cornerback last season. Smith will likely climb these rankings before his career is over.
14. Michael Oher, offensive tackle (2009)
: He never missed a start in his five-year career, but he fell short of expectations because of false starts and inconsistent pass protection.
15. Mark Clayton, wide receiver (2005)
: He never led the team in receiving, and he had nine 100-yard receiving games. His best season was 2006, when he caught 67 passes for 939 yards and five touchdowns.
16. Kyle Boller, quarterback (2003)
: A flop as a franchise quarterback, Boller had one 300-yard passing game for the Ravens and seven starts where he threw under 100 yards. His five seasons with the Ravens produced a losing record as a starter (20-22) and just one more touchdown (45) than interceptions (44).
17. Travis Taylor, wide receiver (2000)
: Yes, Taylor is a bigger bust than Boller. The 10th overall pick of the 2000 draft, Taylor eclipsed 60 catches once and produced a grand total of two 100-yard games. If that doesn't convince you, Taylor didn't score a touchdown in his final 22 games with the Ravens.
Note
: Cornerback Jimmy Smith was mistakenly left off an earlier version. Also, safety
Matt Elam
was left off the rankings because he's only played one season.
March, 7, 2014
3/07/14
8:00
AM ET
Seven years ago today, the
Baltimore Ravens
watched their all-time leading rusher go to a division rival.

Lewis
On March 7, 2007,
Jamal Lewis
signed a one-year, $3.5 million deal with the
Cleveland Browns
. The Ravens had cut Lewis a week earlier to avoid paying him a $5 million roster bonus.
Picked No. 5 overall in the 2000 NFL draft, Lewis rushed for 7,801 yards for the Ravens and scored 45 touchdowns. This still stands as the most rushing yards in Ravens history and is 1,621 yards more than
Ray Rice
, who ranks second.
Lewis' best season was 2003, when he gained 2,066 yards -- the third-highest season total in NFL history behind
Eric Dickerson
(1984) and
Adrian Peterson
(2012). He was named the league's Offensive Player of the Year and was selected to his only Pro Bowl.
During the 2000 Super Bowl season, Lewis carried the Ravens' offense down the stretch. In the final two months of the season, he averaged 119 yards rushing and accounted for nearly half the team's offensive production.
Lewis finished out his career by playing three seasons with the Browns, gaining over 1,000 yards in 2007 and 2008. The Ravens traded three draft picks (third-round picks in 2007 and 2008 and a seventh-rounder in 2007) to the
Buffalo Bills
for
Willis McGahee
, who gained over 700 yards rushing in just one of his four seasons in Baltimore.