Baltimore Ravens:

Juan Castillo
August, 14, 2014
8/14/14
6:30
PM ET
OWINGS MILLS, Md. -- Talking to the media for the first time since the end of a disastrous 2013 season,
Baltimore Ravens
offensive line coach Juan Castillo refused to dwell on the worst rushing season in team history.
"I'd rather not talk about last year. This is this year," Castillo said three separate times during the 6 1/2-minute question-and-answer session when asked about the challenging 2013 campaign.
[+] Enlarge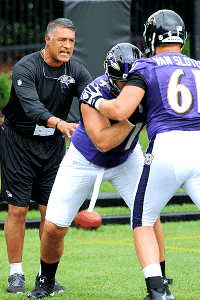 Evan Habeeb/USA TODAY Sports"We were trying to punish people," Juan Castillo said of the Ravens' blocking during last week's game.
Castillo has been a lightening rod for fans because he had the title of "run game coordinator" for a ground game that averaged 83 yards per game and 3.1 yards per carry -- both of which were the lowest in the Ravens' 18-year history. Message boards were filled with topics like "Is Juan Castillo the problem?"
While the coaching staff underwent the most change in coach John Harbaugh's six seasons, Harbaugh retained Castillo because he believes Castillo is one of the best offensive line coaches in the NFL.
Castillo now has a new title, replacing Andy Moeller as the offensive line coach, and there are three new starters from the line that finished last season. This is why he strongly believes there will be different results.
He said he's "very confident" in the Ravens' ability to run the ball this season.
"That's what our offense is going to be," Castillo said. "We're going to come off the football, we're going to finish and we're going to be physical."
There were reports that Castillo and the players didn't get along last season.
A source told The Baltimore Sun that players told coach John Harbaugh during the season that they were unhappy with the new blocking scheme instituted by Castillo. After the season, owner Steve Bisciotti acknowledged Castillo "did come on too strong and ruffled some feathers."
"The important thing, with any coach, is the players knowing you and really trusting you," Castillo said. "I think that happens through time. I think the guys now are getting to know me and hopefully they trust me."
If the preseason opener is any indication, the Ravens are on the right track with their offensive line and running game.
The Ravens' running backs gained 194 yards on 40 carries, a 4.8-yard average. On the opening drive, the starters produced 26 yards and one touchdown on five carries.
This is a new-look line with the addition of center
Jeremy Zuttah
, the return of left guard
Kelechi Osemele
and the promotion of right tackle
Rick Wagner
to the starting group.
"I really like where they're at right now," Harbaugh said. "I'm looking forward to seeing how they do Saturday night and going forward. Our coaches have done a great job with them. I'm excited about where they're going."
The Ravens' stretch, zone-blocking scheme showed promise from the first play in the preseason opener. The blockers got off the ball, and
Ray Rice
gained 6 yards off right tackle.
"We were trying to punish people," Castillo said. "It wasn't so much the yards but how the combinations looked and how the backs were able to make their cuts."
The pressure is on Castillo to improve the offensive line. It'll be hard to defend him if the line struggles for a second straight year with a different cast of starters and the same coach.
Asked if it's difficult not to take the criticism personally, Castillo said, "I think if you're a competitor, you do. Obviously, you want to get better. Last year is last year. This year is this year. It's a great opportunity for us."
January, 10, 2014
1/10/14
10:30
AM ET
A look at the players who should feel good about their status and those who should worry following the hour-long "State of the Ravens" press conference this week:
THE WINNERS
Tight end Dennis Pitta:
Pitta didn't have an outstanding four games after returning from a dislocated hip, making 20 catches for 169 yards (8.5-yard average) and one touchdown. The Ravens, though, didn't hide the fact that Pitta remains a priority free agent for them. General manager Ozzie Newsome complimented Pitta, saying he's a mismatch for defense and plays "winning football." A new contract or the franchise tag appears to be in Pitta's future.

Running back Ray Rice
: The Ravens could have put the pressure on Rice by saying he has to prove himself once again. He is coming off his worst season in the NFL. Instead, Newsome and coach John Harbaugh continue to express confidence in Rice and his determination to rebound. Newsome believes Rice can be a Pro Bowl running back in the NFL again.
Assistant coach Juan Castillo
: Life would have been easier for Harbaugh if he fired Castillo and made him the scapegoat for the worst running game in Ravens history. But Harbaugh reaffirmed his commitment to Castillo by giving him a new title (offensive line coach) and taking blame for Castillo being the team's lightening rod. In Harbaugh's eyes, Castillo wouldn't have taken so much criticism if Harbaugh gave him a different title than "run game coordinator" last season, especially in a season when the Ravens averaged a franchise-worst 83 yards per game.
THE LOSERS
Linebacker Terrell Suggs
: Suggs was essentially put on notice by Newsome, just a couple of seasons removed from being the NFL Defensive Player of the Year. Asked if Suggs was definitely going to be on the team in 2014, Newsome said he was "not a virgin" when it comes to letting players walk. It was the Ravens' not-so-subtle way of publicly telling Suggs that he needs to reduce his $12.4 million salary-cap number in order to stay. Suggs is usually the one delivering the hits, not taking them.

Center Gino Gradkowski
: When asked about the Ravens' priorities this offseason, Newsome pointed out first that the team needs to get bigger in the interior of the offensive line. I'm sure that Newsome wasn't talking about former Pro Bowl guard
Marshal Yanda
or the 6-foot-5, 330-pound
Kelechi Osemele
. That's right, Newsome is pointing directly at Gradkowski. If I was Gradkowski, I would've shown up in the Ravens' weight room that next morning.
Safety James Ihedigbo
: Also on the Ravens' list of improvements is finding a "more athletic safety," according to Newsome. Starting two strong safeties proved to be a problem with the Ravens' secondary. The Ravens can't afford to play
Matt Elam
, a first-round pick, out of position again. That means Ihedigbo, who had a strong season (second on the team in tackles with 101), is the odd man out. The Ravens basically replaced
Bernard Pollard
with two players and never filled
Ed Reed
's role.
January, 8, 2014
1/08/14
3:15
PM ET
OWINGS MILLS, Md. -- The biggest surprise of the "State of the Ravens" news conference was coach John Harbaugh's announcement that Juan Castillo was remaining with the
Baltimore Ravens
.
Castillo will have the same responsibilities but will have a new title.
"Juan will be the offensive line coach next year," Harbaugh said Wednesday. "The rest of it is a little bit in flux right now."
With Castillo officially taking that role, this likely means offensive line coach Andy Moeller will be heading elsewhere. As I wrote last week, I believed the
odds were against
Castillo staying.
Castillo was the run-game coordinator, and the Ravens finished with the worst rushing total in their history (83 yards per game) and the worst rushing average in the NFL (3.1 yards per carry).
Harbaugh said it's a mistake to put the blame on Castillo.
"I can understand why Juan is a lightning rod right now because of how we're set up and structured," Harbaugh said. "Then we go into the season and we have our worst year ever running the ball, and he's got that title. That's on me."
Whether it's intentional or not, this decision to keep Castillo says the problem with the offensive line is the players, not the coaching staff.
Harbaugh is going to take heat for this decision because Castillo is in the crosshairs of fans, much like former offensive coordinators Matt Cavanaugh and Cam Cameron. But Harbaugh believes Castillo is one of the best offensive line coaches in the NFL and that's why he is keeping him around.
There are going to be changes with the offensive line, and general manager Ozzie Newsome said one of the priorities is "to get bigger in the interior of the offensive line." I wouldn't feel too secure if I was center
Gino Gradkowski
upon hearing that.
If the Ravens are able to upgrade the players on the offensive line, there will be increased pressure on Castillo to show he's a top-notch coach. It will be hard to defend Castillo if the Ravens' offensive line struggles a second straight year with a revised cast of starters but the same coach.
Harbaugh has the final say on all decisions with his coaching staff, but he does seek input from Newsome about it.
"He wants me to ask questions about his staff because he wants to have the best staff in the National Football League," Newsome said. "And John is not afraid to make tough decisions or unpopular decisions if he thinks it's in the best interest of the Baltimore Ravens. So, our relationship about his coaching staff – I don't know if it's matched in the league when it comes to that – and his ability to allow me to be real frank about what I think, and he listens."
The decision to keep Castillo will be talked about on blogs and sports-talk radio for the foreseeable future. The only way for the Ravens to prove they were right about this is to come back with an improved offensive line in 2014.
January, 3, 2014
1/03/14
4:15
PM ET
Running backs coach Wilbert Montgomery will not return to the
Baltimore Ravens
after the team set records for rushing futility this season.
Montgomery has been the Ravens' only running backs coach since coach John Harbaugh was hired in 2008. This season, the Ravens set team marks for fewest yards rushing per game (83) and per carry (3.1).
"Wilbert has decided to pursue other coaching and life opportunities," Harbaugh said in a statement. "I want to thank him for everything he did for our organization. Wilbert has been a tremendous coach for the Ravens, and he has played an integral role in the success we've experienced over the past several seasons."
During his six seasons with the Ravens, Montgomery has coached three players who reached the Pro Bowl a total of seven times:
Ray Rice
(three),
Le'Ron McClain
(twice) and
Vonta Leach
(twice).
But things changed with the ground game in 2013, when Rice had the worst season of his career and the Ravens went away from being an I-formation, power running team.
"I have a great deal of respect for the person Wilbert is -- not just as a coach, but also as an outstanding family man and someone who inspires everyone around him," Harbaugh said. "In addition to his knowledge of the game and ability to connect with his players, Wilbert brought a passion to the Ravens that helped our team -- and the individuals on it -- reach tremendous heights."
There could be other upcoming changes with the Ravens' coaching staff. Offensive coordinator Jim Caldwell has interviewed for the head coaching jobs with the
Detroit Lions
and
Washington Redskins
, and there have been questions about the future of run game coordinator Juan Castillo.
January, 2, 2014
1/02/14
12:00
PM ET
Baltimore Ravens coach John Harbaugh said he doesn't plan on making any changes to his coaching staff right now, but it's difficult to see how run game coordinator Juan Castillo returns to the team for a second season.

The historic struggles in the run game and the reported friction with players will make it difficult for Harbaugh to keep Castillo on staff. The numbers alone are a strong argument to go in a different direction:
Rushing yards per game: 83.0, 30th in NFL and worst in Ravens history
Rushing yards per carry: 3.1, last in NFL and worst in Ravens history
Rushing touchdowns: Seven, tied for 28th in NFL and tied for second-worst in Ravens history (they had five in 2005)
This is a massive drop-off from 2012 when the Ravens ranked 11th in the league in rushing yards per game (118.8) and 12th in yards per carry (4.3). While the offensive line and running backs dealt with injuries, it's hard to absolve Castillo's influence in his first season with the Ravens.
I'm not saying Castillo was the biggest problem in the Ravens' running game this season. But, as a coach, it was his job to fix it and he didn't.
"Juan Castillo is a very accountable guy," Harbaugh said. "Juan Castillo will be the first guy to say put it all on his shoulders. There are probably a lot of people out there willing to do that."
Some of those "people" are in the Ravens' locker room, if the reports are correct. In October, offensive tackle Bryant McKinnie pointed
the finger at Castillo
after he was traded to the Miami Dolphins, saying the Ravens didn't stick with last season's scheme because "Juan wants it done his way."
Also, after a loss to Green Bay in October, a source told
The Baltimore Sun
that players were so unhappy with Castillo's blocking scheme that they went to Harbaugh and said Castillo had "lost influence" in the offensive line room.
Harbaugh said this week that coaches on the Ravens' staff could leave for other jobs elsewhere if it turns out to be the "best fit." Obviously, the Ravens haven't been a good fit for Castillo.
Despite the problems this season, Castillo should have no problem catching on with another team. Before joining the Ravens prior to the Super Bowl, Castillo was offered a job as the Kansas City Chiefs' assistant head coach and running game coordinator.
If Castillo was hired elsewhere, Harbaugh wouldn't have to fire a close friend, like he did with Cam Cameron a season ago.
"I believe in our coaches. That goes for Juan Castillo; it goes for all of our guys," Harbaugh said. "I think he's a great coach, but I think all of our guys are great coaches. But, we've got to coach better. We've got to find a way to use our personnel better. All those things have to happen."
October, 17, 2013
10/17/13
12:00
PM ET
If you want a full transcript of this week's Baltimore Ravens' chat, you can
click right here
. If you want some highlights, simply continue reading.
Peter (New Orleans)
: Now that we have a relatively healthy receiving corps, how do we get the most out of it?
Jamison Hensley (ESPN)
: I would like to see the Ravens spread out teams more with
Torrey Smith
,
Marlon Brown
,
Jacoby Jones
and maybe even
Deonte Thompson
. They're playing better than the Ravens' tight ends and fullback
Vonta Leach
. [John] Harbaugh has always stressed that you play your best 11 players. In my opinion, the best 11 include more receivers.
PJ (Midlo)
: Disappointing loss to Green Bay with all their injuries during the game. While I am a proponent of balance in the offense, does the Raven running game seem too predictable in where they run and how they run? Never any deception or unusual formations, etc. Just no imagination.
Jamison Hensley (ESPN)
: I would like to see the Ravens use more three or four wide receiver formations and take Vonta Leach off the field. I know that doesn't sound like a good solution for the running game. But the Packers spread out the Ravens and were able to get some big yards on the ground because it forces the opposition to use more nickel defense.
Emil (mobile)
: What are the chances the ravens fire run game coordinator Juan Castillo after this season if they keep producing this way?
Jamison Hensley (ESPN)
: Harbaugh and Juan Castillo are good friends. It's going to take one bad year for the Ravens to make a move with him. You have to wonder if there are too many opinions being expressed in the offensive game plan sessions.
Isaac (Cleveland, OH)
: Besides the run game, what is one thing you're keeping an eye on this Sunday for the Ravens to come out with their fourth straight win at Heinz Field?
Jamison Hensley (ESPN)
: More turnovers from the defense. I wouldn't be surprised if
Lardarius Webb
gets an interception Sunday.
Matthew (London)
: Expecting a big game from Torrey Smith on Sunday?
Jamison Hensley (ESPN)
: I expected a big game from Torrey Smith against the Packers. So you're probably asking the wrong guy. The Ravens will take some shots deep against the Steelers, and Smith is the team's best downfield threat. It would be a mistake to ignore Smith for a second straight week.
September, 30, 2013
9/30/13
6:40
PM ET
Baltimore Ravens
coach John Harbaugh made two things clear in the aftermath of the 23-20 loss at the
Buffalo Bills
:
It was his decision to abandon the run, and he would do it again in the same situation. The Ravens' plodding running game was the hot topic at Harbaugh's news conference Monday -- eight of the 17 questions asked had something to do with the ground attack -- and he did not back down from the decision to run the ball a franchise-low nine times, including twice in the second half.
"That's my call all the way," Harbaugh said. "I just felt like we weren't running the ball well enough to win the game running the ball. Looking back on it, I feel the same way. After watching the tape, I feel we did exactly the right thing to try to win that game. No second-guessing myself on that. That was my decision. That's the way we went with it. If you feel like we should have run the ball more in the second half, I definitely respect that opinion. But it didn't look that way to me. So, that's what we did."
[+] Enlarge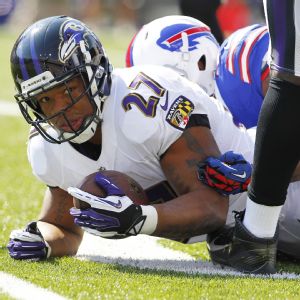 AP Photo/Bill WippertRay Rice has just 89 rushing yards so far this season.
I do not fault Harbaugh's decision because the run game was going nowhere (the team was averaging 2.6 yards per carry). The Ravens also were 15 yards away from kicking the potential game-tying field goal late in the fourth quarter, so the pass-heavy attack put Baltimore in position to pull off the comeback.
Where I differ with Harbaugh is the Ravens' ability to turn this ground game around. The Ravens are averaging 64 yards rushing per game, which ranks 28th in the NFL. There have been no signs of life from the Ravens' running game and that includes Sunday's game against the second-worst run defense in the NFL.
It's a strange turn of events for the Ravens because this is essentially the same offensive line that helped the Ravens average 134.8 yards rushing in the playoffs. The Ravens have not cracked 100 yards rushing as a team this season.
The only change on the offensive line has been second-year center
Gino Gradkowski
replacing 15-year veteran
Matt Birk
.
"He's done a good job physically," Harbaugh said of Gradkowski. "It hasn't been too often where Gino has been pushed around. He's done a good of job of holding the point. I talk to him all the time, I think he can come off the ball better. I think sometimes he's a little tentative with his footwork and wants to stay in front of people. Go ahead and come off the ball and move people a little bit. He's capable of doing that."
Harbaugh added, "It's a difference between Gino and Matt with the calls. I think we're feeling that in there right now. Gino is a really smart guy but Matt had been at it a lot of years. So, that's something that we're working through."
The other big change was adding Juan Castillo, the former offensive line coach and defensive coordinator for the
Philadelphia Eagles
, to be the Ravens' run game coordinator. Harbaugh, though, said the Ravens aren't doing much different blocking-wise with Castillo.
"It's the same offense," Harbaugh said. "We still run the same plays. We still have the same philosophy. There's always a few wrinkles and that's why I brought Juan in because I was excited about things I knew he was going to bring to the table and bring into our program. And those things are part of what we're doing. We're not the same team we were two months ago, and we're going to be a different team two months from now. I'm most interested in what kind of team we are six days from now when we go down to Miami."
Harbaugh dismissed the notion that the health of running back
Ray Rice
, who returned after missing one game with a hip injury, was a factor in the Ravens struggling to run the ball against the Bills.
"The issue is what it always is. We just got to get better," he said. "We have to go to work and improve the things we can improve and make good decisions on what we choose to do and how we choose to scheme it. So, yes, we can game plan better and we can set formations up better to put our guys in position. I think our running backs can do a better job of running to the right sopt and trusting the offensive line."
Harbaugh added, "But the bottom line is it has nothing to do with style or technique. It's finding what our guys can do well with this group and doing it well. I'm very confident in every one of our coaches. We'll find a way to work it out. It's a process. It's going to be a year-long process."