Steelers veteran cornerback Ike Taylor won't play Saturday night in an AFC wild-card game against the Ravens.
While no one should root for injuries, Baltimore Ravens inside linebackers C.J. Mosley and Daryl Smith had to breathe a sigh of relief when the Pittsburgh Steelers announced that Pro Bowl running back Le'Veon Bell was ruled for Saturday's AFC wild-card game.
BALTIMORE -- A few thoughts on the Baltimore Ravens' 22-20 win against the Pittsburgh Steelers.What it means: In a rivalry that has been defined by close finishes, the Ravens (6-6) came up big in a must-win game and took over sole possession of the sixth and final playoff spot in the AFC.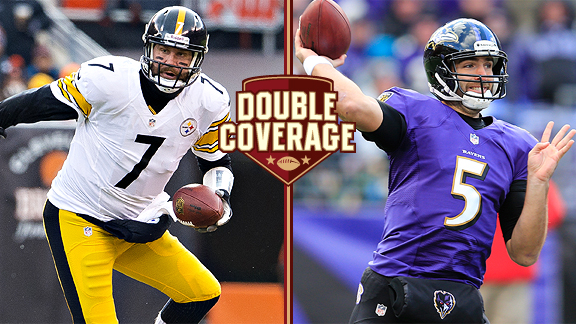 515d
Jamison Hensley and Scott Brown
BALTIMORE -- A few weeks ago, it looked like the Baltimore Ravens and Pittsburgh Steelers would only be playing for bragging rights on Thanksgiving night.
Last month, Pittsburgh Steelers rookie running back Le'Veon Bell ran for a season-high 93 yards in a 19-16 win over the Baltimore Ravens. This time, the Ravens say they're ready for him.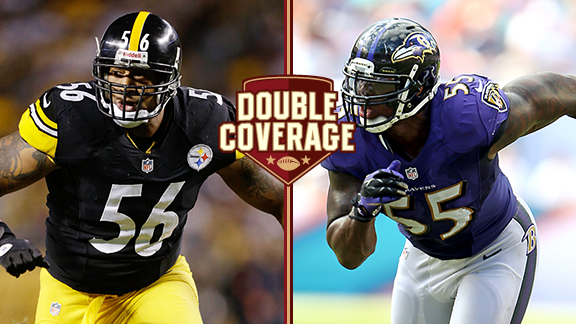 555d
Scott Brown and Jamison Hensley
.The Baltimore Ravens and the Pittsburgh Steelers renew their storied rivalry Sunday at Heinz Field, and both teams are badly in need of a win. That should only increase the intensity, which is never an issue anyway when these teams meet.