Baltimore Ravens:

Pernell McPhee
November, 16, 2014
Nov 16
8:00
AM ET
Here are the five highest- and lowest-graded
Baltimore Ravens
players by our friends at Pro Football Focus at the Week 11 bye ...
HIGHEST GRADED
Yanda
G Marshal Yanda (30.5)
: He's the highest-graded offensive lineman in the NFL. Yanda has allowed one sack and his run-block grade (27.0) is phenomenal when you consider no one else is above 14.
DT Haloti Ngata (20.3)
: He is rated as the 10th-best run stopper among all defensive linemen. This overall rating is significantly better than the one he finished last year (7.6).
LB Pernell McPhee (17.7)
: He leads the Ravens with 11 quarterback hits and has 22 hurries, which are six more than anyone else on the team. These types of numbers will gain other teams' attention in free agency.
G Kelechi Osemele (16.8)
: He is tied with Green Bay's
Josh Sitton
as the second highest-graded guard in the league. Offensive line coach Juan Castillo said there is no better finisher on blocks in the NFL than Osemele.
LB Elvis Dumervil (15.0):
He is tied for second in the NFL with 10.5 sacks. Dumervil has the third-most multi-sack games since 2006.
LOWEST GRADED
OT James Hurst (-14.2)
: The undrafted rookie faced the challenging task of protecting
Joe Flacco
's blind side for four games. Hurst allowed three sacks, three quarterback hits and five hurries.
SS Matt Elam (-10.4)
: He is tied for fourth among all NFL defensive backs with 12 missed tackles, and he has allowed an average of 16.2 yards on 17 catches this season. Elam is the fourth-worst safety in the league, according to Pro Football Focus' grades.
CB Lardarius Webb (-8.7)
: He is the sixth-worst cornerback in the NFL, allowing 32 catches for 420 yards (13.1 yards per reception) and a touchdown. Webb has only six passes defensed in seven games after breaking up 22 last season (the second most in the NFL).
CB Asa Jackson (-6.7)
: He allowed 22 catches and a touchdown in five games played. Jackson, who is currently on short-term injured reserve, also missed five tackles.
WR Jacoby Jones (-5.0)
: He quickly fell from the No. 3 receiver to the bottom of the depth chart. Jones hasn't played an offensive snap in two games, and he still has more drops (five) than receptions (four).
October, 19, 2014
Oct 19
8:55
PM ET
BALTIMORE -- After the
Baltimore Ravens
recorded a season-high five sacks, their pass rushers weren't greeted with a pat on the back. Instead, they received a dose of tough love.
On Saturday night, linebackers coach Ted Monachino delivered a speech about how great things are expected of this defense and explained the bar has been raised. He asked the players individually if they were just getting started.
[+] Enlarge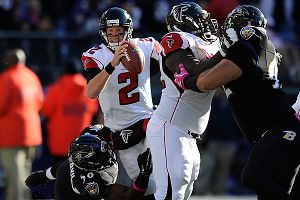 AP Photo/Gail BurtonA relentless Ravens pass rush never gave Falcons quarterback Matt Ryan much of a chance to get plays off.
"He challenged us," pass rusher
Pernell McPhee
said. "He told us, 'We're not playing like a defense that we should be playing for the talent that we have.'"
Consider the challenge accepted. In the Ravens' 29-7 win -- one that moved them into first place in the AFC North for the first time this season -- their pass rush was the most consistent part of the team's game and negated the penalties on offense,
Joe Flacco
's turnovers and an ill-timed mistake on special teams. As a result, the Ravens' defense was within seven minutes of shutting out the NFL's No. 5 scoring team and held the
Atlanta Falcons
offense to a season-low 254 total yards (156 below their average).
The relentlessness of the Ravens' defense was set by their pass rush, which recorded five sacks for a second straight week and hit Falcons quarterback
Matt Ryan
a total of nine times. The Falcons tried to slow the onslaught with several screen passes and even chipped in a running back to help the pass protection, but there were no solutions for McPhee,
Elvis Dumervil
and
Terrell Suggs
.
"There were times when we really didn't have a chance to get the play off, and that's very difficult for a quarterback," Falcons coach Mike Smith said.
This is how much of an impact the pass rush made:
In the first quarter, McPhee sacked Ryan on the Falcons' first trip into the red zone and forced a fumble. The key here was misdirection as McPhee did a stunt inside with blitzing linebacker C.J. Mosley (who drew the attention of the Falcons' center), creating a clear path up the middle.
In the second quarter, Dumervil sacked Ryan immediately after
Jacoby Jones
muffed a punt and gave the ball to the Falcons at the Ravens' 37-yard line. Dumervil got such a great jump off the edge that he barely got touched, beating both the right tackle and running back.
In the fourth quarter, Suggs recorded a safety to end any momentum that the Falcons had built after they scored on the previous drive. This was set up by defensive tackle
Haloti Ngata
getting double teamed by the left guard and tackle, allowing Suggs to loop from the edge to the middle and getting an open lane to Ryan.
"It just shows what we can do," Suggs said. "It's on film now and everybody is seeing how our defense can control games. That's going to be the standard from now on."
The Ravens got pressure on quarterbacks earlier this season but they weren't getting sacks. According to defensive coordinator Dean Pees, quarterbacks were getting rid of the ball in 2.1 seconds in the first five games. Over the past two weeks, the Ravens have totaled 10 sacks because quarterbacks have held the ball a half second longer.
What's been the difference? It has as much to do with the secondary as the pass-rushers up front. The defensive backs have played tighter coverage, and the Ravens are causing quarterbacks to think more with different looks. There was a point during Sunday's game in which
Jimmy Smith
, the Ravens' best cornerback, was lined up at safety.
"I rolled out a few [coverages]," Pees said. "Trust me, I stay up late nights."
Ryan was under duress on a season-high 32 percent of his dropbacks, according to ESPN Stats & Information. The effectiveness of the Ravens' defense is based on their pass-rushers getting in the face of Ryan.
When the Ravens got pressure on him, Ryan was 4 of 10 for 33 yards. When they didn't, he was 25 of 34 for 194 yards and a touchdown.
"Those dudes are our best friends," Jimmy Smith said of the pass rush. "They get in there and they disrupt things. They cause havoc. They make quarterbacks panic and throw the ball in the air."
The Ravens' defensive backs were angry at themselves for dropping a few interceptions Sunday, but there was something that irked Pees even more. A 4-yard touchdown pass to
Roddy White
ended the hopes of the Ravens' first shutout since November 2009.
Asked how disappointed he was about that, Pees threw out a "no comment" and headed out of the locker room.
Consider that the next challenge for this defense.
October, 19, 2014
Oct 19
4:02
PM ET
BALTIMORE -- A few thoughts on the
Baltimore Ravens
'
29-7 win Sunday
over the
Atlanta Falcons
at M&T Bank Stadium:

What it means:
The Ravens (5-2) moved into first place in the AFC North for the first time, jumping ahead of the
Cincinnati Bengals
(3-2-1). This was the Ravens' fifth win in the past six weeks. The Ravens have outscored three NFC South opponents (
Carolina Panthers
,
Tampa Bay Buccaneers
) by a combined 115-34.
Near shutout:
The Ravens' hopes for their first shutout in five years ended when they gave up a touchdown with 7 minutes, 12 seconds left in the game. Still, the Ravens defense held the Falcons, the fifth-highest scoring team entering this game, to 20 points below their average.
Stock watch:
Falling -- Left tackle
James Hurst
. The undrafted rookie was flagged three times for holding. It's been up and down for Hurst over these three starts. There's a chance that this could be the last time Hurst starts.
Eugene Monroe
(knee) may return next game.
Jones still struggling:
Jacoby Jones
' nightmare season continued when he muffed his second punt of the season. Jones was lucky that the Falcons failed to convert it into points (missed 57-yard field goal). It could be time for the Ravens to think about a change at returner.
Game ball:
Pass-rusher
Pernell McPhee
. The game ball could go to anyone on the Ravens' pass rush, but McPhee set the tone in a dominant first half. He forced a fumble on a sack of
Matt Ryan
in the red zone then sacked Ryan again on third-and-1 to end another drive. McPhee now has four sacks in his past three games. The Ravens finished with five sacks of Ryan.
Suggs' safety:
Terrell Suggs
capped a strong day for the pass rush by tackling Ryan in the end zone late in the fourth quarter. It was Suggs' first safety of his career and the eighth for the Ravens in their history. The last safety by the Ravens occurred in November 2008, when
Jameel McClain
recorded it.
Rubbing it in?
Up 15 points with 1:54 left, the Ravens not only opted to go for it on fourth-and-9 but they also went for the jugular.
Joe Flacco
hit
Torrey Smith
on a 39-yard touchdown pass to make it 29-7. Some Falcons looked upset by the play call.
Forsett produces again:
Running back
Justin Forsett
followed his first 100-yard rushing game in five seasons with 95 yards against the Falcons. He broke a 21-yard gain, which marks his seventh run of 20 or more yards this season. Last year, the Ravens had five such runs for the entire season.
What's next:
The Ravens go back on the road for the next two games against AFC North teams. Their first trip is next Sunday to the suddenly struggling Cincinnati Bengals.
August, 23, 2014
Aug 23
12:00
PM ET
The
Baltimore Ravens
(2-0) and
Washington Redskins
(2-0) face off in each team's third preseason game Saturday night (7:30 ET) at M&T Bank Stadium.

1. Flacco-Smith connection.
One of the impressive parts of training camp was the instant connection between quarterback
Joe Flacco
and his new receiver
Steve Smith
. It seemed like every day Smith made at least one catch that caught your attention. That chemistry hasn't carried over into the two preseason games. Smith has two catches for 17 yards. Last week in Dallas, Smith dropped a third-down pass and ran the wrong depth on a route, which led to an incompletion. In what will be the last preseason action for both Flacco and Smith, it's important for them to gain some rhythm heading into the regular season.
2. Depth at cornerback.
The Ravens will get a good gauge on whether they need to add another cornerback after the final major cutdown is made at the end of the preseason. The spotlight falls on
Chykie Brown
and
Dominique Franks
, both of whom start Saturday night due to injuries. The Ravens are without their top three cornerbacks:
Jimmy Smith
(chest),
Lardarius Webb
(back) and
Asa Jackson
(ankle). Brown and Franks played a large portion of last week's preseason game, and they held up fairly well. Brown and Franks, though, remain big question marks. They will get tested against Redskins wide receivers
DeSean Jackson
and
Pierre Garcon
.
3. The pass rush.
The best way to take pressure off the cornerbacks is to put guys on the quarterback. The Ravens haven't gotten much consistent pressure this preseason (three total sacks), which has been among the disappointments for the defense. It's not like the Ravens are holding back either. There have been plenty of times when defensive coordinator Dean Pees has called blitzes. But no one beyond
Pernell McPhee
and
C.J. Mosley
has more than one quarterback hurry in the first two preseason games. It's time for
Terrell Suggs
and
Elvis Dumervil
to collapse the pocket.
August, 23, 2014
Aug 23
8:00
AM ET
It's time to click open the
Baltimore Ravens
Twitter mailbag ...
@jamisonhensley Who will the Ravens keep out of Aiken, Campanaro and Thompson? What are they looking to do to address CB injuries?

— Luke (@lxschurm) August 21, 2014
@jamisonhensley:
Heading into the third preseason game, I have
Kamar Aiken
and
Michael Campanaro
getting the final two spots at wide receiver. Campanaro is really battling against himself. If he proves he can stay healthy, the rookie seventh-round pick makes the team. Aiken currently has the edge over
Deonte Thompson
and
Jeremy Butler
. As far as cornerback, the Ravens are going to sit tight for now. Injured cornerbacks
Jimmy Smith
,
Lardarius Webb
and
Asa Jackson
should be ready for the season opener, according to the Ravens. They will look at cornerbacks who are released in the final major cutdown, which happens next Saturday.
@jamisonhensley some people think kubiaks scheme is predictable. Does that stop from winning games

— Zach Bull (@zachcch) August 21, 2014
@jamisonhensley:
Gary Kubiak was criticized for being too predictable during his final season in Houston. There were reports that defensive players were calling out the plays before the ball was snapped. This is a common gripe against coordinators when offenses struggle. Many of the Ravens' defensive players have talked about how unpredictable the Ravens' offense has become. They say Kubiak runs a lot of different plays from the same formation, which puts a defense on its heels. Of course, everyone will form their own opinion when the Ravens' offense plays meaningful games.
@jamisonhensley How worried should #Ravens fans be in regards to the secondary being so banged up already?

— Tim LaMay (@TimLaMay) August 21, 2014
@jamisonhensley: There should be concern. Even though their top three corners are supposed to be ready for the opener, durability is a legitimate issue with Jimmy Smith and Lardarius Webb. Both have struggled to stay healthy during their careers. Because of this track record, I was surprised the Ravens didn't do more to improve their depth at corner. While it was going to be difficult to sign a decent corner in free agency (the Ravens didn't have the cap room to do so), the Ravens could've looked at one late in the third round instead of drafting a tight end.


@jamisonhensley McPhee extension?

— Rhett Mitter (@RhettMitter) August 21, 2014
@jamisonhensley:
Not likely. Linebacker
Pernell McPhee
is entering the final year of his contract. Even though he's looked strong this preseason, McPhee hasn't earned an extension. He only totaled 3.5 sacks the past two seasons after an impressive six-sack rookie season. One way to make sure they'll get the best season out of McPhee is not signing him to an extension. McPhee is going to be more motivated in a contract year.
@jamisonhensley Will the Ravens look at tight ends & cornerbacks after the cuts in preseason with concern at both positions?

— Brent Wright (@BrentWright24) August 21, 2014
@jamisonhensley:
The Ravens will definitely be looking at cornerbacks after the last cuts are made. But let's be realistic. Teams don't release cornerbacks who can make an instant impact. The Ravens, though, may find a corner who is better than one they have on their roster. It's all about upgrades. As far as tight ends, the Ravens won't need to add another one if
Owen Daniels
can play. That's not a certainty right now. Daniels has missed the last week because of leg fatigue. The Ravens have insisted there is no injury. But I haven't seen a player get this type of extended rest in my 14 years of covering the Ravens. If the Ravens can't depend on Daniels, they will have to pick up another tight end.
@jamisonhensley does Taliaferro become their horse by seasons end?

— DeeAblo98 (@DeeAlvis) August 21, 2014
@jamisonhensley:
Probably not. Rookie running back
Lorenzo Taliaferro
is leading the NFL in rushing after two preseason games. His physical running style has generated a lot of excitement. Let's also remember most of these yards are came against second- and third-team defenses. He's earned the right to get carries in the regular season. The Ravens, though, are going to rely primarily on
Ray Rice
and
Bernard Pierce
if both remain healthy.
@jamisonhensley Which will travel further: a ball thrown by @TeamFlacco, or a ball kicked by @jtuck9?

— Bill Bowen (@BillEBowen) August 21, 2014
@jamisonhensley:
Interesting question. My first guess was quarterback
Joe Flacco
. But I wanted to give my readers more than a guess, so I did some research. Flacco won a distance-throwing competition in college when he launched a football 74 yards.
Justin Tucker
's longest kickoff last season traveled 72 yards. So, based on this, Flacco would still be the winner -- but not by much.
August, 21, 2014
Aug 21
5:45
PM ET
OWINGS MILLS, Md. -- Pernell McPhee hasn't just been the best pass-rusher on the Baltimore Ravens this preseason. He's been among the best in the NFL.

After two preseason games, McPhee is tied for the league lead with five quarterback hurries and is rated as the top pass rusher among all linebackers by Pro Football Focus. He was the only consistent pass rusher for the Ravens last week against the Dallas Cowboys, knocking quarterback Brandon Weeden to the ground a couple of times.

Does McPhee feel like he can carry these types of performances into the regular season?

"I predict myself as going in and having double-digit sacks," McPhee said.

That's a lofty goal considering the Ravens' history (only six players have recorded 10 or more sacks in a season) and McPhee's recent history.

A 2011 fifth-round pick, McPhee has been both a surprise and a disappointment over the past three seasons. As a rookie, he finished second on the team with six sacks. But, over the next two seasons, he totaled 3.5 sacks.

Ravens coach John Harbaugh said he hasn't seen a difference in McPhee over the years.

"I think he has always looked explosive," coach John Harbaugh said. "I think Pernell has always been a really good player, and I've noticed him from the first day he got here until now. I don't think he has ever taken his foot off the gas."

The biggest difference with McPhee this year is he's healthy. This is the first offseason he's not recovering from a surgery.

The Ravens have moved McPhee around on passing downs because of his size and ability to collapse the pocket. He lined up as a rush end in Dallas, but he primarily will line up inside alongside Haloti Ngata in the Ravens' nickel defense (Terrell Suggs and Elvis Dumervil will come off the edges).

"I just want to be out there," McPhee said. "Inside or outside, it doesn't matter."
August, 18, 2014
Aug 18
12:00
PM ET
The
Baltimore Ravens
blog won't be giving out a report card until the regular season opener, but our friends at Pro Football Focus are handing out grades for the Ravens' second preseason game at Dallas ...
HIGHEST-GRADED RAVENS
Pernell McPhee (4.8):
He led the Ravens with three quarterback hurries and constantly harassed backup quarterback
Brandon Weeden
. No other Ravens player had more than one hurry.
Elvis Dumervil (2.8):
The veteran outside linebacker was one of only three Ravens to have a positive rating in pass rush (McPhee and linebacker
Daryl Smith
were the others). Dumervil finished with one quarterback hit and one hurry.
Brynden Trawick (2.2):
He showed his range by racing over to pick off a pass along the sideline and nearly had a second interception. But the backup safety missed a tackle that led to a touchdown.
Josh Bynes (1.6):
The surprising part is Bynes finished as the best coverage linebacker. He is known for his run-stopping skills.
Marshal Yanda
(1.6)
: The three-time Pro Bowl guard was the highest-graded pass blocker in Dallas. No hurries or hits allowed on 21 pass plays.
Dominique Franks (1.6)
: Most remember Franks for not being able to elevate to break up the touchdown pass to
Dez Bryant
. The veteran cornerback did a solid job the rest of the way in keeping up with receivers, although that was mostly against the Cowboys' second team.
LOWEST-GRADED RAVENS
Parker Graham (-3.7)
: The third-string offensive tackle was the lowest graded run blocker, and he also allowed a sack.
Eugene Monroe (-3.0)
: The starting left tackle allowed a team-high two quarterback hurries and was flagged for illegal use of hands.
C.J. Mosley (-2.8)
: After an impressive preseason opener, Mosley was the lowest-graded defensive player for the Ravens. The rookie inside linebacker missed a couple of tackles, had trouble getting off blocks and didn't hold up well in coverage.
Dennis Pitta (-2.1)
: Known for his pass-catching ability, Pitta was one of two Ravens who had a negative rating in run blocking (Graham was the other).
Nicholas DeMarco (-2.0)
: The reserve outside linebacker was the lowest graded run defender.
August, 18, 2014
Aug 18
10:00
AM ET
A look at who's rising and falling on the Baltimore Ravens this preseason ...
FALLING
Elam
1. Ravens' tackling
. The Ravens' inability to wrap up led to big plays and scores. Rookie linebacker C.J. Mosley wasn't the same force in the middle and got stiff-armed on one run. Safeties Matt Elam, Brynden Trawick and Omar Brown also had poor showings as tacklers. Trawick, in particular, went high for a big hit instead of making the stop, which led to a touchdown. The Ravens can't have those lapses by their safeties, especially when they're the last line of defense.
2. Ball security
. The Ravens' running backs fumbled twice for a second consecutive preseason game. The biggest problem is with Justin Forsett, a smallish back who has coughed it up twice in 12 touches. He has speed and big-play ability, but the Ravens have to be wondering whether they can trust him with the ball. Fumbling hasn't been a major issue with the Ravens. Since coach John Harbaugh took over as coach in 2008, Ravens running backs have lost the ball 18 times, which is tied for the seventh-fewest in the NFL.
3. Owen Daniels
. The 31-year-old tight end was among the disappointments in training camp. Daniels lacked explosion and failed to get separation from linebackers. He made only one catch in the preseason opener for six yards. Now, Daniels missed the final two days of camp and didn't play in the second preseason opener because the Ravens wanted to "rest his legs." This is troubling when you consider he broke his leg last season.
RISING
Pierce
1. Bernard Pierce
. He looked like an NFL starting running back when he replaced the soon-to-be suspended Ray Rice with the first-team offense in Dallas. Pierce ran with power and decisiveness, hitting lanes that weren't there a season ago. In two preseason games, Pierce has 92 yards on 17 carries, a 5.4-yard average that appears gaudy when compared to his 2.9-yard average in 2013. The impressive part has been his consistency. Nearly half of his 17 carries have produced runs longer than 4 yards.
2. Deonte Thompson
. After slipping on the wrong side of the roster bubble, Thompson had a much-needed huge game. He had kickoff returns of 108 and 50 yards. These types of explosive plays stick with teams when they're making their final cuts. What hurts Thompson is he has been a non-factor as a receiver. The Ravens don't need a kickoff returner because Jacoby Jones is one of the most dangerous in the league. There are plenty of other backup options -- cornerback Asa Jackson and wide receiver Michael Campanaro -- who can make an impact beyond special teams.
3. Pernell McPhee
. The pass rusher looks like he's carrying a few extra pounds. But McPhee is driving that weight into quarterbacks. He has been collapsing the pocket whether he's lined up on the inside or out on the edges. McPhee was the only consistent pass rusher in Dallas, and his ability to hurry throws is even more important with the current state of the Ravens' secondary.
August, 15, 2014
Aug 15
9:00
AM ET
OWINGS MILLS, Md. -- The
Baltimore Ravens
wrapped up their 19th training camp, one that will be remembered for
Steve Smith
's spectacular catches,
Jimmy Smith
's deflections,
Kelechi Osemele
's pulverizing hits and a couple of season-ending injuries to the defensive line.
Looking to rebound from their worst season since 2007, the Ravens believe they're a much better team than the one that began camp three weeks ago.
"That's the beauty of training camp -- you have an opportunity to really see [the] progress," coach John Harbaugh said. "You're in a crucible, and every single day it's all you do. It's wall-to-wall football. It's morning to night. You go to sleep and you wake up, and you're back at football. There's no escape. There's nowhere to hide, [and] there's nowhere to run. It's all football all the time, so you make progress rapidly, but you have to because you have a long way to go. We just have so much work to do still between now and then, and that's what we have to focus on."
With 23 days until the season opener, this is what stood out in this year's training camp:
Osemele
Most impressive player of camp, offense:
Left guard Kelechi Osemele. If he dominates this way in the regular season, the Ravens could have another Pro Bowl guard. He put so many defensive players on their backs that I'm surprised IHOP hasn't signed him to an endorsement deal.
Most impressive player, defense:
Cornerback Jimmy Smith. He has carried all of the momentum from last year into this summer. Smith was the only defensive back who repeatedly won in one-on-one drills, and he regularly knocked down the few passes thrown in his direction.
Most disappointing player, offense:
Wide receiver
Deonte Thompson
. He never resembled a player who had made the Ravens the past two seasons. His continual drops have pushed him on the wrong side of the bubble.
Most disappointing player, defense:
Cornerback
Chykie Brown
. He entered camp as the front-runner for the No. 3 job, and he's now the biggest concern on the defense after allowing a deep pass on nearly every day of camp. Injuries to
Lardarius Webb
and
Asa Jackson
have put Brown on the first-team defense by default.
Smith
Best play:
Wide receiver
Torrey Smith
. He provide the highlight of camp during a red-zone drill at M&T Bank Stadium, where he skied in the air over cornerback Asa Jackson and hauled in
Joe Flacco
's pass with one hand.
Worst play:
Defensive end Kapron Lewis-Moore suffered a season-ending Achilles injury on the second day of joint practices with the
San Francisco 49ers
. It's a scene that won't soon be forgotten, from his gut-wrenching screams while laying on the ground to players from both teams kneeling down to pray around him.
Best addition:
Wide receiver Steve Smith. It's hard to remember a day when you weren't by a catch he made.
Daniels
Most disappointing addition:
Tight end
Owen Daniels
. Unlike Steve Smith, Daniels looked like a player who doesn't have much left.
Biggest sleeper, offense:
Wide receiver
Kamar Aiken
. After being cut by three teams, Aiken has impressed the Ravens with his strong hands, which has helped him go from a long shot to someone who is inching closer to a roster spot.
Biggest sleeper, defense:
Cornerback Tremain Jacobs. The undrafted rookie out of Texas A&M has become a favorite of the coaching staff. He isn't going to be the No. 3 corner this year, but he has the potential to develop into one in future years.
Most improved player, offense:
Fullback
Kyle Juszczyk
. Last year, the Ravens re-signed
Vonta Leach
because Juszczyk wasn't ready as a rookie. Now, Juszczyk is primed for a breakthrough year as a lead blocker and a receiver.
Most improved player, defense:
Linebacker
Pernell McPhee
. Don't be surprised if he matches his six-sack total from his 2011 rookie season because he's healthy and looks more explosive.
August, 10, 2014
Aug 10
4:20
PM ET
OWINGS MILLS, Md. -- Once a position of depth, defensive end has become a concern for the
Baltimore Ravens
a little more than two weeks into training camp.
Kapron Lewis-Moore
suffered a likely season-ending Achilles' injury on Sunday, coach John Harbaugh said after practice. This injury is magnified by the fact that the Ravens lost rookie fourth-round pick
Brent Urban
(torn anterior cruciate ligament) for the season on July 30.
Suddenly, both players expected to rotate with defensive end
Chris Canty
probably won't see the field this season.
"We have tremendous depth around here. But to lose those two guys with all that potential -- and they were doing so well in camp and they definitely showed they were able to help this team win -- it's unfortunate," linebacker
Terrell Suggs
said. "We all know injuries are part of the game. It just sucks that it happened."
Without Lewis-Moore and Urban, the Ravens probably will turn to
DeAngelo Tyson
, who was Canty's backup last season. Tyson is currently listed as the No. 2 nose tackle on the depth chart.
If Tyson moves to defensive end, the Ravens would then use undrafted rookie
Derrick Hopkins
or
Terrence Cody
(on physically unable to perform list with hip injury) to back up starting nose tackle
Brandon Williams
, a first-year starter who only played seven games last season. Another option at defensive end is
Pernell McPhee
, who played that spot for his first two seasons before switching to rush outside linebacker last year.
"The next guy will be up, and we'll find a way to do it," coach John Harbaugh said. "There's always going to be injuries. You adapt, adjust and fill out your position."
Lewis-Moore was injured in a pileup during a joint practice with the
San Francisco 49ers
. As he laid in the middle of the field writhing in pain, players from both teams knelt and dropped their heads, including 49ers coach Jim Harbaugh.
Riding off on the cart, Lewis-Moore could be heard sobbing.
"It's a horrible feeling. I feel terrible," Suggs said. "I wish him a speedy recovery."
Lewis-Moore missed all of rookie season last year after suffering a torn ACL in his right knee in his final game in college. He generated buzz this offseason, and he just played his first NFL game three days ago when he finished with two tackles.
"It's going to be tough for him, and we'll rally around him," Harbaugh said. "He'll be back tougher than ever next year."
An hour before Lewis-Moore was injured, cornerback
Asa Jackson
needed to be helped off the field. Jackson, though, has a minor ankle injury, according to Harbaugh.
"He'l be out for some number of days, but it's not a major deal," Harbaugh said.
November, 24, 2013
11/24/13
6:51
PM ET
BALTIMORE -- Running back
Ray Rice
described the
Baltimore Ravens
'
19-3 win
over the
New York Jets
as a "very good team win." Not exactly.
The Ravens remained in the thick of the AFC's playoff picture (or is it the race of mediocrity?) because of their defense. With all due respect to
Joe Flacco
's two long passes and
Justin Tucker
's four field goals, the most dominant group on the field was a Ravens defense that was on a mission.
[+] Enlarge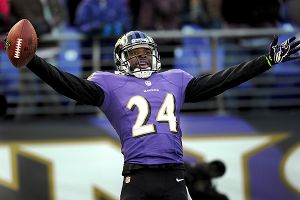 AP Photo/Nick WassCorey Graham intercepted two passes and the Ravens allowed a season-low 220 yards.
All week, the Ravens heard about how the Jets had a fearsome front seven, the NFL's best run-stoppers and a top-10 defense. By the end of the day, the defense everyone was talking about belonged to the Ravens.
Baltimore allowed a season-low 220 yards and gave up three points, its fewest in four years. The Ravens forced three turnovers and held New York scoreless for the final 51 minutes, 52 seconds.
"We always want to be the best defense on the field," said cornerback
Corey Graham
, who tied a career high with two interceptions. "We knew they've got a pretty good front seven, and they play good ball. But when it came down to it, we wanted to be a dominant defense, and that's what we were able to do today."
The Ravens' defense has been the most consistent part of the team. This was the seventh time this season that the defense allowed one or no touchdowns in a game.
The problem has been finishing off teams. Two weeks ago, it was a Hail Mary pass by the
Cincinnati Bengals
. Last Sunday, it was a 43-yard completion to tight end
Martellus Bennett
that set up the
Chicago Bears
' winning field goal in overtime.
On Sunday, when the Jets drove into Ravens' territory in the fourth quarter, it was a different story. Graham picked off rookie quarterback
Geno Smith
in the end zone to squash the Jets' last true scoring opportunity.
"That was a point of emphasis by our coaches, that we need to find a way to finish, not just drives but games," Graham said. "They made some plays, but when it came down to it, we made the bigger plays."
Where the Ravens made their stand throughout the game was on third down: Baltimore stopped the Jets from converting on 11 of 12 chances. This is what the Ravens did on third down:
Haloti Ngata
stuffed running back
Chris Ivory
for no gain when he needed 1 yard, Graham picked off his first pass,
Chris Canty
batted down a pass and
Pernell McPhee
recorded his second sack of the season. In total, Smith was 0-for-6 on third down.
"That's just a great accomplishment," Ravens coach John Harbaugh said. "We blitzed a little bit, but I think it was four-man pressure, and that's usually the result of good coverage, too. Our guys did a good job of taking away the first read or two [and] gave our guys a chance to get there."
Some may downgrade the Ravens because this effort came against a struggling rookie quarterback. But the Ravens have had their troubles with less-than-established quarterbacks this month (
Jason Campbell
and
Josh McCown
).
For the Ravens, it wasn't about playing Geno Smith. It was about reuniting with Jets coach Rex Ryan, who was the Ravens' defensive coordinator from 2005 to 2008. In the Ravens' three games against Ryan, their defense hasn't allowed a touchdown. It's not a coincidence.
"There's always a little something added when we're playing Rex," linebacker
Terrell Suggs
said. "[Ravens defensive coordinator] Dean Pees called a great game and put us in the beset opportunities to make plays as a defense. We're proud of the fact that we didn't give up a touchdown."
September, 4, 2013
9/04/13
5:00
PM ET
Here is the
Baltimore Ravens
' injury report for Thursday's game in Denver:

OUT
: DT
Art Jones
(non-football illness).
DOUBTFUL
: C
Ryan Jensen
(foot), WR
Deonte Thompson
(foot), DT
Brandon Williams
(toe).
PROBABLE
: TE
Ed Dickson
(hamstring), DE
Pernell McPhee
(knee).
September, 3, 2013
9/03/13
4:05
PM ET
Baltimore Ravens
tight end
Ed Dickson
had his second full practice, a sign that he'll play in Thursday's regular-season opener in Denver.

Dickson has been dealing with a hamstring injury throughout the preseason. On Monday, Dickson sounded optimistic about his chances of suiting up.
"I'd go with what Ed said," coach John Harbaugh said Tuesday. "He knows himself as well as anybody, and he's had good practices."
Wide receiver
Deonte Thompson
(foot), nose tackle
Brandon Williams
(toe) and center
Ryan Jensen
aren't expected to be available after missing Tuesday's practice. Linebacker
Pernell McPhee
was limited with a knee injury.
Starting defensive end
Art Jones
, who was ruled out Monday with an illness, addressed his situation
on Twitter
on Tuesday.
"As many of you know i'm having personal health issues. Please respect my privacy. We as athlete's go through real life problems also.Thank You all for your love and support. Ravens fans are the best!! See you all on the field soon!!! : ) #Onelove"
Harbaugh said he would leave it to Jones to discuss the specifics of his illness.
"It's not anything that's life threatening or anything like that, but it's non-football related," Harbaugh said. "We've just got to get some tests done to make sure he's OK. And until the tests come out the right way, he's not going to be able to play. It's something that I've been told now that they can't tell you how long it'll be. It could be a week. It could be indefinitely. We don't think it's going to be the second part of it, but he's going to see a specialist here on Wednesday."