Baltimore Ravens:

Rex Ryan
November, 24, 2013
11/24/13
6:51
PM ET
BALTIMORE -- Running back
Ray Rice
described the
Baltimore Ravens
'
19-3 win
over the
New York Jets
as a "very good team win." Not exactly.
The Ravens remained in the thick of the AFC's playoff picture (or is it the race of mediocrity?) because of their defense. With all due respect to
Joe Flacco
's two long passes and
Justin Tucker
's four field goals, the most dominant group on the field was a Ravens defense that was on a mission.
[+] Enlarge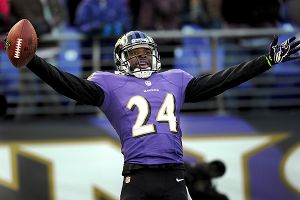 AP Photo/Nick WassCorey Graham intercepted two passes and the Ravens allowed a season-low 220 yards.
All week, the Ravens heard about how the Jets had a fearsome front seven, the NFL's best run-stoppers and a top-10 defense. By the end of the day, the defense everyone was talking about belonged to the Ravens.
Baltimore allowed a season-low 220 yards and gave up three points, its fewest in four years. The Ravens forced three turnovers and held New York scoreless for the final 51 minutes, 52 seconds.
"We always want to be the best defense on the field," said cornerback
Corey Graham
, who tied a career high with two interceptions. "We knew they've got a pretty good front seven, and they play good ball. But when it came down to it, we wanted to be a dominant defense, and that's what we were able to do today."
The Ravens' defense has been the most consistent part of the team. This was the seventh time this season that the defense allowed one or no touchdowns in a game.
The problem has been finishing off teams. Two weeks ago, it was a Hail Mary pass by the
Cincinnati Bengals
. Last Sunday, it was a 43-yard completion to tight end
Martellus Bennett
that set up the
Chicago Bears
' winning field goal in overtime.
On Sunday, when the Jets drove into Ravens' territory in the fourth quarter, it was a different story. Graham picked off rookie quarterback
Geno Smith
in the end zone to squash the Jets' last true scoring opportunity.
"That was a point of emphasis by our coaches, that we need to find a way to finish, not just drives but games," Graham said. "They made some plays, but when it came down to it, we made the bigger plays."
Where the Ravens made their stand throughout the game was on third down: Baltimore stopped the Jets from converting on 11 of 12 chances. This is what the Ravens did on third down:
Haloti Ngata
stuffed running back
Chris Ivory
for no gain when he needed 1 yard, Graham picked off his first pass,
Chris Canty
batted down a pass and
Pernell McPhee
recorded his second sack of the season. In total, Smith was 0-for-6 on third down.
"That's just a great accomplishment," Ravens coach John Harbaugh said. "We blitzed a little bit, but I think it was four-man pressure, and that's usually the result of good coverage, too. Our guys did a good job of taking away the first read or two [and] gave our guys a chance to get there."
Some may downgrade the Ravens because this effort came against a struggling rookie quarterback. But the Ravens have had their troubles with less-than-established quarterbacks this month (
Jason Campbell
and
Josh McCown
).
For the Ravens, it wasn't about playing Geno Smith. It was about reuniting with Jets coach Rex Ryan, who was the Ravens' defensive coordinator from 2005 to 2008. In the Ravens' three games against Ryan, their defense hasn't allowed a touchdown. It's not a coincidence.
"There's always a little something added when we're playing Rex," linebacker
Terrell Suggs
said. "[Ravens defensive coordinator] Dean Pees called a great game and put us in the beset opportunities to make plays as a defense. We're proud of the fact that we didn't give up a touchdown."
November, 22, 2013
11/22/13
10:00
AM ET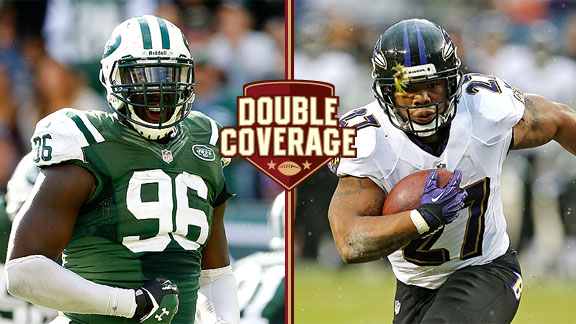 Getty ImagesMuhammad Wilkerson's Jets stuff the run, but Ray Rice will be coming off a 131-yard performance.
The
Baltimore Ravens
play host to the
New York Jets
in a showdown that has more meaning than another reunion with safety
Ed Reed
. These teams are battling for the final playoff berth in the AFC, even though neither has a winning record. Welcome to parity in the NFL.
The Jets (5-5) currently hold the second wild-card spot, based on a tiebreaker with Miami. The Ravens and five other teams with 4-6 records are one game behind the Jets in the playoff race.
Here's how ESPN.com Jets reporter Rich Cimini and Ravens reporter Jamison Hensley see this Week 12 matchup unfolding.
Jamison Hensley:
The unbelievable stat with Jets quarterback
Geno Smith
is the 20 turnovers. How much of those interceptions and fumbles can be blamed on him? And, even though he is expected to start, what are the chances he finishes the game?
Rich Cimini:
Smith's 20 turnovers lead the league. If you're keeping score at home, it's 16 interceptions and four lost fumbles. I could go on and on with statistical stuff, but the bottom line is he's making poor decisions. He's not reading safeties well. He tends to throw late. At times, he "leaves the game plan," according to the coaches -- meaning he forces things, especially late in games. He doesn't handle adversity well. If he struggles early, there's a good chance it'll be a bad game. That said, he's a rookie with intriguing physical skills. He has a terrific arm. The Jets aren't ready to write him off, but it's getting down to crunch time and they can't survive if the turnovers continue.
Matt Simms
has finished the past two losses, both blowouts. If Smith is a train wreck in the first half, it wouldn't shock me if Rex Ryan turns to Simms again.
What's wrong with
Joe Flacco
? I mean, 13 interceptions. That's Geno-like.
Hensley:
Rich, that's the most surprising part of Flacco's season. You can debate whether Flacco became an elite quarterback by leading the Ravens to the Super Bowl, but what Flacco has always done since coming into the league in 2008 is protect the ball. He'd never thrown more than 12 interceptions in a season before throwing his 13th this season -- and it's still November. There are a lot of factors for the increase in turnovers, starting with a routinely collapsing pocket, but I don't think he will throw an interception Sunday. Flacco typically plays better at home and has thrown just of his two interceptions at Baltimore's M&T Bank Stadium. Another reason is that the Jets don't pick off passes, at least not this season. Their five interceptions are fewer than all but four teams in the NFL.
Of course, that could change with Reed in the Jets secondary. Reed returns to Baltimore for the second time since leaving the Ravens. He goes to the Jets after being a nonfactor in Houston. After seeing Reed play one game, what kind of an impact might he have with New York? Is the Jets' pass defense still vulnerable?
Cimini:
Surprisingly, Reed started in his Jets debut and played 59 of 67 snaps on defense. Playing mostly as the single-high safety, he had no virtually no impact against the
Bills
. He didn't make any glaring mistakes, but he also didn't have any plays on the ball. They had him blitz twice, the first time ending with a long touchdown pass over
Dee Milliner
in zero coverage. Reed was late in deep coverage on a 43-yard touchdown pass over
Antonio Cromartie
, but it wasn't an easy play, as he was coming from the opposite hash. I liked the Reed signing. The price was right and, in time, I think he'll help with their issues on deep balls. The real problem with the pass defense is the cornerback play. Milliner is experiencing rookie growing pains, and Cromartie is having a disappointing season.
The Ravens are familiar with Jets coach Rex Ryan, who was Baltimore's defensive coordinator from 2005 to 2008. Is there still any carryover from Ryan's days with the Ravens to this season's defense?
Hensley:
The tradition of getting after the passer and showing no fear in the red zone remains strong with the Ravens. Like Ryan, defensive coordinator Dean Pees will come after quarterbacks, whether it's with a safety or cornerback
Lardarius Webb
from the slot. The Ravens have had at least two sacks in 18 straight games, the NFL's second-longest streak since 1990. This defense also is stingy when backed up to its own end zone. The Ravens are the NFL's top-ranked red zone defense, giving up a touchdown just 32.1 percent of the time from inside their own 20-yard line. This is a big advantage for Baltimore because the Jets are tied for 22nd in red zone offense, reaching the end zone just 50 percent of the time.
Going back to Ryan, the Ravens are 2-0 against their former defensive coordinator. How would you evaluate his performance this season?
Cimini:
All things considered, I think Ryan is doing a nice job. Despite having a turnover-prone rookie at quarterback, the Jets are still in the thick of the wild-card chase. Sometimes, I wonder how he's doing it. The Jets have the worst turnover margin in the league (minus-14) and the second-worst points margin (minus-85), yet they're 5-5. The primary reason is the defense. Ryan lost his best player (
Darrelle Revis
) and integrated seven new starters -- no easy task. They have the No. 1 run defense in the league, thanks to a young and promising line. I think Ryan needs to win at least two or three more games to keep his job. A win over his old team would really help his cause.
But it's always tough to knock out the champ. Do you think the Ravens have enough heart to get back in the race and defend their title?
Hensley:
Honestly, it's not about heart, because the Ravens play hard. It's more about their ability to weather the storm, which was literally the problem last week with a tornado watch in Chicago. The Ravens have come up short late in games because the other team has been making the plays and the defending champions have not. It's why the Ravens are tied for the league lead with four losses by a field goal or less. They have to figure out a way to put away teams in the fourth quarter. If they don't do that Sunday against the Jets, the Ravens' hopes of repeating will be over.