Baltimore Ravens:

Shaun Draughn
September, 23, 2013
9/23/13
6:30
PM ET
OWINGS MILLS, Md. --
Baltimore Ravens
coach John Harbaugh isn't sure whether running back
Ray Rice
will return to play Sunday. What Harbaugh does know is he's going to get more production out of his plodding running game.
Winners of two straight, the Ravens (2-1) are sitting atop the AFC North with the
Cincinnati Bengals
and are coming off a convincing 30-9 win over the
Houston Texans
. But the biggest improvement Harbaugh wants to see out of his team is opening running lanes and breaking long runs.
The Ravens are averaging 77.3 yards rushing, which ranks 25th in the NFL. Baltimore is gaining 2.6 yards per carry, and only the
Jacksonville Jaguars
(2.4) are averaging fewer.
[+] Enlarge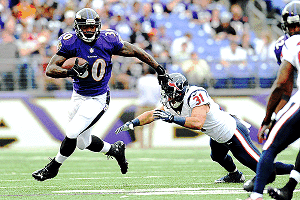 Evan Habeeb/USA TODAY SportsRavens coach John Harbaugh said he's confident that his running backs, including Bernard Pierce, will be more productive as the season progresses.
"Our run game is not where it needs to be," Harbaugh said. "I think one thing you've seen is that philosophically we're going to stick with it. It's something that we think is important. We're going to be able to run the ball here. It's just part of our DNA. It's part of who we are as a football team."
The Ravens return four starters from an offensive line that helped the team average 134.8 yards rushing in the playoffs. Through three weeks this year, the Ravens are averaging 44 percent less.
Without Rice on Sunday,
Bernard Pierce
and
Shaun Draughn
were held to no gain or were stopped behind the line nine times on 27 carries. Like Harbaugh said, it's not for a lack of trying. Their 88 rushing attempts rank 10th in the NFL.
"We have the people to do it," Harbaugh said. "We have some big, strong, tough offensive linemen. We have some really good backs. And we have a fullback who is the best blocking fullback in the league. So, the run game is something that has to happen for us."
Based on the numbers, the Ravens will have their best chance of getting the run game on track this Sunday. The
Buffalo Bills
have allowed 155 yards rushing per game, which is second worst in the league. The
New York Jets
'
Bilal Powell
, a fourth-round pick in 2011, ran for 149 yards against the Bills on Sunday.
Harbaugh said the Ravens' problem is more complicated than just knocking defensive linemen off the ball. He characterized the issue as getting everyone working more in sync.
"We do feel like we understand it and we're working on it," Harbaugh said. "There's no doubt in our mind that it can be corrected. We're not getting the production from the run game that we think we should. But we also feel like we're on our way to getting that done. We just have to go out there and do it."
Injuries have hit the Ravens' backfield. Rice missed his first game since 2008 with a hip injury, and Draughn has a high ankle sprain. Harbaugh said the team is in a "wait and see" mode as to whether Baltimore needs to add another running back this week, but it seemed like the Ravens were leaning against that.
Asked if there is a good chance that Rice will play Sunday, Harbaugh said, "I don't know about the good or the great or the whatever. He was close this week, to a degree. So was Chris [Canty, defensive lineman]. Those muscle things, you never know for sure. They were in the ballpark this week. We think that really puts them in the ballpark coming up."
September, 20, 2013
9/20/13
8:00
AM ET
The Baltimore Ravens' injury report will come out Friday afternoon. My guess is running back Ray Rice won't practice for a third consecutive day and be listed as questionable for Sunday's game against Houston. Coach John Harbaugh, who is usually tight-lipped when it comes to injuries, will likely say Rice is a game-time decision. We'll see if this is how it shake out in a few hours. For now, here's your Wake-up caw ...
September, 13, 2013
9/13/13
2:30
PM ET
The first-ever
Baltimore Ravens
chat was held Wednesday. You missed it? Well, lucky for you, just
click right here
for the full transcript. Or you can continue reading for the highlights ...
Chris (MD)
: Do the Ravens regret cutting
Bobby Rainey
now that
Jacoby Jones
is out for awhile?
Jamison Hensley (ESPN)
: I was surprised that the Ravens cut Rainey. I thought it did enough in the preseason to earn a job. The Ravens would be in better shape in the return game with Rainey (who is now the Browns' kickoff returner), and they wouldn't have had to sign
Shaun Draughn
this week to return kickoffs. But the Ravens went with the players who could contribute on the coverage teams like
Brynden Trawick
and
Anthony Levine
.
B (Parkville)
: Huge Ravens fan. We looked pretty lousy last week. Talk me off the cliff.
Jamison Hensley (ESPN):
The Ravens were in a tough situation playing on the road against a team that wanted to exact revenge for the past eight months. Plus, the Ravens have new starters on defense and it will take time to get some chemistry. Playing
Peyton Manning
in warm weather was a tough draw for a secondary that clearly wasn't in sync. Hope that gets you to take a few steps backward.
Randy (Texas)
: How much improvement on the defense can we expect? Granted Browns quarterback
Brandon Weeden
is not Peyton Manning, but what does this defense need to show in this game to quiet some questions about that unit?
Jamison Hensley (ESPN)
: The two keys for the Ravens defense is: Stop running back
Trent Richardson
and make sure tight end
Jordan Cameron
isn't running free. The Browns don't have the playmakers at wide receiver like the Broncos. If the Ravens secondary struggles against Cleveland, it's going to be time to worry about whether Baltimore can stop any passing attack.
Tony (Richmond, CA)
: Have you ever seen
Dallas Clark
look so pathetic on a football field? He looked like a deer-in-headlights rookie and not a veteran tight end in the league.
Jamison Hensley (ESPN)
: Clark has been a disappointment so far, but it's still early, Yes, he didn't show much in the preseason or Week 1. Last year with Tampa Bay, it took time for Clark to find his footing. He put up good numbers in his final six games there. The Ravens are going to give him a little time. Plus, because Clark is a vested veteran, the Ravens are going to have to pay him for the entire year whether he's on the team or cut.
September, 11, 2013
9/11/13
4:10
PM ET
In a move that was unexpected, the
Baltimore Ravens
placed wide receiver
Aaron Mellette
on injured reserve, opening up a roster spot for running back/returner
Shaun Draughn
.

It makes sense in one respect. Putting Mellette, a rookie seventh-round pick out of Elon, on IR ends his season, but it's one way to keep a developmental player. If you try to put him on the practice squad, you risk him getting picked up by another team.
Still, there was no indication that this move was coming or that Mellette was even injured. It was announced that Mellette has a knee injury. Mellette wasn't on the Ravens' Week 1 injury report (which means he had full practices) and he didn't play in the season opener. The Ravens did practice twice since Thursday's game, but coach John Harbaugh sounded optimistic about Mellette playing at some point this season after Monday's practice.
"He's playing well," Harbaugh said of Mellette. "There's nothing that he's doing that wouldn't make him a possibility to be active."
Mellette showed potential in the preseason, but he was surpassed on the depth chart by undrafted rookie
Marlon Brown
. The Ravens currently have six wide receivers on the roster, although only four are healthy: Brown,
Torrey Smith
,
Jacoby Jones
(injured, knee),
Brandon Stokley
,
Tandon Doss
and
Deonte Thompson
(injured, foot).
September, 11, 2013
9/11/13
2:10
PM ET
The
Baltimore Ravens
signed free-agent running back
Shaun Draughn
, who could fill the team's void at kickoff returner.
The Ravens are likely without Pro Bowl returner
Jacoby Jones
for at least a month. Draughn, who was cut by the
Kansas City Chiefs
on Aug. 31, has experience returning kickoffs. His 23.3-yard average last season ranked 20th in the NFL among players with at least 20 returns.
Draughn will make more of an impact on special teams than on offense. He hasn't been effective as a running back, averaging 3.9 yards per carry last season and 2.9 yards in the preseason. He gained 40 yards last season against the Ravens, his second-highest total in 2012.
"He's been a good special-teams player. He's been a good kickoff returner. And he's been a good running back," coach John Harbaugh said. "He played against us last year and played very well."
Backup running back
Bernard Pierce
handled kickoffs after Jones was injured. The Ravens' top two kickoff returners on their depth chart, Jones (knee) and wide receiver
Deonte Thompson
(foot), are both injured.
The Ravens didn't immediately announce who was released to make room for Draughn.