Baltimore Ravens:

Tyrod Taylor
November, 30, 2013
11/30/13
10:00
AM ET
BALTIMORE -- When
Joe Flacco
spoke out against the
Baltimore Ravens
' use of the Wildcat offense, fans and critics alike told the quarterback there is an easy way to get rid of it -- play better. That's exactly what Flacco did in Thursday night's 22-20 victory over the
Pittsburgh Steelers
.
Flacco
Flacco drove the Ravens into Steelers territory on all but one his nine drives, and Baltimore punted only once. His 68.5 percent completion rate (24 of 35) was his second-best of the season, and his 98.6 passer rating was also his second highest of the year. His four-game streak of throwing at least one interception ended.
This continues a trend for Flacco, who typically backs up his talk. A day after the Ravens put
Tyrod Taylor
behind center for five snaps last Sunday, Flacco said the Ravens' use of the Wildcat makes them look like "
a high school offense
" and wanted every opportunity to have the ball in his hands.
Flacco proved his point from the start Thursday night by fearlessly taking deep shots down the field. He completed four of his first five attempts for 74 yards and a touchdown.
There was even a time when Flacco showed Taylor isn't the only one who can gain yards with his legs. When the Ravens faced a third-and-8 in the second quarter, Flacco scrambled for 9 yards and a first down. It was a determined run by Flacco, who didn't elect to slide.
As a result, the Ravens didn't use the Wildcat once and Flacco wasn't asked about it for the first time this week.
Ravens coach John Harbaugh said the Wildcat was in the game plan against the Steelers.
"We will continue to have it in the game plan," Harbaugh said after the game. "But the flow of the game dictated the way we were playing, and it wasn't in our best interest to put it out there."
Harbaugh can say it was "the flow" that dictated not using the Wildcat. But if you want to be more specific, it was Flacco who dictated it.
November, 25, 2013
11/25/13
10:00
AM ET
When
Baltimore Ravens
quarterback
Joe Flacco
was asked if it was fun splitting out as a wide receiver, he gave an honest answer. He also gave the right answer.
Flacco
"I want to line up behind center," Flacco said after the Ravens' 19-3 win over the
New York Jets
on Sunday.
The Ravens showed unpredictability when they put athletic backup quarterback
Tyrod Taylor
in shotgun or pistol formation a handful of times. On those plays, Flacco lined up on the outside as a receiver.
After the game, Flacco was candid in saying, it's "fun for a little bit, but that's it."
There should controversy if Flacco said anything different. You want your quarterback to have this attitude. You want him to believe he's the best option under center. And, make no mistake, Flacco should be the quarterback when the Ravens are facing third-and-10 or a deficit with two minutes left in the game. He has the better arm and has more experience. In case it slipped your mind, Flacco was holding up the Lombardi Trophy nine months ago.
This is kind of the same situation from a year ago when Flacco was asked if he was
the best quarterback
in the NFL. Flacco was right to say that, too. No matter what you or I think, Flacco should believe he's the best quarterback in the league.
As
I wrote Sunday night
, I can see how Flacco could take the increased snaps for Taylor as a slap in the face. He signed a $120.6 million contract to be a quarterback, not a decoy or spectator. But this is more a knock against the Ravens' running game than passing attack.
There was no confidence that the Ravens could get anything going on the ground against the NFL's top-ranked run defense. Taylor did provide a spark and produced a 17-yard run, the longest of the game for Baltimore.
The Ravens have to get creative on offense if they want to win. Look at the points scored for the past six games: 17, 16, 18, 20, 20 and 19. So, using more of Taylor shouldn't suggest he's supplanting Flacco. It's an indication that the 30th-ranked offense is willing to do whatever it takes to get better.
November, 24, 2013
11/24/13
5:08
PM ET
BALTIMORE -- In Sunday's 19-3 win over the
New York Jets
, the
Baltimore Ravens
added a wrinkle to a struggling offense by using backup quarterback
Tyrod Taylor
in a wildcat attack. It drew cheers from the fans at M&T Bank Stadium, but not from quarterback
Joe Flacco
.
Asked about the wildcat, Flacco said, "It's good and fun for a little bit. But that's about it."
A reporter then asked Flacco if he enjoys lining up at wide receiver in the wildcat.
"I don't want to be lining up at Z and X (wide receiver spots)," Flacco said. "I want to line up behind center."
No one should be surprised by Flacco making his opinion known. All you had to do is watch Flacco line up at wide receiver. He was so disinterested that he kept his hands in his front pouch and barely moved off the line after the ball was snapped.
It's easy to see why Flacco feels this is a slap in the face. The Ravens paid him $120.6 million to throw the ball and not split out wide. But he shouldn't be too offended. Even the
Pittsburgh Steelers
ran the wildcat with
Ben Roethlisberger
and he's won two Super Bowls.
Taylor lined up at quarterback for five of the Ravens' 62 plays and generated excitement early until the Jets dropped him for losses of six and seven yards on his final two carries. He finished with seven yards on four carries and didn't complete his only pass attempt.
"We've talked about getting Tyrod more involved," coach John Harbaugh said. "He's a special athlete. He happens to play quarterback. He's a quarterback -- I want to emphasize that. But he's also got other skills that he can help us with."
Will the Ravens use the wildcat more in the future?
"I can't tell you," Harbaugh said. "I can't comment on that, as you all know. We'll see."
If you ask the reigning Super Bowl Most Valuable Player, the Ravens wouldn't use it again.
November, 11, 2013
11/11/13
12:00
PM ET
Grading the
Baltimore Ravens
in their
20-17 overtime win
against the
Cincinnati Bengals
.
Quarterback
: After
Joe Flacco
bought time before throwing his first touchdown, it was a shaky performance for most of the way. He would've been picked off four times if the Bengals defenders could catch. His first interception was a case of him doing too much. When you're wrapped up, you need to just take the sack and, to his credit, Flacco didn't make that mistake again this game. His fumble, when he got stripped while trying to throw the ball, showed a lack of pocket awareness. Despite the struggles, Flacco did make the two short passes in overtime to get in range for the winning field goal.
Grade
: C-minus.
[+] Enlarge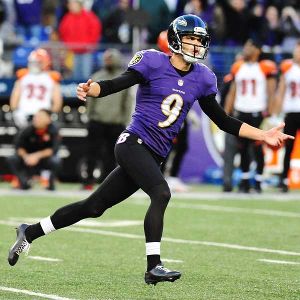 Evan Habeeb/USA TODAY SportsBaltimore's Justin Tucker celebrates his game-winning FG to beat the Bengals 20-17 in overtime.
Running backs
: Just like he has all season,
Ray Rice
struggled to run the ball and break tackles in the open field. He averaged 1.7 yards per carry (30 yards on 18 attempts) and managed 4.3 yards per reception (26 yards on team-high six catches). His longest run was five yards and, as fantasy owners know, he failed to score a touchdown on two red-zone carries.
Bernard Pierce
ran harder than he's had this season, although the effort only produced 31 yards on eight carries (3.9-yard average). The longest run of 18 yards was from backup quarterback
Tyrod Taylor
, who took a pitch after lining up in the slot.
Grade
: D.
Wide receivers/tight ends
: The Ravens did what they should do all season -- get the ball to
Torrey Smith
. He only totaled 46 yards, but Flacco targeted him 14 times. Smith made a leaping grab for a seven-yard touchdown, which proved he has no fear in going over the middle. The tight ends came up big at critical times.
Ed Dickson
's eight-yard catch put the Ravens in field-goal range in overtime, and
Dallas Clark
's only catch was a one-yard touchdown. Wide receiver
Jacoby Jones
drew a 48-yard pass interference penalty after getting behind the defense on a flea flicker, setting up that Clark score. The other receivers were nonexistent.
Grade
: C-plus.
Offensive line
: It's easy to access the line's play when you see the Ravens' running backs averaged 2.8 yards per carry and Flacco got sacked five times. The line is getting beat physically in run blocking. In pass protection, there are too many lapses in communication. A Bengals defender had a free run at Flacco by coming up the middle after left guard
A.Q. Shipley
and center
Gino Gradkowski
failed to pick him up. Right tackle
Michael Oher
struggled against
Carlos Dunlap
and allowed too much penetration on that forced fumble of Flacco. Left tackle
Eugene Monroe
was the team's best lineman for a second straight week. Right guard
Marshal Yanda
does get style points for hoisting up Torrey Smith after his touchdown.
Grade
: D.
Defensive line
:
Haloti Ngata
must have been hearing the criticism because he delivered his best game in recent memory. He was a force inside and slammed shifty running back
Giovani Bernard
to the ground in the first quarter when there was a lot of space on the left side. Even after he injured his left knee, Ngata made an impact and finished with five tackles and one batted down pass.
Arthur Jones
sacked
Andy Dalton
in the red zone, which held the Bengals to a field goal on the opening drive in the third quarter.
Chris Canty
added a quarterback hit.
Grade
: B.
Linebackers
: It's been a hot-and-cold season for
Elvis Dumervil
, who led the team with 2.5 sacks after disappearing in Cleveland. He made his presence known Sunday with three quarterback hits, two tackles behind the line and one batted down pass. In the fourth quarter, Dumervil had 1.5 sacks. Inside linebacker
Daryl Smith
did his best in trying to limit Bernard and stopped him short of the first down in the opening drive.
Terrell Suggs
had a quiet day with no sacks or quarterback hits.
Grade
: B.
Secondary
: This was the secondary's most aggressive effort of the season, and it came against a talented group of Bengals receivers. Cornerback
Lardarius Webb
ripped the ball away from receiver
Marvin Jones
for an interception and caused havoc on his repeated blitzes.
Jimmy Smith
stripped
Mohamed Sanu
to break up another pass. The star of the defensive backfield was
James Ihedigbo
, who had his first two career interceptions and helped stop Bernard on fourth down in overtime. What kept this from being an 'A' game was the "bone-head" play by Ihedigbo on the Hail Mary touchdown that sent the game to overtime.
Grade
: B-plus.
Special
teams
:
Justin Tucker
won the game with a 46-yard kick in overtime, but don't forget about him making a 36-yarder into the swirling wind earlier in the game. He's automatic these days.
Sam Koch
had a more consistent effort with three punts inside the 20-yard line and a 55-yarder that helped change field position. Returners
Tandon Doss
and Jacoby Jones were non-factors.
Grade
: B-plus.
August, 29, 2013
8/29/13
8:00
AM ET
It's the final preseason game Thursday night, and that traditionally means the starters will be spectators. Don't expect Joe Flacco, Ray Rice, Terrell Suggs or Haloti Ngata to break a sweat in St. Louis. Here's a roundup of what others are writing on the Baltimore Ravens beat in your Wake-up Caw ...