November, 18, 2014
11/18/14
9:09
AM ET
By
Sharon Katz
| ESPN.com
Ronald Martinez/Getty ImagesMelvin Gordon and the Wisconsin Badgers have won five straight games to take the Big Ten West lead.
After another week of games with conference championship implications, the conference races are gaining clarity.
The
Wisconsin Badgers
took hold of the Big Ten West, and the
Alabama Crimson Tide
control the SEC West after significant divisional wins Saturday.
Using projections by
ESPN's Football Power Index
, let's break down how each of the Power 5 conferences are projected to finish, starting with the most likely conference winners.
ACC
FPI's projected winner:
Florida State Seminoles
(75 percent),
Duke Blue Devils
(15 percent),
Georgia Tech Yellow Jackets
(10 percent)
After Miami's loss to Florida State, there are three remaining potential conference champions in the ACC. Florida State has already clinched the ACC Atlantic, and FPI projects the Seminoles have a 75 percent chance to beat the ACC Coastal winner in the championship game.
Despite its loss Saturday, Duke remains the most likely ACC Coastal champion (69 percent) because of its schedule and the head-to-head win over Georgia Tech on Oct. 11, but FPI projects Georgia Tech, which is ranked 11 spots ahead of Duke in the FPI rankings, would give the Seminoles a tougher test.
Potential clinching scenarios this week: Georgia Tech clinches with a Duke loss.
Big 12
FPI's projected winner:
Baylor Bears
(74 percent),
TCU Horned Frogs
(22 percent),
Kansas State Wildcats
(4 percent)
FPI projects Baylor has a 68 percent chance to win out, best among the one-loss Power 5 teams. If the Bears win out (including a win over Kansas State on Dec. 6), they own the head-to-head tiebreaker over TCU and would be the Big 12 champion. Based on these facts, FPI projects Baylor has a 74 percent chance to win the Big 12.
Potential clinching scenarios this week: None.
Pac-12
FPI's projected winner:
Oregon Ducks
(69 percent),
UCLA Bruins
(15 percent),
USC Trojans
(9 percent),
Arizona State Sun Devils
(5 percent)
Oregon clinched the Pac-12 North division before last week's games, but the South might be the most interesting division in the FBS. There are currently four teams in the Pac-12 South with two conference losses. FPI projects UCLA has the best chance to win the division because of its strength (highest ranking in FPI) and schedule. The Bruins have already beat Arizona State and Arizona, so if they beat USC on Saturday, they would be in great position to win the South. If USC defeats UCLA, however, the Trojans would become the favorite and would clinch the division with a loss by Arizona State earlier in the day. FPI projects UCLA has a 59 percent chance to beat USC at home.
Potential clinching scenarios this week: USC clinches with win AND Arizona State loss.
Big Ten
FPI's projected winner:
Ohio State Buckeyes
(61 percent), Wisconsin (36 percent),
Minnesota Golden Gophers
(1 percent)
Ohio State and Wisconsin are in control of their respective divisions. Ohio State has to win one of its remaining two games -- versus Indiana and versus Michigan -- to win the Big Ten East without the help of a Michigan State loss. FPI projects Ohio State has a 99 percent chance to win one of those games. The Big Ten West is a little more interesting, with Wisconsin still to face Minnesota. FPI projects Wisconsin has an 87 percent chance to win the division, but Minnesota, Iowa and Nebraska are all still alive.
Potential clinching scenarios this week: Wisconsin clinches a berth in the conference championship game with win AND a Minnesota loss. Ohio State clinches a berth in the conference championship game with win OR a Michigan State loss.
SEC
FPI's projected winner:
Alabama (46 percent),
Georgia Bulldogs
(39 percent),
Ole Miss Rebels
(8 percent),
Mississippi State Bulldogs
(4 percent), Missouri (2 percent)
The SEC remains the most wide-open Power 5 conference. Alabama's win against Mississippi State added some clarity; if the Tide defeat Auburn on Nov. 29, they will win the SEC West (they can also clinch via losses by Ole Miss AND Mississippi State). FPI projects the Tide have a 76 percent chance to win the West, followed by Ole Miss (14 percent) and Mississippi State (10 percent). In the SEC East, Georgia would win the head-to-head tiebreaker over Missouri, but the Tigers currently have a one-game lead in the loss column. Georgia has completed its conference schedule, and Missouri has two remaining SEC games, so if Missouri loses at Tennessee or versus Arkansas, Georgia wins the division. FPI projects Missouri has an 85 percent chance to lose either of those games.
Potential clinching scenarios this week: Georgia clinches division with Missouri loss. Alabama clinches division with losses by Mississippi State AND Ole Miss.
November, 24, 2013
11/24/13
1:04
AM ET
By
ESPN Stats & Information
| ESPN.com
Ronald Martinez/Getty ImagesClint Chelf and the Oklahoma State defense were too much for Baylor Saturday
It was a decidedly un-Baylor-like performance where the Bears got shut down by Oklahoma State, managing just three points through the first three quarters of the game. Baylor didn't score a touchdown until there was 14:04 left in the fourth quarter, and by then the Bears were trailing 35-3.
Oklahoma State's 32-point win is the third-largest win against a BCS top-four team. The last time a BCS top-four team lost by a margin that wide was 2008, when Oklahoma blew out No. 2 Texas Tech by 44.
Baylor came into the game averaging an FBS-best 61.2 points per game but was held to 17 points, Baylor's fewest points in a game since December 29, 2010 against Illinois in the Texas Bowl. Baylor has lost 37 straight road games against AP-ranked opponents, with its last road win against an AP-ranked opponent coming in 1991.
Clint Chelf
threw for a career-high 370 yards, his second career 300 yard game. His other one? It came against Baylor last year.
How was he so successful? He threw the deep ball well.
Chelf had nine completions on passes thrown 15 or more yards downfield Saturday, the most such completions in a game for a Big 12 quarterback this season. Chelf had twice as many completions, yards and touchdowns as
Bryce Petty
on such throws.
Petty entered the game as the Big 12-leader in completions, yards and touchdowns on passes thrown 15 yards or more downfield.
Chelf threw for all three of his touchdowns against five or more pass rushers Saturday, tied for the most touchdowns against the blitz by a Big 12 quarterback in a game this season.
Baylor entered Saturday as one of 16 teams without a turnover in the red zone. Against Oklahoma State, the Bears had two turnovers and didn't score a touchdown in the red zone for the first time since Sept. 18, 2010 at TCU.
Baylor's offense was forced into four three-and-outs Saturday, its most three-and-outs in a game since Sept. 2, 2011 against TCU. The Bears entered the game with an FBS-low seven three-and-outs for the season.
November, 19, 2013
11/19/13
2:30
PM ET
By
Rob Nelson & Katie Sharp, ESPN Stats & Info
| ESPN.com
Oklahoma State
enters its matchup with fourth-ranked
Baylor
(Saturday, 8 ET on ABC) riding a six-game win streak, and is averaging nearly 48 points per game over the last four games since
Clint Chelf
took over as the starting quarterback. One important part of its recent offensive success has been an increased reliance on the run.
Getting back to the ground game
In the first six games, rushing attempts accounted for fewer than 45 percent of the Cowboys' total plays; since then, Oklahoma State has called a run on nearly 60 percent of its plays. The ground game has been more explosive over the last four games, totaling 10 rushes of at least 20 yards, which is six more 20-yard runs than it had in the first six games.
The key to Oklahoma State's success on the ground has been improved play in the trenches. It has averaged 2.3 yards before contact per rush in its first six games and was first contacted behind the line of scrimmage on more than a quarter of its carries. In the last four games, the Cowboys have totaled at least 130 yards before contact in three of four contests, and are averaging 3.3 yards before contact per rush.
Chelf has set career highs in rushing yards in three of four games since taking over as starter, averaging 72 yards per game and 10.7 yards per rush on designed runs. His signature play was a 67-yard touchdown run up the middle in Oklahoma State's win over Texas Tech.
As noted in the graphic above, in the last four games, Oklahoma State is averaging 12 more points per game than in its first six games. Yet at the same time, the Cowboys are averaging 27.4 fewer yards per game in the last four games than they did in their first six games.
More efficient in the red zone
One reason for Oklahoma State's increased efficiency on offense is that the team is doing a better job of getting into the end zone when inside the 20-yard line.
Oklahoma State has scored a touchdown on 90.5 percent of its red zone opportunities in the last four games, the sixth-best rate in the FBS since the start of Week 9. From Weeks 1-8, the Cowboys scored a touchdown on 64.5 percent of their red-zone opportunities, 51st among FBS teams.
Protecting the ball
Another reason for Oklahoma State's improved offensive output is better ball protection. The Cowboys have turned the ball over on 6.5 percent of their drives in the last four games, down from 10.6 percent in the first six games. They are one of nine teams in the FBS without a lost fumble since the start of Week 9.
Oklahoma State's recent success in the running game will be tested this weekend against Baylor. The Bears have added 63.5 expected points on opponents' rushes, the second-best rushing defense EPA in the FBS. Rushing defense EPA is a measure of the contribution that it makes to its team's net scoring margin when opponents run the ball.
October, 16, 2013
10/16/13
1:30
PM ET
By
Rob Nelson, ESPN Stats & Info
| ESPN.com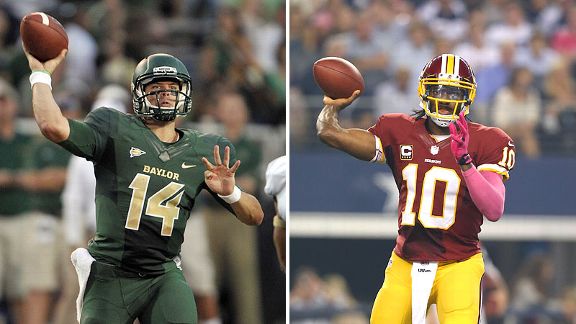 USA TODAY SportsBryce Petty (left) is hoping to rival the success of former Baylor QB Robert Griffin III (right).
Robert Griffin III put Baylor on the map in 2011, accounting for 47 touchdowns and 4,992 yards en route to winning the Heisman Trophy. Griffin finished the 2011 campaign with an opponent-adjusted QBR of 83.2, fourth-best in the FBS that season.
Bryce Petty
, in his first season as Baylor's starting quarterback, has led Baylor to a 5-0 record and a No. 12 ranking in the AP poll. He has posted the second-highest opponent-adjusted QBR (95.1) in the nation. Since the start of the 2004 season, seven quarterbacks have finished with an opponent-adjusted QBR of at least 90 -- three went on to be No. 1 overall picks (Sam Bradford, Cam Newton and Andrew Luck) and one is last season's Heisman Trophy winner --
Johnny Manziel
.
Petty has put up numbers after four games that are comparable to Griffin's. Petty has posted a Total QBR of at least 90 in four games this season, which already gives him more such games than Griffin had in 13 starts during his Heisman year.
Petty leads all FBS quarterbacks in pass yards per attempt (14.9), as Griffin did in 2011. They also have nearly identical numbers when it comes to completion percentage and pass yards per game.
A key to Griffin's success in his Heisman season was his downfield passing. On passes thrown 15 yards or longer, Griffin led all AQ quarterbacks in 2011 with 23 touchdowns and had the third-highest completion percentage (minimum 20 attempts). In a smaller sample size this season, Petty is completing a higher percentage of such throws than Griffin and is averaging 28.4 yards per attempt, the highest among all AQ quarterbacks (minimum 10 attempts).
Petty has also performed better than Griffin did on third down. Petty leads the FBS in yards per attempt (17.0) while completing 70 percent of his passes on third down. Petty has converted 55 percent of his third-down pass plays (pass attempts + sacks) into a first down, the sixth-best rate among FBS quarterbacks.
Griffin completed 68 percent of his third-down passes and averaged 9.8 yards per attempt, both of which ranked in the top four of the FBS. Yet he converted on only 38 percent of his third-down pass plays, partially because he was sacked on nine third downs. Petty was sacked on third down for the first time last week against Kansas State.
Before anointing Petty the next RG III, there are two things to keep in mind:
1. Baylor's first five games have been against FCS Wofford, Buffalo (85th-ranked pass defense), UL-Monroe (68th-ranked pass defense), West Virginia (58th-ranked pass defense) and Kansas State (62nd-ranked pass defense). Petty will have opportunities against better defenses because Baylor plays three of its last seven games against teams with a top-40 pass defense.
2. Petty is not utilized as much in the running game, averaging 44.8 fewer rush yards per game and 9.2 fewer rush attempts than Griffin did. Petty does have four rushing touchdowns, which puts him on pace to equal Griffin's 10 touchdowns in 2011.
October, 15, 2013
10/15/13
12:00
PM ET
By
Albert Larcada, ESPN Stats & Info
| ESPN.com
Best QB performance of the season: Bryce Petty vs. Buffalo – Sept. 7, 2013
Petty put up video game numbers against Buffalo, going 13-of-16 for 336 yards with two touchdowns. He threw no interceptions, was not sacked, and did not fumble. He also added a five-yard touchdown run for good measure. Add in the fact that Buffalo's QBR allowed this season in all other games against FBS schools is 26.7, and Petty's opponent-adjusted QBR for the game was 99.5 -- the best for any quarterback in a single game this season.
Most dominant performance of the season: Baylor vs. UL-Monroe – Sept. 21, 2013
The ESPN Stats & Information win probability model calculates the chance each team has to win at the start of every play. Taking the average win probability across all plays can give a good idea on how dominant the team was in the game. By this measure Baylor had the most dominant performance of the season against an FBS team. Its average win probability per play against UL-Monroe was 93.5 percent. By the end of the first 13 minutes, Baylor led 35-0 and had a 98 percent chance to win. It never looked back from there. Four of Baylor's five wins have come with an average in-game win probability of 90 percent or higher.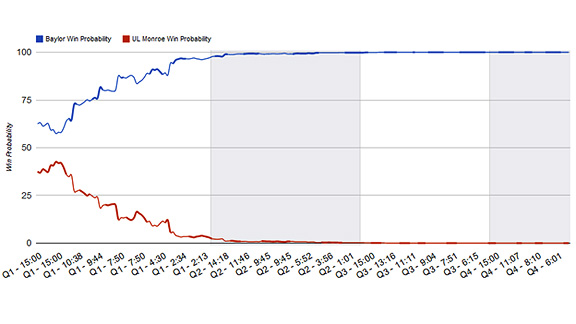 Best offensive performance of the season: Baylor vs. West Virginia – Oct. 5, 2013
If the top quarterback game and the most dominant game weren't enough, Baylor also put up the best offensive performance of the season in an entirely different game. Baylor put up 73 points against an otherwise above average defense in West Virginia. The Bears won the game by 31 points, and their rush EPA (expected points added) of +30 tells us that margin was almost entirely covered by Baylor's ground attack. Overall Baylor's offensive EPA in the game was +41. Adjusting for West Virginia's above average defense, the Bears' opponent-adjusted offensive EPA was +49 -- the highest for any offense in a single game this season.
Game changing play of the season: Ole Miss at Vanderbilt – Aug. 29, 2013
On the opening Thursday night of college football, Ole Miss and Vanderbilt gave us one of the most memorable games of the season. After surrendering the lead just seven seconds earlier, Ole Miss running back
Jeff Scott
rushed for a 75-yard touchdown
to put the Rebels back ahead by three with 1:07 left in the fourth quarter. According to Stats & Info's win probability model, this play took the Rebels' chance of winning from 13 percent to 88 percent -- the largest one-play swing for any BCS-AQ school all season. After several wild swings in the fourth quarter, this play put Ole Miss ahead for good.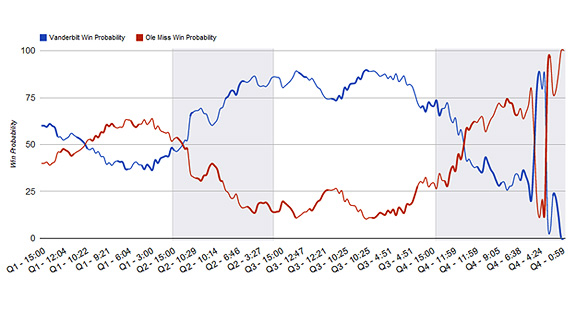 December, 4, 2012
12/04/12
8:45
PM ET
By
Tobin Petitpas, ESPN Stats & Info
| ESPN.com
US PresswireJohnny Manziel (left), Manti Te'o (center) and Collin Klein are the 2012 Heisman Trophy finalists.
Johnny Manziel finished the regular season with 3,419 pass yards and 1,181 rush yards. His 4,600 yards of total offense broke the SEC single-season record set by Cam Newton during his 2010 Heisman Trophy season. When Newton broke the record, he supplanted Tim Tebow's Heisman Trophy season of 2007.
Manziel has been responsible for 43 touchdowns this season, tied with Tajh Boyd and Jordan Lynch for the most in FBS. He had six games with at least two touchdowns passing and rushing. That's tied with Tebow in 2007 for the most such games in a season since 2000. Collin Klein is tied for second in FBS this season with three such games.
Manziel had 70 plays that gained 20 yards or more this season, 10 more than any other FBS player. He was tied for the eighth-most passes (52) and the second-most rushes (18) of 20-plus yards.
Manziel gained 784 rush yards on scrambles, the most in the SEC. He had 13 scrambles that gained at least 20 yards, including seven touchdowns. No SEC player had more total rushes or touchdowns of 20-plus yards, let alone scrambles.
Klein has scored a rushing touchdown in 11 straight games, the longest active streak in FBS. The only game that he did not have a rushing touchdown was against Missouri State, an FCS opponent. Since the start of last season, Klein has scored a rush TD in 23 straight games against FBS opponents. That is the longest such streak for any player in the last nine seasons.
Since the start of last season, Klein has an FBS-best 37 rushing touchdowns in goal-to-go situations. Klein has had at least one such touchdown in 22 of 25 games during that time period, including in his last 10 games in which he has at least one such attempt.
Klein has accounted for 69 percent of Kansas State's yards and 66 percent of its offensive touchdowns this season. Klein's percentages are slightly better than those of Robert Griffin III from his 2011 Heisman season at Baylor. Griffin accounted for 66 percent of Baylor's total and 61 percent of its touchdowns.
Manti Te'o has seven interceptions this season, tied for second-most in FBS and three more than any other linebacker. Te'o also has two fumble recoveries. His nine total takeaways are tied for the most in nation.
Te'o has 103 tackles this season, 42 more than any other player on Notre Dame. He has just two missed tackles all season. As a team, the Irish have missed 61 tackles this season, the third-fewest among AQ schools.
Notre Dame leads the nation in scoring defense (10.3 PPG) and is the only team that has not given up a touchdown drive longer than 75 yards this season. Every other FBS team has allowed at least three.
November, 18, 2012
11/18/12
1:24
AM ET
By
ESPN Stats & Information
| ESPN.com
Thanks to upset victories by Baylor and Stanford, Notre Dame is in position to become No. 1 in the BCS standings for the first time ever.
The Fighting Irish haven't been No. 1 in the Associated Press poll since November 1993.
Within minutes of each other, Baylor finished off its upset over No. 1 Kansas State and Stanford won in overtime over No. 2 Oregon.
This is the first time since 2007 that the team atop the BCS standings has lost in consecutive weeks.
That week, LSU lost to Arkansas on Nov. 23 and Missouri lost to Oklahoma on Dec. 1.
This is the third time in BCS history that the top two teams both lost on the same weekend.
Both previous instances happened in 2007. Missouri and West Virginia lost on Dec. 1 after LSU and Kansas lost the previous weekend (LSU lost on Friday, Kansas on Saturday on Thanksgiving weekend).
Kansas State's 28-point loss at Baylor is tied for the largest loss by a team ranked No. 1 in the BCS standings. Oklahoma lost to Kansas State by 28 points in 2003.
Kansas State is the fifth team ranked No. 1 in the BCS to lose to an unranked opponent. The Wildcats are the first BCS No. 1 to lose to a team with a losing record heading into the game.
How did Kansas State lose?
The Wildcats allowed 16 rushes of at least 10 yards against Baylor and three touchdowns on those rushes. Entering Saturday's game, Kansas State had not allowed more than six rushes of at least 10 yards in a single game and had not allowed a touchdown on rushes of at least 10 yards all season.
How did Oregon lose?
Oregon scored just 14 points against Stanford, its fewest points in a game since Sept. 3, 2009 against Boise State (lost 19-8).
Outside of Marcus Mariota's 77-yard scramble in the first half, Stanford was able to limit Oregon on the ground. The Ducks had four rushes that gained 10 or more yards and did not make it past the line of scrimmage on 10 of their 43 rushes. It was the second straight game that the Ducks did not gain 200 yards after averaging 341.2 rushing yards per game in their first nine games.
November, 13, 2012
11/13/12
2:00
PM ET
By
Sharon Katz
| ESPN Stats & Info
AP Photo/LM OteroCollin Klein's efficiency is one reason Kansas State is No. 1 in the BCS.
Kansas State
is the top-ranked team in the BCS standings for the first time in school history. It's the first time that a non-SEC school has been ranked first in the BCS standings since Oregon on Nov. 21, 2010.
Statistically speaking, who are the
Kansas State Wildcats
? They are a team built on efficiency, attention to detail and a Heisman-worthy quarterback:
1:
Collin Klein
has accounted for 65.7 percent of Kansas State's offensive yardage this season and 66 percent (31 of 47) of its offensive touchdowns.
2:
Kansas State scores on 53 percent of its possessions, the best rate in FBS. The Wildcats score once every 1.8 offensive drives.
3:
The Wildcats have a plus-20 turnover margin, tied for the best turnover margin in the country with Kent State. Kansas State has turned the ball over six times and allowed the fewest points off turnovers (7) in FBS.
4:
Kansas State is committing 3.2 penalties per game, fewest in the nation.
5:
The Wildcats' average drive starts on its own 41, the best average starting field position in FBS by 4 yards.
6:
On the flip side, Kansas State's opponents' average drive starts on its own 27. The plus-14 field position differential is the best in the country, 5 yards better than any other team.
7:
One reason for Kansas State's stellar field position is its special teams. The Wildcats rank in the top three in FBS in yards per kick return (29.0) and yards per punt return (23.8).
8:
Since the start of last season,
Collin Klein
has an FBS-best 34 touchdowns on 68 runs in goal-to-go situations, with at least one touchdown in 21 of his 23 games.
9:
Klein also has become an accurate passer. He's completing 60 percent of his passes that travel at least 20 yards downfield, up 16.1 percent from last season. By comparison, 2011 Heisman Trophy winner Robert Griffin III completed 50.7 percent of his 20-yard throws last season.
10:
Kansas State faces Baylor on Saturday. Baylor is ranked second in passing offense and some have questioned whether the Wildcats can stop its passing attack.
Kansas State has faced four teams currently ranked in the top 15 in passing offense. These teams averaged more than 300 passing yards per game against Kansas State, but combined for just six passing touchdowns and nine interceptions.
October, 19, 2012
10/19/12
3:00
PM ET
By
Mackenzie Kraemer
| ESPN.com
Getty Images/Matthew HolstCollin Klein and Kansas State have been very good at the end of games.
Over the past two seasons, only seven schools have more wins than the
Kansas State Wildcats
' 16. One of the biggest reasons has been K-State's ability to win close games. The Wildcats are 10-1 in games decided by a touchdown or less since the start of 2011, including 2-0 this season. That success has been fueled by their play in the second half.
In the fourth quarter, Kansas State outscores opponents by an average of 11 points per game (15.7 to 4.7), the largest margin in FBS this season, and the largest fourth-quarter margin by any team since 2004.
This includes a come-from-behind 24-19 road victory against Oklahoma when the Wildcats outscored the Sooners 14-6 in the final 15 minutes.
In 19 fourth-quarter drives, Kansas State has scored 12 touchdowns (11 rushing), the best percentage (63.1) in the nation. Only two other schools have scored touchdowns on at least half their drives.
The Wildcats also average 100 rushing yards in the fourth quarter, the best by any team in the past nine seasons. Running back
John Hubert
is third in FBS with 244 rushing yards in the fourth quarter (9.4 yards per carry). They are also one of just four FBS teams not to allow a sack or a turnover in the fourth quarter this season.
Though the rushing numbers earn most of the praise, quarterback
Collin Klein
has also been his most efficient late in close games.
When the score has been close in the fourth quarter, Klein has come up big. He's 8-for-9 for 107 yards, and has 13 carries for 81 yards and a touchdown in situations in which the score is within eight points or fewer in the final quarter.
Klein might have to throw the ball more than normal for the Wildcats to knock off the
West Virginia Mountaineers
.
Though West Virginia allows 37.3 points per game and 496 yards per game, most of the damage against the Mountaineers has been done through the air.
West Virginia allows only 3.3 yards per rush, tied for 20th-best in FBS, but allows 9.6 yards per pass, third worst in FBS.
No Big 12 team runs the ball more than Kansas State (69 percent of the time). While that formula has been very successful, it plays right into the Mountaineers' hands.
Against a West Virginia team that averages 25.8 points per game in the first half of games, it's vital that Kansas State doesn't fall too far behind and abandon the run. In the most recent Bill Snyder era (since 2009), Kansas State is 0-9 when throwing the ball at least 30 times.
October, 2, 2012
10/02/12
6:30
PM ET
By
Justin Ray
| ESPN Stats & Info
The
Texas Longhorns
are 4-0, ranked No. 11 in the AP poll and getting ready to host No. 8
West Virginia Mountaineers
on Saturday.


In 2011, Texas had the best defense in the Big 12, leading the conference in rushing and passing defense. However, the first month of this season has been a different story.
The Longhorns lost their two leading tacklers from last season to the NFL -- linebackers Emmanuel Acho and Keenan Robinson. Texas currently is seventh in the Big 12 in total defense and ninth in rushing defense.
In fact, the Longhorns are currently 58th out of 69 BCS-AQ teams in rushing defense, allowing 180 yards on the ground per game.
Texas is also allowing almost seven rushes of 10-plus yards per game this season, by far the worst in the Big 12, and third worst among all BCS-AQ teams.
The Longhorns pass defense, which was a huge strength a year ago, has been porous in 2012 as well.
In 2011, the Longhorns allowed just two touchdown passes of 20 yards or more, tied for fewest in the FBS with LSU and Alabama. Last week at
Oklahoma State
, Texas allowed two and has already surrendered five in the first four games. In fact, in their past six games the Longhorns have allowed seven touchdown passes of 20 yards or more.
Against Oklahoma State, Texas allowed 300 yards passing and 275 yards rushing in the same game for the first time since 1950.
With
Geno Smith
and the explosive Mountaineers offense coming to Austin, the Longhorns have very little time to fix their issues on the defensive side of the ball.
August, 21, 2012
8/21/12
12:45
PM ET
By
Sharon Katz & Alok Pattani
| ESPN.com
Getty Images/Ronald MartinezHistory shows that Collin Klein and teammates will have a hard time replicating 2011.
Kansas State won eight games decided by seven points or fewer last season, the most of any team since the start of 2004.
Overall the Wildcats went 8-1 in games decided by that margin, which included a goal-line stand at Miami, a four-overtime victory versus Texas A&M and a nine-point fourth quarter comeback versus Baylor.
Kansas State outperformed expectations last season, but according to recent history and statistics, the Wildcats also won more games than they "should" have won based upon how many points they scored and allowed.
That may not bode well for next year.
Based off of Bill James' Pythagorean Theorem for baseball, ESPN Stats & Information Analytics Specialist Alok Pattani calculated the expected win percentage (or Pythagorean Win Pct) for every FBS team since 2004.
The Pythagorean Win Percentage formula calculates an expected win total based upon the number of points that a team scores and allows in a season.
If a team plays 12 games and scores as many points as it allows, the team is expected to go about .500 or have a 6-6 record. If that team finishes multiple games above .500, it was probably good in close games and its actual ability may be worse than its record indicates. If it was well below .500, their ability may be better than their record indicates.
So what does that mean for Kansas State?
Last season's results indicate that the Wildcats "should" have gone 7-6 or 8-5 instead of 10-3. They won approximately 2.6 more games than expected. That was the largest differential between wins and expected wins of any team in FBS last season and the sixth-largest differential since 2004.
That is not to say that the Wildcats should not have won 10 games. Whether it was luck or skill, the Wildcats performed when the game was on the line. However, recent history suggests that it's unlikely for a team to outperform its Pythagorean Win Percentage two years in a row.
Of the 63 teams that won at least 1.5 more games than expected since 2004, only four teams outperformed their expected wins by 1.5 games again the next season.
These teams averaged 0.025 fewer wins than expected the next year, meaning that they basically performed as their point differential predicted.
Further, many of the top outperforming teams saw a drastic decrease in win percentage the next season. There is always significant turnover in college football, but the chart on the right shows that the teams that outperformed expectations mostly faltered the following season.
This does not mean that Kansas State is doomed. The Wildcats return one of the strongest quarterbacks in the nation in
Collin Klein
who is nearly unstoppable around the goal-line. If Klein can improve his pocket passing (he completed 59 percent of his passes inside of the pocket last season) the Wildcats may be able to repeat their success.
Yet, history suggests it is unlikely for Kansas State to win 10 games again next year without increasing its score differential. Because of last season's success in close games, don't be surprised if the Wildcats win fewer games despite being a better team than a year ago.
August, 14, 2012
8/14/12
1:37
PM ET
Brendan Maloney/US PresswireMack Brown and the Texas Longhorns have gone a combined 13-12 over the last two seasons.
After posting nine straight 10-win seasons from 2001-2009,
Texas
has slipped to 5-7 and 8-5 over the last two years. Even worse, the Longhorns are just 6-11 in Big 12 play. It is believed there is a lot of talent on the field in Austin, but how much talent is there?
For the first time since 1993-1994, Texas failed to produce a first-round pick in consecutive years.
For the first time since 2000, Texas did not have a player selected in the first three rounds in the NFL draft.

So what are the biggest reasons for the Longhorns' struggles the past two years?
First, they haven't been able to protect the football. Their 56 turnovers are the most by any AQ school over that span.
They haven't been able to replace record-setting QB Colt McCoy.
In 2009, McCoy threw 27 touchdowns in leading Texas to the BCS Championship Game. Since then, three different Texas quarterbacks have combined to throw 26 touchdowns, with a conference-high 32 interceptions. Their struggles in the red zone are highlighted in the chart below.
Texas has to get better in the red zone in 2012, especially when passing the ball. The Horns ranked dead last in the FBS last season in yards per pass attempt in the red zone (1.6).
Home-field advantage at Darrell K. Royal Texas Memorial Stadium is nonexistent these days. Texas is 2-6 in Big 12 home games the past two years, with the two wins coming last year over
Kansas
and
Texas Tech
. Those two were a combined 2-16 in conference games last year.
In the past two years, just seven AQ teams have won fewer than two conference home games, and three others have won exactly two (
Northwestern
, Texas Tech and
Vanderbilt
).
Under new defensive coordinator Manny Diaz, the defense was strong statistically, especially against the pass. The Horns allowed only two touchdown passes of 20 yards or more in 2011, tied for fewest among all FBS teams -- with
LSU
and
Alabama
. Both of those touchdowns the Horns allowed came against Heisman winner Robert Griffin III and Baylor.
On the flip side however, in four games against ranked teams (all losses), Texas allowed 39.5 points-per-game. Eliminate
Kansas State
, and that number balloons to 47.0 points-per-game in losses to
Baylor
,
Oklahoma
and
Oklahoma State
.
With both
Case McCoy
and
David Ash
returning at quarterback, and
Malcolm Brown
,
Joe Bergeron
and highly touted freshman
Johnathan Gray
at RB, this could be the year where the Texas clicks on offense. If it doesn't, what changes could be in store for 2013?