January, 2, 2014
1/02/14
3:09
AM ET
GLENDALE, Ariz. --
Blake Bortles
stood on the podium, holding his trophy as the offensive MVP of the Tostitos Fiesta Bowl, a broad smile on his face as he soaked in the moment.
A throng of UCF fans -- a group that accounted for a small fraction of the crowd at kickoff but was all that remained as the final seconds ticked away in the fourth quarter of the Knights' 52-42 win -- roared its approval, chanting "One more year, one more year," in hopes of convincing Bortles to delay his ascension to the NFL.
"Not many people outside of us believed we could win," Bortles said. "But we showed the country what UCF is all about."
It was the perfect underdog story.
UCF was here only by virtue of the American Athletic Conference's lame-duck status as an automatic-qualifier league, a 17-point underdog to high-flying Baylor.
Bortles was here only because so many bigger schools passed on him, failing to find the potential that UCF's George O'Leary embraced.
But UCF won handily, scoring the first 14 points of the game, then fighting back once Baylor tied it in the third quarter. And Bortles, who has become one of college football's hottest commodities among NFL scouts, made his mark on a national stage. He completed 20 of 31 passes for 301 yards and accounted for four touchdowns.
It was, perhaps, a coming-out party. But for UCF, it wasn't a surprise.
"You don't fluke your way to 52 points," offensive lineman
Jordan McCray
said.
The Fiesta Bowl wasn't simply about looking the part or pulling off the upset, McCray said. UCF wanted to dominate.
For weeks, the Knights heard the narrative that they weren't good enough, that Baylor would cruise. They embraced the doubters, lugged an oversized chip on their shoulder from Orlando to Arizona, and changed the narrative on the field.
[+] Enlarge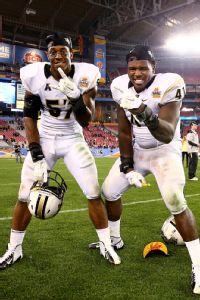 Mark J. Rebilas/USA TODAY SportsTroy Gray and Terrance Plummer celebrate after the Fiesta Bowl victory over Baylor.
"I thought it was probably a fun game to watch in the stands, but it wasn't fun on the sideline," O'Leary said of the back-and-forth affair. "But I thought it worked out really well."
If Baylor was supposed to be the establishment and UCF the upstart, however, neither team embraced their roles.
UCF's offensive line was dominant. It didn't allow a sack, and the Knights ran for 255 yards, milking the clock down the stretch. The Knights enjoyed a nearly 10-minute edge in time of possession.
That ground game was led by
Storm Johnson
, the Miami transfer who couldn't find playing time with the bigger-name Florida school. He scored each of UCF's first two touchdowns, then disappeared after a costly fumble, then emerged again to deliver the final blow with a 40-yard, fourth-quarter touchdown.
Then there was Bortles, who outdueled Baylor's
Bryce Petty
in a showcase for two of the nation's top quarterbacks. After a sluggish first half, Bortles was 9-of-11 for 118 yards and had two touchdowns in the second.
"It's awesome to be a part of this," Bortles said. "We weren't highly touted guys out of high school. We came to UCF on a mission."
Baylor was on a mission, too, but those plans were derailed early. The Bears never led, and while the offense played its part in the highest scoring Fiesta Bowl in history, racking up 550 yards, the defense couldn't get a stop and a series of mistakes doomed any comeback bid. Baylor had a whopping 17 penalties for 135 yards, and Petty's interception in the end zone midway through the second quarter squandered a potentially game-changing scoring opportunity.
The Baylor locker room was somber afterward, with some players slamming fists but most retreating into the corners, headphones tuning out the buzz surrounding them.
"They weren't doing nothing extra," defensive lineman
Terrance Lloyd
said. "I don't believe they were more physical than us. We just didn't execute on defense."
But that was just the point, McCray said. UCF didn't need to do anything extra, didn't need to sneak up on Baylor or get the lucky bounces to win. The Knights were simply the better team, even if the rest of the country hadn't been ready to believe.
"We've played a lot of good football teams throughout the years, did well, proved our legitimacy," O'Leary said. "But the win today is national exposure."
What comes next is a mystery. Whether the win is a springboard toward sustained national prominence, whether Bortles remains for one more year, whether the respect UCF earned Wednesday carries through a long offseason -- that's all to be decided another day.
On Wednesday, the Knights wanted to enjoy a moment no one else believed would come.
"All I'm worried about now," Bortles said, "is getting this trophy back to Orlando and celebrating."
January, 2, 2014
1/02/14
12:55
AM ET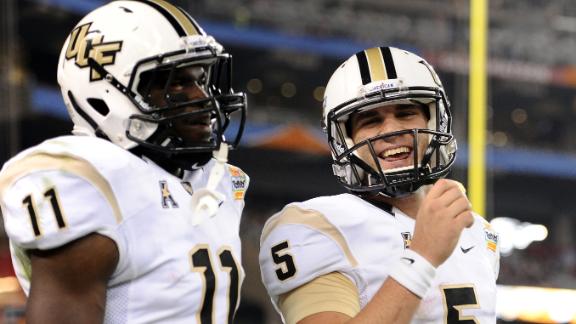 GLENDALE, Ariz. -- With two of the country's top quarterbacks helping two explosive offenses, the Tostitos Fiesta Bowl promised plenty of scoring, and it delivered.
UCF and Baylor -- both BCS newcomers -- traded punches throughout, posting 94 total points, a new Fiesta Bowl record and the second-most points scored in any BCS bowl game in history. But it was the Knights who had the most firepower, as quarterback
Blake Bortles
accounted for four touchdowns, leading UCF to
a 52-42 win
.


It was over when:
Shawn Moffitt
drilled a 36-yard field goal with 4:44 left to make it a three-score game. It wasn't UCF's most impressive drive, but it was the dagger. After Baylor tied the game at 28-28 with 10:18 remaining in the third, UCF responded by scoring on four straight drives.
Bryce Petty
and the Baylor offense were hardly silenced, but UCF matched blow for blow and its defense did just enough to survive.
Game ball goes to:
Bortles. If the country didn't know about the emerging star at UCF before Wednesday night, it does now. Bortles was exceptional down the stretch this season, climbing draft boards along the way. But the Fiesta Bowl was his coming-out party on the national stage. Bortles coughed up back-to-back interceptions in the first half, but he was never rattled. He finished the game 20-of-31 for 301 yards, rushed for another 93 yards and accounted for four total touchdowns. His second-half performance was exceptional, and while Baylor's big-play offense got all the credit entering the game, it was Bortles who was the clear star when it was over.
Stat of the game:
256. That's the rushing yards for UCF on Wednesday, effectively doubling what Baylor has allowed, on average, this season and ensuring the Bears' potent offense didn't spend much time on the field.
Storm Johnson
was resilient, scoring twice early, coughing up a bad fumble, then returning with a series of big plays to eat up clock and wear down the Baylor D. Bortles added a bevy of big runs, too, eclipsing his previous season high on the ground with ease. In the end, the game highlighted by the two star quarterbacks came down to a whole lot of crucial yardage picked up on the ground.
Unsung hero:
George O'Leary. The old-school coach has built the UCF program from nothing during his 10 years there, and the Fiesta Bowl was his crowning achievement. His team was a heavy underdog, but O'Leary had the Knights convinced they could win. His defensive coordinator left for another job last month, but O'Leary had helped build the defense all season. Baylor's offense was considered an unstoppable machine, but with nearly a month to prepare, O'Leary had plenty of answers. In a season of remarkable coaching performances at traditionally overlooked schools, O'Leary's may actually have been the best.
What UCF learned:
It belongs. Few outsiders wanted to give the American Athletic Conference champs much credit entering the game -- the Knights were a 17-point underdog -- but that chip on their shoulder proved ample motivation. UCF dominated early then coughed up the ball on three straight plays. For most teams, that might've been a dagger. The Knights never wavered. The resiliency proved this was no fluke. UCF belonged on the big stage, and Bortles and Johnson are legitimate stars. Add in a young, hungry defense, and the conference affiliation means nothing. UCF is good.
What Baylor learned:
Offense sells tickets, but defense wins games. It's an old cliche, but it was certainly fitting for Baylor on Wednesday. The Bears simply had no answer for UCF's offense. Its only stops came when the Knights shot themselves in the foot. So while Baylor exudes big-play potential -- and the Bears made plenty of big plays against UCF -- none of it matters when it faces a team that can trade punches and come up with a few stops of its own. Art Briles' crew knows how to score. But before Baylor can be a legitimate national contender, it's going to have to do a better job of keeping the other guys from scoring, too.
January, 1, 2014
1/01/14
11:30
AM ET
By
ESPN.com staff
| ESPN.com
In the final year of the BCS, a pair of BCS newcomers -- Baylor and UCF -- square off in the Tostitos Fiesta Bowl.
As we close out the New Year's Day slate of games, join reporters David Hale, Andrea Adelson, Jake Trotter and Max Olson as the Bears and Knights square off. Post your comments and questions and we'll include as many of them as possible.
January, 1, 2014
1/01/14
11:00
AM ET
Baylor
and
Central Florida
both opened the season outside the top 25, but that doesn't mean much now. Both programs earned their first BCS bowl bids, and while Wednesday night's Tostitos Fiesta Bowl (8:30 p.m. ET, ESPN) matchup may not have the same box-office cachet as some of the other big bowls, it's an intriguing matchup. Here's why:


Who to watch:
There might not be a better quarterback matchup in any bowl game this season. Baylor's
Bryce Petty
is a big-play artist. He ranks second nationally in yards per attempt (10.8) and first in passing plays of 25 yards or more (46), and he leads all AQ-conference quarterbacks in both completions (25) and touchdowns (13) on throws of 25-plus yards. On the flip side, UCF's
Blake Bortles
has rocketed up draft boards and could be a top-10 selection if he decides to enter the NFL draft. In his last seven games, he's completing 70 percent of his passes, averaging 9.3 yards per attempt, and he has thrown 13 TDs to just four interceptions. But while the quarterbacks promise to steal the show, the running backs aren't bad either. Both Baylor's
Lache Seastrunk
and UCF's
Storm Johnson
rushed for more than 1,000 yards this season.
What to watch:
Two high-octane offenses mean the pressure will be on the defensive units to stem the tide. For Baylor, the task of slowing Johnson will be front and center. UCF figures to want to run the ball, chew up clock and keep Petty and the Bears' offense off the field. Baylor led the Big 12, allowing just 3.26 yards per rush this season. Meanwhile, UCF will need to find any way to slow the Bears' big-play, quick-strike attack. Baylor's 76 touchdown drives this season averaged just 1:31 in possession time, with 57 of them lasting less than two minutes. UCF's defense, led by linebacker
Terrance Plummer
(96 tackles), needs to make Baylor work for its points.
Why to watch:
For a sizable portion of the country, this is the last chance to get acquainted with two of the best teams fans likely haven't seen often this year. UCF opened the season in Louisville's shadow in the AAC, but Bortles could be playing on Sundays next year. Meanwhile, Art Briles has created one of the most exciting offenses in college football at Baylor. It might be the first BCS bids for both schools, but there is no shortage of star power and explosiveness on their rosters.
Prediction:
Baylor 35, UCF 27. The Knights are a more talented team than they've gotten credit for, but in the end, Baylor's offense has too much firepower.
January, 1, 2014
1/01/14
9:00
AM ET
David Hale, who is in Arizona covering the Tostitos Fiesta Bowl, and Big 12 reporter Jake Trotter break down the storylines in Wednesday night's matchup featuring Baylor and Central Florida:
Who is the one Baylor offensive player Central Florida must stop first?
[+] Enlarge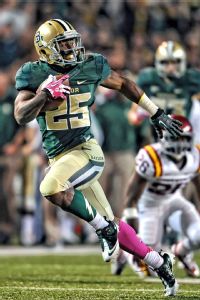 Manny Flores/Icon SMIIf Lache Seastrunk gets going for Baylor, it could be curtains early for UCF in the Fiesta Bowl.
David Hale:
Just one? It seems like the list could actually be pretty long.
Bryce Petty
obviously sets the tone, and UCF can't let Baylor's quick-strike, big-play passing game get going early if it wants to stay competitive. The Knights would love to take away
Antwan Goodley
, but of course, Petty has other weapons in the passing game, too. And then you get to the ground attack, which should feature a healthy
Lache Seastrunk
, looking for his first 100-yard game since October. Really, Seastrunk might be the key because a one-dimensional Baylor offense is at least manageable. If the Bears are moving the ball through the air and on the ground -- look out.
Jake Trotter:
People outside Big 12 country often incorrectly peg Baylor as a finesse, passing team. Sure, Baylor can pass. But Art Briles' offense is predicated on establishing the run first. After all, the Bears lead the Big 12 with 265 rushing yards per game. So for Central Florida to have any shot, the Knights have to corral Seastrunk early. If Baylor sets a quick tone on the ground with Seastrunk, UCF is probably toast.
Central Florida has scored more than 40 points just twice all season. Do the Knights stand any chance if this game becomes a shootout?
Hale:
Well, the numbers certainly don't seem encouraging for UCF. Baylor is averaging 53.3 points per game this year. UCF topped that total just once -- against lowly UConn. Still,
Blake Bortles
is no small-school phenomenon, and he's more than capable of chucking the ball downfield for some big plays. While Petty leads all AQ-conference QBs in completions and TDs on throws of 25 yards or more (courtesy ESPN Stats & Info), Bortles actually completes a far higher percentage of his deep balls (53.3 percent on throws of 25 yards or more, third-best among AQ QBs). Plus, UCF has a flair for the dramatic, with six second-half comebacks this season. Still, keeping pace in a shootout is hardly the Knights' preference, and I'd wager they'd prefer to keep this game from turning into a track meet.
Trotter:
Baylor would love nothing more than for this game to become a track meet. UCF, while possessing a good offense with a great QB in Bortles, lacks the requisite offensive firepower to outscore the Bears. The Knights would be wise to follow a similar game plan that TCU executed against Baylor. Limit the Bears' big passing plays downfield, buck up on third down defensively and get the chains moving offensively to keep the Baylor offense out of sync and off the field. If the Knights can do that, they can give Bortles a fighting chance to win the game for them in the fourth quarter.
Who is the player to watch in this game?
Hale:
The quarterbacks obviously take center stage, and for good reason. Bortles and Petty have been exceptional all season. But if this game is going to be competitive, the key player might be UCF running back
Storm Johnson
. He's a serious talent -- a top recruit out of high school who began his career at Miami before transferring to UCF -- and has 100-yard games against Penn State and Louisville this season. If Johnson can run the ball effectively for the Knights, milking the clock and keeping Baylor's offense off the field in the process, the game could be closer than most predict. If he struggles and it turns into a shootout between the two QBs, Baylor certainly appears to be in the driver's seat.
Trotter:
After wideout
Tevin Reese
suffered a dislocated wrist in early November, the Baylor offense definitely lost some pop. The Bears, who averaged more than 60 points per game for most of the season, scored just 17, 41 (thanks to two defensive touchdowns) and 30 in their final three games. Reese's downfield speed is what stretched defenses vertically to open up the running game. It also left Goodley in single coverage on the opposite side of the field. Reese has been cleared for this game. And if he's close enough to 100 percent, the Baylor attack could return to its early season form. That would not be good for UCF.
December, 30, 2013
12/30/13
5:15
PM ET
SCOTTSDALE, Ariz. — When last year's Holiday Bowl ended,
Bryce Petty
shook hands with teammates, found a seat on the team bus, and fired off a tweet.
"Last game as a backup," he wrote. "Tomorrow it starts."
[+] Enlarge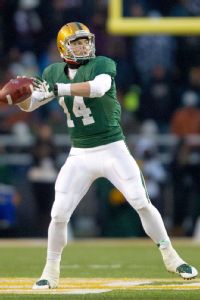 Jerome Miron/USA TODAY SportsBaylor's Bryce Petty sat for three seasons behind Robert Griffin III and Nick Florence before finally getting his chance to start at quarterback.
After three years waiting in the wings, it was a message to fans that Petty was eager to take the reins of the Baylor offense. But it was a message to himself, too -- a reminder things were different now, and he had to prepare accordingly.
"It's funny how much exposure it got," Petty said. "But at the same time, it was a mental note for myself."
Petty was a backup to Heisman winner
Robert Griffin III
, then sat behind Nick Florence, the school's single-season record holder in passing yards. But in his first season as a starter, Petty has done something either of his predecessors managed: A Big 12 title and a trip to a BCS bowl game.
Now UCF awaits in Wednesday's Tostitos Fiesta Bowl, and Petty said the game represents a chance for him to put his stamp on a program that, in the past few years, has been defined by its quarterbacks.
"It's the making of a dynasty," Petty said. "That's what we want, that's why we came here, is to build that legacy."
It took a little longer than he expected for Petty to add his part to that legacy, but now that he's taken the Bears to an unprecedented level, he sees the value in his long wait for the starting job.
Watching from the sideline was a grueling experience, but it was one he could learn from. Those lessons have been put to the test this season -- something that crystalized for Petty after Baylor thumped rival Oklahoma 41-12 on Nov. 7.
"After the OU game, I was thinking, man, it was a good thing that I waited," Petty said. "It was a good thing I stuck with it. It was a good thing I worked as hard as I did last year to be the starter and have it not go my way."
Petty is a perfectionist. There's no detail too small to ignore, and three years as a backup allowed him to mine every aspect of his game and refine it to stark precision. Now the starter, that precision is showing on the field.
Petty is second in the country in yards-per-attempt (10.8) and passer rating (179.2). He has completed more passes of 25-plus yards than anyone (46). He has thrown for 30 touchdowns, run for 11 more and he has been picked off just twice.
"He's a perfectionist," receiver
Antwan Goodley
said. "He's like that all the time -- practice, games, workouts, offseason. That's how he is."
And for all he has accomplished in his one season as the starter, Petty insists he's not done. He announced last month that he'd be returning for his senior season in 2014 -- a decision he said was easy. He likes to be prepared for every challenge, and he wasn't sure he was prepared for the NFL.
But more than that, he'd waited too long to simply leave Baylor the first chance he had.
"I wasn't wanting to be a one-and-done deal, no matter how good this season was," Petty said. "That's weird to say, but there's a lot of things I want to do here still."
That decision, of course, means another year for Petty as the starter, and another year for his backups to wait for their shot.
It's a road map that has worked pretty well so far, Baylor coach Art Briles said.
"[Petty] had a great mentorship," Briles said. "And it's just like the guys in the room with him right now, looking at him, watching him and having a chance to grow from him."
Renewing acquaintances:
Baylor tailback
Lache Seastrunk
hasn't seen UCF quarterback
Blake Bortles
since the two teams arrived in Arizona for the Fiesta Bowl, but he has an idea what kind of greeting is in store.
"He's going to come up and be like, 'What's up," Seastrunk said. "Because Blake has the same personality as I do -- outgoing, and he doesn't care what anybody says."
Seastrunk and Bortles roomed together at a recruiting camp in Paisley, Fla., spending three days together practicing and joking around.
They've kept in touch over the years, but communications have been limited as UCF and Baylor get set to play each other Wednesday. Still, Bortles said he's looking forward to a reunion.
"I had a lot of fun being around him, hanging out," Bortles said. "And he's a lot of fun to watch on the field. He's an amazing football player and a really good running back."
Keeping quiet:
While Petty ended any NFL speculation weeks ago, Bortles is letting the guessing game continue a while -- and he continues to insist he's made no decision about whether he'll leave early for the NFL draft after Wednesday's game.
"I don't know because I really haven't sat down to think about it," Bortles said. "I wish I knew."
Bortles is considered a first-round pick if he entered the draft this season, potentially going in the top five. He began to climb draft boards late in the season, and he said he decided then to put off any decision until after UCF's season came to an end.
"When stuff started coming up, it was like -- don't worry about it," Bortles said. "I told my parents not to talk to anybody, that we would figure it out when the season is over."
December, 29, 2013
12/29/13
6:15
PM ET
SCOTTSDALE, Ariz. — The film can be a bit intimidating, UCF safety
Brandon Alexander
said.
Baylor's quarterback,
Bryce Petty
, is fast. He makes quick decisions, has a quick release and he can run.
The receivers are fast, too. They stretch the field, and the Bears' big-play potential is immense.
The running backs are quick, juking through traffic and breaking tackles for huge chunks of yards.
"Their offensive linemen are even fast," Alexander joked.
[+] Enlarge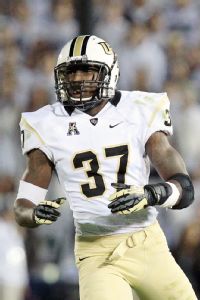 Matthew O'Haren/USA TODAY SportsDefensive back Brandon Alexander says the Knights are ready for Baylor's high-powered offense.
This is the challenge for UCF's defense, perhaps the most overlooked unit playing in a BCS bowl game this year.
Baylor's offense is a whirlwind of precise execution, breathtaking tempo and dizzying speed. Central Florida's defense is young, unheralded and, after Jim Fleming left to take over at Rhode Island, without its coordinator.
It's no surprise then that the Knights' defense isn't getting much pre-game love or that they're feeding off the litany of doubters.
"It's an opportunity," cornerback
Clayton Geathers
said. "We come with a chip on our shoulder, and we're out to prove a lot of people wrong."
They may be largely anonymous on a national stage, but the Knights have been solid defensively all season. UCF ranks 12th nationally in scoring defense, allowing less than 20 points per game, despite having just two seniors on its two-deep. It's an athletic group that plays sound fundamentally, and if the rest of the world is overlooking the unit, Baylor isn't.
"They're very disciplined and have a lot of guys that can run sideline to sideline," Petty said. "Just because we haven't heard too much about them doesn't mean they don't have talent. It pops out on tape. They're tough."
Still, there's no question the test UCF faces in the Tostitos Fiesta Bowl is unlike anything it has seen before. Coach George O'Leary said Baylor's tempo is something the Knights are used to from their days in Conference USA, but the skill with which the Bears execute is at another level.
"We ran a play every 18 seconds in practice the last two weeks, but it's the quality of play you can't simulate," O'Leary said. "It's quantity, but the quality isn't there that Baylor is going to have."
Baylor leads the country in scoring offense (53 points per game) and averages 50 yards more per game than any other team in the nation, while running nearly 83 plays per game -- a frenetic pace that will test the young UCF defense.
From a conditioning standpoint, Alexander said he's confident the Knights are ready. The extra time to prep for Baylor has helped with the film study, too. Both will be key to slowing down the big-play Baylor offense, but the secret weapon, defensive lineman
Thomas Niles
said, will be UCF's physicality, which he hopes will offset the Bears' up-tempo style.
"You've got to disrupt their rhythm," Niles said. "You can't let [Petty] stay in one spot and be comfortable. If you let him sit there, he'll pick you apart."
Baylor gets healthy:
As if UCF's defense didn't have enough to worry about, Baylor running back
Lache Seastrunk
said the offense is about as healthy as it has been all season.
Seastrunk said the extended downtime between the regular season and the bowl gave him a chance to get heal a groin injury that cost him nearly three full games late in the year.
"I needed the break to make sure my groin was all together and sealed up tight," Seastrunk said, adding that he's now 100 percent healthy.
Meanwhile, senior receiver
Tevin Reese
is set to return to the lineup, too. A wrist injury cost him the final four games of the regular season, but he'll add another dynamic downfield threat, along with
Antwan Goodley
, for the Bears in the Fiesta Bowl.
"When you have two guys that can vertically stretch you, it's tough [for the defense] and makes our job easier," Petty said. "It adds another dynamic to an offense that's already pretty explosive. For us, it's like having a new toy."
Easy intro for Ferraro:
UCF's new defensive coordinator is taking a hands-off approach to his first few days on the job.
Paul Ferraro was hired earlier this week to replace the departed Fleming, and while he's in Arizona for the Fiesta Bowl, he's working from a distance during practice.
"I'm really just observing, letting them do their thing and getting to know them a little bit," Ferraro said. "It gives me a little bit of a jump [on 2014]."
December, 8, 2013
12/08/13
10:55
PM ET
Jan. 1, 8:30 p.m. ET, Glendale, Ariz. (ESPN)
UCF KNIGHTS BREAKDOWN
UCF entered its first year in the American Athletic Conference with high hopes. But nobody outside the program anticipated the Knights would win the conference championship. Not with preseason No. 9 Louisville standing in the way.
[+] Enlarge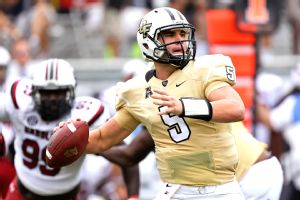 AP Photo/John RaouxBlake Bortles has led UCF to the first BCS bowl in program history.
But the Knights served notice early on they were a team that should be taken seriously. They went on the road and beat Penn State in Week 3. Then they gave South Carolina everything they had in a 28-25 loss that came down to the very end. It became obvious their game at Louisville in October would have an impact on the conference title race.
UCF went on the road and never flinched, not after falling behind 28-7.
Blake Bortles
calmly led a 38-35 comeback win, throwing the winning touchdown pass to
Jeff Godfrey
with 23 seconds remaining. The win paved the way for UCF to earn the American title outright and its first BCS bid as new league members. It also served as the biggest win in school history given where the Knights stand today.
Bortles keyed the season. The junior from Orlando threw for 3,280 yards this season, with 22 touchdowns to seven interceptions. He has risen up through NFL draft boards with his performance and now faces a decision about whether to return to UCF. But he wasn't alone. The Knights have one of the deepest receiving groups in the league, as three players have at least 600 yards.
Storm Johnson
ran for 1,000 yards, and the Knights ranked in the top 20 in the nation in total defense, scoring defense, pass efficiency defense and rushing defense.
But the season was not without its share of drama. Five times UCF needed to come from behind in the second half to win conference games. That includes victories over Memphis, Temple and USF -- three of the worst teams in the league.
The Temple victory was perhaps the closest UCF came to seeing its BCS dreams end. The Knights trailed 36-29 with 2 minutes to go, but
J.J. Worton
made an acrobatic, one-handed touchdown catch to tie the game, and Bortles got the Knights into field goal range with 2 seconds left to lead the win.
History has been made. As the American moves forward into a new era, UCF gives the league plenty to build on.
-- Andrea Adelson

vs.

BAYLOR BEARS BREAKDOWN
Dreams came true in Waco, Texas, this season, as Baylor rose from the conference cellar to Big 12 champions under the direction of Art Briles. The Bears could win 12 games for first time in program history with a Tostitos Fiesta Bowl win over UCF.
[+] Enlarge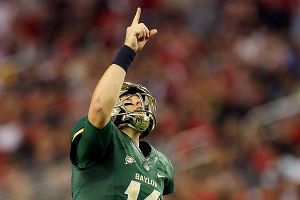 Ronald Martinez/Getty ImagesBryce Petty's Bears soared to new heights this season ... and they're not done.
Yet, there was a time when it looked like the Bears might not even make a BCS bowl after getting drilled by Oklahoma State 49-17 in late November. But BU responded to win its final two games over TCU and Texas to finish 11-1 while securing the Fiesta Bowl berth and outright Big 12 title.
Quarterback
Bryce Petty
was easily the best signal-caller in the conference and played a major role in the Bears' FBS-leading 53.3 points per game and 624.5 yards per game this season. He will lead a passing attack that could be a handful for a UCF defense that allowed 229.83 passing yards per game, tied for 61st in the FBS.
Even though Briles' squad featured the nation's most productive offense, the real foundation of Baylor's first Big 12 championship was its defense. The Bears defense ranked among the top three in the Big 12 in most categories and led the conference in yards per play allowed (4.53) and yards per rush allowed (3.26).
Safety
Ahmad Dixon
brought a physical tone and unyielding confidence to the defense, while its front seven, led by defensive end
Chris McAllister
, was underrated throughout the fall.
After its strong finish to the 2012 season, Baylor was viewed as an Big 12 sleeper heading into the 2013 season. Turns out the Bears were the Big 12's sleeper team. And much more.
-- Brandon Chatmon