AUSTIN, Texas -- Since Jamaal Charles ripped off over 1,600 yards in 2007, Tre' Newton is the only Texas running back to surpass 400 rushing yards in a single season. Since then, the spring has become an annual search for another game-breaking running back in Austin. None has emerged, but it's been easy to look past the lack of a consistent runner for one obvious reason: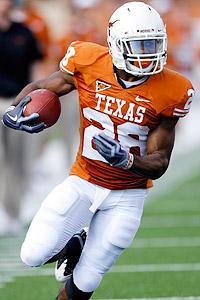 Jim Cowsert-US PRESSWIRE
Longhorns running back Fozzy Whittaker hopes to emerge as the top back in Austin."We may not have had the numbers we wanted, but we were winning," said Fozzy Whittaker. "That was the main goal. As long as we were winning, we were happy."
But those were the glory days of 2009. Five plays into 2010, the post-Colt McCoy era began.
But this fall, the Longhorns have more than 40 seconds to prepare for it. Now, there's time for a needed offensive makeover.
"We need to figure out who to feature and who we are, so we're working through that," said Texas coach Mack Brown.
The Longhorn's offense has shifted under center this spring, and Whittaker and Newton, have stepped forward in hopes of answering Brown's call for featured offensive options.
"Now that [McCoy] is gone, it's opened up opportunities," Whittaker said.
With a versatile, accurate Heisman finalist at quarterback, even the depth chart topper at running back couldn't count on getting more than a handful of carries every game. With Garrett Gilbert, a still-maturing sophomore, taking over, that's likely to change. At least to begin with. But Whittaker and Newton have risen to the top of that depth chart this spring, likely to benefit from McCoy's exit.
"They're guys that can do everything well. They can protect well, they can catch the ball out of the backfield, they run routes and they can run," Brown said. "They've really been the overall package more than the other kids."
Said Whittaker: "Being able to run the ball effectively will help him throw the ball better, especially through play action and taking a little bit of weight off him, instead of putting the whole game on his shoulders."
The move under center has changed more than just how often the Longhorn's running backs run the ball, it's changed how they run the ball.
"In the [I-formation] we can see the whole field and we're able to get downhill a lot faster than in the gun, going sideways," Whittaker said. "We're able to gain more yards after contact and it's proven productive for us."
But with Whittaker and Newton, two experienced backs, they say they don't feel any added pressure with the increased role. Instead, they're focused on taking that pressure off the young No. 3 in front of them.
"It's excitement, we're happy to get the ball in our hands anytime we can," Whittaker said. "Our O-line has been doing a great job. It's all excitement."