Big 12 new member update: West Virginia
January, 5, 2012
1/05/12
2:15
PM ET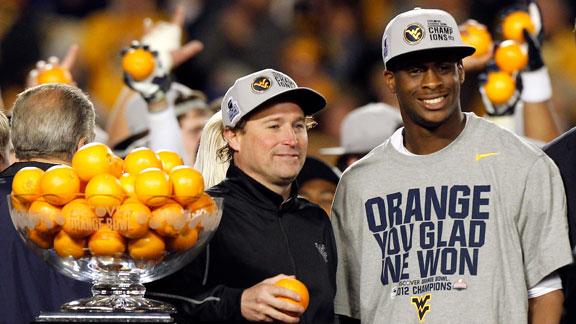 Time to take a look at our final update for the Big 12's newest member: West Virginia.
Record:
10-3, 5-2 Big East
National rank:
No. 23 in BCS
Last result:
Beat No. 15 Clemson in the Orange Bowl, 70-33
What to know:
You Mountaineers sure know how to make new friends, don't you? Hanging 70 points in a BCS bowl, breaking a bowl scoring record held by a Big 12 team (Baylor) for all of one week?
Scoring 35 points in one quarter? Allowing 33 points in a game and winning by five touchdowns? Throwing for 400 yards and six touchdowns?
Now that, 'Eers, is the Big 12 way. Entertaining the whole time, which inspired a few inspired passages in the Associated Press recap last night, especially after Darwin Cook took out Obie, the Orange Bowl mascot (
this guy
) after returning a fumble 99 yards for a touchdown.
"I saw the ball come loose," he said. "I grabbed it. I didn't hear a whistle, so I ran."

After Cook crossed the goal line, he gleefully leaped on mascot Obie, a smiling orange, and they both tumbled to the turf. Obie rose unhurt and resumed her duties.

Cook and Obie met on the field after the game and shared a hug.

"I didn't know you were a girl," he told the mascot. "I apologize."
And there was this little gold nugget, too.
"Tacklers had their hands full -- or rather, they didn't -- on a chilly night in Miami. Smith and Austin combined on scoring passes of 8, 27, 3 and 37 yards, and Shawne Alston scored on two short runs for West Virginia, which totaled 589 yards and 31 first downs."
Ouch on all counts.
Consider, also, that West Virginia did it all without its leading rusher,
Dustin Garrison
, who tore his ACL in bowl practices.
Colleague Andrea Adelson was in the house and
called it a big win for the Big East.
It was, but it was a big win for the Big 12, too, who'll bring in a team with wins in the Fiesta, Orange and Sugar Bowls since 2005.
That was a huge win, and the Mountaineers took offense to 73 percent of fans on ESPN picking them to lose. Perhaps rightfully so.
What's next:
The move to the Big 12. The court system says it's still not official. Athletic director Oliver Luck has maintained that West Virginia will be in the Big 12 in 2012, despite Big East bylaws mandating a 27-month notification before leaving the league. I'm no lawyer, but I'm betting the Mountaineers win this one. That said, it's not set in stone just yet.
If it is, the league could easily have more than half its teams in the preseason top 25. That's a heck of a debut.
Oklahoma, Kansas State, Oklahoma State, West Virginia, TCU and Texas are all likely to land there, and if RG3 comes back, you might see Baylor in the top 10-15. Not bad, eh?
For West Virginia, you couldn't ask for a better game to leave the Big East and join the Big 12