Patience has been the biggest virtue developed over Danario Alexander's college career.
Since arriving at Missouri in the fall of 2006, the Missouri senior wide receiver has had four different surgical procedures, including three on his left knee in less than two years and a broken wrist.
Those recovery periods have occasionally shaken his confidence. But it never completely kept him from thinking he would blossom once he was healthy.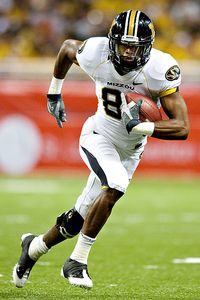 Jeff Curry/US Presswire
Missouri Tigers wide receiver Danario Alexander has back-to-back 200 receiving yard games."It's been a rocky road for me," Alexander said. "Every time I would seem to get healthy and have a couple of games, something else seemed to happen to me. I just needed to be positive and show what I could do when I finally got the chance."
When he's finally been healthy, the freakishly athletic Alexander has made the most of his opportunity. He's developed into one of the nation's most explosive receivers, capped by back-to-back 200-yard receiving games and became the first receiver in Big 12 history to earn player of the week honors twice in the same season.
Clearly, good things come to those who wait.
"Overcoming those injuries has made me a better man," Alexander said. "The main thing I learned from those situations is you have to have perseverance to be successful. That's what is happening for me now."
After emerging late in his freshman season, Alexander beat out Jeremy Maclin for a starting job as a sophomore and appeared ready to develop into Chase Daniel's go-to deep receiver at the start of the 2007 season.
But Alexander broke his wrist in the season opener and missed three games. He returned later that season and rebounded with an eight-reception game against Kansas to clinch the North title. But he tore ligaments in his left knee the next week in the Big 12 championship game when tackled on an end-around against Oklahoma.
That injury required two surgical procedures before last season. His recovery was protracted as he producing only 26 catches and 329 yards last season.
Alexander had another surgical procedure on his knee this spring, but was determined to come back when he got the chance. After sitting out most of the spring, he has blossomed late this season, developing a strong rapport with Missouri quarterback Blaine Gabbert.
"I go up to the line of scrimmage thinking nobody can stop me," Alexander said. "That confidence has helped me out a lot."
In a conference stacked with strong receivers, Kansas State coach Bill Snyder said that Alexander has emerged as the Big 12's best after he blistered the Wildcats for 10 catches, 200 yards and three touchdowns on Saturday.
That big effort came on the heels of Alexander's 13-catch, 214-yard effort against Baylor the previous week.
"He's a rangy guy and he's got height that allows you to put the ball up in the air," Snyder said. "He can jump and go up and get it. I like that he catches the ball over the middle and is not afraid to lay out for the ball. Obviously he has very good hands and has good speed to go with it. He's the complete receiver that creates a lot of difficult mismatches just because of his height."
Entering Saturday's home finale against Iowa State, Alexander currently leads all Big 12 receivers and ranks third nationally in per-game yardage (123.80). He ranks first in the Big 12 and third in the NCAA with 11 receiving TDs. He also ranks second in the Big 12 and fifth in the NCAA in receptions per game (8.10).
"His numbers speak for themselves," Missouri coach Gary Pinkel said. "His name should certainly be up for All-American, if he's not already. I have great respect for the players in our league … but his numbers are really, really outstanding."
And he's become exceptionally big for them down the stretch with 46 receptions, 791 yards and seven touchdowns in his last five games. But amazingly, he is not listed on the Biletnikoff Award's list of semifinalists.
He'll be gunning to become only the third player in NCAA history to post three consecutive 200-yard receiving games. Tulsa's Howard Twilley in 1965 and Nevada's Trevor Insley in 1999 are the only players to produce that statistical feat.
Alexander's chances would appear good against ISU's smallish defensive backs. The Cyclones' four starters in the secondary average 5-feet-9 and 194.8 pounds. That would appear to make them a huge size mismatch against the 6-foot-5, 215-pound Alexander.
His injuries could have derailed his career. But after spending so much time rehabilitating, Alexander is grateful merely to have a healthy senior season.
"I knew I would have a good season, but I wasn't sure how good it would be," Alexander said. "I'm coming back a little still. It's been kind of surprising. All I wanted was to be able to get 1,000 yards this season."