AUSTIN, Texas -- For all of the talk about Texas' offensive struggles, Colt McCoy believes the Longhorns will learn from their narrow victory over Nebraska in the Big 12 title game.
The Longhorns will face a stout defense with similar personnel against Alabama in the Jan. 7 national title game.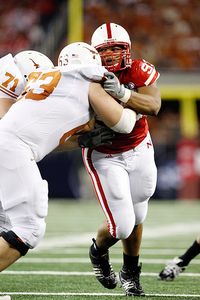 Ronald Martinez/Getty Images
Colt McCoy thinks his offensive line will rebound from a poor effort against Ndamukong Suh and Nebraska in the Big 12 title game.
"Alabama plays a little bit of the same coverages as Nebraska does," McCoy said. "Obviously, we didn't play as well as we would have wanted to, but we found a way to win. And a win is a win. That's the most important thing.
"You look up after the game and the most important thing is winning and you win, it's hard to be disappointed. You can be upset at the way you played, frustrated a little bit, but ultimately in a game like that where things don't go your way the entire night and you find a way to win in a really exciting way, it's awesome. You'll remember it the rest of your life."
McCoy said Monday that his team will use its offensive struggles for inspiration over the next several weeks.
"We understand that we've struggled a little bit and we've come through a lot," McCoy said. "But now, we're in the national championship game. That's where we wanted to be at the start of the season and we're going to do everything to do our best."
And despite the struggles of his offensive line against the Cornhuskers, McCoy is trying to use improvement against Alabama as the biggest key to his team's victory.
"We're going to win this game up front," McCoy said. "Our offensive line, if they can play well, if they can control the line of scrimmage -- that's where the game will be won or lost. If we can get the running game going and open up play action, we've got a great chance to be successful and move the ball. And for me, I"ll have to be a passer and a runner to be able to take advantage of what they do."
Texas offensive coordinator Greg Davis said that Alabama blitzes on about 32 percent of its defensive snaps. But McCoy said he wouldn't be surprised if Alabama defensive coordinator Kirby Smart took a hint from Nebraska and peppered the Texas defense with blitzes early in the game.
"They are really good at putting pressure on you," McCoy said. "I'm sure they'll watch the films of Nebraska, a lot of blitzes and edge pressure, and I'm sure we'll get the same stuff. But we'll get a month to prepare and to get better."
The nine sacks allowed by the Longhorns against Nebraska were the most the Longhorns have allowed in McCoy's four-season stint as a quarterback. It also matched the total that Texas allowed over the previous five games.