Big 12:

110719 media preview
July, 19, 2011
7/19/11
11:00
AM ET
I love Big 12 Media Days for a handful of reasons, chief among them is it's finally some concrete evidence that the upcoming season will, in fact, happen.
It's usually a fun few days, although it will be shorter this year with a new set up of five teams per day in two days, rather than four teams over three days.
I'm looking forward to someone stealing the show -- on the podium for coaches or in the one-on-one room with players. There are a lot of personalities across the league that haven't been given much face time with the cameras, and we might get a look at some budding stars across the league raise their profiles during the week simply by being themselves.
Missouri receiver
T.J. Moe
(
always entertaining
, of course) and
Brandon Weeden
jump out as a couple guys who should do well in the media days setting, which always inevitably includes repetitive questions that players may start to have fun with as the day moves on.
Expect lots of talk about the new Big 12 and loads of questions from everyone about the new division-less world the players exist in, as well as thoughts on not seeing the Blackshirts or Colorado anymore. And this week, the
Big 12's Kumbaya choruses
have been justifiably interrupted by Texas A&M's regents, who
will meet Thursday to discuss the Longhorn Network
. The channel's existence was tolerated, but the addition of a second Texas football game--which will be a Big 12 Conference game--and the prospect of broadcasting high school games featuring players Texas is recruiting, has caused discomfort among the Longhorns' rival and refueled the fires and hopes of Aggies fans who wanted to make the jump to the SEC last summer.
But really, the personalities of coaches and players fuel the week of media days, and the folks that can best answer questions about issues like that won't be in attendance.
Oklahoma linebacker Travis Lewis (a
man born to be on camera
) will be on site, as will fellow big personality
Robert Griffin III
, Baylor's quarterback.
But there are plenty of players who could join them as personalities. Iowa State linebacker Jake Knott and offensive tackle Kelechi Osemele are both worth getting to know, and Kansas linebacker Steven Johnson should get plenty of questions about his unique rise to become the Jayhawks leading tackler. Kansas State linebacker Arthur Brown should get plenty of attention as a wild card loaded with potential, and I'd expect those in attendance to find Texas Tech quarterback
Seth Doege
pretty endearing as well.
It'll be a fun few days, with video and coverage from yours truly throughout, so be sure to keep it here on Monday and Tuesday and later in the week for more from Dallas.
July, 18, 2011
7/18/11
3:45
PM ET
A week from today, college football will feel oh-so-close. The Big 12 will kick off its media days, slimmed down to two days with its new 10-team configuration, instead of 12 teams over three days like it's been in the past.
[+] Enlarge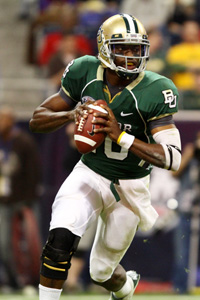 Thomas Campbell/US PresswireBaylor's Robert Griffin III will be attending Big 12 media days after missing last year's event.
I'll be there for every second of the action, with plenty of stories and videos, just like last year. Here's a look at
what we had for you every day
at media days last year.
You can expect more of that, and here's who we'll be dealing with here in Dallas.
Monday, July 25
Baylor
Oklahoma State
Missouri
Jacquies Smith, DE

Kenji Jackson, S

Elvis Fisher, OL

T.J. Moe, WR
Texas
Emmanuel Acho, LB

Keenan Robinson, LB

Blake Gideon, S

Fozzy Whittaker, RB
Texas A&M
Tuesday, July 26
Kansas
Steven Johnson, LB

Tim Biere, TE

Jeremiah Hatch, OL
Iowa State
Kansas State
Oklahoma
Texas Tech
I've got a lot of thoughts about this lineup:
Texas' quarterbacks haven't spoken to the media since the Thanksgiving Day loss to Texas A&M, and that streak won't end next week. Not that it necessarily should, at least not at this event. For better or worse, bringing a quarterback to media days implies a certain amount of confidence in said player, and every indication we got during the spring is that this race is wide open. Last year, Texas Tech brought both Steven Sheffield and Taylor Potts, and Mack Brown raised eyebrows when he brought his first-year starter, Garrett Gilbert, to media days before fall camp and before his first-ever start. He won't be making a return trip in 2011.

Kansas State's contingent is rather telling. If Bill Snyder was trying to temper the hype surrounding Arthur Brown, he wouldn't bring the transfer who has never played a game for Kansas State to Dallas. But Brown is coming, and his brother, running back Bryce Brown, isn't. That's plenty telling. As is Collin Klein's presence. It's not like Kansas State is starved for marketable talents. Cornerback David Garrett would fit in nicely, but he won't be coming. It's not explicit, but Klein will enter fall camp with the lead in the quarterback race, but Snyder has to feel good about him at this point. Bryce Brown's role on this team is still a bit unclear with Robert Rose and John Hubert still competing with him for carries, but I'm still feeling very good about making Arthur Brown my pick for Big 12 Newcomer of the Year. Except for Texas Tech quarterback Seth Doege, he's the only player in the entire league to come to Big 12 Media Days without at least a season of starting experience, and Doege at least has one start on his resume.

Serious, serious star power in Oklahoma and Oklahoma State's crews. Some of the biggest names in college football will be heading down to Dallas from just up north across the state line. Landry Jones will be making his first trip this year, as will Justin Blackmon. Weeden, Lewis and Broyles all attended in 2010. Another good bunch from A&M this year, too.

Glad to see Iowa State bring Kelechi Osemele to Dallas. He's a quiet star in this league who's been one of its best linemen for a couple seasons now. He'll finally get a bit more exposure in his first trip to media days. I'm a little surprised to see ISU bring Darius Darks, though, instead of Darius Reynolds, who Paul Rhoads went out of his way to praise this spring. That said, Darks is a solid choice as a co-captain and a contributor for three seasons heading into 2011, vs. Reynolds, a high-profile juco transfer who only emerged as a major contributor in 2010 after a quiet 2009.

Baylor's Robert Griffin III is back on Baylor's wagon after sitting out last year's media days to give the cameras and notepads a chance to get to know his teammates (and avoid about 4,000 questions about his knee, which was clearly fine last season).