Big 12:

110808 Commissioner
August, 8, 2011
8/08/11
11:00
AM ET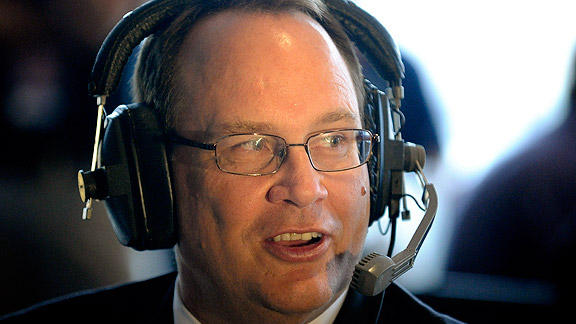 AP Photo/Matt StrasenCommissioner Dan Beebe has been dealing with concerns over expansion and the Longhorn Network.
The Longhorn Network doesn't launch until Aug. 26, but it's already been the subject of plenty of discussion and prompted the league's athletic directors to meet last week in Dallas in the midst of more realignment rumors and problems that had to be solved before the launch.
"Oh, you know, just another easy summer," Beebe said with a laugh to begin a recent interview with ESPN.com. "I need a summer where I can be bored for once."
He didn't get it in 2010, when the Big 12 lost a pair of teams.
This one wasn't easy either, but Beebe took some time to talk about the Longhorn Network, Texas, Texas A&M's future in the Big 12, and the league's possible new network.
We've seen commissioners take a much bigger role in this world of expansion and realignment, but how has that changed the jobs you, [Big Ten commissioner] Jim Delany and [SEC commissioner] Mike Slive and the rest of you do compared to your predecessors?
Dan Beebe:
I think the intensity is ratcheted up enormously. It's already more intense, and there's a greater amount of intensity that's been created between the high-resource conferences and the lower-resource conferences. For the commissioners' roles themselves, and within the BCS-level conferences, it's ratcheted up as well.
How much longer do you think we'll be talking about expansion and realignment in college sports in general?
DB:
It's happened for a while, for 20 to 22 years that I've been around. Certainly when it happens at this level, it makes a lot more news. I mean, I brought in five new members when I was in the Ohio Valley Conference, and then you'd have to look back at Penn State and Arkansas and South Carolina and some other movements that have gone on.
I think until we all kind of settle into our new television deals and we play, the Big Ten plays together with its 12 and the Pac-12 plays together and the Big East with its new configuration, until we go through a few years of that, this will always be something that people suspect will occur, and that's a change in alignment.
What was it like for you to see this stuff bubble up again in recent weeks, a year after it looked like the Big 12 had kind of moved on?
DB:
It's disconcerting. Like I said at media days, we're not going to get the benefit of the doubt by the media or the public until we go through a couple seasons probably playing each other and everybody gets to see what we're talking about in terms of our stability and commitment to the future and what's going on or what we're about.
We had that athletic directors meeting the other day, and every single athletic director reiterated their commitment to the conference and the fact that they believe the best place for their institution is in this configuration of institutions.
How would you describe the discussions at the meeting last Monday?
DB:
Frank. And respectful. But there certainly was -- and I encouraged it -- nobody I think held back from what their feelings were and what their position was.
Look, the one thing that hasn't gotten out is, especially with the Longhorn Network, how considerate DeLoss Dodds and Texas has been about this. They have said, and it's made several publications, that they did not want to do anything that was going to create a recruiting advantage or do anything that was going to harm the conference. And DeLoss came to the meetings with that kind of continued attitude about it.
So what was expressed that you would describe as frank?
DB:
Well, that kind of sentiment. I don't want to get into what goes back and forth while ideas are being formulated, because I think you need to have those things done in private, so it was just a matter of where everybody stood on certain issues and it was a good exchange.
Texas A&M has certainly been at the center of a lot of this, so what did they express to you and others in the meeting about their future in this league?
DB:
That they're very, strongly committed to the conference, just as Bill Byrne stated. They helped make sure it was going forward last summer and believe strongly that this is the place for the institution to be located.
How do you feel the Longhorn Network's general existence affects the long-term stability of the league?
DB:
Well, I think that all of our institutions in five years are going to have delivery systems, whether they be together or some together, some not. We've just seen the Pac-10 basically create that for their own members in what, six different networks and a seventh for the conference?
So, I think that's the wave of the future. There's going to be an appetite for fans in a local region to see the content in that region that may not be appealing for a wider region or even nationally, and all of our institutions are going to create some sort of delivery system.
The Longhorn Network is just the first one out of the gate. And whenever you have a first venture like that, there's all sorts of questions and things that need to be ironed out. But I think all of [the other schools] will be there in five years.