Big 12:

120207-tigers-moving
February, 7, 2012
2/07/12
1:00
PM ET
We're handing off Missouri from the Big 12 blog to the boys at the SEC blog today, and as part of the proceedings, it's time to get a bit sappy.
Ol' Mizzou, here's what I'll miss about you when you leave for the SEC.
And, if you were curious, here's our past installments of this series:
1. Columbia.
I called the city home for four of the best years of my life and earned a degree that I had so much fun earning it almost felt stolen. That doesn't affect how I cover the team, but I'd be a liar if I said I enjoyed visiting any Big 12 campus more than Mizzou. Sorry, Austin. Whether it's a Booche's burger, a slice of Shakespeare's Pizza or a stop by The Heidelberg, which somehow gets consistently left out of the "Must Go" places in Columbia, I love it. And if you didn't know, now you know, Tigahs.
2. The Border War.
Nebraska and Colorado checking out didn't cost us any big annual rivalries, but this one hurts. The Kansas-Mizzou hate flows 365 days a year, and now, they'll have no chances on the football field or basketball court to give that hate an outlet. It's a shame. Please, please, play this game. I understand Kansas' side of the debate and why it wants to end it. That doesn't make it any less ridiculous.
3. The coaching staff.
This was always a fun group to work with. Offensive coordinator David Yost --
we had some fun with him on Twitter last week
-- will tell it like it is and offer some solid insight, too. He's always good to help folks better understand what's happening on the field, but the Tigers have a great mix of coaches. The fiery nature of defensive coordinator Dave Steckel balances well with the straight-laced Gary Pinkel, who
handled an embarrassing incident this year
with about as much class as you'll ever see, personifying the idea that character isn't mistakes, it's how you react to them.
4. Senior Day at Mizzou.
The Tigers have one of the least-publicized, coolest senior day traditions around. After a player finishes his career on Faurot Field, he runs down, hops the fence surrounding the field and grabs a rock from the Rock M to keep for good.
5. Seeing DGB's career play out.
Top recruits at schools that traditionally don't get them are much more interesting than ones who go to factories like Texas and OU. Dorial Green-Beckham will be a fun, fun player to watch over the course of his career. Unfortunately, I won't get to see it. But, good luck to him in Columbia.
February, 7, 2012
2/07/12
11:30
AM ET
Colleague Chris Low
weighed in with a column today
as we said goodbye to Missouri on the Big 12 blog, offering up some thoughts on realignment from the SEC's perspective.
From a purely football perspective, the league has never been healthier.

What will Missouri and Texas A&M add to the equation?

The truth is that both schools probably needed the SEC more than the SEC needed them.

The fertile recruiting ground in the state of Texas will be more inviting than ever before for SEC coaches now that a marquee school from that state is in the league.

The Aggies also have a long, rich tradition in football with a fan base that's both passionate and demanding.

It's a crowd that will fit in well in the SEC, where fans' idea of patience is giving the coach an extra day to pack his boxes before the moving van pulls up to his curb.

Both Missouri and Texas A&M are solid enough programs that it's just going to be that much harder to make it through the grind of the SEC.

But the grind will be what Missouri and Texas A&M have the hardest time adjusting to, because there's no way to prepare for it other than going through it and learning to survive on the fly.

It takes time, too.
Plenty more from
our man C-Low in the full column
.
February, 7, 2012
2/07/12
10:30
AM ET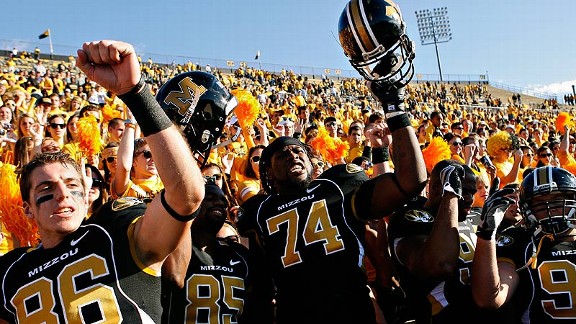 Cal Sport Media/AP ImagesCan Gary Pinkel's squad continue their run of recent success when they move to the SEC?
We
introduced Mizzou to the SEC earlier Tuesday
, but now it's time to get dirty.
Big 12 blogger David Ubben and Edward Aschoff debate: What awaits Missouri in the SEC?
The decline of one of college football's rising programs? Or new heights in a foreign conference that's college football's toughest?
Let's hash this out.
Edward Aschoff:
So, with the Tigers joining the SEC, some are wondering if the Tigers will make more of an impact in basketball, rather than football. After all, the Big 12 hasn't exactly had its way with the SEC lately. But Mizzou does bring back a slew of talent on both sides of the ball and could compete in the SEC East in its first season. David, why should we believe that Missouri will be anything more than just a one-hit wonder?
David Ubben:
Gary Pinkel. You'll hear this stat parroted often, but the Tigers are one of just a handful -- six, I believe -- teams in college football to win at least eight games in six consecutive seasons. TCU and Boise State have done it, too, but doing so outside of a power conference is nowhere near as impressive.
The Tigers haven't necessarily won big. The program is still seeking its first BCS bowl appearance but they've won consistently on the back of solid recruiting and even better development. Even in the program's glory years under Dan Devine in the 1960s, it never saw this kind of consistent success.
Players know what is expected of them under Pinkel. He wants to retire at Missouri, a point he's reiterated several times. The fans love him after this six-season stretch that followed some rough years early on, and would love to have him there as long as he wants. He's got the program rolling, and deep enough where a nightmare year of 4-5 wins just isn't going to happen.
Of course, he's done much of this on the back of Texas recruits, a luxury afforded many of the teams in the former Big 12 North after the Southwest Conference merged with the Big 8.
We've already seen them shift some recruiting focus into your neck of the woods, Florida and Atlanta. What does this program have to do to make some recruiting inroads there and continue this success?
[+] Enlarge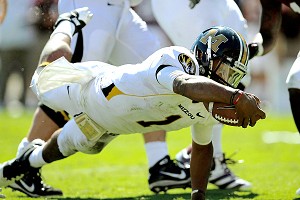 Sarah Glenn/Getty ImagesHow will James Franklin fare against more athletic and tougher defenses?
EA:
Well, getting into the Florida and Atlanta areas is a good start, but Missouri can't forget about the entire Southeast. There are some other states that can be Missouri's friends as well. One thing going for Missouri is that St. Louis and Kansas City are pretty close. Both are about two hours away from Columbia and kids just love the those big cities! But the bright lights and the big malls can only take Missouri so far. Missouri has to prove that it can really compete on the SEC's level for an entire season and beyond. Winning just comes naturally in this conference, so Missouri will have to prove that it can keep up for years to come. One thing that will really get the athletes' attentions in the Southeast will be starting things off on the right foot. Playing in the SEC East and returning a good amount of starters should help with that. But make no mistake about it, there will be tons of negative recruiting thrown Missouri's way because of the Big 12 past and the fact that those starters will soon be gone after their SEC introduction.
Missouri's coaches are going to have to get very aggressive when it comes to recruiting over here. It's a rough game in the South. There are no unwritten rules about being respectful of committed prospects. SEC coaches play for keeps down here.
Also, Missouri's coaches are going to have to compete with the distance factor. Columbia is almost 700 miles away. There certainly are players who travel away from the Deep South, but most of them stay home. Can Missouri build enough of that family atmosphere to get these players to venture over to its neck of the woods?
We've hit Missouri's returners, but in order to win in the SEC you have to play well up front. Everyone says this a line-of-scrimmage league and from what I've read it sounds like Missouri's defensive line could have/should have played better in 2011. How do the Tigers make sure they're strong and tough enough up front to compete in this league?
DU:
Good points on Mizzou's recruiting trying to spread its wings. The problem? They'll try to maintain those ties in Texas and it'll have to make sure they don't get spread too thin.
These are all issues Mizzou's coaching staff will have to figure out. I'm glad I don't have to.
You're right about the defensive line. They were good in 2011, but not as good as people thought. They'll have to be better. Landing a couple of those big defensive tackles down south would serve the Tigers well. For now, they've got great size coming back in a St. Louis kid,
Sheldon Richardson
. He's a 6-foot-4, 290-pounder with great athleticism who went to junior college before coming back to Mizzou. Monte Kiffin almost got his hands on him out at USC, but the Tigers have him and need him to have a huge season as a senior in Year 1 in the SEC.
The defensive line lost three starters, but they were deep in 2011 and have good pieces to fill the losses of
Terrell Resonno
and
Dominique Hamilton
at tackle and
Jacquies Smith
at defensive end. The time is now for promising ends
Michael Sam
and
Kony Ealy
.
Richardson's the biggest piece at tackle.
Brad Madison
was a Big 12 preseason Defensive Player of the Year candidate at defensive end, but had a disappointing season after playing through a shoulder injury that really limited his effectiveness and flexibility on the line. He'll be hungry as a senior in 2012. Memo to SEC offensive lines: look out for the spin move.
[+] Enlarge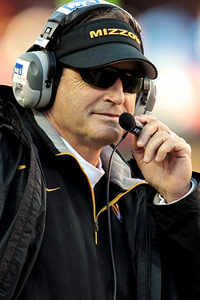 Jamie Squire/Getty ImagesGary Pinkel's success in coming seasons will hinge on how well Missouri can recruit in the South.
Players like Richardson come down to recruiting, though. The kinds of players Mizzou needs on the defensive lines are much more plentiful in their new recruiting soil. Getting their feet on the ground in junior colleges will be huge.
What about the offense, though? You've seen these SEC defenses up close all season. I'd argue that outside of Alabama, LSU and Georgia, the SEC's defenses were way overrated based on reputation this season.
Will the Tigers' spread offense work in the SEC East? What, if anything, has to change?
EA:
Well, you certainly won't make friends down here with that sort of talk. South Carolina fans will surely let you know just how they feel about being left out of the defensive discussion. After all, South Carolina ranked third nationally in total defense and the SEC had six defenses ranked in the top 25, including five in the top eight. But I digress. We've seen the spread work before in the SEC. Florida's 2007 and 2008 offenses were two of the best in the country. The 2009 team put up a good bit of yards too. We've seen elements of the spread in other offenses as well around the SEC and Arkansas does a great job of spreading defenders out with its passing game. Mississippi State also utilized a pretty successful spread offense in 2010.
In order for it to work, the offensive line has to be beefy and athletic. I know, it's an interesting concept, but you won't survive in this league without some real athletes up front. You've said in the past that Missouri's offensive line was a better than average, well that won't cut it in this league.
You also need some elite speed at the wide receiver position and a sound running game. Getting Dorial Green-Beckham out there could be a major get for this offense because of his size and speed. As for running, mobile running backs and commanding the read option are key. Missouri will have to find ways to combat the tremendous speed off the edge from SEC pass rushers every week. That's
James Franklin
's running ability comes in. Working the option is huge in the spread.
Well, let's wrap this thing up. I think Missouri will be fun to watch next season, but I'm not sure how well the Tigers will do afterward. You've been around Missouri a lot longer, where do you see Missouri stacking up in the next few years in the SEC?
DU:
Good point on those SEC defenses being awesome. I know guys like
Morgan Newton
,
Justin Worley
and
Clint Moseley
give defensive coordinators nightmares. Somebody get the Gamecocks a medal for not letting Arkansas score 50 and getting lucky enough to dodge LSU and Alabama on the schedule.
But I'm getting off target here, much like SEC quarterbacks' passes.
As for the Tigers, it's going to be tough when the current players begin to leave. I don't think they'll have as much success recruiting in Texas, but I've got no idea if they'll be able to get a foothold near the SEC East and, like you said, convince some of these kids to come to Missouri.
Neither outcome would surprise me, but I think as the transition happens and the current talent begins to drain out of the program, the Tigers will hit some lean years. Whether they bounce back depends on what everything in college football depends on: recruiting.
Can Mizzou do it? Only time will tell.
February, 7, 2012
2/07/12
9:00
AM ET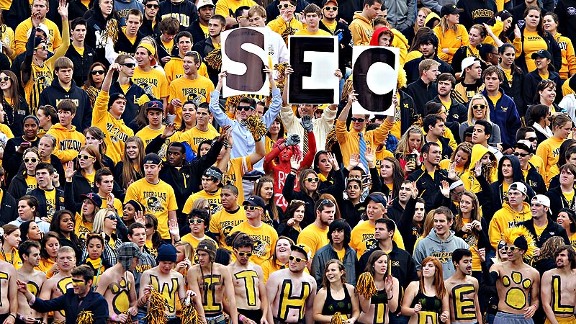 Jamie Squire/Getty ImagesWhat should SEC teams expect from Missouri, one of the conferences newest members?
Friends, today is the day.
Mizzou officially announced its
move from the Big 12 to the SEC back in November
, but today we'll make the move official on our blog network.
Mizzou will now officially be members of the SEC blog and moved off the Big 12 blog. We'll have a full day of posts today commemorating, debating and celebrating, but we'll kick things off the right way: with an introduction.
Big 12 blogger David Ubben introduces the SEC to its newest member on the blog with a Q&A with SEC blogger Edward Aschoff.
Edward Aschoff:
Once the Texas A&M talks with the SEC heated up, Missouri's name was thrown right in. It wasn't much of a secret the Tigers would join, but what was your reaction to Missouri joining the SEC?
David Ubben:
It's a complicated one. This move has so many facets to it. In terms of stability, I totally understand. When Texas, Texas Tech, Oklahoma and Oklahoma State started looking west at forming the Pac-16 for the second consecutive year, Mizzou knew it didn't want to have to wonder where it's future league home was going to be. The summer of 2010 when it looked like Mizzou, Kansas, Kansas State, Iowa State and Baylor were going to be left out of these new "superconferences" was scary for the Tigers. A move to the SEC, above all, ensures those conversations won't have to occur anymore.
A ticket to the SEC became possible. The Tigers chased it and caught it.
Well, now they're here. Fans are going to have to travel a whole long way to see road games. The recruiting game is going to be vastly different, and much more cutthroat, perhaps a world the Tigers are a bit unfamiliar with.
This season, they were right outside the national top 25 in recruiting, but that ranked ninth in the SEC. The bar has been raised. The big question is can Missouri clear it and be a successful program in the long run?
[+] Enlarge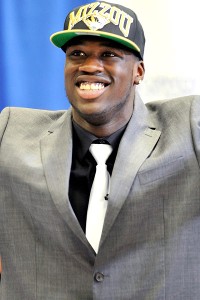 Denny Medley/US PresswireBy signing Dorial Green-Beckham, the Missouri Tigers showed the school can attract top recruits.
EA:
Travel will be really interesting. Columbia, Mo., is almost 900 miles away from the other Columbia and Gainesville is more than 1,000 miles away. Talk about Delta miles. Missouri won't have to worry about filling opposing fans' ticket allotments because SEC fans travel well. So, when these fans get on campus, what are some of the new traditions they'll be exposed to from the Missouri faithful?
DU:
Good question. There are teams with stronger traditions in the Big 12, but Mizzou's are solid.
The most evident one will be the Rock M at the North end of Faurot Field. Every August, they add a few rocks and the university's freshmen offer a fresh coat of paint to keep it looking fresh, which it always does.
For the biggest games, the Rock M and the field surrounding it will be packed with fans. Lately, the Tigers have had a few big wins to celebrate with ripped up goalposts. Wins over Oklahoma and Nebraska come to mind. When that happens, those goalposts are toted up that field and carried almost a mile to Harpo's, a bar downtown, where fans will cut them up and take home a piece.
If Bama goes down in Columbia next season, the Tide fans will see that up close and personal.
During the game, you'll get a taste of the Missouri Waltz, which is a pretty recognizable song featuring the fans waving their arms to the music.
They'll also get to meet Truman the Tiger, who treks around the track surrounding the field in a fire truck before the game with a hose to spray fans on hot days.
Faurot Field only seats a little more than 70,000 fans, but it's a solid atmosphere more often than not. It won't wow many folks, but it's got a very unique feel, and the stadium is set into the ground, so it feels a little underground, too.
EA:
I also hear homecoming is a pretty big deal in Columbia as well. Let's hit the team a little. Some guy named Dorial Green-Beckham signed with Missouri and from all accounts he's a pretty big deal. The Tigers return a couple of solid receivers to help
James Franklin
, but Green-Beckham might really be special. How big was that pickup and how do you think he'll be used in the Tigers' offense this fall?
DU:
Ah yes, how could I forget?
You want to be wowed by Mizzou? Come to campus during homecoming weekend and check out house decorations. I've seen plenty on several campuses in my day. None top Mizzou.
The DGB signing might honestly be bigger off the field than it is on it. He signifies that if you're one of the nation's top recruits, you don't have to go to somewhere like Alabama, LSU, Oklahoma or Texas. It's OK to go somewhere in state or somewhere you feel comfortable.
Most importantly, you can go to Mizzou, and DGB will vouch for that.
On the field, I don't think you can expect him to walk in and be a gamechanger. The SEC is a lot different than Missouri high school football. That said, I'd be surprised if he had fewer than 40 catches this season, and of course, he has the potential to become one of the best receivers this game has ever seen.
That idea is kind of crazy to think about. Mizzou's offense will give him a chance to fulfill that potential.
EA:
Well, the guy throwing the ball to DGB ain't so bad. We saw quite a bit of Franklin last season and he was pretty impressive running and throwing, but this is the big league. SEC defenses prevent shootouts. So how do you see Franklin adjusting to all that speed on defense? And I might as well put you on the spot and see how you think Missouri will do in its first season in the SEC. What's your prediction, David?
DU:
I think he's well-suited for the SEC, really. He doesn't get his yards on the ground with a lot of speed. He's really instinctive and runs when he should run. He does it with power and a great feel for creases in the offensive line and some nice wiggle that makes it hard to lay a good knock on him like SEC defenses will want to do.
Mizzou's production will dip a bit, but I still think the Tigers' offense will be effective.
As for my pick for the Tigers in Year 1?
Nine wins. Second place in the SEC East. Not a bad first season, eh?