December, 29, 2010
12/29/10
9:31
PM ET
A
38-14 loss
is not how Baylor pictured its return to the postseason turning out, but considering the way Baylor's offense opened the game, it could have been worse. A few bounces the other way could have made this game come down to the final drive, too.


How the game was won:
Baylor's offense sputtered early (missed field goal, two lost fumbles and four punts in their first seven possessions), while Illinois scored on its first four possessions and led 24-0 after opening the second half with a touchdown. The early lead was too big for a late Bears rally to overcome, thanks to Illinois' running game, which overpowered Baylor for most of the game and racked up 306 yards on the ground.
Turning point:
Baylor grabbed a solid hold on the game's momentum with a 39-yard touchdown pass from
Robert Griffin III
to
Kendall Wright
that cut Illinois lead to 24-14, and the Bears followed that with a defensive stop to get the ball back down 10 early in the fourth quarter. Baylor got stuffed on a 3rd-and-1 for a three-and-out and Illinois came up with the ensuing muffed punt. Seven plays (six runs) later, Illinois was in the end zone with a 31-14 lead to put the game out of reach.
Stat of the game:
Nathan Scheelhaase
's completion percentage: 78. The redshirt freshman quarterback completed just under 57 percent of his passes on the year entering the Texas Bowl, ninth in the Big Ten. He was a perfect 13-of-13 for 170 yards in the first half and made Baylor respect the pass. The Bears defense has had plenty of struggles in 2010, but when Illinois can throw the ball efficiently, it's much more difficult to defend. Because of Scheelhaase's play, the Bears experienced that firsthand. He finished 18-of-23 for 241 yards.
Player of the game:
Illinois' offensive line. Baylor needed to get a push up front to slow the Illini running game, and it didn't happen. That's because the Illinois big men up front paved the way for
Mikel Leshoure
and
Jason Ford
. Baylor didn't tackle particularly well, but often, no Bears defender was getting a shot at ballcarriers until they were 4-to-7 yards upfield. That's a credit to Illinois. LeShoure racked up 184 yards on his own and Scheelhaase added a late 55-yard touchdown run.
Second guessing:
Baylor's decision not to try and make a 24-point deficit a three-possession game. It's a mild complaint, but Baylor has a mobile quarterback that's particularly difficult to defend in the red zone and has lots of playmaking receivers who can get open in tight spaces on two-point conversion attempts. The Bears only got to within 24-14, but if that lead had been 24-16, you wonder if it might have applied enough pressure on the Illinois offense to produce a different result. Maybe not, but it's worth considering.
Record performance:
Baylor running back Jay Finley broke the single-season rushing record during the game, and Griffin broke the career passing yards record.
What it means:
It's a disappointing loss for Baylor, but the Bears are a program looking to make strides year upon year. Getting to a bowl game was a big one, and it was especially good for fans to be able to make a short trip to Houston to see a program with a big opportunity, similar to the basketball team's appearance in the Houston regional back in March. With Griffin returning in 2011, the Bears figure to make another run to the postseason.
On a conference-wide scale, it's another black eye for the Big 12, who drops to 0-2 in the bowl season with a pair of losses to Big Ten teams after Missouri dropped a 27-24 game in the Insight Bowl on Tuesday night.
That's a big disappointment for a conference favored in nearly every bowl game and had a reasonable chance to go 8-0. That's an afterthought now, and if the Big 12 can't get some wins later on in the bowl season, a league already low on prestige after being raided during this summer's conference realignment gets even more so.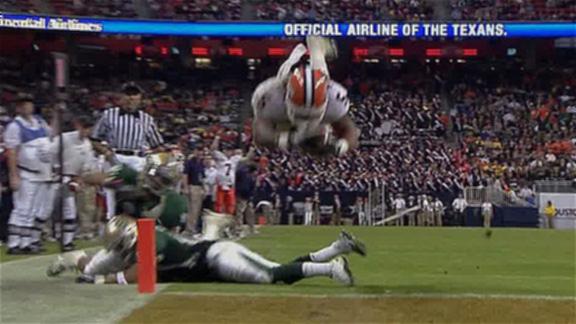 December, 28, 2010
12/28/10
1:15
PM ET

1. Robert Griffin III has to look to run, but not force it.
Baylor's offense really gets going when Griffin breaks a defense's contain, and the quickest way to beat the Bears is to limit Griffin's legs. TCU did it early in the season and beat the Bears 45-10. Oklahoma State did it as well. Griffin can't look explicitly to run the ball, but if the opportunity is there, he'd be well served to take it. When defenses constantly have to account for Griffin as a runner, it makes his already excellent accuracy as a passer even more dangerous and even more difficult to defend.
2. Wrap up when they get the chance.
Illinois' zone-read scheme with running back
Mikel LeShoure
and
Nathan Scheelhaase
and is hard enough to defend, but anytime Baylor defenders aren't fooled by the fake, someone has to make a play and wrap up while the defense swarms. The Fighting Illini demand teams play assignment football, and part of that assignment is making a tackle and limiting yards after contact. Racking up broken and missed tackles is the surest way for the Bears' defense to put tons of pressure on its offense. Do that, and Baylor will be waiting until next year for another chance to celebrate a bowl win.
3. Cash in when the opportunity arises.
Some games, like
Texas A&M's win over Nebraska
this year, can be won with field goals. This certainly won't be one of them. The over/under for the Texas Bowl is 63 points, and for the Bears, capitalizing in the red zone is a must in a game like this. That's especially true considering Baylor's field goal kicking struggles late in the season. Freshman Aaron Jones looked like one of the Big 12's best kickers early in the season, but suffered through a disastrous 1-for-4 night with a missed extra point in a loss to Texas A&M. Baylor would be well served to get it across the goal line rather than leave it up to special teams.
December, 28, 2010
12/28/10
12:45
PM ET
Outside of Auburn and Oregon, perhaps no team in college football is happier to be at its bowl destination than Baylor. The Bears ended a bowl drought with a seven-win season in 2010 and are heading to Houston for the Texas Bowl -- their first postseason game since 1994. However, if there's a team that's close to being as happy, it's Illinois. The Fighting Illini were picked near the bottom of the Big Ten in the preseason, but went 4-4 in Big Ten play and beat Northwestern at Wrigley Field to clinch a bowl berth.


WHO TO WATCH:
Baylor quarterback
Robert Griffin III
. He's
the guy who makes the whole Baylor engine hum
. The Bears might have been in a bowl last year if not for an early-season knee injury, but Griffin was better than ever -- particuarly as a passer -- in 2010. His mobility makes him a "dual-threat" quarterback by definition, but he looked like a pure passer for much of the season, too. He completed 66.3 percent of his passes to rank second in the Big 12 and 13th nationally, just below Arkansas'
Ryan Mallett
. He accounted for 29 touchdowns, but 21 were through the air.
WHAT TO WATCH:
Baylor's front seven vs. the Illinois running game. Illini running back
Mikel LeShoure
led the Big 12 in rushing with 1,522 yards and Illinois' entire offense rushed for just under 3,000 yards, which ranked 13th nationally. If they get rolling, it could be a long day for the Bears. Defensive tackle Phil Taylor and linebacker Antonio Johnson are Baylor's two best hopes for slowing the offense, and could be capable of doing it. Don't expect another 330-yard day like LeShoure had in the bowl-clinching victory over Northwestern. Stop the run and force redshirt freshman quarterback
Nathan Scheelhaase
to throw more than he'd like, and Baylor should be in good shape.
WHY WATCH:
The quarterback/running back duos on the ground are about as good as you'll see in any game this year. Scheelhaase, Illinois' quarterback, and
Jay Finley
, Baylor's running back, don't get the pub of their counterparts, but both
have proved extremely capable.
Finley needs just 34 yards to break Baylor's single-season rushing record at 1,155 yards.
PREDICTION:
Baylor 31, Illinois 30. Baylor has the best player on the field, and in crunch time, that type of thing pays off. Griffin makes a big play late to give the Bears their first bowl win since 1992.