December, 31, 2011
12/31/11
10:30
AM ET
PARADISE VALLEY, Ariz. -- Everything about the first trip to the BCS is new for Oklahoma State.
At least one thing hasn't gone as expected. Back on Dec. 4, when the Cowboys learned their bowl destination, quarterback
Brandon Weeden
smiled and confessed he'd be bringing his golf clubs to Arizona.
A walk-on with Oklahoma State's storied golf team, he didn't need anybody to tell him that the Scottsdale area was a golfing hot spot.
This week, though, he was only able to squeeze in 11 holes, and two were in the dark.
Weeden, receiver
Colton Chelf
, quarterback
Clint Chelf
and receiver
Josh Cooper
made it out to the Phoenician resort in Scottsdale, but only got to play nine holes before the sun set over the Phoenix metroplex.
"I hit it real nice, which is why I wanted to play more," Weeden said with a laugh. "I brought my clubs thinking there'd be a lot more time as far as it goes. It's hard to play 18 holes considering you need a four-hour gap there and two hours won't get it done."
Such is life.
Playing in a BCS bowl is torture. For now, Weeden's focus is back on the real reason for the trip to the Valley of the Sun: Making Oklahoma State's first BCS bowl a successful one, and knocking off No. 4 Stanford.
"I'm probably done," he said, "We're getting pretty close to game time."
December, 30, 2011
12/30/11
9:45
AM ET
The numbers aren't pretty.
Surely, you've heard it by now.
"Oklahoma State: winning in spite of an awful defense since 2010."
If only, right?
Well, not quite. Especially in 2011.
Bill Young and his Oklahoma State defense have waged a year-long battle against perception and raw numbers.
[+] Enlarge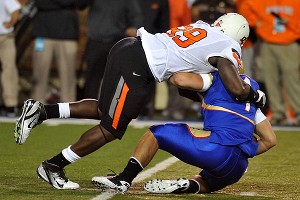 Mark D. Smith/US PresswireThe Oklahoma State defense has played much better this season than its statistics suggest.
"It gives up 445 yards a game?! There are 106 teams in college football who give up fewer! And the pass defense? That's 265 yards per game on its own! That's 102nd!"
Well, yeah. But things are not as bad as they appear.
"We're playing a little bit better defensively than maybe some people realize, but the problem, it's a blessing on one side and problem on the other, is our offense," Young said.
The offense is big on providing wins, but bad for defensive numbers that offer fuel to those questioning the Cowboys' credentials.
"We're a real fast-tempo offense and we score a lot of points and score a lot in a hurry, but what happens is it just multiplies the number of opportunities you have to play on defense," Young said. "We played several ballgames this year where we've played well over 100 snaps, which if you look at Texas and other teams that run the ball a lot, Kansas State? They're playing about 55-60 snaps per game. So you're playing two games, everybody else is playing one game."
That's one reason for the big numbers. Another?
Oklahoma State has faced four of the nation's top six quarterbacks in total passing yards. The result?
It held Arizona's
Nick Foles
to just 14 points in a 23-point win. It jumped out to a 49-3 lead on Heisman winner
Robert Griffin III
and Baylor, eventually winning 59-24.
Texas Tech's
Seth Doege
managed just six points in an embarrassing 66-6 loss to the Cowboys -- in Lubbock.
Oklahoma's
Landry Jones
was missing
Ryan Broyles
, but his team trailed 44-3 until a late touchdown run in the game's final three minutes.
Is that not good enough?
The biggest reason for those defensive performances has been turnovers. The Cowboys have forced 42 this season, six more than any other team in college football. It's scored 181 points off those turnovers, 37 more than any team in college football.
"That's something we put a lot of emphasis on and take a lot of pride in it," said Young, whose defense forced 34 turnovers last season, fifth-most in the FBS. "We have a two-whistle system, where the first whistle is where the offense can stop running, and the second whistle, we'll quit trying to strip it, but up until then, we're doing everything we can to take the ball away."
It has paid off, but the turnovers have helped to produce big leads, which have also impacted the defense. Oklahoma State has been the victim of benching its own starters, too. Football Outsiders calculates
an advanced defensive statistic called Defensive S&P+
, which calculates the defensive success rates of every one of a team's plays, but only when a game is within 24 points in the first quarter, within 21 points in the second quarter, and within 16 points in the second half.
In that comprehensive stat, Oklahoma State ranks 32nd.
It's far from elite, but it's far from an embarrassment, and an improvement on the deceiving total defense statistic. The pace of Oklahoma State's offense handcuffs the defense's ability to put up any reasonable numbers in the stat. The same is true of many defenses across the Big 12.
The simple fact: Big 12 defenses face a whole lot more plays than defenses from other leagues. Why wouldn't they give up more yardage?
Young isn't pretending his defense is on par with the titans that pollsters deemed worthy of meeting again in the national championship. But it's not as bad as the numbers suggest.
"We're blue collar and we just go to work every day and work hard and try to do good things," Young said.
It's done enough this season.
January, 2, 2011
1/02/11
12:21
AM ET
GLENDALE, Ariz. -- Quick thoughts from the Tositos Fiesta Bowl, where Oklahoma beat Connecticut
48-20
.
How the game was won:
Oklahoma prevented Connecticut from scoring an offensive touchdown, and had a great day throwing the ball without a ton of mistakes. The Sooners far outgained Connecticut, who struggled to produce any offense in the first half, and controlled the game from start to finish.


Turning point:
Oklahoma led 20-10 in the third quarter when
Landry Jones
hit
Cameron Kenney
for a long 59-yard score down the left sideline. On the ensuing possession, Jamell Fleming picked off a tipped pass and returned it 55 yards for another quick score. Connecticut's run-heavy offense isn't built for comebacks, and the Sooners 34-10 advantage was too steep for the Huskies to climb.
Stat of the game:
Oklahoma wasn't flagged for a single penalty. That makes life a lot easier.
Player of the game:
Jones. The sophomore had a huge day and paced the Sooners offense for all of it. He finished with 433 yards and three touchdowns on 35-of-50 passing.
Unsung hero of the game:
Oklahoma's front seven. They won't get credit at the end of the day for really shutting down
Jordan Todman
, who finished with more than 100 yards, but they made him a complete non-factor in the first 2.5 quarters while Oklahoma rang up its big lead. If Todman gets going and Connecticut could control the ball early, the game might have been a whole different story.
Second guessing:
Oklahoma's fake field goal. The Sooners were going for the dagger, but trying to connect on a deep ball to tight end
Trent Ratterree
from
John Nimmo
isn't a very high-percentage play. They had the lead, but gave up field position and some momentum against an offense that hadn't produced all day. Liked the aggressiveness, but didn't like the execution.
Record performance:
Jones' 433 passing yards, broke Oklahoma's record in a bowl game. Jones set the record in last year's Sun Bowl win over Stanford when he threw for 418 yards.
What it means:
Oklahoma finally ends its BCS woes, even if it came against an underwhelming opponent. The Sooners' five-game BCS bowl losing streak came to an end, and their nine-year drought without a BCS win ended against the Huskies.
December, 31, 2010
12/31/10
2:00
PM ET

1. Do not turn the ball over more than twice.
There's no underestimating this for the Sooners since they are playing as heavy favorites. Even if Huskies running back
Jordan Todman
runs wild on them for 200-plus yards, Oklahoma has the offense that can outscore Connecticut and score 50 points to win if necessary. What can stop that? Turnovers. Oklahoma's receivers,
Ryan Broyles
and
Kenny Stills
, should be able to get open. The Sooners should be able to run the ball with at least moderate success. But lose the ball or throw it to the guys in the wrong jerseys and Oklahoma opens up a game that it should close in the second half. Oklahoma's lost just five fumbles this year compared to 11 interceptions from
Landry Jones
, so picks are more likely for the sophomore passer. Jones threw three in the first half against Oklahoma State.
One or two turnovers, unless they're returned for scores, won't be enough to cost the Sooners a win. But if the turnover battle gets to 3-0 or 4-0 in favor of UConn, brace yourselves for another Big 12 bowl upset.
2. Keep Todman from busting big runs.
Oklahoma gave up a 66-yard touchdown run to Nebraska's
Roy Helu Jr.
early in the Big 12 Championship as part of the Huskers' 17-0 spurt to open the game. That's no big surprise, the Sooners have given up 25 runs of 20 yards or longer this season. Only eight teams in FBS have surrendered more. Of those eight teams, only two are bowling. Todman will get plenty of tough yards against Oklahoma's defense. But if the Sooners keep him from getting easy ones, they'll keep him under 150 total yards, limit big gains for Connecticut, and wear Todman down.
3. Defensively, win the fight on first down.
Oklahoma has to force Connecticut to throw the ball as much as possible. The best way to do that is force lots of 2nd-and-8 or 2nd-and-9s that eventually force third down passing situations. If you see Connecticut with an impressive third-down percentage, it'll be because they're converting lots of 3rd-and-2 and 3rd-and-3 situations, rather than completing tough passes against Oklahoma's underrated corner duo of Demontre Hurst and Jamell Fleming. The more times
Zach Frazer
has to drop back and throw it against a prepared defense, the better it will be for Oklahoma. Some teams can consistently convert long third downs. The Huskies, ranked 105th nationally in completion percentage (53.1 percent), aren't one of them.
December, 31, 2010
12/31/10
1:00
PM ET
This is projected to be one of the most lopsided matchups of the bowl season, but like we've already seen with Nebraska on Thursday, anything can happen in a bowl game between two teams with almost a month between games. Favorites, beware.


WHO TO WATCH:
Oklahoma receiver
Ryan Broyles
. The Biletnikoff finalist was overshadowed in his own conference and even in his state by Oklahoma State receiver
Justin Blackmon
, but he's unquestionably one of the nation's best offensive talents. His clear chemistry with quarterback
Landry Jones
helps, too. His hands are extremely reliable, he runs some of the best routes you'll see anywhere, and for a receiver that isn't 6-feet tall, you'd be surprised at some of the balls he can haul in. He finished the regular season with a nation's best 118 receptions for 1,452 yards and 13 touchdowns. Get your looks in while you can; this might be the last game Broyles plays in an Oklahoma uniform. He's likely to head for the richer soils of the NFL after this season.
WHAT TO WATCH:
Oklahoma's defense vs. Connecticut's running game. Oklahoma can do a lot of different things, but All-America running back
Jordan Todman
is the guy who gives Connecticut a chance. If he gets shut down, the Huskies simply won't be able to win. It's on the offensive line to get it done, but Todman can make plays, too. If Oklahoma's front seven can make plays and make it easy for the secondary to stay honest and not be forced to constantly come up in run support, Oklahoma should be in good shape to win convincingly.
WHY WATCH:
There's no shortage of storylines. You have an inspiring program in Connecticut that's played at the FBS level for just over a decade and has overcome the tragic murder of a teammate last season to make it to a BCS game. They'll play the part of David to Oklahoma's BCS-skidding Goliath, one of college football's superpowers making its eighth appearance in a BCS game in 11 seasons. The Sooners are the heavy favorites, but they've been in this position before against West Virginia and Boise State. The Broncos took the Sooners to the wire in this very same stadium and produced one of college football's most unforgettable finishes.
PREDICTION:
Oklahoma 41, Connecticut 20. The Huskies will be able to mush a little bit and catch the Sooners on some play-action from time to time, but Oklahoma's offense is too powerful and too fast for them to keep up for 60 minutes.
December, 31, 2010
12/31/10
10:07
AM ET
SCOTTSDALE, Ariz. -- Oklahoma leads the nation with 32 10-win seasons. Connecticut has none as an FBS team. Oklahoma has won seven national championships. Connecticut has none. Since World War II, Oklahoma leads the nation with 574 victories. Connecticut has 57 wins as an FBS team.
The Sooners have been ranked in the AP poll for 703 total weeks. UConn beat its first ranked team in 2007.
[+] Enlarge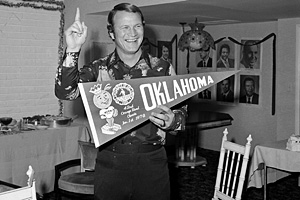 AP File PhotoFormer Oklahoma coach Barry Switzer holds a banner and indicates his Sooners are Number 1 after beating Michigan in the Orange Bowl on Jan. 2, 1976. UConn began playing FBS football in 2002.
In 2000, when Oklahoma was rolling undefeated to its last national title, the Huskies lost to Rhode Island and Northeastern.
Do you need more? How about this: Think of every measure of a college football program available. Oklahoma has a lot; UConn has very little.
Oklahoma is one of the most storied programs in the nation. UConn only become an FBS team in 2002.
One of the main storylines heading into the Tostitos Fiesta Bowl is the David versus Goliath perception of the two programs. And it's not just that the Sooners are 11-2 and ranked seventh in the BCS standings and the Huskies are 8-4 and unranked.
When you think of Oklahoma you think of coaching and playing legends: Bud Wilkinson, Barry Switzer, Steve Owens, Billy Sims and Adrian Peterson. And when you think of UConn? Well, you, er, think of basketball.
"We know what Oklahoma is and what kind of tradition they have," Huskies defensive coordinator Hank Hughes said. "If you matched us up for 100 years, we don't match up with them. But on this one day for three hours, we have to go out and try to beat them in that one football game. That's the approach we're taking."
In other words, UConn won't be facing J.C. Watts, Brian Bosworth or Greg Pruitt, which is good because
Ryan Broyles
,
DeMarco Murray
, Jeremy Beal and Quinton Carter will provide enough of a challenge. UConn's players seem quietly confident that they can keep up with the Sooners. And they seem properly motivated by those myriad doubters who see this as a mismatch that is only possible in a system like the BCS.
Still, it's hard to get past the contrast, which is even more dramatic than when the Sooners took on Boise State in the 2007 Fiesta Bowl.
Consider the bowl media guides.
In UConn's media guide, it lists an "FBS timeline," which starts with former athletic director Lew Perkins first recommending in 1991 that the school "seriously consider playing football at the NCAA Division I-A level" and ends with tailback
Jordan Todman
, on Dec. 8, becoming the second Husky to earn All-American honors in the "FBS era at UConn."
In Oklahoma's media guide, under a heading "OU Essentials," it cites the program's all-time record -- 809-303-53 -- and notes the Sooners lead the nation with 31 unanimous and 72 consensus All-Americans.
[+] Enlarge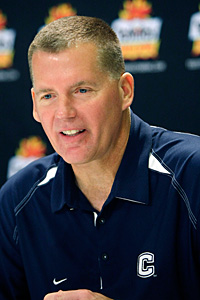 AP Photo/Matt YorkConnecticut coach Randy Edsall will be leading the Huskies against Oklahoma, and decades of tradition.
UConn celebrates Oct. 28, 2007, when the program earned "its first national ranking when it debuts at No. 16 in the AP Poll and No. 20 in the Coaches' Poll."
Oklahoma has spent 76 weeks ranked in just the BCS standings -- since 1998 -- including 20 weeks at No. 1, most in the nation.
Players from both teams are almost as aware of this contrast as fans and media. For UConn, it serves as motivation. For Oklahoma, it's a potential trap.
"Everybody is saying we should kill them," Sooners quarterback
Landry Jones
said. "But if you don't prepare, history is going to repeat itself."
Ah, not all Oklahoma history is good. Jones refers to previous Fiesta Bowl upset defeats against Boise State and West Virginia.
UConn coach Randy Edsall hasn't avoided the topic, even with his team. He prepared his players for an onslaught of questions on the matter.
"Tradition is what it is," Edsall said. "We told them exactly the kind of program Oklahoma is -- the history and tradition."
He also noted that taking on historically great programs is not unexplored territory for his current team. The Huskies won at Notre Dame in 2009 and lost at Michigan this year.
Further, there seems to be some frustration from the UConn side of things that it hasn't been more embraced for making the quickest rise from an FCS school to a BCS bowl game. That, after all, is history, too.
"This is a tremendous story," Edsall said. "It's about giving somebody an opportunity."
UConn has an opportunity to create its own bit of history on Saturday. It won't have to beat those great Sooners teams from past years. All it has to do is be the better team for three hours.
Three hours in which the Huskies will be playing in their fifth bowl game vs. the 45th for Oklahoma.
December, 31, 2010
12/31/10
9:30
AM ET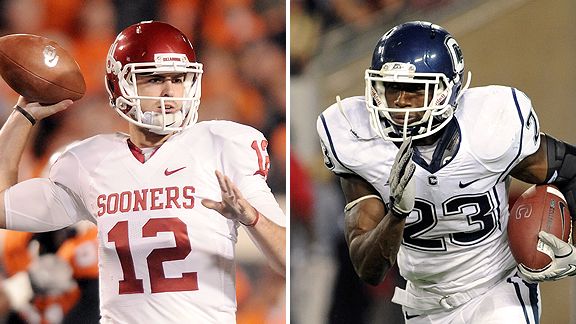 Getty ImagesLandry Jones leads heavily favored Oklahoma against Jordan Todman and Connecticut.
We've heard it ever since the bowl pairing was announced: Connecticut has no chance, and this might be the most lopsided matchup of the entire season. Oklahoma enters as the champion of the Big 12, a conference with five teams in the top 20.
Connecticut, to its credit, won its final five games to get here, but needed a 52-yard field goal in its season finale to win the Big East, a conference with one team (West Virginia) in the BCS top 25.
Even Vegas agrees, pinning the Sooners as a 17-point favorite.
So the big question is simple: What reason do we have to believe that we're not in for a snoozer on Saturday night?
[+] Enlarge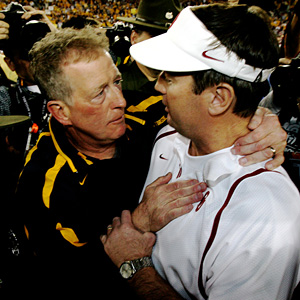 AP Photo/Ross D. FranklinThe last time Bob Stoops was at the Fiesta Bowl, he left with West Virginia interim coach Bill Stewart consoling him.
Ted Miller
: David, let's start with karmic reasons! For one, when everyone thinks one thing, it's inevitably wrong. Second, Oklahoma has a history of flopping in BCS bowl games, losing to opponents great (USC, Florida) and small (West Virginia, Boise State). The Sooners have been hearing non-stop how much better they are than UConn all week. That's been in their heads during preparation. You wonder if they will show up with their A-game on Saturday, no matter how often they claim they are fully and completely motivated. Further, UConn has been hearing about how lousy they are, how they don't deserve to be here. Heck, some want to change BCS rules so an unranked team won't get into a BCS bowl game again! You should expect the Huskies, a well-coached team, to come out focused and angry. We always talk about how important motivation is in a bowl game. That's an area where the Huskies should have a decided edge.
Or do you think this is cracked and the Sooner are going to come out on fire?
David Ubben:
Yeah, for as much as the Huskies have heard they don't belong here, Oklahoma has heard just as much about those famous flops on big bowl stages. Those didn't happen back in the 70s. Plenty of the guys on this team were there or played in the losses to West Virginia and Florida. They want to prove those days are behind them, and close a pretty good season by Oklahoma standards with a win. Also, unlike those teams, which had some of the best players in college football like Tim Tebow, Percy Harvin and Pat White, there's nothing about UConn that's particularly scary or gamebreaking.
Jordan Todman
is solid, but he's not a guy that's going to give Oklahoma nightmares like
Noel Devine
did.
And though teams like Boise State and West Virginia were short on program pedigree like the Huskies, they were also short on losses, where Connecticut has a healthy surplus. All five of those losses came to experienced teams and those five teams have the same number of losses combined (4) as the unranked Huskies have in just this season.
So, if Oklahoma is ready to play, are there any reasons for Sooners fans to be concerned?
Ted Miller:
Well, I think we can all agree that if Oklahoma comes out and plays its best, it's going to win the game. It's simply more talented in nearly every area.
But this is college football, and talent doesn't always carry the day. UConn's recipe for success here isn't revolutionary. It needs to win the turnover battle, probably decisively. It needs to win third down on both sides of the ball. It needs to establish its running game and play keep-away from a potent Sooners offense. It needs to make at least a few plays downfield in the passing game to keep the Sooners defense reasonable honest when it tries to gang up on the line of scrimmage against running back Jordan Todman. And it needs to win the red zone, scoring TDs when it's there and keeping the Sooners out of the end zone when they are there.
What can't happen? UConn can't make mistakes. And it must maintain some pass-run balance to keep the Sooners honest.
So that's a fairly involved scenario for a UConn win. What do the Sooners need to do to prove the experts correct?
David Ubben:
You're right, I think even Connecticut players would admit Oklahoma is the more complete team, but two of the greatest equalizers in football are turnovers and weather. Unfortunately, the three-point shot in college football (a.k.a. a field goal) isn't quite as effective as in basketball.
Since we'll be indoors, Oklahoma can count out that as a factor.
[+] Enlarge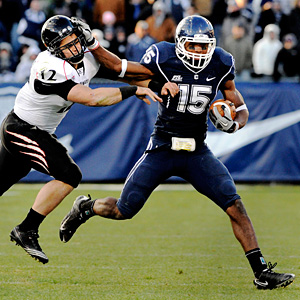 AP Photo/Fred BeckhamConnecticut may need to win the turnover battle to beat Oklahoma. Jerome Junior (15) was one of two Huskies with four interceptions this season.
Turnovers, however, could be an issue. If Oklahoma loses this game, I'd be willing to guarantee that it lost the turnover battle.
Landry Jones
has been much, much more careful with the ball in 2010, but he caught a bit of the turnover bug against Oklahoma State. If Connecticut can do something similar and -- here's the important part -- capitalize off them with points, then we'll have a ball game.
Don't expect the Sooners to put the ball on the ground, though. They've lost just five fumbles this year in 13 games, good for sixth nationally.
So, theories aside, let's get down to it. How does this play out?
Ted Miller:
I think UConn comes out with a sound plan and plays hard. I expect the game to be close at halftime, with the notion of a huge upset still alive. But the Huskies lack the firepower to keep up, touchdown for touchdown, with the Sooners. I expect the UConn defense will start to wear down due to the Sooners fast-paced offense, and that will create big-play opportunities in both the passing and running game for Oklahoma. Once the Sooners get up by double-digits, I don't see the Huskies being capable of loading up on the passing game to mount a comeback.
So let's say 42-24 Oklahoma.
What's your take?
David Ubben:
Yeah, I'm taking Oklahoma 41-20. Oklahoma hasn't seen a back as good as Todman this year that also plays in a power system. The closest thing has been
Cyrus Gray
at Texas A&M, who ran for 122 yards and the Aggies beat Oklahoma.
But unlike A&M, Connecticut doesn't have enough weapons elsewhere to keep up with an Oklahoma offense that it won't be able to stop barring turnovers. Remember, Connecticut is playing without nickel back Mike Lang, too. Oklahoma should be able to move the ball consistently, and while I think it might be close early, I tend to buy into your idea of them being worn down.
I think the Huskies can catch the Sooners on play action a couple times for big plays, but not enough to outscore them.
December, 29, 2010
12/29/10
1:15
PM ET

David Ubben talks with Oklahoma wide receiver Cam Kenney at Fiesta Bowl practice.
December, 29, 2010
12/29/10
10:00
AM ET
SCOTTSDALE, Ariz. -- Oklahoma running back
DeMarco Murray
feels like he's past the injuries that have kept him on the sideline during what would have been a handful of the biggest games of his career. Feels that way anyway.
"I don't think about them, I don't deal with them. I'm far beyond that," Murray says.
Call it the competitor in him talking.
His body language before the Big 12 championship game earlier this month said otherwise. His coach, Bob Stoops, saw it.
Stoops says his four-year back was tentative and apprehensive during warm-ups.
"I could just tell," he said.
[+] Enlarge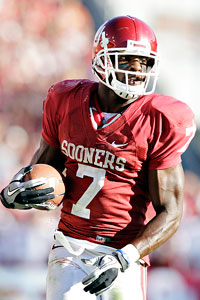 Tim Heitman/US PresswireDeMarco Murray is looking forward to finally participating in a BCS bowl game.
Coach that he is, Stoops made his way over to Murray and threw his arm around him, delivering a reassuring message he hoped would calm the back's nerves and produce a performance Murray has done so many times during his time at Oklahoma.
"'Hey, I haven't had you in one of these games,'" Stoops said. "I said the same thing after. We got you in the Fiesta Bowl -- finally. He makes a difference."
Murray accounted for 128 yards of offense in that game -- bringing his career total to a staggering 5,164 from scrimmage -- but most importantly, he stayed healthy.
"The more he played, the more he started to trust it and feel good," Stoops said.
Finally, when Oklahoma takes the field in its fourth BCS bowl game of Murray's five-year stay in Norman, he'll be on the field with his team.
"It's been a dream come true for me to come here and wear that helmet," Murray said. "I'm definitely going to make a great last impression."
Oklahoma didn't get to those BCS bowls by making excuses, but if it wanted one to explain its five-game losing streak in BCS bowls, Murray's absence as a major contributor in the last two would qualify.
A knee injury against Texas Tech on a freak onside kick play in 2007 knocked him out of wins in Bedlam, the Big 12 title game and a Fiesta Bowl loss to West Virginia. In 2008, he suited up against Missouri in the Big 12 championship game, but injured his hamstring on the opening kickoff and couldn't return for the national championship loss to Florida.
As a freshman, he says it was hard to sit out, but he didn't fully grasp the importance of being in a BCS game until later in his career.
The Sooners are thankful it won't be an excuse this year, and Murray is too. He's missed just one game in the past two seasons, and has been on the field for all 13 games in 2010 -- soon to be 14.
Don't expect him to take his final opportunity for granted.
"This is what you play for," Murray said. "This is what every college player wants to do, be one of those 10 teams that have an opportunity to play in one of these BCS games."
Murray says he now recognizes that a bowl win provides a nice bump for the team in the preseason polls the following year. He won't be able to enjoy those spoils with a win and an ensuing exit stage left to the NFL after the season, but that has little bearing on Murray's mindset heading into Saturday night's contest.
On Tuesday, Stoops rattled off a list of attributes Murray has personified during his career, a rare combination.
"Attitude. Leadership. Toughness. Humility," Stoops said. "He's a guy that isn't worried about 'I' or what touches he gets."
The senior proved it for four years. As a freshman, he earned his carries alongside a more experienced senior, Allen Patrick. In 2008, he rushed for 1,000 yards in a near-even share with Chris Brown. In 2009, another even split with the senior.
Murray was Oklahoma's "guy" in 2010, receiving 172 more carries than the Sooners' next most-used back, even though freshman
Roy Finch
received a near-even share at times in conference play.
Murray enters Saturday's game with 734 career carries, approximately 734 more than his total career complaints about the size of that number.
"He's just always been there and always played hard. Always played tough, physical, reliable," Stoops said.
With 14 carries against Connecticut in the Fiesta Bowl, Murray will have carried the ball more than any other back at Oklahoma other than Steve Owens, and Stoops placed him in the same class with the two backs he could pass on the career carry list during the game.
"It's rare to have a guy that has all of that," Stoops said of his earlier list of desirable attributes. "There's other guys -- Adrian [Peterson] had all of that. I've had some pretty special backs -- Quentin [Griffin]-guys that are like that."
Murray is set to join them when he leaves, if he hasn't already.
He electrified fans with an eye-opening performance in the spring game before he'd even played a real game as a Sooner and proved he was for real with a 65-yard touchdown as a freshman against rival Texas in the Sooners' 28-21 win over the Longhorns.
He closed his career against the Sooners' marquee rivals on a familiar stage, carrying Oklahoma to a 28-20 win with a pair of touchdown runs -- including a highlight-reel worthy tightrope act -- as part of a 115-yard day, his second career 100-yard effort against the Longhorns.
He'll take a new stage in Glendale in a few days. By now, he's due.
December, 28, 2010
12/28/10
7:35
PM ET
SCOTTSDALE, Ariz. -- Oklahoma coach Bob Stoops wrapped up practice a little after 4 p.m. local time before prepping for some more football on Tuesday night.

His plans were simple: head to Sun Devil Stadium for the Insight Bowl, where he'll cheer on his alma mater Iowa, when it takes on Missouri in nearby Tempe later tonight.

"I got my Hawkeye gear ready to go," Stoops said. "Sorry, I know Missouri's in the Big 12, but I'm a Hawkeye, so I gotta go cheer for my Hawks. We walk around all Saturday in the fall yelling, 'Go Hawks!' at home. My wife gets the kids yelling it, so we get to say it for real tonight and mean it."

Stoops, known for his trademark visor, doesn't have a black and gold version with the Hawkeye logo, but he's got a pullover ready for the Iowa season finale.

The whole Stoops family planned to be in attendance, but Stoops wasn't sure if he'd be in the stands or in a suite come kickoff.

"I'm going to get out early before the traffic, but we'll stay for a good part of it," he said.

Stoops was a defensive back at Iowa from 1979-82 before becoming a graduate assistant under famed coach Hayden Fry.

"I was there 10 years, all my brothers went there," he said. "Nobody can blame me for [rooting for the Hawkeyes]. Surely, Gary Pinkel will understand. He won't care, actually."