Big 12:

2011-May-poll-reax
May, 16, 2011
5/16/11
4:15
PM ET
By
ESPN.com staff
| ESPN.com
If you missed my take on our team polls last week,
here you go
. Moving on to the player polls.
[+] Enlarge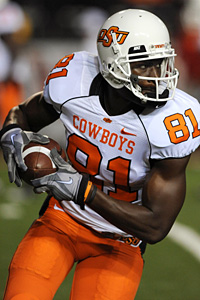 Chuck Cook/US PresswireOklahoma State's Justin Blackmon will open the season as a leading candidate to be the Big 12's offensive player of the year.

Who is the offensive player of the year
?
Comment
: Interesting results here. Personally, I'll be voting Blackmon in the preseason, but if I had to guess, I think Jones wins the official award in December. Blackmon should have a big season, but I don't think he'll be able to duplicate what he did last season with defenses focused on shutting him down and a new, inexperienced playcaller.
Meanwhile, if Jones duplicates what he did last season and Oklahoma wins 11 games, Jones will take this award home, and probably the Heisman.
Christine Michael
's return will be great for the Aggies, but bad for Gray's chances to win the award.
Who is the defensive player of the year
?
Travis Lewis, LB, Oklahoma: 41 percent

Brad Madison, DE, Missouri: 16 percent

Keenan Robinson, LB, Texas: 16 percent
Comment
: Like I wrote last week, this one's wide open. I'll probably be voting for Lewis in the preseason, but at the end of the season, I can't shake the feeling that someone will come out of nowhere to win the award, a la Blackmon a year ago. Lewis is the most established name in the group (which, by the way, should have included Iowa State linebacker Jake Knott. My bad on that one.), but we haven't really seen any of these guys take over a game the way Von Miller or Jeremy Beal could, or even the way Nebraska's secondary worked together to do it.
Which player will have the conference's biggest impact?
Malcolm Brown, RB, Texas: 33 percent

Steele Jantz, QB, Iowa State: 19 percent

Bryce Brown, RB, Kansas State: 19 percent
Comment
: Rather than mix the top offensive and defensive players in this poll, I went with relative unknowns nationally. I was pretty surprised with the results. Brown being the best of this group next season wouldn't surprise me one bit, but I'm going with Arthur Brown, who if I was pressed right now, I'd bet on being the best defensive player on Kansas State's team next season, with apologies to David Garrett.
Malcolm Brown will have brighter lights on him in Austin, but Arthur Brown was making a big impact on the scout team last season and this spring as a likely starter.
Who will be the conference's most improved player
?
Damontre Moore, LB, Texas A&M: 30 percent

Corey Nelson, LB, Oklahoma: 26 percent
Comment
: Both good choices here, and about what I expected. Moore has more space to make an impact with his improvement, but Nelson sounds ready to be a major player at this level. He just has to wait for his opportunity to be a key cog for the defense.
Moore, meanwhile, could have a very different profile nationally this time next year.
Who is the Big 12's toughest
player to replace
?
Von Miller, LB, Texas A&M: 41 percent

Blaine Gabbert, QB, Missouri: 36 percent
Comment
: No love for my pick here, Daniel Thomas. He had just eight percent, the second fewest votes. Gabbert probably would have been my No. 2. Miller's raw size-speed numbers are the hardest to replace or duplicate, but in terms of what he meant to the defense or offense, Thomas and Gabbert should leave behind bigger holes.
Miller was hurt early in season, and (admittedly, Damontre Moore had a lot to with it) the Wrecking Crew held on. There was a lot of talent around Miller and the Aggies should still be fine next seaosn.
Can anyone imagine what Missouri or Kansas State would have looked like without Gabbert or Thomas? Bryce Brown has plenty of hype, but Thomas' production the past two years with so much attention being paid to the line of scrimmage was staggering. He was the Wildcats' entire offense the last two years. Kansas State probably would have won 5-6 games in 2009 and 2010 without him. We'll see how they do with his replacement.
As for Gabbert, Franklin will learn on the go this season, but him trying to do it last season? Scary thought for Tigers fans.
This is a question that, perhaps more than the others, we can't answer until maybe October, but finding out will be fun.
May, 16, 2011
5/16/11
1:15
PM ET
By
ESPN.com staff
| ESPN.com
Thanks to everybody for your participation in our two-day poll festival. Here are the results, plus a few thoughts from yours truly.
These aren't scientific, of course, but can give us a decent indication of readers' thoughts.
[+] Enlarge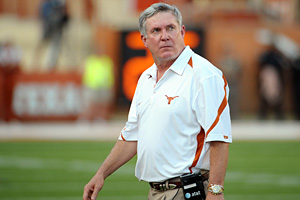 Brendan Maloney/US PresswireBig 12 fans have strong opinions on what's in store this season for Mack Brown and his Texas Longhorns.
Which is the biggest must-see game in the Big 12?
Oklahoma vs. Texas: 38 percent

Oklahoma at Oklahoma State: 33 percent
Comment
: I was pretty surprised at this one. Personally, I leaned toward Bedlam or Texas A&M-OSU, but I never thought Red River would take the No. 1 spot. Perhaps the corny dogs, funnel cakes and fried Snickers had even more draw than I thought.
Red River consistently has one of, if not the best, atmospheres in the Big 12 from year to year. That's in part because of the 50/50 division of the crowd, but also because of the yearly stakes associated with the game. This year, those stakes might not be quite as high, but it would seem the fans have spoken.
Who is the Big 12's most disappointing team?
Texas: 43 percent

Texas A&M: 19 percent
Comment
: I don't play the "hater" card often, if at all, but this poll reeks of the general, conference-wide disdain toward Texas that's only intensified since the realignment saga of last summer. It's hard to see Texas being any more disappointing than it was last season, and the expectations for this season's team are certainly a bit lower. Perhaps we define "disappointing" in different ways, but as someone who pegged the Longhorns to win 7-8 games next season, I'd be surprised if they disappointed beyond that.
Which team will be the biggest surprise
?
Kansas State: 23 percent

Baylor: 22 percent

Texas Tech: 21 percent

Texas: 18 percent

Missouri: 17 percent
Comment
: This was by far the closest poll, but I could see all five of these teams being factors late in the Big 12 race next season. The expectations are so low for Kansas State this season and the ceiling so high, they've been my pick for this poll since the offseason began. Baylor's defense has to be better, but the Bears are finally deep enough to make a run, it's just a matter of doing it.
Is Texas Tech ahead of schedule and good enough on offense to combine with a growing defense to exceed expecations? Plenty of you seem to think so.
Texas' potential is pretty obvious. Missouri's been written off after losing a quarterback, but the Tigers are good enough that James Franklin doesn't have to be transcendent -- he just has to be good -- for Missouri to have a real chance at winning the Big 12. Plenty of possible Cinderellas are lurking below the three contenders, and fans seem to have some confidence in all of them.
Who will win the Big 12
?
Oklahoma: 61 percent

Texas/Oklahoma State: 12 percent
Comment
: No questions here. I'm a little surprised to see Texas get more votes than A&M (even if it was just a few more), but clearly, the fans are buying in to what is some very well-deserved hype for Oklahoma, which has shown the ability over and over again to get the job done. Few stats in this league are more impressive to me than Oklahoma's "seven Big 12 titles with six quarterbacks." Landry Jones seems likely to make it eight with six after this season.
Which Big 12 coach needs to win the most
?
Mack Brown, Texas: 42 percent

Turner Gill, Kansas: 23 percent
Comment
: I stand by what I said earlier this spring: Mack Brown could win four games this season and the choice to return would still be his. When you've done what Brown has done (national title, nine consecutive 10-win seasons), you deserve a pretty long leash.
So "winning" in this case isn't so much about job preservation for Brown as much as it's about legacy preservation. Another season like last year and I do think Brown's tenure at Texas could begin to take on a whole new color -- and not a welcome one.
For Gill, the only way I see him not returning in 2012 is if his team is significantly worse this season than it was last season. And if you watched Kansas last season, that seems near impossible. I still think it'll be at least another year before KU gets back in a bowl game, but Gill signed a nice recruiting class in February and if the Jayhawks can find a quarterback some time soon, they'll make a nice jump.