Big 12:

2012 Big 12 Media Days
July, 25, 2012
7/25/12
9:00
AM ET
Big 12 Media Days have come and gone, but it's time to look back and pass out a few awards from Day 2 at Media Days.
Best performance: Art Briles, Baylor.
Briles repeated as the hit of media days, cracking jokes with nearly every question and drawing constant laughs. Mixing in meaningful answers with funny and interesting analogies helps, too. The WVU Mountaineer owned Day 1, but Day 2 was all about Briles. His response to a question about life on the recruiting trail for Baylor getting more difficult with TCU crashing the Big 12 party? "Shhhh!"
Biggest attraction: Mack Brown, Texas.
Nothing new here, perhaps, but Brown drew by far the biggest crowds of the entire week. Brown can talk with the best of 'em, and reporters were lined up to hear it. Part of it comes with the territory of being the Longhorn in charge, but Brown's personality only intensifies the attention.
Best quote: Dana Holgorsen, West Virginia.
Holgorsen quipped that he didn't need to make any halftime adjustments in the 70-33 Orange Bowl win over Clemson, and instead elected to take in the halftime show, feature the band Train. "I'm a big fan of Train," he said.
Most surprising revelation: Mike Gundy, Oklahoma State
. Gundy never told his team that true freshman Wes Lunt would be their starting quarterback. "I didn't have to. Twitter and all that took care of it for me," Gundy said. "We met -- (offensive coordinator) Todd (Monken) wanted to meet with the quarterbacks individually, so I let him do it -- and they can no more get out of your office and everybody knows."
Best critique: Dana Holgorsen, West Virginia.
Holgorsen hadn't seen the Big 12 preseason media poll on Tuesday, but when informed that Kansas State was sixth, he had a simple response. "Ridiculous. They're pretty good."
Biggest cliffhanger: Charlie Weis, Kansas.
Weis held court well in his introduction to the Big 12 media, but casually noted that yes, he came to Kansas, but he had other job offers that were paying more money. Which begged the question: Which ones? "It's not important. What's important is why did I take this job," Weis said.
Most unexpected gesture: Mack Brown, Texas.
Brown invited 10 opposing cheerleaders up to the stage with him for his time in the print media room, the largest contingent at media days. "I asked the ladies to come in so if I had any hard questions, I would let them support me," he said. "So we'll just ask them to step up and answer any questions that we need here." Brown got thrown a curveball, though, when the first question of the session was posed to the cheerleaders, asking who they wanted as the new Texas quarterback. "They'd want the worst one," Brown said.
Best first impression: Dayne Crist, QB, Kansas.
Crist was honest like his coach, but impressive in handling the Big 12 media for the first time. Crist also noted that this was the first conference media days he'd ever attended. Notre Dame, where Crist played before transferring, is an independent. It was easy to see how his teammates took to their new quarterback so easily.
Best composure: Mike Gundy, Oklahoma State.
In the middle of Gundy's time at the podium, West Virginia's mascot and cheerleaders began a noisy chant next door that drowned out Gundy's answer to a question. He finished, though, unfazed. "I handled that pretty well, that's a pressure situation," Gundy said, adding he hoped his true freshman quarterback could do the same this fall.
Best hair: Joe Madsen, center, West Virginia.
Madsen out-Mohawked TCU quarterback
Casey Pachall
, who had a much milder version on Monday. Madsen had a few inches gelled up and made his way around with a microphone,
interviewing cheerleaders and media members
for West Virginia's account of the day.
Biggest compliment: Mack Brown, Texas.
Texas is known as a place for special defensive backs, but Brown laid out some special praise for
Carrington Byndom
, his returning cornerback. "Carrington will be one of the best defensive backs we've had," he said. That? That's a pretty big deal.
July, 24, 2012
7/24/12
8:41
PM ET
By
ESPN.com staff
| ESPN.com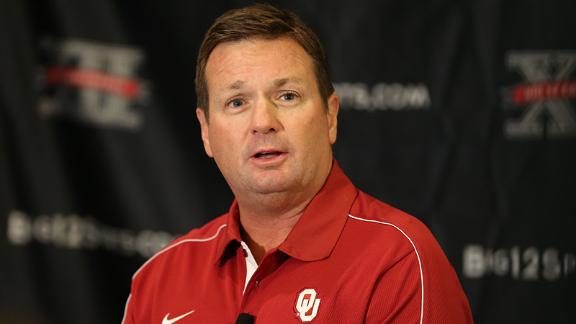 There's a brand-new world in the Big 12, but West Virginia is not the only team that finds itself in uncharted territory. Change is inevitable, and the Big 12 will see plenty of it in 2012.
Carter Strickland and David Ubben wrap up Day 2 of Big 12 media days here
.
July, 24, 2012
7/24/12
5:49
PM ET
By
Carter Stickland
| ESPN.com
DALLAS -- In hindsight,
Jordan Hicks
knows he probably should have stopped.
A cold night in Ames, Iowa, and a tight turn on the turf had conspired to stretch his hamstring beyond its limits. He could no longer cut, didn't have the burst he once had and was closer to 50 percent than 100.
[+] Enlarge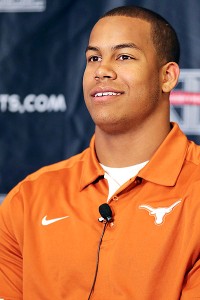 Kevin Jairaj/US PresswireJordan Hicks has struggled with injuries and expectations but is embracing his role at Texas.
"I could've taken a few games off probably," the Texas linebacker said Tuesday at Big 12 media days. "But it was my decision. I felt I could play through it."
Hicks played in all 13 games and finished with 65 tackles. But, despite the durability and the stats, Hicks, even by his own admission, didn't play well. It was clear Hicks, the top linebacker recruit in the nation in 2010, had lost a step.
Now, a year later, he is being asked to step up.
"He can be a real leader," Texas coach Mack Brown said.
Hicks will have to be. Texas, which is deep at every other position on the field, lacks depth and substantial experience at linebacker.
Demarco Cobbs
has played some. Steve Edmonds is a sophomore. Hicks, just a junior, is it. And he knows it. Maybe more importantly, though, Hicks embraces it.
"It comes natural," he said. "It is not something that is forced on me. It comes natural and I'm 100 percent OK with that. I love that role."
"He's ready," added cornerback
Carrington Byndom
. "You can see it."
What no one will be able to see is just how ready Hicks and the rest of the Texas defense are, not at least until the Longhorns travel to Oklahoma State in the fourth week of the season. The prior games are essentially gimmes. But the Cowboys, despite having a freshman quarterback, could present problems to any defense, particularly one that is not sound at linebacker.
That responsibility will fall on to Hicks' shoulders. Brown is confident those shoulders are wide enough to handle the load.
"He is smart," Brown said. "He gets it. He is confident. He is stronger. You can tell that by looking at him. And they all can see him make athletic play after athletic play."
Those plays are what Texas has been waiting for since Hicks was thrust onto the field against Nebraska in 2010. Thrown into the fire against
Taylor Martinez
and the Huskers, Hicks flourished with 11 tackles.
"All the hype going into that game, it was pretty incredible," Hicks said. "I was running around like a chicken with my head cut off but making plays doing it."
Hicks never had more than two tackles in a game the rest of the season. In 2011, he also started strong with 11 tackles against BYU, but the hamstring injury came two games later on the first third down of the second half.
"It was something I probably needed to go through," Hicks said. "I'm able to look back on that year and say I wasn't able to do everything but I was able to learn."
Now the time has come for Hicks to show everyone just what he learned.
July, 24, 2012
7/24/12
3:00
PM ET
By
ESPN.com staff
| ESPN.com
DALLAS --
Shontrelle Johnson
was the most dangerous man in Iowa State's backfield, but he couldn't do much from the sidelines after suffering a neck injury against Texas last season.

After a recovery full of question marks, though, Cyclones coach Paul Rhoads opened his time at Big 12 Media Days by announcing with a smile that Johnson would be back for fall camp when the Cyclones begin on August 3. He finished last season with 247 yards on 51 carries.
"There were doubts until he went through a set of x-rays this summer that had to be looked at by his surgeon, and the fusion that took place that was fully healed, fully fused," Rhoads said, "and that he gave his blessing that he could play."
The injury was serious enough, however, that Johnson had to talk it over with his family whether or not he even planned to return. Within the past week, he gave Rhoads the official nod.
"Now we'll plug him back in," Rhoads said. "Certainly, he'll have to work his way back up the depth chart. He's been out for a while. But we look forward to him doing that. Now, my biggest concern, as he begins that process, is he does it with his head up and fundamentally does all the things to protect himself as he moves forward."
July, 24, 2012
7/24/12
1:00
PM ET
DALLAS -- Texas Tech didn't need any more injuries, but it suffered two big ones in a loss to Missouri in mid-November when receiver
Alex Torres
and running back
DeAndre Washington
tore ligaments in their knees and were out for the rest of the season.
The loss to Mizzou cost the Red Raiders a bowl bid and meant long roads back for Washington and Torres.
After eight months of rehab, those roads are nearing an end.
"He's recuperated. He still has a little limp in his run," Texas Tech coach Tommy Tuberville said of Torres. "He'll be ready to go. Whether he's going to be 100 percent, probably not at the beginning. But he's been cutting and running, probably a little bit longer than the other guys with knee injuries. I think we had eight knee surgeries last year, and he's probably in the middle of the pack of being able to be closer to 100 percent than some of the other guys are."
Washington is one of those other guys, and Tuberville says he's "recovering pretty good," but he'll have to earn a spot on the field ahead of
SaDale Foster
, who emerged as a big threat in the spring.
Torres won't have to do quite as much, especially because fellow receiver
Darrin Moore
's status is "in limbo" following a drunken-driving arrest this offseason, Tuberville said.
"Really, he was our most productive wide receiver," Tuberville said, citing Torres' game against Oklahoma with three touchdown catches and 94 yards to lead the Red Raiders to an upset of the then-No. 1 Sooners.
July, 24, 2012
7/24/12
9:00
AM ET
By
ESPN.com staff
| ESPN.com
DALLAS -- We're halfway through Big 12 media days, but a quiet Day 1 may give way to a much noisier Day 2.
Here's all our coverage from Day 1
.
And
here's our preview if you missed it
.
Today, we'll see a new batch of coaches who are all a bit more talkative than their colleagues who kicked off the festivities Monday.
You can follow along on
the Big 12's site
, or on
the WatchESPN app and ESPN3
.
Here's the schedule:
11 a.m. West Virginia: coach Dana Holgorsen (QB Geno Smith, WR Tavon Austin, DL Will Clarke, C Joe Madsen)
11:30 a.m. Texas: coach Mack Brown (CB Carrington Byndom, LB Jordan Hicks, OL Mason Walters)
12 p.m. Oklahoma State: coach Mike Gundy (DE Cooper Bassett, RB Joseph Randle, OL Lane Taylor)
12:30 p.m. Kansas: coach Charlie Weis (QB Dayne Crist, OL Tanner Hawkinson, DE Toben Opurum)
1 p.m. Baylor: coach Art Briles (QB Nick Florence, OL Ivory Wade, DB Ahmad Dixon, WR Terrance Williams)
Should be fun. Keep it right here to see coverage throughout the day.
July, 24, 2012
7/24/12
8:00
AM ET
By
ESPN.com staff
| ESPN.com
Day 1 has come and gone, and here's the best of what we saw and heard from half the league:
Biggest attraction:
Jon Kimble, The West Virginia Mountaineer
. The Big 12 mascots were in attendance on Monday to shoot a commercial, but the newest one is the only mascot who can talk. He did a whole lot of it on Monday, explaining his outfit, meeting with media and generally spreading the word of the blue and gold. He was a hit, even though his powder horn was empty after airport security made him remove the gunpowder for his gun, easily the biggest of any Big 12 mascot. "I'm surprised they're letting him run around here with a musket," Oklahoma coach Bob Stoops joked. He showed off his authentic coonskin cap,
letting at least one media member (ahem) try it on
, and even talked trash to Stoops before the day had begun.
Biggest absentee(s): Missouri and Texas A&M.
Neither school was mentioned much on Monday, even in passing. The only mention on stage came from Texas Tech coach Tommy Tuberville, who lost two starters due to injuries suffered on Missouri's artificial turf, which came under criticism late last season. It "was not conducive really to being safe," said Tuberville. The Tigers replaced the turf this summer.
Biggest trend: Quarterbacks getting married.
It wasn't a very newsy day at Big 12 media days, where the league didn't announce an official new TV deal or have to answer questions about stability. Instead, two of the league's quarterbacks showed up with wedding rings. Kansas State's
Collin Klein
and Oklahoma's
Landry Jones
both tied the knot this summer. Jones was outed by his center,
Ben Habern
, as the worst dancer at his wedding, but Klein's came and went without a speech from the Big 12's resident silver fox, Bill Snyder. "That wasn't my day," Snyder said.
Best quote: Habern on his newly married QB.
The biggest difference between single Jones and married Jones? "He's a lot happier now. It's not hard to figure out why."
Saddest moment: Paul Rhoads revealing a clean-shaven face.
There was no moment of silence before the Iowa State coach began answering questions from the media, but there should have been. Rhoads was the proud owner of a strong salt-and-pepper beard all offseason, but he fell in line with the rest of the Big 12 coaches before media day, showing up with nary a hair on his face. Bring it back! Even his players were upset at the loss. LB
A.J. Klein
was rocking shoulder-length hair of his own, and he wants to see the beard this fall.
Second-best quote: Bill Snyder, Kansas State.
Was he surprised about Klein maturing into one of the league's biggest stars last season? "I'm too old to be surprised." Snyder said. He followed it up even stronger. "Believe it or not, it's not my modus operandi to place expectations on young guys in regards to their performance level." And you wonder why Kansas State constantly overachieves relative to its recruiting talent?
Here's hoping Day 2 is a little more interesting than a quiet Day 1.
July, 23, 2012
7/23/12
7:27
PM ET
By
ESPN.com staff
| ESPN.com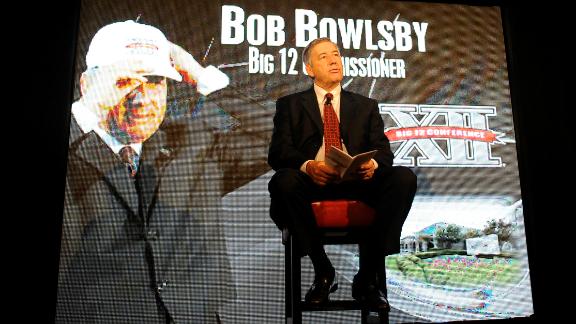 From newfound stability to TCU finding a secure home to OU shoring up its defense, David Ubben & Co. wrap up
Day 1 of Big 12 media days
.
July, 23, 2012
7/23/12
3:00
PM ET
DALLAS -- Texas Christian had the shortest commute to Big 12 media days.
But the private school in Fort Worth, Texas, certainly had the longest trip in finally making it here.
"Obviously it has been a long journey for us," said TCU coach Gary Patterson. "We have been through a lot of different conferences along the way."
[+] Enlarge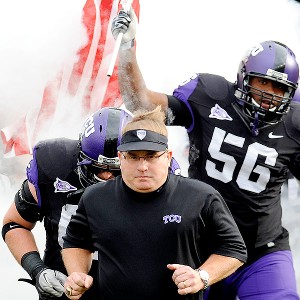 AP Photo/Matt StrasenCoach Gary Patterson has compiled a 109-30 record at TCU.
Elizabeth Taylor had fewer marriages. Seriously, just in the past 18 months TCU divorced and tied the knot with three different conferences. But the key is the Horned Frogs married up each time -- from the Mountain West to a quick annulment with the Big East and finally, now, with the Big 12. The line for the money dance queues to the left.
Now as for two-stepping through the conference like it has every other on Patterson's watch? Well, that is not so likely. When starting offensive guard
Blaize Foltz
is blinded by the lights just coming up the escalator in the Westin Hotel at Big 12 media days ("I got taken aback for a second," said Foltz), that's a pretty good indication there might be a slight learning curve. Or in the words of Patterson, a mountain to climb.
"When you're sitting on the side of the mountain you don't rest," Patterson said. "We've got to keep climbing the mountain."
There are more than a few issues that could stymie the Horned Frogs' ascent, the first of which is though the Big 12 is not Everest (read: SEC), it certainly reaches higher into the clouds than anything TCU has scaled before.
"You've got to be prepared," said TCU defensive end
Stansly Maponga
. "The speed is going to be different."
Everything is going to be different: opponents, stadiums and, oh yeah, money. Texas Christian now joins Texas Tech and Iowa State as the three teams with the smallest budgets in the Big 12. The Horned Frogs had an overall budget of $56 million according to their 2010-11 equity in athletics disclosure documents. Point of reference: Texas has an overall athletic budget of $150 million.
"That's OK," Patterson said. "If you look at what we've had to accomplish and the facilities, we were walking a mile and a half to practice 15 years ago when [LaDainian Tomlinson] was our starting running back. And now our practice fields are right outside. So there's a lot of things that stand in front of us but I would say as a university and as a group totally that we do feel like that we're a little bit more stable in what we're doing."
But they are still standing in a corner when it comes to recognition in the conference and really in the state.
"You don't see a lot of TCU shirts in stores," said Foltz. "We have a UT store in Fort Worth. That's kind of how it goes. You gotta show them respect."
The well-worn mantra of lack of respect is what TCU has stacked on its shoulder this year.
"Everybody expects us not to be able to handle the grind," Foltz said. "When you hear that you just kind of nod and say, 'Thank you.'"
"People said: 'You're not going to be playing New Mexico anymore. You're not going to be playing Vegas anymore,'" Patterson continued. "Yeah, but those were 50-point ball games. What's reality? Because all you have to do is win by one point to get to where you need to go."
Where Patterson understands he needs to go is back to the high schools in Texas. And he has already started to make inroads there. Although TCU only has one four-star commitment in the 2013 class (Paul Whitmill a linebacker from Bastrop, Texas/Bastrop), Patterson said he has been able to be more judicious in the level of athlete he selects and that a higher quality of athlete on campus than he has in the past.
That, of course, is the future. For the present Patterson has to maintain the mindset that he has established in 13 years with the Horned Frogs.
"… If I said, well, now we're in the big time, then what I'm saying the Rose Bowl game didn't count, that playing in the Fiesta Bowl didn't count, winning all the ball games -- I mean, this senior class is 36-3,'' Patterson said. "We all talk about wins, but the bottom line to it is their three losses are to Boise State in the Fiesta Bowl to Baylor by two points and SMU in overtime, two rivalry games. So they understand how to win.
"How does that equivocate and how does it go forward?" he continued. "We don't know. We'll have to go prove it just like we have to go prove it every year.''
July, 23, 2012
7/23/12
12:00
PM ET
By
ESPN.com staff
| ESPN.com
So much talking today ...
July, 23, 2012
7/23/12
9:00
AM ET
By
ESPN.com staff
| ESPN.com
DALLAS -- This morning marks the unofficial start of football season. Unofficial in the strictest sense of the word, of course. But now is not a time for debate.
You know it's a whole new world in the Big 12 when a man in a coonskin cap is milling around the lobby of media days. Haven't seen any Frogs yet. My guess is we will soon.
Preseason camps open across the Big 12 during the first week of August, but today, half of the Big 12's coaches will bring a caravan of 3-4 players to meet the league's media. The other half will follow on Tuesday.
I'll be here to cover it all. Keep it right here for coverage throughout the week. We'll have columns, videos, notes and plenty more as the league's teams come and go.
Want to know what to expect? Here's
our comprehensive Big 12 Media Days preview
.
Want to follow along with us? The Big 12's website will offer a live online stream and coverage.
Here's where you can find it
.
You
can also see coverage on WatchESPN
on your phone, iPad or computer.
Commissioner Bob Bowlsby
will get the party started with a statement and a Q&A session from the podium at 10 a.m. ET.
It should be plenty of fun. The coaches will take the podium at 11 a.m. ET.
Here's the full schedule for Monday. Players who will meet with the print media later in the day are listed in parentheses, and all times are ET:
Keep it right here for coverage throughout the week. We'll have tons.