Big 12:

2014 Big 12 spring depth chart analysis
May, 9, 2014
5/09/14
9:00
AM ET
Since last week, we've been
analyzing the depth charts
of every Big 12 team coming out of the spring. We conclude the series with Kansas' projected post-spring depth chart.
OFFENSE
QB: Montell Cozart (So.)
,
Jake Heaps
(Sr.),
Michael Cummings
(So.),
T.J. Millweard
(So.)
[+] Enlarge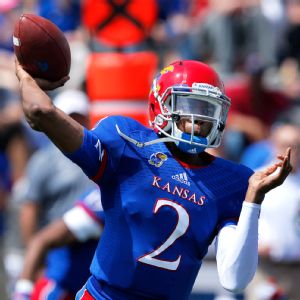 AP Photo/Orlin WagnerMontell Cozart was the clear choice at quarterback for the Jayhawks this spring.
Cozart was clearly the Jayhawks' best quarterback during the spring game, so it made perfect sense when Kansas coach Charlie Weis named him the starter shortly after spring practice. If the sophomore continues to develop as a passer, he could help KU's offense take a clear step forward. Heaps' status is unclear but, with Weis making it clear Cozart is the man, there's no reason for him to stick around. Millweard and Cummings should be solid behind Cozart. It's not the best group of quarterbacks in the league, but it's not the worst, either.
RB: Brandon Bourbon (Sr.)
,
Darrian Miller
(Jr.),
Taylor Cox
(Sr.)
Bourbon had a solid spring and Miller returns after finishing second on the squad with 322 rushing yards in 2013. Yet it won't be easy to replace
James Sims
, who was a mainstay in KU's backfield for four seasons. Freshmen
Corey Avery
and
Traevohn Wrench
join
De'Andre Mann
as newcomers in the summer. KU should be able to replace Sims with a combination of these six running backs and its running game should be solid, particularly with Cozart providing a running threat at quarterback as well.
WR: Nick Harwell (Sr.), Tony Pierson (Sr.),
Rodriguez Coleman
(Jr.),
Justin McCay
(Sr.),
Andrew Turzilli
(Sr.)
TE: Jimmay Mundine (Sr.)
,
Ben Johnson
(RFr.)
With Harwell and Pierson, the Jayhawks could have two of the Big 12's top big-play creators this fall. Both guys can be a handful in the open field and can turn a short gain into a long touchdown. Coleman came on in the spring and could provide another target for Cozart. The Jayhawks receivers looked solid in the spring. Now they just need to carry that momentum into actual production in the fall or end up being considered one of the conference's worst groups of receivers again.
C: Keyon Haughton (Jr.),
Joe Gibson
(RFr.)
G: Ngalu Fusimalohi (Sr.)
,
Joey Bloomfield
(RFr.)
G: Mike Smithburg (Sr.)
,
Bryan Peters
(Jr.)
T: Damon Martin (So.),
Zach Fondal
(Sr.)
T: Pat Lewandowski (Sr.)
Brian Beckmann
(So.)
The Jayhawks' offensive line situation seems fairly fluid, so expect KU to continue to search for its five best offensive linemen during preseason camp. Fusimalohi is the best of the bunch and anchors the offensive front. This group had its moments last season, but needs to play better for KU's offense to really take off.
DEFENSE
DL: Ben Goodman (So.),
Tyler Holmes
(So.)
DL: Andrew Bolton (Jr.)
,
T.J. Semke
(Jr.)
DL: Keon Stowers (Sr.),
Tedarian Johnson
(Sr.)
Goodman and Stowers are returning starters for the Jayhawks defense. Stowers is solid in the middle and Goodman has the talent to break out in 2014. The unit has a solid group of starters, but needs additional depth.
BUCK: Michael Reynolds (Sr.),
Marcus Jenkins-Moore
(Jr.)
Victor Simmons
(Sr.)
LB: Ben Heeney (Sr.),
Courtney Arnick
(So.)
LB: Jake Love (Jr.)
,
Schyler Miles
(Jr.)
This is a solid and deep group of linebackers, with several players competing for a job. Outside of Heeney and Love, nobody's job could be safe, with players such as Miles and Arnick looking like contributors.
CB: Dexter McDonald (Sr.),
Ronnie Davis
(Jr.)
CB: JaCorey Shepherd (Sr.),
Michael Mesh
(Jr.)
NB: Kevin Short (Jr.),
Greg Allen
(So.)
S: Cassius Sendish (Sr.),
Tevin Shaw
(So.)
S: Isaiah Johnson (Jr.),
Anthony Smithson
(So.)
The Jayhawks have a solid secondary full of playmakers. McDonald and Shepherd can hold their own at cornerback, and Sendish and Johnson are a pair of active safeties. Short was one of the stars of KU's spring practice. This starting unit could rank among the Big 12's best if it continues to improve heading into the fall.
May, 8, 2014
5/08/14
9:00
AM ET
Since last week, we've been
analyzing the depth charts
of every Big 12 team coming out of the spring. Thursday, we continue with the
Iowa State Cyclones
, who released an official two-deep after finishing up spring ball last month:
QB: Grant Rohach (So.) OR Sam B. Richardson (Jr.) OR Joel Lanning (RFr.)
[+] Enlarge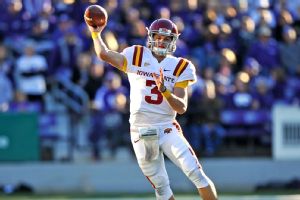 Peter G. Aiken/Getty ImagesGrant Rohach has the edge in Iowa State's quarterback derby right now, but the competition is far from over.
Building off his strong close to the 2013 season, Rohach had the strongest spring of the three quarterbacks to take an edge in the competition into the summer. The Cyclones, however, are holding off on naming a starter until at least mid-August. That could give Lanning, who has impressed the new offensive regime with his arm strength and his toughness, time to narrow the gap with Rohach before the start of the season.
RB: Aaron Wimberly (Sr.)
,
DeVondrick Nealy
(Jr.)
The name of the game here is health. When healthy, Wimberly is one of the best running backs in the league. He was finally healthy again this spring and resembled the running back who rushed for more than 100 yards on Texas. Nealy's emergence gives the Cyclones the luxury of using more discretion when it comes to how many touches to give to Wimberly.
WR (X): Quenton Bundrage (Jr.)
,
D'Vario Montgomery
(So.)
WR (Z): P.J. Harris (So.)
,
Tad Ecby
(Jr.)
Slot (F): Jarvis West (Sr.)
,
Damien Lawry
(So.)
TE: E.J. Bibbs (Sr.)
,
Ben Boesen
(Jr.)
For the Cyclones to get to a bowl game and beyond, they really need Bundrage to be a gamebreaker week-to-week instead of every other game. Too many times Bundrage disappeared last season, and he did it again in the spring game, finishing the scrimmage without a catch. The QBs have played a part in Bundrage's inconsistency, but so has Bundrage. Elsewhere, the Cyclones had several receivers step up this spring, notably Harris, Brett Medders and Montgomery. More help is on the way in blue-chip freshman
Allen Lazard
. If Bundrage plays up to his potential game to game, this could be a very dangerous collection of pass-catchers, which includes Bibbs of course.
LT: Brock Dagel (Jr.)
,
Jake Campos
(RFr.)
LG: Oni Omoile (Jr.)
,
Jamison Lalk
(Jr.)
C: Tom Farniok (Sr.)
,
Ben Loth
(Sr.)
RG: Daniel Burton (So.)
,
Ryan Glenn
(Fr.)
RT: Jacob Gannon (Sr.)
,
Jacob Dunning
(So.)
The Cyclones actually have the second-most returning starters in the Big 12 up front, trailing only Oklahoma. That isn't just quantity, either. Farniok is a four-year starter who is finally healthy again after an injury-plagued junior season. Dagel suffered an infection after a cut during the spring, but he has the look of a cornerstone left tackle. The new offensive staff also was pleased with the intangibles Burton brought to the line, including toughness and a high football IQ. If the Cyclones can stay healthy up front, and Dagel continues to progress, this could be a top-half-of-the-league offensive line.
DEFENSE
DE: Mitchell Meyers (So.)
,
Darius White
(So.)
DT: Robby Garcia (RFr.)
,
Pierre Aka
(So.)
DT: Devlyn Cousin (So.)
,
Vernell Trent
(RFr.)
DE: Cory Morrissey (Sr.)
,
Gabe Luna
(Jr.)
Morrissey and Meyers dominated off the edge in the spring game, but the spring was not a positive for the rest of the D-line. The Cyclones booted tackles
Rodney Coe
and
David Irving
, leaving the inside thin and inexperienced. Iowa State did get 2013 starting nose guard
Brandon Jensen
back following spring ball after he originally quit the team in December. That will help.
[+] Enlarge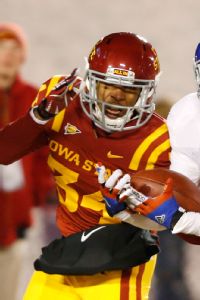 David Purdy/Getty ImagesNigel Tribune is solid at cornerback, but the rest of the Cyclones' secondary is in flux.
SLB: Drake Ferch (Sr.)
,
Jared Brackens
(Sr.)
MLB: Alton Meeks (RFr.)
,
Kane Seeley
(So.)
WLB: Jevohn Miller (Sr.)
,
Levi Peters
(So.)
Transfer
Jordan Harris
led the juco ranks in tackles last year, but Meeks, a former QB, won the starting job out of spring in the middle. Brackens and nickelback Ferch, a walk-on who also surprised this spring, will rotate on the strong side according to down and distance. When
Luke Knott
returns from a hip injury, he will likely take over as the starter on the weak side after winning the job last year as a freshman.
CB: Nigel Tribune (So.)
,
Matthew Thomas
(Sr.)
CB: Sam E. Richardson (Jr.)
,
Kenneth Lynn
(Jr.)
SS: T.J. Mutcherson (So.)
,
Darian Cotton
(Jr.)
FS: Kamari Cotton-Moya (RFr.)
,
Kamari Syrie
(RFr.)
Iowa State has a very good prospect in Tribune surrounded by a whole bunch of questions marks in its secondary. Richardson and Lynn will probably rotate on the opposite side. After losing starters
Deon Broomfield
and
Jacques Washington
, safety is a complete unknown, especially after key juco transfer Devron Moore left in the middle of spring ball after getting homesick (it's unknown if he'll return). Instead, Iowa State will be relying on one young safety coming back from a torn Achilles (Cotton-Moya), and another who sprained his MCL in the spring game (Mutcherson). Safety is a position the Cyclones can ill-afford any more adversity at.
May, 7, 2014
5/07/14
9:00
AM ET
Over the next two weeks, we'll be analyzing the
depth charts of every Big 12 team
coming out of the spring. West Virginia released its depth chart after the spring but not every question was answered during the 15 practices as the Mountaineers have several position battles, including quarterback, that will last into August.
OFFENSE (starters in bold)
QB: Clint Trickett (Sr.),
Logan Moore
(Sr.) or
Paul Millard
(Sr.) or
Skyler Howard
(Jr.)
Trickett missed the spring with an injury yet emerged atop the depth chart. It's fair to say the Mountaineers still have issues at quarterback. Coach Dana Holgorsen is confident his team will see someone step up. Regardless, the competition should last into August and incoming freshman
William Crest
will enter the mix this summer.
[+] Enlarge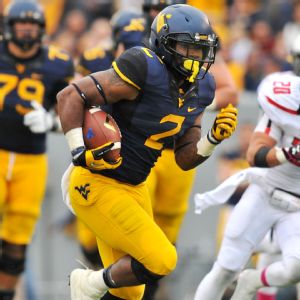 Dan Friend/USA TODAY SportsDreamius Smith leads a deep group of running backs.
RB: Dreamius Smith (Sr.),
Wendell Smallwood
(So.),
Rushel Shell
(So.),
Dustin Garrison
(Jr.),
Andrew Buie
(Jr.)
FB/TE: Cody Clay (Jr.),
Elijah Wellman
(RFr.)
Arguably the deepest position group in the entire Big 12. The Mountaineers go five deep with running backs who could be featured backs on several teams in the league and they will add four-star signee
Donte Thomas-Williams
into the competition this summer. Expect WVU to use its running backs together at times this fall. At fullback, Clay is underrated and could be a valuable weapon.
WR (X): Mario Alford (Sr.)
,
Devonte Mathis
(So.),
Shelton Gibson
(RFr.)
IR (H): Daikiel Shorts (So.),
Jacky Marcellus
(RFr.)
R (Y): Jordan Thompson (Jr.),
Vernon Davis
(So.)
WR (Z): Kevin White (Sr.),
Kj Myers (Jr.),
Ricky Rogers
(Fr.)
WVU has athletes and playmakers at receiver, they just need a consistent quarterback to get those guys involved. There's no
Tavon Austin
or
Stedman Bailey
-- proven all-conference performers -- but Shorts has terrific upside and Alford came on at the end of the 2013 campaign. This is a solid group that will make plays if the quarterback situation sorts itself out.
LT: Adam Pankey (So.),
Sylvester Townes
(Jr.)
LG: Quinton Spain (Sr.)
,
Russell Haughton-James
(Jr.)
C: Tyler Orlosky (So.),
Tony Matteo
(So.)
RG: Mark Glowinski (Sr.)
,
Stone Underwood
(Jr.)
RT: Marquis Lucas (Jr.),
Michael Calicchio
(Sr.)
Spain is a great place to start at guard but the Mountaineers need this unit to improve if they hope to return to a bowl game this fall. Inexperience is a major concern with Pankey, Lucas and Orlosky moving into the starting lineup with seven combined career starts.
DEFENSE
DE: Dontrill Hyman (Sr.)
,
Noble Nwachukwu
(So.)
NT: Kyle Rose (Jr.),
Darrien Howard
(So.)
DE: Christian Brown (So.),
Eric Kinsey
(Jr.)
Will Clarke
and
Shaq Rowell
are going to be extremely tough to replace. Rose moves inside to fill the void left by Rowell and should be solid in the middle but the new starters alongside him will have play well if the Mountaineers hope to improve on their 33.3 points allowed and 455 yards allowed per game in 2013. Brown returns from a foot injury a year ago and has the potential to be a force as early as this season. This unit has a ways to go if it hopes to find a place among the Big 12's top defensive line units.
SAM: Isaiah Bruce (Jr.),
Edward Muldrow
(Jr.)
MIKE: Nick Kwiatkoski (Jr.)
,
Al-Rasheed Benton
(RFr.)
WILL: Brandon Golson (Sr.)
,
Sean Walters
(So.)
Bruce has made the move from the SPUR position to the SAM linebacker spot but should continue to be a key playmaker in WVU's defense. Add Kwiakoski and Golson and the Mountaineers have one of the better linebacker groups in the Big 12.
RCB: Daryl Worley (So.)
,
Keishawn Richardson
(Jr.),
Nana Kyeremeh
(So.)
LCB: Ishmael Banks (Sr.),
Terrell Chestnut
(Jr.),
Brandon Napoleon
(So.)
FS: Jeremy Tyler (So.)
,
Ricky Rumph
(Jr.)
B
S: Karl Joseph (Jr.)
,
Jarrod Harper
(So.)
SPUR: K.J. Dillon (Jr.),
Malik Greaves
(RFr.)
Don't be surprised if Worley inserts his name among the Big 12's top cornerbacks this fall, he's that good. Tyler slides into the spot vacated by
Darwin Cook
and looks like a future playmaker in the secondary while Joseph and Banks have combined to start 39 games during their careers. It's a good combination of youth and experience. WVU doesn't have one of the Big 12's top secondary units but it has the talent to rise to that level in 2014.
May, 6, 2014
5/06/14
9:00
AM ET
Over the next two weeks, we'll be analyzing the
depth charts of every Big 12 team
coming out of the spring. We continue today with
TCU
, which released an official two-deep after wrapping up spring ball. After its recent addition at QB, here's our take on what the Horned Frogs' depth chart now looks like:
OFFENSE (projected starter in bold)
QB: Matt Joeckel (Sr.)
OR
Trevone Boykin (Jr.)
,
Zach Allen
(RFr.)
Joeckel announced last month he will
transfer from Texas A&M to TCU
, but the paperwork isn't officially done so TCU has made no formal announcement. When he does arrive in Fort Worth, expect Joeckel to become the frontrunner for the QB spot due to his experience running the Air Raid offense. Boykin will fight for his job but is versatile enough to be a legitimate contributor at receiver. Freshmen
Foster Sawyer
and
Grayson Muehlstein
arrive in the summer.
[+] Enlarge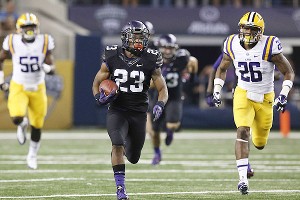 Jim Cowsert/Fort Worth Star-Telegram/Getty ImagesB.J. Catalon is the most experienced player in a crowded, unsettled TCU backfield.
RB: B.J. Catalon (Jr.) OR Kyle Hicks (RFr.) OR Aaron Green (Jr.) OR Trevorris Johnson (RFr.)
The three-OR move isn't about Gary Patterson refusing to tip his hand. It's more a sign that the Horned Frogs will rely on a committee of backs, and by the end of spring Catalon, Hicks and Green had all suffered injuries. The competition to find that No. 1 back continues in the fall, and freshman
Shaun Nixon
will be in the mix then, too.
WR-X: Ja'Juan Story (Jr.) OR Kolby Listenbee (Jr.)
WR-H: Ty Slanina (So.),
Deante' Gray
(Jr.)
WR-Y: David Porter (Sr.)
,
Cameron Echols-Luper
(So.),
Griffin Gilbert
(So.)
WR-Z: Josh Doctson (Jr.)
,
Jordan Moore
(Jr.)
TCU will need several of these guys to step up to make the high-speed passing game thrive. Two-year starter
Brandon Carter
is not listed on the post-spring depth chart but is still a member of the program. The athletic Moore might've finally found his position after moving over from running back. Gilbert moved over from tight end and could be a factor, while
Cliff Murphy
and
Buck Jones
are now the options at tight end in short-yardage situations. This group gets better and deeper in the summer when touted signees
Emanuel Porter
and
Corey McBride
show up.
LT: Halapoulivaati Vaitai (Jr.),
Tayo Fabuluje
(Sr.)
LG: Jamelle Naff (Jr.)
,
Bobby Thompson
(Jr.)
C: Joey Hunt (Jr.)
,
Brady Foltz
(Jr.),
Patrick Morris
(So.)
RG: Frank Kee (Jr.)
,
Matt Pryor
(RFr.)
RT: Joseph Noteboom (RFr.)
,
Aviante Collins
(Jr.)
Patterson felt much better about the strength and depth of this group following spring ball. Noteboom was the surprise of the group, and Kee made a big impression coming out of junior college. Collins was listed as the starter at left tackle entering the spring, but "Big V" Vaitai impressed, and Fabuluje should contribute again after leaving the team last fall. Don't be surprised if Thompson eventually wins the job at left guard. TCU adds four freshmen, and each one could redshirt if the depth holds up.
DEFENSE
LE: James McFarland (Jr.)
,
Josh Carraway
(So.),
Bryson Henderson
(RFr.)
DT: Chucky Hunter (Sr.)
,
Mike Tuaua
(Jr.)
DT: Davion Pierson (Jr.)
,
Tevin Lawson
(So.)
RE: Devonte Fields (So.),
Terrell Lathan
(Jr.)
[+] Enlarge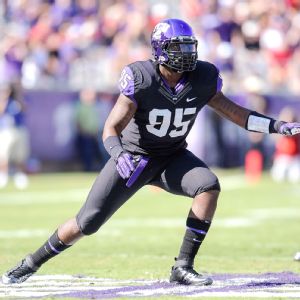 Jerome Miron/USA TODAY SportsNow healthy, Devonte Fields is working to returning to his All-Big 12 form of 2012.
Fields is listed as the backup right end on TCU's official post-spring depth chart, but that's more a measure for motivation. The former Big 12 AP Defensive Player of the Year is healthy and hungry. Hunter and Pierson forms one of the Big 12's better defensive tackle combos. McFarland, Carraway and Lathan will all compete for the left end job, and Lathan and Tuaua can play several spots on the line.
MLB: Jonathan Anderson (Sr.)
,
Paul Whitmill
(RFr.)
SLB: Marcus Mallet (Sr.) OR Paul Dawson (Sr.)
,
Sammy Douglas
(So.)
The Horned Frogs bring back their entire linebacker corps this fall and have some nice pieces for these two starting spots. Dawson will continue to push Mallet and let the team with 91 tackles in 2013. It'll be interesting to see what Douglas, a special teams contributor last season, and Whitmill can provide in their second year in the program.
CB: Kevin White (Sr.),
Travoskey Garrett
(Jr.)
CB: Ranthony Texada (RFr.)
,
Cyd Calvin
(RFr.)
SS: Sam Carter (Sr.),
Denzel Johnson
(So.),
George Baltimore
(RFr.)
FS: Derrick Kindred (Jr.)
,
Geoff Hooker
(Sr.),
Steve Wesley
(RFr.)
WS: Chris Hackett (Jr.)
,
Kenny Iloka
(Jr.)
With
Jason Verrett
gone, White is the leader of the corners now, and TCU needs several others to be ready to contribute by August. Texada was consistently praised by his coaches this spring and is the favorite to take the vacant starting spot after redshirting last season. Carter, Hackett and Kindred form a talented safety trio, but don't sleep on Iloka and Johnson. Both are expected to see the field a lot in 2014.
May, 5, 2014
5/05/14
9:00
AM ET
Since last week, we've been analyzing
the depth charts of every Big 12 team
coming out of the spring. Monday, we continue with the
Texas Tech Red Raiders
, who released an official two-deep after finishing up spring ball last month:
OFFENSE (starters in bold)
[+] Enlarge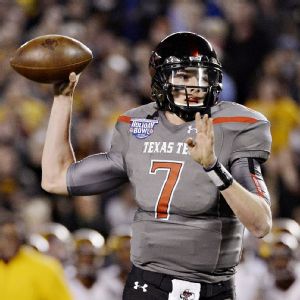 Donald Miralle/Getty ImagesDavis Webb had a great spring and returns to lead the offense.
QB:
Davis Webb (So.)
This one is pretty simple. Webb, who broke out in the bowl game, is loaded with potential and had a fabulous spring with 13 touchdowns and no turnovers over three open scrimmages. With no other QB on the roster, incoming freshman
Patrick Mahomes
will assume the backup spot by default.
RB:
DeAndre Washington (Jr.)
,
Quinton White
(So.)
With
Kenny Williams
taking over as the starting "Raider" linebacker, Washington takes over as the starting running back. Washington has two seasons of experience and was just as productive out of the backfield as Williams was in 2013. White will have to perform in a backup role to fend off incoming four-star freshman
Justin Stockton
.
WR: D.J. Polite-Bray (So.)
,
Devin Lauderdale
(So.)
IR: Jakeem Grant (Jr.)
,
Brent Mitcham
(Sr.)
IR: Bradley Marquez (Sr.)
,
Jordan Davis
(Sr.)
WR: Reginald Davis (So.)
,
Derreck Edwards
(Jr.)
The playmaking potential is boundless in the speedy trio of Grant, Marquez and Davis, who combined for four touchdowns in the National University Holiday Bowl. Polite-Bray can fly, too, and made a living hauling in bombs downfield during the spring to emerge as the fourth starting receiver. With bulky tight end
Jace Amaro
and
Eric Ward
(who ranked 29
th
in the Big 12 in yards per catch), the Red Raiders struggled at times last season to stretch the field. With a major upgrade in speed across the board at the position, that won't be an issue in the fall.
Jordan Davis
gives Tech a reliable fifth option inside when Kliff Kingsbury goes to his five wide receiver sets.
LT: Le'Raven Clark (Jr.)
,
Poet Thomas
(RFr.)
LG: Alfredo Morales (Jr.)
,
James Polk
(Sr.)
C: Jared Kaster (Jr.)
,
Tony Morales
(Jr.)
RG: Trey Keenan (So.)
,
Baylen Brown
(So.)
RT: Rashad Fortenberry (Sr.)
,
Josh Outlaw
(RFr.)
The offensive line two-deep could undergo a transformation once junior-college transfer
Dominique Robertson
arrives in the summer. Offensive line coach Lee Hays has said that he would consider swinging Clark to guard to boost the run game, should Robertson show up ready to play. Hays was given this option after Fortenberry was awarded another year of eligibility in the spring. At the moment, right guard is the biggest question up front, but if Clark were to slide inside, he and Morales could team up to give the Red Raiders a powerful run-blocking duo at the guard spots.
DEFENSE
DE: Branden Jackson (Jr.)
,
Zach Barnes
(So.)
NG: Jackson Richards (Jr.)
,
Donte Phillips
(Jr.)
DT: Demetrius Alston (Jr.)
,
Keland McElrath
(Jr.)
This appears to be the biggest question on the entire team. Jackson is coming off a solid sophomore season, with nine tackles for loss and four sacks. But Tech, which finished next-to-last in run defense in 2013, got pushed around in Big 12 play with the unit its currently projecting to start. That's why Tech signed four juco defensive linemen --
Brandon Thorpe
,
Marcus Smith
,
Rika Levi
and McElrath – in its 2014 class. To toughen up their front, the Red Raiders will need at least a couple of those jucos to pan out.
BANDIT: Pete Robertson (Jr.)
,
Kris Williams
(So.)
WLB: V.J. Fehoko (Sr.)
,
Malik Jenkins
(So.)
MLB: Sam Eguavoen (Sr.)
,
Micah Awe
(Jr.)
RAIDER: Kenny Williams (Sr.)
,
Austin Stewart
(Sr.)
This is a unit that really came together over the spring. What started as an experiment could result in the Red Raiders uncovering their answer at the "Raider" linebacking spot vacated by
Terrance Bullitt
. Even though he sat out the spring game, Williams had a tremendous run of practices at the position and was rewarded with a spot atop the depth chart. Elsewhere, the Red Raiders are in good shape. Robertson was an honorable mention All-Big 12 performer last season, and Eguavoen and Awe were third and sixth on the team in tackles. Some big-time help could be on the way this summer, too. Former Ohio State linebacker
Mike Mitchell
, who was an ESPN 300 recruit last season, attended Texas Tech's spring game and could be in line for a hardship waiver to play immediately at his next school.
BC: Justis Nelson (So.)
,
Thierry Nguema
(So.)
FS: J.J. Gaines (So.)
,
Jalen Barnes
(RFr.)
SS: Keenon Ward (So.)
,
Dorian Crawford
(Sr.)
FC: Dee Paul (So.)

The Red Raiders have reason to be cautiously optimistic about their young secondary. Gaines was performing at a high level last fall before suffering a season-ending shoulder injury five games into the year. He was a limited participant during spring ball and should be good-to-go again for the fall. Ward had an MVP spring, laying out several receivers with big hits to solidify the other safety job. Nelson returns after starting as a true freshman, essentially leaving the field cornerback spot as the only lingering competition.
Nigel Bethel II
, the four-star gem of the 2014 recruiting class, has the talent to vie for that job when he arrives on campus. Even though he didn't appear on the depth chart, safety transfer
Josh Keys
, who did enroll early, could add valuable depth once he settles into coordinator Matt Wallerstedt's scheme.
May, 2, 2014
5/02/14
9:00
AM ET
Over the next two weeks, we'll be analyzing the
depth charts of every Big 12 team
coming out of the spring, continuing Friday with Kansas State's projected post-spring depth chart.
OFFENSE (projected starter in bold)
QB: Jake Waters (Sr.),
Jesse Ertz
(RFr.)
[+] Enlarge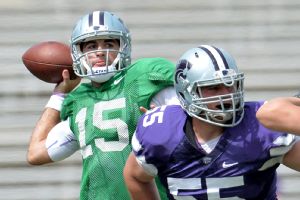 Peter G. Aiken/Getty ImagesJake Waters' emergence late last season solidified Kansas State's offense and has the Wildcats set up for a big 2014.
Waters becomes the unquestioned leader and main man behind center with
Daniel Sams
' move to receiver. The senior was one of the conference's top quarterbacks during the final month of the 2013 season and gives the Wildcats plenty of confidence as a trigger man of the offense. Ertz showed good potential in the spring and could be the future at the position. KSU is one of the few Big 12 squads with a settled and productive starter and quality depth, as Sams is able to line up behind center at any point if need be.
RB: Charles Jones (So.),
Jarvis Leverett
(So.),
DeMarcus Robinson
(Sr.)
The battle to become
John Hubert
's successor remains wide open. Jones and Leverett had solid spring games while Robinson sat out, but none of the Wildcats running backs currently on campus distanced himself from the competition in the spring. The summer will bring new competitors into the mix, including true freshman
Dalvin Warmack
.
FB: Glenn Gronkowski (So.)
,
Zach Nemechek
(Sr.)
Gronkowski could be ready to stake his claim as the Big 12's top fullback. He's an solid runner, receiver and blocker and should continue to see his role in the offense expand as a sophomore. Nemechek has been a special teams performer and provides a solid backup option at the position.
WR: Tyler Lockett (Sr.), Curry Sexton (Sr.),
Deante Burton
(So.),
Andre Davis
(Jr.),
Judah Jones
(RFr.), Daniel Sams (Jr.),
Kyle Klein
(So.)
Lockett could be considered the Big 12's best receiver and gives Waters a consistent target when he's healthy. Sams is a proven playmaker, but it remains to be seen if he can transfer his explosiveness to his new position. Sexton was solid in his role last season and could be a key target during his final season. Keep an eye on Jones, who impressed with a strong spring showing and could be a much-needed playmaker alongside Lockett. If at least two additional targets emerge to join Lockett, this could be one of the conference's top groups.
TE: Zach Trujillo (Sr.),
Cody Small
(RFr.)
Trujillo is a returning starter and a veteran in KSU's offense. He won't break the Big 12 record for pass receptions but is a productive player who could be a big target in the passing game and a key to the Wildcats' offense.
C; BJ Finney (Sr.)
,
Reed Bergstrom
(Jr.)
G: Boston Stiverson (Jr.),
Drew Liddle (Sr.),
Luke Hayes
(Jr.),
Will Ash
(So.)
T: Cody Whitehair (Jr.), Matt Kleinsorge (Jr.),
Reid Najvar
(RFr.),
Ajhane Brager
(RFr.)
Bill Snyder's desire to get the best five offensive linemen on the field means this group will likely remain fluid with veterans such as Whitehair, who has moved from guard to tackle, and Finney as the foundation of the line. Overall, the Wildcats should have a pretty solid and deep group of offensive linemen despite losing several seniors off last year's front.
DEFENSE
DE: Ryan Mueller (Sr.), Marquel Bryant (Jr.),
Laton Dowling
(Sr.)
DT: Travis Britz (Jr.), Valentino Coleman (Sr.)
,
Will Geary
(RFr.)
[+] Enlarge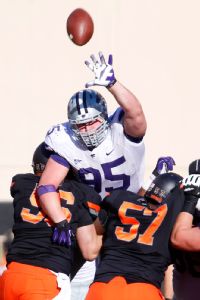 Bo Rader/Wichita Eagle/MCTK-State's opponents will have their work cut out for them in trying to block junior defensive tackle Travis Britz.
Much like the offensive line, K-State has a veteran and productive group along the defensive front. There are still jobs left to be won, but Mueller and Britz are among the Big 12's best at their positions and provide consistent production. Add ESPN JC 50 defensive tackle
Terrell Clinkscales
into the mix and this defensive line group should be a big reason to consider Kansas State a conference title contender.
LB: Jonathan Truman (Sr.), Will Davis (So.)
,
Dakorey Johnson
(Sr.),
Charmeachealle Moore
(Jr.)
Truman returns after breakout junior season which featured 89 tackles in 13 starts for the Wildcats. Davis appears ready to slide into the starting lineup after impressing as a redshirt freshman, while Johnson and Moore should provide solid depth at the position but will have to battle to maintain their roles with ESPN JC 50 linebacker
D'Vonta Derricott
arriving in the summer.
CB: Randall Evans (Sr.), Morgan Burns (Jr.), Nate Jackson (Jr.)
,
Cre Moore
(RFr.),
Danzel McDaniel
(Jr.),
Corey Jackson
(RFr.)
Burns was one of KSU's stars of the spring and appears to have settled into the No. 1 cornerback spot. The rest of the Wildcats cornerbacks are battling for the other starting spot outside of Evans, who started 11 games as KSU's nickelback in 2013 and is lone returning starter of the group. While KSU lost experience at corner, the Wildcats might have upgraded in terms of overall talent.
S: Dante Barnett (Jr.), Dylan Schellenberg (Sr.)
,
Sean Newlan
(RFr.),
Weston Hiebert
(Sr.)
Barnett is a star and one of the more underrated defenders in the Big 12, while Schellenberg got plenty of experience when
Ty Zimmerman
was sidelined by injury last season. Barnett is probably the only safety with a secure spot in KSU's defensive plans, so expect the battle for playing time to continue deep into August.
May, 1, 2014
5/01/14
1:00
PM ET
Over the next two weeks, we'll be
analyzing the depth charts of every Big 12 team
coming out of the spring, continuing Thursday with Texas. New coach Charlie Strong has yet to release an official depth chart, so this is only a projection:
OFFENSE (projected starter in bold)
QB: David Ash (Jr.)
,
Tyrone Swoopes
(So.)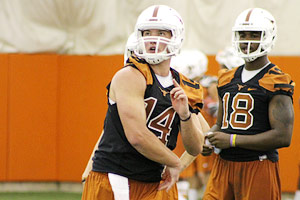 Max Olson/ESPNDavid Ash (left) and Tyrone Swoopes did little to answer Texas' QB questions this spring.
Texas had reason for optimism entering the spring when Ash returned with two years of eligibility and no signs of post-concussion issues. The foot fracture he suffered in April will sideline him for several months, and Strong hopes to have him back sometime in July. Swoopes showed flashes in the spring game. This group will look a lot better in June when
Jerrod Heard
enrolls, and Texas is still waiting on a decision from ex-USC QB
Max Wittek
.
RB:
Malcolm Brown (Sr.)
,
Johnathan Gray
(Jr.),
Joe Bergeron
(Sr.),
Jalen Overstreet
(So.)
This group could end up being one of the Big 12's best this fall, but there's still work to be done this summer. Gray is still recovering from a torn Achilles but should be cleared in time for the season opener. When he's back, he could be one of the conference's most versatile rushers. Bergeron was held out of the end of spring practice to work on academics but is expected to rejoin the team this summer. Brown is in the best shape of his career and will be the workhorse as a senior. Overstreet thrived on outside runs in the spring game and could become a factor in the fall. Texas adds three freshmen to the mix this summer.
WR:
Jaxon Shipley (Sr.)
,
Daje Johnson
(Jr.)
WR: Marcus Johnson (Jr.)
,
Jacorey Warrick
(RFr.),
Jake Oliver
(RFr.)
WR: Kendall Sanders (Jr.)
,
Montrel Meander
(RFr.),
John Harris
(Sr.)
TE: Geoff Swaim (Sr.),
M.J. McFarland
(Jr.),
Blake Whiteley
(So.)
The trio of Shipley, Marcus Johnson and Sanders received strong praise from Texas coaches this spring. Marcus Johnson and Sanders are both big-play threats and Shipley will be a four-year starter who's one of the league's best possession receivers. After disciplinary issues in his first two years, Daje Johnson is doing everything asked of him and will get the ball in a variety of ways. The depth behind them is young, with three second-year wideouts and five incoming freshmen fighting for playing time. Texas might not have a game-changing tight end, but Swaim had a great spring, McFarland reemerged as a pass-catching threat and
Greg Daniels
, who missed the spring, can set the edge as a blocker.
LT: Desmond Harrison (Sr.)
,
Darius James
(RFr.)
LG: Sedrick Flowers (Jr.)
,
Alex Anderson
(Fr.)
C: Dominic Espinosa (Sr.)
,
Jake Raulerson
(RFr.)
RG: Taylor Doyle (Jr.)
,
Rami Hammad
(RFr.)
RT: Kennedy Estelle (Jr.)
,
Kent Perkins
(So.)
After having one of the nation's most experienced lines in 2013, Texas could roll with two seniors and three juniors this fall. There still could be lots of changes to this lineup, but Espinosa is a lock to start and the left side of the line is fairly established too. The 6-foot-8 Harrison disappointed last year but showed his potential this spring. Doyle was the surprise of the spring after playing in only two career games, but he still has to hold off Hammad, who has big potential.
Curtis Riser
could also be in the mix at guard, and Perkins -- who missed the end of spring ball with a knee injury -- is good enough to play anywhere on the line after working at guard this spring.
[+] Enlarge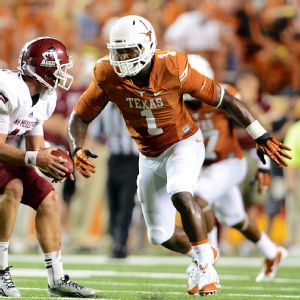 John Albright/Icon SMIShiro Davis looks to have found a spot on Texas' starting defensive line.
DEFENSE
DE: Cedric Reed (Sr.)
,
Caleb Bluiett
(So.)
DT: Malcom Brown (Jr.),
Alex Norman
(So.)
DT: Desmond Jackson (Sr.)
,
Hassan Ridgeway
(So.)
DE: Shiro Davis (Jr.)
,
Bryce Cottrell
(So.)
Baylor has the Big 12's best defensive line, but Texas' starting four could challenge for that crown this fall. Reed and Brown are two of the Longhorns' best players. Davis emerged to take over for
Jackson Jeffcoat
. The depth behind them is young and inexperienced, especially at defensive tackle, but Bluiett and Ridgeway should play prominent roles. Don't be surprised if true freshmen
Poona Ford
and
Derick Roberson
enter the rotation right away, and Ford will need to fortify the depth up the middle.
OLB: Jordan Hicks (Sr.)
,
Timothy Cole
(So.),
Demarco Cobbs
(Sr.)
MLB: Steve Edmond (Sr.)
,
Dalton Santos
(Jr.)
OLB: Peter Jinkens (Jr.)
,
Naashon Hughes
(RFr.)
With nearly all of Texas' veteran linebackers dealing with injuries this spring, there's still plenty of uncertainty about this group. Edmond made a big impression on the new staff and his teammates and should hold down the middle with help from Santos. Hicks is expected to be healthy in June and is hungry to make up for two lost seasons. Cole made the most of his opportunities this spring and worked with the first team defense, while Cobbs was a spring game revelation after missing the entire 2013 season with knee issues. Jinkens and Hughes showed they can be dangerous as pass rushers off the edge.
Kendall Thompson
and
Tevin Jackson
will provide depth when they get healthy.
CB: Quandre Diggs (Sr.)
,
Bryson Echols
(So.)
CB: Duke Thomas (Jr.)
,
Sheroid Evans
(Sr.),
Antwuan Davis
(RFr.)
S: Mykkele Thompson (Sr.)
,
Adrian Colbert
(So.)
S: Josh Turner (Sr.)
,
Chevoski Collins
(RFr.)
Seems like these starting jobs are fairly locked in coming out of spring ball. Diggs and Thomas are clearly the best option at cornerback. Behind them, the trio of Evans, Davis and Echols has big potential. Evans is coming back from a torn ACL and missed the spring, giving the two younger DBs an opportunity to get a lot of second-team reps. There's confidence in the play of Thompson and Turner so far, though they've had up-and-down careers thus far. Colbert and Collins are very young but will get their chances this fall. Texas brings in four freshmen this summer and several could make an early impact.
April, 30, 2014
4/30/14
9:00
AM ET
Over the next two weeks, we'll be
analyzing the depth charts of every Big 12 team
coming out of the spring, continuing Wednesday with Oklahoma State. The Cowboys have yet to release an official depth chart, so this is only a projection:
OFFENSE (projected starters in bold)
QB:
J.W. Walsh (Jr.)
,
Daxx Garman
(Jr.) OR
Mason Rudolph
(Fr.)
Walsh lost the job to
Clint Chelf
last season, but he all but reclaimed it with a steady spring. Coach Mike Gundy said the competition would continue into the fall, but barring injury, it's only a matter of time before Walsh is named the starter for the opener against Florida State.
[+] Enlarge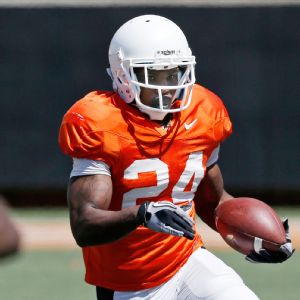 AP Photo/Sue OgrockiExpectations are high for newcomer Tyreek Hill.
RB:
Desmond Roland (Sr.) OR Tyreek Hill (Jr.)
,
Rennie Childs
(So.)
FB: Jeremy Seaton (Jr.)
,
Teddy Johnson
(Sr.)
The Cowboys added what figures to be the favorite to be named preseason Big 12 Offensive Newcomer of the Year in Hill, who was dynamic in the spring despite splitting duties with the track team. With Roland back to grind out yards between the tackles and Hill a threat to go the distance whenever he touches the ball, the Cowboys have the opportunity to create problems for opposing defenses when they play on the field at the same time, which should happen a lot next year. Childs, who rushed for 189 yards as a freshman, adds depth to the position, while Seaton is a solid lead-blocking fullback who can also catch passes out of the backfield.
WR: Jhajuan Seales (So.)
,
C.J. Curry
(So.)
WR: Marcell Ateman (So.)
,
Brandon Sheperd
(Jr.)
IR: Austin Hays (So.)
,
Ra'Shaad Samples
(RFr.)
IR: Blake Webb (So.)
,
David Glidden
(Jr.)
TE/FB: Blake Jarwin (So.),
Jordan Frazier
(Fr.)
From Rashaun Woods to Justin Blackmon, the Cowboys have often had the luxury of a superstar wideout to throw the ball up to. The strength of his group, however, will be in its number. Seales, who had 39 catches as a freshman last season, headlines this unit, but Ateman, Hays, Webb, Glidden and Sheperd have all played in big games before. Hill will also boost this group whenever he moves from running back to the slot. Samples was banged up most of the spring, but he'll also eventually bring speed to the rotation.
LT: Devin Davis (So.)
,
Brandon Garrett
(Sr.),
Michael Wilson
(So.)
LG: Chris Grisbhy (Sr.)
,
Zachary Hargrove
(Jr.)
C: Paul Lewis (So.)
, Jaxson Salinas (RFr.)
RG: Zac Veatch (So.)
,
Colby Hegwood
(Jr.)
RT: Daniel Koenig (Sr.)
,
Zachary Crabtree
(RFr.)
The Cowboys have some major questions up front that won't be answered until the fall. Davis missed all of last year after tearing his ACL in the preseason, and still wasn't cleared in the spring. Garrett's leg was broken in the AT&T Cotton Bowl, and he too is still working his way back. On top of that, longtime position coach Joe Wickline is now at Texas. If Davis and Garrett return to 100 percent, Lewis is able to successfully man his new position at center and new offensive line coach Bob Connelly builds on Wickline's success, the Cowboys could field yet another banner offensive line. Of course, that is a lot of "ifs."
DEFENSE
DE: Jimmy Bean (Jr.)
,
Trace Clark
(Jr.)
DT: James Castleman (Sr.)
,
Vincent Taylor
(RFr.) OR
Vili Leveni
(RFr.)
DT: Ofa Hautau (Sr.)
,
Ben Hughes
(RFr.) OR
Eric Davis
(So.)
DE: Sam Wren (Sr.)
,
Emmanuel Ogbah
(So.)
Even though the Cowboys graduated all-conference tackle
Calvin Barnett
, this should be the strength of the defense. Castleman is capable of performing at an All-Big 12 level, and Wren, Bean and Ogbah can get to the quarterback. Oklahoma State will be even stronger along the defensive line if former four-star signees Hughes and Taylor emerge in their second years on campus.
MLB: Ryan Simmons (Jr.)
,
Dominic Ramacher
(So.) OR
Demarcus Sherod
(So.)
WLB: Devante Averette (Jr.) OR Kris Catlin (Jr.) OR Seth Jacobs (So.)

Simmons moved inside this spring after flanking All-Big 12 veterans
Caleb Lavey
and
Shaun Lewis
last season. Simmons will be the new leader of this unit. The Cowboys also seemed pleased with the development of Averette and Catlin during the spring. Oklahoma State signed a very highly touted linebacking class in February, but chances are, those freshmen won't be ready to contribute until at least 2015.
NB: D'Nerius Antoine (Jr.) OR Josh Furman (Sr.)
CB: Kevin Peterson (Jr.)
,
Darius Curry
(RFr.) OR
Taylor Lewis
(RFr.)
CB: Ashton Lampkin (Jr.)
,
Miketavius Jones
(Jr.)
FS: Jordan Sterns (So.),
Larry Stephens
(Sr.) OR
Jerel Morrow
(RFr.)
SS: Deric Robertson (So.)
,
Tre Flowers
(RFr.)
Like with so many other teams in the Big 12, Oklahoma State's secondary is an uncertainty. Peterson, who is one of the top budding cover men in the league, will anchor the group as its lone returning starter. The Cowboys should be in good hands at the other corner with Lampkin, who has appeared in every game his first two years and had a pick-six in Oklahoma State's "Orange Blitz" scrimmage. Safety is a complete unknown as Robertson and Sterns have little experience. The Cowboys could get some much-needed help from Furman, who transferred in from Michigan during the offseason and will be eligible immediately.
April, 29, 2014
4/29/14
9:00
AM ET
Over the next two weeks, we'll be
analyzing the depth charts of every Big 12 team
coming out of the spring. On Tuesday, we continue the series with
Oklahoma
:
Offense (projected starters in bold)
QB: Trevor Knight (So.),
Cody Thomas
(RFr.),
Justice Hansen
(Fr.)
[+] Enlarge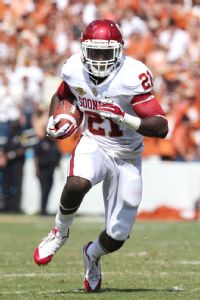 Matthew Emmons/USA TODAY SportsAfter receiving only 23 carries last season as a freshman, OU's Keith Ford will likely be the starting tailback in 2014.
The Sooners feel great about putting the offense in the hands of Knight after his Allstate Sugar Bowl MVP performance against Alabama. The sophomore looked like a future star against the Crimson Tide while leading the Sooners to a
45-31 upset win
. OU is inexperienced behind Knight with a pair of freshman in Thomas and Hansen. Former Texas Tech quarterback
Baker Mayfield
, who transferred to OU in January, would be the perfect fit behind Knight but won't be eligible to play until 2015. If he plays consistent and remains healthy, Knight could lead his team to a College Football Playoff berth. If not, OU could flounder below expectations and look back upon the 2014 season as a missed opportunity.
RB: Keith Ford (So.),
Alex Ross
(So.),
Daniel Brooks
(So.)
Ford exits spring as the favorite to start in the backfield, but he didn't take the job and hide during 15 spring practices. Ross was one of the stars of the spring as he continually made plays during scrimmages, and Brooks was one of the standouts during the spring game. OU has several talented options at running back and is poised to add two top freshman runners in
Joe Mixon
and
Samaje Perine
.
FB/TE: Aaron Ripkowski (Sr.), Dimitri Flowers (Fr.),
Blake Bell
(Sr.)
OU uses fullbacks and tight ends in similar ways as both positions spend their meeting time with tight ends coach Jay Boulware. Ripkowski is one of the unsung heroes on the entire roster. He played a critical role during the team's strong finish to the 2013 season. Flowers has stepped on campus ready to make an impact with his versatility and football IQ after enrolling in school early. Bell has moved over from quarterback and looks poised to make an impact as a pass catcher with his size and athleticism. It's a talented and versatile group that is likely to get overlooked this fall but could be the foundation of any success the team has on offense.
WR: Sterling Shepard (Jr.), Derrick Woods (So.),
Durron Neal
(Jr.),
K.J. Young
(RFr.),
Jordan Smallwood
(RFr.),
Austin Bennett
(So.)
Shepard should be one of the Big 12's top receivers if Knight continues to develop as a passer. OU badly needs someone to emerge alongside Shepard if it hopes to have a strong passing game to help make the 2014 version of the offense more balanced than the 2013 version. There's talent on campus but nobody separated themselves during the spring, opening the door for a freshman like
Michiah Quick
to step on campus and into the lineup this fall.
C: Ty Darlington (Jr.)
G: Dionte Savage (Sr.), Nila Kasitati (Jr.),
Tony Feo
(Sr.),
Adam Shead
(Sr.),
Tyler Evans
(Sr.)
T: Tyrus Thompson (Sr.), Daryl Williams (Sr.),
Josiah St. John
(Sr.)
Darlington has been groomed to replace All-Big 12 center
Gabe Ikard
and could slide into the starting lineup with ease. Nonetheless, adding competition at this position would help the Sooners. OU is fairly deep at guard and tackle which should allow competition for playing time to help everyone improve. Williams is the anchor of the entire offensive line and should be one of the Big 12's top tackles this fall. The Sooners should have one of the better offensive lines in the Big 12.
DEFENSE
DE: Charles Tapper (Jr.), Geneo Grissom (Sr.),
Matt Dimon
(So.)
DT: Jordan Phillips (Jr.) or Chuka Ndulue (Sr.),
Jordan Wade
(So.)
[+] Enlarge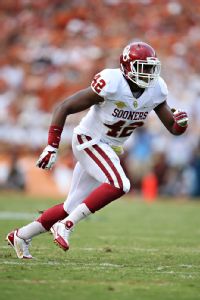 Matthew Emmons/USA TODAY SportsSooners linebacker Dominique Alexander emerged as a playmaker as a freshman.
OU's defensive line could be one of the most disruptive and deepest in the nation. The Sooners should easily go six or seven deep along the defensive line, particularly if Phillips returns to his early 2013 form after suffering a back injury last season. Tapper and Grissom have the ability to be disruptive against anyone, and the overall depth on the roster should allow OU to come at offenses in waves with fresh bodies rotating throughout games. If OU makes a national title run, the defensive line will likely be the driving force.
LB: Dominique Alexander (So.), Frank Shannon (Jr.), Eric Striker (Jr.),
Jordan Evans
(So.), Devante Bond (Jr.)
Striker could be the Big 12's best pass rusher, Alexander has the potential to be one of the Big 12's best before his career is over, Evans could take a major step forward as a sophomore and Bond impressed as a junior college transfer this spring. If Shannon returns to good standing after missing part of spring due to personal issues, this is a good, experienced group. OU's linebackers are one of the main reasons its defense could be the most athletic and versatile in the conference this fall.
CB: Zack Sanchez (So.), Julian Wilson (Sr.), Dakota Austin (So.)
,
Stanvon Taylor
(So.),
Cortez Johnson
(Jr.)
Here's where things get interesting for the defense. Wilson returns as the starting nickelback and a productive veteran in the secondary. Sanchez is solid and took his game to another level this spring as he strives to be the type of coverage cornerback that teams don't want to test. But the Sooners need someone to step up on the opposite side of the field with Austin ending the spring as a starter but remaining untested. No matter who wins the job, they will be picked on repeatedly until they prove they aren't the weak link of the secondary. Defensive back is one of the few unsettled and unproven spots on the entire roster.
S: Quentin Hayes (Sr.), Hatari Byrd (So.)
,
Ahmad Thomas
(So.)
Hayes was quietly one of the better safeties in the Big 12 in 2013. He was productive with 75 tackles and solid in coverage. Byrd and Thomas have matured and started to develop as sophomores and should be key contributors this fall. Nonetheless, freshman
Steven Parker
has the talent to step in an earn a role this summer. If Parker is as good as advertised, OU will go two deep with talented options.
April, 28, 2014
4/28/14
9:00
AM ET
Over the next two weeks, we'll be analyzing the depth charts of every Big 12 team coming out of the spring. We start with Baylor, which released an official two-deep shortly after concluding spring ball in early April.
OFFENSE
[+] Enlarge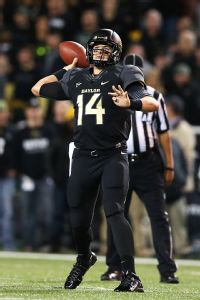 Matthew Emmons/USA TODAY SportsCan Bryce Petty be even better this season?
QB: Bryce Petty (Sr.),
Seth Russell
(So.)
The Bears have one of the top returning quarterbacks in college football in Petty, who was phenomenal last year in his first season as a starter. With a year of experience under his belt, there's no reason to believe he won't be better in 2014. Russell performed well in limited duty last year, suggesting the Bears could survive at least a minor injury to Petty.
RB:
Shock Linwood (So.)
or
Devin Chafin (So.)
,
Johnny Jefferson
(RFr.),
Terence Williams
(Fr.)
The Bears boast four potentially outstanding runners who all have at least three seasons of eligibility remaining. Linwood finished sixth in the Big 12 in rushing last season, despite backing up
Lache Seastrunk
and
Glasco Martin
. Jefferson, however, was the back who created the most buzz during the spring. The 5-foot-11, 200-pounder looks poised to give the Bears a dynamic home-run threat to complement the rest of the backfield. It's not often a program can lose two talents like Seastrunk and Martin and remain loaded.
WR:
Antwan Goodley (Sr.),
Davion Hall
(Fr.)
WR: Jay Lee (Jr.)
or
Robbie Rhodes (So.)
,
Quan Jones
(RFr.)
IR: Corey Coleman (So.)
or
Clay Fuller (Sr.)
,
Cal Spangler
(Jr.)
IR: Levi Norwood (Sr.)
,
Lynx Hawthorne
(So.)
TE: Tre'von Armstead (So.)
or
Gus Penning
(Jr.),
Jordan Feuerbacher
(Fr.)
Despite graduating all-conference performer
Tevin Reese
, the Bears should easily have the deepest collection of pass-catchers in the Big 12. Coleman was tremendous all spring, capped by a 47-yard receiving effort in the spring game. He and Rhodes could have breakout campaigns in their second years in the rotation. Goodley is one of the two best wideouts in the league along with Kansas State's
Tyler Lockett
, and Lee, Fuller and Norwood are all proven commodities. More firepower is on the way this summer, including hotshot freshman
K.D. Cannon
, who looks like a virtual lock to crack the rotation somewhere.
LT: Spencer Drango (Jr.)
,
Pat Colbert
(Jr.)
LG: LaQuan McGowan (Jr.) or Blake Muir (Jr.)
C: Kyle Fuller (So.)
,
Tyler Edwards
(Sr.)
RG: Desmine Hilliard (Jr.)
,
Jarell Broxton
(Jr.)
RT: Troy Baker (Sr.)
,
Tyler Edwards
(Sr.)
The Bears lose unanimous All-American guard
Cyril Richardson
, but will get a huge boost if Drango makes a full recovery from a back injury he suffered late last season. With Drango out, Baylor's blindside pass protection also suffered the final month of the season. When healthy, Drango is one of the best pass-protecting left tackles in the country. Baker, who started as a sophomore, returned late last season after tearing his ACL last spring to reclaim his starting job, which he held through the spring. With Hilliard returning at guard, Fuller locking down the starting job at center and other quality depth inside, the Bears should be very solid on the offensive line -- provided Drango can get healthy and Baker can stay healthy at the bookends.
DEFENSE
[+] Enlarge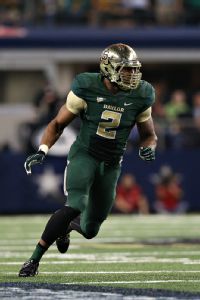 Matthew Emmons/USA TODAY SportsShawn Oakman has elevated his game.
RE: Shawn Oakman (Jr.)
,
K.J. Smith
(RFr.)
NT: Andrew Billings (So.)
,
Suleiman Masumbuko
(Jr.)
DT: Beau Blackshear (Jr.)
or
Javonte Magee
(So.),
Byron Bonds
(So.)
LE: Jamal Palmer (Jr.)
,
Sam Ukwuachu
(Jr.)
Last week, Baylor coach Art Briles said he'd put his top-seven defensive linemen against any other top seven in college football. The unit still has a lot to prove to reach that level, but there's no denying the potential. Oakman elevated his game to another level this spring, and was basically unblockable. He's a candidate to be an All-Big 12 performer even in a league that's stocked at defensive end. The fact that Magee is listed as a co-starter with Blackshear -- a starter last season -- underscores what the coaching staff thinks of Magee, who before taking last year off due to personal matters was among the most highly touted recruits Briles had ever signed. This group is high on ability, and has the capability to prove their coach right in the fall.
WLB: Aiavion Edwards (So.)
,
Taylor Young
(RFr.) or
Raaquan Davis
(RFr.)
MLB: Bryce Hager (Sr.)
, Grant Campbell (Jr.) or
Kendall Ehrlich
(So.)
Hager missed the final four games of last season due to a groin injury, which also kept him out this spring. But Hager is about as reliable as it gets in the Big 12, having earned second-team all-conference honors the last two years. Edwards is the one to watch. He was given the first nod on the weak side, after playing in the middle last season and in the spring in place of Hager. But he'll have to perform to fend off the competition, including Young, who impressed defensive coordinator Phil Bennett during the spring with his nose for the ball.
NB: Collin Brence (Sr.)
, Pat Levels (So.)
CB: Terrence Singleton (So.)
,
Ryan Reid
(So.)
CB: Xavien Howard (So.) or Chris Sanders (Jr.)
DS: Orion Stewart (So.)
,
Alfred Pullom
(RFr.)
CS: Terrell Burt (Jr.)
,
Taion Sells
(So.)
This unit comprises by far the biggest question mark on the team. The Bears should be in good shape at safety. Burt, the only returning starter in the group, will be back shortly from offseason shoulder surgery that kept him out of a spring ball. Briles also singled out Stewart for having a very promising spring as the replacement for All-American
Ahmad Dixon
. After a series of injury setbacks early in his career, Singleton returned to win a starting job at corner, at least for now. Howard also showed a ton of promise during the spring, but he'll have competition from Sanders, one of the top juco corners in the country, who had a shoulder injury this spring. Brence, a walk-on, was the biggest surprise in the secondary, and is listed as the starter at nickelback. How this untested unit comes together could ultimately determine whether the Bears repeat as Big 12 champs.