April, 20, 2011
4/20/11
1:15
PM ET
Three of the most talked-about players in Kansas State's spring camp have never suited up in a Wildcats uniform.
Expectations from fans and media are high for all three, but for now, coach Bill Snyder isn't ready to tell anyone just what to expect.
[+] Enlarge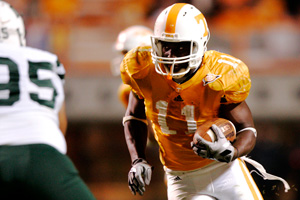 AP Photo/Wade PayneBryce Brown, now a Kansas State Wildcat, rushed 101 times for 460 yards as a member of the Tennessee Volunteers in 2009.
"These are quality young people, wonderful youngsters and very, very fine players," he said during the Big 12's conference call on Tuesday. "But I wouldn't go beyond that at this point in time, because they haven't, in either case, had the opportunity to step up and prove themselves."
Bryce and Arthur Brown are brothers and Wichita, Kan., natives. Bryce, a running back, originally signed with Tennessee before transferring back to Kansas State to be closer to home. Arthur, a linebacker, did the same after signing with Miami originally.
Both were five-star recruits, among the best in their class at their positions. In Arthur Brown's class, ESPN pegged only five players better than him, and four (
A.J. Green
,
Julio Jones
,
Terrelle Pryor
, Da'Quan Bowers) became household names over the course of their careers.
Alabama's
Trent Richardson
was the only running back ESPN ranked above
Bryce Brown
.
Neither Brown brother stuck at their respective program.
Quarterback Justin Tuggle, meanwhile, started briefly at Boston College after leaving high school as the nation's No. 38 quarterback. Last year, he spent the season filling Heisman winner
Cam Newton
's shoes at Blinn College in Texas.
Snyder has built a reputation on turning transfers from junior colleges and other Division I programs into stars, and the Wildcats hope that will be the case with their new trio, who will finally get their chance this fall.
"Are they going to step on the field and be instant successes to an extremely high degree? I can't guarantee that," Snyder said. "I'd like for it to happen, they'd like for it to happen, our players would like for it to happen, and our coaches, but I wouldn't instill that kind of pressure on either one of them."
The Brown Brothers have been in the program for a year, and Arthur has already drawn rave reviews for his work on the scout team last year. Tuggle, a dual-threat quarterback, arrived this semester and is working on learning the Wildcats offense while competing with
Collin Klein
and
Sammuel Lamur
to win the starting job.
"I'd hate to put a ceiling on anybody's capabilities, whether it's a transfer student or young people who have been in our program for a period of time. It would be hard to say this is what their limitations are. We try to stress not placing limitations on their abilities to perform successfully," Snyder said. "They weren't in a position where they were on the field, the kind of repetition that is quality or signifies quick improvement, but they are now and each and all of them are making headway. Where does that take them? That's certainly up to them."
January, 19, 2011
1/19/11
12:30
PM ET
By
ESPN.com staff
| ESPN.com
Yo, who's the grillmaster, dog?
October, 31, 2010
10/31/10
10:00
AM ET
The Big 12 North is Nebraska's to lose.
The Huskers made sure of that early, unleashing one of the most dominant quarters by any team in Big 12 play this season. Missouri didn't fall in a 24-0 hole early, Nebraska dug that thing with a week of preparation, and once the Tigers showed up (or didn't show up) the Huskers grabbed them by the collar and threw them in. From a wide-angle lens, though, Nebraska's win is good for drama in the North. Had Missouri won, it would need to lose three of its final four games to send Nebraska to the title game. Now, one slip-up by Nebraska could put the Tigers in. The Huskers' toughest test is likely a trip to College Station, but this is college football; anything can happen. And fret not, Tigers. Regardless of what Nebraska does the rest of the year, Missouri is in decent position to go 11-1 in the regular season if they can survive Lubbock next weekend. That's nothing to complain about. I'm sure there will be a few people who rush to proclaim Missouri got "exposed," but they ran into a motivated team that played its best and, without a flat performance against Texas, would still be very much in the thick of the national title picture.
[+] Enlarge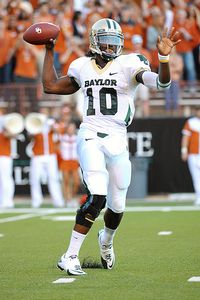 Brendan Maloney/US PresswireRobert Griffin and Baylor are leading the Big 12 South heading into November.
No, seriously, you better take Baylor seriously.
This isn't to say Texas didn't, but Baylor lined up and straight-up beat the Longhorns -- in Austin. Most surprising: No one was really surprised. The Bears didn't play fantastic, but they played well, and that's all they needed to beat Texas. The Longhorns have been average at best this season at home, but they have as much talent on defense as almost anyone in the country and they needed this game badly to salvage their season. Instead, they were firmly denied, setting up a suddenly huge game for Baylor next weekend. Was there a soul on the planet who thought Oklahoma State-Baylor in the first week of November would be between a pair of ranked teams? Shows what we media members, who picked the Cowboys and Bears to finish fifth and sixth in the league, know. We live in a strange age of Big 12 football, folks.
The Big 12 has the best receivers of any league in America.
With Oklahoma State's
Justin Blackmon
sitting out on Saturday, the league's No. 2 and No. 3 receivers put on a big-time showcase in wins. Oklahoma's
Ryan Broyles
set a school record with 208 yards and three touchdowns on nine catches before taking a seat as Oklahoma ran out the clock. Texas A&M's
Jeff Fuller
used 11 catches to rack up 171 yards and a pair of scores. All three are very different receivers, but eat your heart out
Alshon Jeffery
,
A.J. Green
,
Julio Jones
and
Greg Childs
.
Making difficult decisions will pay off.
I can't imagine what that conversation between Mike Sherman and
Jerrod Johnson
went like. Johnson, I'm sure, took it well and will keep working. He's a great player who'll do whatever he's asked, but there's no question now that Sherman made the right call. He benched the Aggies' all-time leader in total offense and a three-year starter in Johnson in favor of
Ryan Tannehill
, who torched a mediocre Texas Tech secondary for a school-record 449 yards and four touchdowns. His performance gave the Aggies a much-needed win before they enter a brutal, brutal finish to their schedule against three South teams and Nebraska.
Paul Rhoads is very, very close to shocking everybody once again.
Last year, it was impossible because he inherited a two-win team without any hope. This year, the schedule was just too hard for it to even be a remote possibility. But here the Cyclones are, sitting on five wins with a very winnable game at Colorado in two weeks between them and a trip to a bowl game for the second consecutive season. It'd be pretty unfair to say these Cyclones have no shot to beat Nebraska next week. Rhoads has already shown what happens when those types of things start getting said about his team.
October, 2, 2010
10/02/10
10:53
PM ET
Colorado played one of the toughest nonconference schedules in the Big 12, and not many people -- myself included -- thought they would be 3-1 when it was over.


But after sending Georgia to 1-4 with a
29-27 win
on Saturday, that's exactly what they've done. They beat the Bulldogs, Colorado State and Hawaii. Their only loss came at Cal, 52-7.
Georgia had the ball inside the Colorado 30-yard line in the closing minutes, but
Caleb King
fumbled and the Buffaloes took over to seal the win.
The Buffaloes didn't limit
A.J. Green
in his return from a four-game suspension -- he had seven catches for 119 yards and two touchdowns -- but they played well enough to beat just the second SEC team to ever come to Boulder.
Colorado running back
Rodney Stewart
ran 19 times for 149 yards and a touchdown.
That's a much-needed win for the Buffaloes and head coach Dan Hawkins, who is 3-1 and chasing his first winning season at Colorado.
September, 30, 2010
9/30/10
10:15
AM ET
Here's what I'm keeping an eye on in the five Big 12 games over the weekend.
1. Who makes up for last week?
Oklahoma hasn't run the ball well since Week 1.
DeMarco Murray
rushed 28 times last week and averaged just 2.4 yards per carry, with a long of just 9 yards. Meanwhile, Texas' defense got dominated by UCLA, allowing 264 rushing yards. In a game that should be as physical as this one, running the ball or stopping the run will mean a win.
[+] Enlarge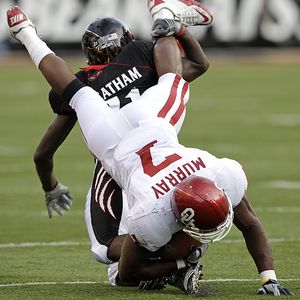 AP Photo/Al BehrmanDeMarco Murray struggled last week against Cincinnati, carrying the ball 28 times with an average of just 2.4 yards per carry.
2. Frankly, I prefer apple over cherry.
Texas' four first-half turnovers last week put them in a 13-3 hole against UCLA. Do it again, and Oklahoma will bury them quite a bit deeper. Last year, Oklahoma turned the ball over five times. This should be a low-scoring game and field position will matter. Turnovers are the quickest way to lose it.
3. He's an imposter! He's not Santa!
So far, both Oklahoma State and Texas A&M have gotten what they wanted. For the Cowboys, it's been a prolific offense despite the inexperience of its personnel. Texas A&M has shored up the defensive lapses that made it one of the nation's worst defensive teams last year. Neither has played an opposing defense (Oklahoma State) or offense (Texas A&M) that will really impress anyone. Which one is more legitimate than the other? No doubt, when Oklahoma State has the ball, this matchup will be long on interest.
4. We're playing football here, guys, not chess.
Texas A&M defensive coordinator Tim DeRuyter dominated Oklahoma State offensive coordinator Dana Holgorsen the last time they met, when Air Force beat Houston 47-20 in last year's Armed Forces Bowl. Holgorsen never had a running back like
Kendall Hunter
at Houston. DeRuyter never had a Joker like Von Miller. Which coordinator can arrange his pieces well enough for the win? One of the most intriguing matchups in tonight's game definitely won't be on the field.
5. No, you may not play with my walkie-talkie.
Kansas had communication issues in its last road game, a trip to Southern Miss against a fast-paced offense. They'll face another in Baylor this week. Can the Jayhawks fix those problems and be able to receive and execute the necessary calls?
6. Don't let the knee brace fool you, they're still letting him play.
Kansas stopped the last running quarterback it played, Georgia Tech's
Joshua Nesbitt
, from beating them. But the Jayhawks have never played one like
Robert Griffin
, who's a much better passer than Nesbitt and faster. Plus, this is a spread scheme. Limiting Griffin's effectiveness is always primary when teams play Baylor, and this is no exception.
7. Jersey sales on the concourse only.
Georgia gets a big target back for first-year starter
Aaron Murray
in receiver
A.J. Green
, who was suspended for the first four games of 2010. If he has a big game, Colorado's going to lose this game. Holding home field advantage starts with keeping Green from getting loose.
8. He's different from the MmmBop guys.
When
Tyler Hansen
has played well, so have the Buffs. He completed 70 percent of his passes for four touchdowns and an interception in the Buffaloes two wins. He threw three interceptions and completed just over 50 percent of his passes in the loss to California. A lot of how he plays depends on the play of the offensive line and if the running game picks up, but if the Buffs protect Hansen from an SEC defense and give him the opportunity to make plays, they'll have a good shot to win.
9. Paging the Cadillac.
Texas Tech's offense hasn't been as effective so far under Tommy Tuberville, ranking 10th in total offense and averaging 50 fewer rushing yards per game than any other team in the Big 12. It must get better to get back in the Big 12 South race. Saturday is its first chance, two weeks after rushing for minus-14 yards against Texas.
10. Baron Batch is the bowler, but the Cyclones would like to join.
You're heard plenty about Iowa State's bear of a schedule, but winnable games like this are the ones the Cyclones have to win to make a second consecutive bowl appearance. As it stands, the Cyclones have four top-15 teams on their schedule and No. 21 Texas. Texas Tech isn't among the group of Iowa State's other seven games.
September, 30, 2010
9/30/10
9:00
AM ET
»
Predictions
:
ACC
|
Big 12
|
Big East
|
Big Ten
|
Pac-10
|
SEC
|
Non-AQ
Thanks, Texas. You've now joined Kansas in hijacking perfect weeks with unlikely upsets.
Overall
: 39-3
Last week:
7-1
This should get quite a bit tougher now that we've hit conference play, but let's get to this week's picks:
Texas A&M 31, Oklahoma State 30:
You could reason this out about 10 different ways for either team, but Oklahoma State's young offensive line hasn't seen a front seven like Texas A&M is bringing to Stillwater. The Aggies defense has the experience. Texas A&M learns from those experiences, mucks up the running game and pressures
Brandon Weeden
enough to earn the upset and a valuable, early road win.
Baylor 34, Kansas 24:
Kansas' offense took a big step last week, but Baylor holds home field against the Jayhawks. Kansas still ranks in the bottom half of the Big 12 in every offensive statistic and a conference road game isn't the likeliest place for a team relying on so many young players to take a second step in the right direction.
Oklahoma 21, Texas 17:
See more on my pick of the week in a video later this afternoon. I'll be at the Cotton Bowl on Saturday.
Georgia 30, Colorado 21:
Georgia coach Mark Richt says receiver
A.J. Green
practiced harder during his suspension than he ever has before. That'll pay off on Saturday for the Bulldogs, who are 1-3 but their worst loss came on the road in conference play without Green to an improving Mississippi State team. Colorado has talented corners, but one man isn't going to stop Green. The safety help won't be enough to send a desperate Georgia team to 1-4.
Texas Tech 31, Iowa State 17:
Iowa State's secondary is criminally underrated, but Texas Tech takes advantage of the inexperienced front seven with
Baron Batch
, who tops 100 yards for the first time this season.
December, 23, 2009
12/23/09
3:41
PM ET
By
Tim Griffin
| ESPN.com
The Big 12's bowl games will start on Monday when Texas A&M and Georgia square off in the Advocare V100 Independence Bowl.
But as we get ready for those eight games, it's clear that several key players need to step up with big games in order to help their team's winning hopes.
Here's my list of 12 players or groups who need to have big games to bolster their team's bowl hopes.
Texas quarterback Colt McCoy: His Heisman hopes sank after his nine-sack, three-interception performance in the Big 12 title game. But he has bigger aspirations if he can finish his career by leading his team to the national championship against Alabama in the Citi BCS National Championship Game.
Oklahoma tackle Trent Williams: He could become the fourth starter at center for Oklahoma this season if Brian Lepak doesn't respond to treatment before the Sooners' Brut Sun Bowl game against Stanford. Williams has become one of college football's best offensive linemen at tackle and looked good in practice earlier this season at center. He'll face a big test against massive 315-pound Stanford nose tackle Ekom Udofi if he plays at center in the bowl game.
Oklahoma State running back Kendall Hunter: After struggling with a nagging foot injury most of the season, Hunter has been diagnosed at "close to 100 percent" by Oklahoma State coach Mike Gundy. The Cowboys had a strong running game and led the conference in rushing but still missed a true breakaway threat without Hunter in the lineup. His return will provide an infusion of speed that could be important for their hopes against Mississippi in the AT&T Cotton Bowl.
Texas guards Michael Huey and Charlie Tanner and center Chris Hall: After their struggles against Ndamukong Suh in the Big 12 championship game, this trio will really be under the gun against Alabama All-American tackle Terrence Cody and All-American middle linebacker Rolando McClain. They must play better than they did against Nebraska if they have any hopes of bringing the national title home to Austin.
Oklahoma State quarterback Zac Robinson: After gamely trying to play against Oklahoma on a sprained ankle, Robinson says that he's healthy for Mississippi in the AT&T Cotton Bowl. Robinson's injury and a sputtering attack helped explain the Cowboys' difficulties in a 27-0 loss that ultimately cost them a shot at a BCS at-large berth. Robinson must run the offense better against a similarly strong Mississippi defensive front if the Cowboys are to pull off an upset victory.
Texas Tech running back Baron Batch: Batch is one of the Red Raiders' most consistent receivers and top rushing threats. He'll be critically important in the Valero Alamo Bowl as he goes up against Michigan State All-Big Ten linebacker Greg Jones. Michigan State is being universally dismissed because of their suspension-wracked roster. All of that will make Jones and the defense eager to become involved early. Batch will be tested to keep Jones and the Spartans away from starting quarterback Taylor Potts.
Missouri's defensive front: The grouping of defensive ends Aldon Smith and Brian Coulter, tackle Dominique Hamilton and nose tackle Jaron Baston played very well down the stretch as they allowed only 52.4 yards rushing per game during a strong 4-1 finish. But the Tigers' defensive front will be facing a huge challenge in stopping Navy's unique run-based offense in the Texas Bowl. The Midshipmen rank fourth nationally in rushing and are keyed by quarterback Ricky Dobbs, who averages 85.5 rushing yards per game and ranks second nationally with 24 rushing touchdowns. Keeping Navy in check will be a big challenge for the Tigers, particularly the defensive front.
Iowa State cornerback Ter'ran Benton: The suspension of Kennard Banks will thrust Benton into the starting lineup for the Cyclones in the Insight Bowl against Minnesota. Benton is recovering after breaking his left leg Oct. 24 against Nebraska and missing the final four games of the season. Top Minnesota receiver Eric Decker is injured and will miss the bowl game, but Troy Stoudermire and Brandon Green will no doubt test Banks early and often in the Dec. 31 game.
Iowa State running back Alexander Robinson: When Robinson is an effective ball-carrying threat, the Cyclones have a much better chance at winning. That's why it will be important to get him going early against a Minnesota defense that tends to wear down if it plays too much. Robinson's running will be an important part in trying to do just that.
Oklahoma quarterback Landry Jones: When he was on, Jones was one of the most effective passers in the Big 12, torching Tulsa for six touchdown passes, Texas A&M for five touchdown passes and Kansas State for four. But he also struggled with five interceptions against Nebraska. He'll need a big game against a similarly streaky Stanford team that ranked 95th in pass efficiency defense, 105th in pass defense and allowed 15 touchdowns in its last five games.
Texas A&M safety Jordan Pugh: He'll be important in coordinating work in a secondary that features two sophomores and a freshman in the starting lineup. After A&M's struggles in a 49-39 loss to Texas in the regular-season finale, the group will be facing a similarly high-powered offensive threat from Georgia. Joe Cox and A.J. Green no doubt saw the Aggies' struggles against Texas and will be intent on duplicating them in the Independence Bowl. It will be important for Pugh to keep his young teammates focused -- particularly if they struggle early.
Nebraska quarterback Zac Lee: His struggles running the Nebraska offense were apparent in the Cornhuskers' loss to Texas where they produced only five first downs and amassed only 105 yards in the game. The offense must perk up against Arizona in the Pacific Life Holiday Bowl and Lee will be most under the gun to make it happen. He showed flashes of a passing touch earlier in the season, but the Cornhuskers relied on a run-heavy game down the stretch to win the North Division. A couple of well-timed passes from Lee early in the game against the Wildcats could open up the Nebraska offense for the rest of the game.
December, 17, 2009
12/17/09
10:42
AM ET
By
Tim Griffin
| ESPN.com
Many of you have written to me over the last several days asking me about my bowl picks for various confidence pools.
Obviously, these games aren't quite as prevalent as bracket sheets during the NCAA men's tournament, but they assuredly are growing. I know I have several offers and have to get my sheets ready by Saturday's games.
Here are my picks for Big 12 bowl games ranked one through eight in terms of my confidence in the results of the games. I'll have much more extensive previews before the games and I reserve my right to make a last-minute change, but here are my picks in place for Saturday's confidence-pick deadline.
8 points:
Texas Tech over Michigan State,
Valero Alamo Bowl. The Red Raiders are catching the Spartans at exactly the right time. And the fact that Michigan State is riddled with suspensions only makes the Red Raiders' opportunity to win that much greater. Tech's
Taylor Potts
should have a huge game against the Spartans' struggling secondary that ranks 96th in pass-efficiency defense and 103rd in pass defense.
7 points:
Missouri over Navy
, Texas Bowl. The Tigers played well late in the season when
Blaine Gabbert
was healthy.
Danario Alexander
was the Big 12's most explosive player down the stretch. And while the defense isn't their best quality, I like their chances of being able to stuff Navy's run-heavy offense. Missouri limited four of its last five opponents to 77 yards rushing or less and Dave Steckel's group will have a long time to prepare for the option.
6 points:
Georgia over Texas A&M
, Advocare V100 Independence Bowl. Which Aggies team will show up for this game? The one that nearly beat Texas or the one that was blown out by Oklahoma or Kansas State? I think that
Joe Cox
and
A.J. Green
will have a lot of success against the Aggies' struggling defense, providing they can effectively keep Von Miller out of the Georgia backfield.
5 points:
Oklahoma over Stanford
, Brut Sun Bowl. The Sooners are intent on turning around after losing five of their last six bowl games. Oklahoma gets a break because of
Andrew Luck
's iffy status for the Cardinal. Look for the Sooners' run defense to clamp down on
Toby Gerhart
and
Ryan Broyles
and
Landry Jones
to make enough big plays to win.
4 points:
Mississippi over Oklahoma State
, AT&T Cotton Bowl. How much will that blowout loss at Oklahoma in Bedlam harm the Cowboys' psyche? I'm thinking more than might be expected as underrated bowl game coach Houston Nutt will assuredly have the Rebels ready to play. Look for a game similar to last year's Cotton Bowl against Texas Tech where the Rebels win the game in the trenches.
3 points:
Arizona over Nebraska
, Pacific Life Holiday Bowl. Look for a defensive struggle between good buddies Mike Stoops and Bo Pelini. But with Nebraska's well-chronicled offensive struggles against better opponents, it might be more of the same for the Cornhuskers in the bowl game. This one should be tight, but look for Arizona quarterback
Nick Foles
to make enough big plays to give the Wildcats a narrow victory.
2 points:
Iowa State over Minnesota
, Insight Bowl. The Cyclones definitely are happy to move up this far in the bowl pecking order. That attitude, along with strong inside running by
Alexander Robinson
, might be enough to catapult them to a big effort over the Gophers. Minnesota has been to the Insight Bowl three times in the last four seasons and might be a little bored with another trip to the desert this time around.
1 point:
Texas over Alabama,
Citi BCS National Championship Game. The Longhorns are underdogs in this one, but I'm thinking they are going to be a little tired about pundits talking about how fortunate they are to be playing in this game. The Longhorns are actually a better match for the Crimson Tide than they would have been against Florida. Will Muschamp's expertise on Nick Saban and his system will be pivotal. And I think Texas' run defense will keep
Mark Ingram
bottled up and that
Colt McCoy
will outplay
Greg McElroy
for his fourth bowl victory.
That would produce a 5-3 bowl record for the Big 12 this time around. It might be a little optimistic, but I'm fairly confident the teams can play to my expected levels.
What about some of your picks? I'm curious what you believe is a legitimate record the Big 12 can achieve this season.
December, 6, 2009
12/06/09
9:51
PM ET
By
Tim Griffin
| ESPN.com
Texas A&M (6-6) vs. Georgia (7-5)
Dec. 28, 5 p.m., (ESPN2)


One of the most intriguing and potentially entertaining games involving a Big 12 team will involve Texas A&M, whose offensive growth helped push them to their first bowl game under Mike Sherman.
The biggest reason was quarterback
Jerrod Johnson
, who threw for a school-record 3,217 yards and led the Big 12 with 28 touchdown passes against only six interceptions. The Aggies also have a lot of offensive weapons with emerging receivers
Jeff Fuller
and
Uzoma Nwachukwu
, Big 12 Freshman of the Year running back
Christine Michael
and
Cyrus Gray
. They will be facing a Georgia defense that struggled so much that it's already led to the firing of coordinator of Willie Martinez and two other defensive assistants. The Bulldogs rank 30
th
nationally in total defense but were lit up for 23 touchdown passes and ranked 119
th
nationally in turnover margin after recovering only two fumbles all season.
Georgia quarterback
Joe Cox
and wide receiver
A.J. Green
are one of the SEC's most productive passing duos and will be a difficult test for an A&M defense that allowed at least 47 points in four games and ranked last in the Big 12 in every major pass-defense statistic.
But with both offenses being so proficient, the first team to 50 points might win this game.
September, 1, 2009
9/01/09
1:30
PM ET
By
Tim Griffin
| ESPN.com

Posted by ESPN.com's Tim Griffin
So much for Mike Gundy's media blackout allowing Oklahoma State to better focus as the team prepares for its huge opener against Georgia Saturday afternoon.
When Gundy announced the 10-day blackout, he said it was intended to increase the team's sharpness for a game that most observers are calling the most ballyhooed opener in the school's history.
But if that were the case, Gundy's plan appears to have failed after two negative headlines in the last 24 hours.
Cornerback Perrish Cox, the only returning starter in the Cowboys' secondary, was arrested Friday night on speeding charges. During the traffic stop, Stillwater police found that Cox was driving with a suspended license.
It's a misdemeanor, but it clearly can't help his focus as he prepares for the massive challenge of combating talented Georgia wide receiver
A.J. Green
.
I expect Cox to play Saturday. And who knows, the chance to see action against the Bulldogs might clear his mind after the past couple of weeks.
Meanwhile, starting tight end
Jamal Mosley
apparently won't be as fortunate after abruptly quitting the team Tuesday morning for "personal reasons."
It came only a few days after he was placed under a restraining order that was filed last week in Payne County, Okla., by a Stillwater woman.
Earlier, Mosley had been charged with misdemeanor marijuana possession in the same county, although he was considered to be in good standing with the team.
His loss could be critical, considering that Gundy and the Cowboys already are trying to fill the void left by Brandon Pettigrew, this year's first-round draft pick of the Detroit Lions.
The Cowboys could use Mosley's blocking and catching skills against the Bulldogs, but will have to go
Wilson Youman
.
Oklahoma State was relieved of any media responsibilities for about 10 days before ending on Monday.
"There was such demand taking up players' time, and I felt they were getting worn out," Gundy said. "So I thought I'd stop it until the week of the game to give the players a chance to not get caught up in answering the same questions all the time."
Still, the distractions of the huge approaching game concerned Gundy.
"I think our players are mature enough to practice well and stay focused,'' Gundy said. "But you always worry about that as a coach."
The actions of Cox and Mosley show why.
July, 6, 2009
7/06/09
6:04
PM ET
By
Tim Griffin
| ESPN.com
Posted by ESPN.com's Tim Griffin
Kansas (Big 12 No. 5) vs. Georgia (SEC No. 5)
Kansas' record against the SEC: 0-0
Georgia's record against the Big 12: 3-0
Previous series: Never played

Distance between them (according to How Far Is It): 745 miles.
Where they should play: Memphis, Tenn. (385 miles from Athens, 393 miles from Lawrence)
Who wins: Georgia.
Why: Matthew Stafford and Knowshon Moreno might be gone, but Georgia coach Mark Richt has other capable reserves that could make the Bulldogs one of the more underrated teams nationally.
I think that that quarterback Joe Cox, wide receiver A.J. Green and running backs Caleb King, Dontavius Jackson and freshman Washaun Ealey should provide enough firepower to enable the Bulldogs to outscore Kansas' potentially explosive offense.
Eight offensive starters who have started for Georgia over the last two seasons should provide the Bulldogs with the beef to dominate Kansas' suspect linebacking corps.
Kansas will be able to score in bunches with a lethal passing attack featuring Todd Reesing, Dezmon Briscoe, Kerry Meier and Johnathan Wilson. But if Georgia could maintain enough of a pass rush to keep Reesing from feeling comfortable in the pocket, the Bulldogs should be able to score enough to win this mythical game.
The count: Tied, 4-4.
Coming Tuesday: Nebraska (Big 12 No. 4) vs. LSU (SEC No. 4)
Note: Matchups are determined by the most recent rankings of Big 12 blogger Tim Griffin and SEC blogger Chris Low. All cumulative records go back to the 1996 season -- the first of competition in the Big 12.