July, 9, 2012
7/09/12
9:00
AM ET
We're looking at coaches this week on ESPN.com. It's a big subject, sure. In our blog network, we'll be breaking it down each day to smaller topics.
Today, a simple question: What would a program look like without the winningest coach in program history? Which coaches had the biggest impact?
Here's how it breaks down for each program in the Big 12 (all-time record in parentheses):
[+] Enlarge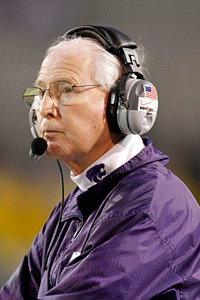 Brett Davis/US PresswireKansas State's winning percentage plummets without Bill Snyder.
BAYLOR: 524-530-44 (.497)
Winningest coach: Grant Teaff: 128-105-6

Wins without winningest coach: 396
IOWA STATE: 500-594-24 (.458)
Winningest coach: Dan McCarney: 56-85

Wins without winningest coach: 444
KANSAS: 572-560-58 (.505)
Winningest coach: A.R. Kennedy: 52-9-4

Wins without winningest coach: 520
KANSAS STATE: 475-612-41 (.439)
Winningest coach: Bill Snyder: 159-83-1

Wins without winningest coach: 316
OKLAHOMA: 821-307-44 (.718)
Winningest coach: Barry Switzer: 157-29-4

Wins without winningest coach: 664
OKLAHOMA STATE: 530-523-47 (.503)
Winningest coach: Pat Jones: 62-60-3 (Mike Gundy needs three wins to tie Jones)

Wins without winningest coach: 468
TEXAS: 858-330-33 (.716)
Winningest coach: Darrell Royal: 167-47-5

Wins without winningest coach: 691
TCU: 593-514-57 (.534)
Winningest coach: Dutch Meyer: 109-79-13 (Gary Patterson is tied at 109-30.)

Wins without winningest coach: 484
TEXAS TECH: 524-405-32 (.562)
Winningest coach: Mike Leach: 84-43

Wins without winningest coach: 440
WEST VIRGINIA: 701-457-45 (.601)
Winningest coach: Don Nehlen: 149-93-4

Wins without winningest coach: 552
That's a wide variance of wins. It's clear that no man means more to his school than Bill Snyder does to Kansas State. The program has a rather depressing .358 winning percentage if you remove Snyder's win from the equation. He took two seasons to get Kansas State from a perennial doormat to a team above .500. Snyder then went on a historic run that included a Big 12 title in 2003 and two BCS bowl bids.
Don't ever doubt why some consider what Snyder has done in Manhattan as the single greatest coaching job in the history of the game. Snyder's career win percentage at Kansas State is .656, almost double what the program's overall win percentage is. No other coach comes close to those numbers. There's a reason why many of the nation's coaches are often in awe of Snyder and why he is so respected.
The biggest surprise for me was the relative dominance of West Virginia compared to the rest of the Big 12. That .601 win percentage is behind only Texas and Oklahoma over the course of the program's history. And you wonder why folks are so excited about their entrance into the league?
Looking elsewhere, Texas Tech's decision to fire Mike Leach looks worse and worse while the Mike Gundy hire at Oklahoma State looks better and better. Gundy is three wins from passing Pat Jones as the school's biggest all-time winner. He did so in just 89 games while Jones needed 125 matches to reach 62 victories.
Conversely, how about the job Gary Patterson has done at TCU? Sure, the schedule is different, but he's suffered the same amount of losses as Gundy with 50 more wins. He's also reached 109 wins in 62 fewer games than Dutch Meyer.
We're living in the age of some great, great coaches in this league. History shows us that.
November, 18, 2009
11/18/09
12:00
PM ET
By
Tim Griffin
| ESPN.com
An internal investigation about the discipline methods of Kansas coach Mark Mangino signal the end could be near for his tenure at the school.
Allegations have surfaced that Mangino poked senior linebacker Arist Wright in the chest during a walkthrough practice earlier this season. Several parents have complained to Kansas officials about his treatment of players. And the
Kansas City Star reported
Wednesday that a group of parents of players have organized to air their grievances about Mangino's coaching methods.
Earlier this week, Kansas athletic director Lew Perkins met with the Kansas football team to discuss some of the allegations of Mangino's treatment of student-athletes in the past. It appears that Perkins is trying to document reasons to get rid of his current coach.
Mangino's combustible temper has bubbled over during the years. There was the incident when he was verbally abusive to high-school game officials in 2002 when he thought the opposing team was roughing up his son, Tommy.
Or the time when he thought Texas got the benefit of some favorable officiating to help its BCS cause after a tight 2004 loss. Those complaints got Mangino fined $10,000 by the Big 12.
Or when Raimond Pendleton's theatrics after a punt return for a touchdown resulted in a profanity-laced tirade from Mangino which has more than 500,000 hits on YouTube.
I don't know if there's any truth to the recent allegations. But the history is there.
Mangino is the product of a different coaching era than many of his colleagues. He drove ambulances by night and attended school by day at Youngstown State to get his start. That hard-scrabble existence taught him grit and determination. But it also made him thoroughly convinced in his methods.
It's true that Mangino and Perkins have clashed in the past. As most athletic directors would be, Perkins probably would feel more allegiance to a football coach he had actually hired than one he inherited.
But it still seems hard to believe the Kansas program has floundered so quickly.
The Jayhawks started the season 5-0 and appeared to have a good shot for their first conference title-game appearance. They were ranked No. 16 nationally and second in the nation in offense. Mangino even made a point to pitch
Todd Reesing
as a Heisman Trophy candidate.
In the process, they appeared to have overcome some nasty allegations about a turf war with the basketball team. Sellout crowds were the norm for their games. Plans for a new $34 million addition of luxury boxes were announced. Interest and support for the program had never appeared more intense.
But the early on-the-field success appears now to be an apparition. The Jayhawks' defense struggled mightily in the first conference game against Iowa State. If
Austen Arnaud
didn't overthrow
Darius Darks
late in that game, the Jayhawks might be winless in conference play today.
The Jayhawks haven't been able to run the ball consistently in Big 12 play. Reesing has had some uncharacteristic turnover problems and the Jayhawks have become one of the Big 12's worst teams.
Still, it seemed a little strange when Reesing was benched at Texas Tech late in the game. Reesing remains the most productive quarterback in school history and one of the major reasons for Kansas' remarkable 12-1 season in 2007 that resulted in its only BCS bowl appearance.
Most coaches would have felt some allegiance to the player who was largely responsible for their success. Mangino instead had a quick hook.
At 50-46, Mangino is within two victories of becoming the winningest coach in Kansas history. Only A.R. Kennedy, who went 52-9-4 from 1904-10 has more wins.
After losing the 2003 Tangerine Bowl in his first postseason trip, Mangino's teams have won three straight bowl games. The 2007 Orange Bowl upset over Virginia Tech might arguably be the biggest victory in school history.
That strong season enabled him to win consensus coach of the year honors, honors he was able to parlay into a contract extension through 2012 for $2.3 million per year.
Mangino has feasted on nonconference scheduling over the years and is only 23-39 in Big 12 play. His only winning record was in 2007 during the Orange Bowl season when the Jayhawks went 7-1.
Other than that, the Jayhawks are 16-38 in Big 12 play under Mangino, including nine losses in their last 12 conference games since the middle of last season. Those struggles have also come at a time when the North Division has never appeared more winnable.
Mangino is a good coach. But his story is a cautionary tale for all in his profession.
In today's world, coaches can't berate players like they used to. Physical contact is an absolute no-no.
Mangino appears to have trouble adapting to those societal changes. His career is in serious jeopardy because of it.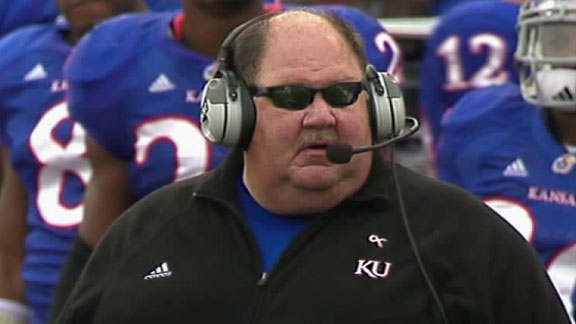 BIG 12 SCOREBOARD
Saturday, 12/20
Monday, 12/22
Tuesday, 12/23
Wednesday, 12/24
Friday, 12/26
Saturday, 12/27
Monday, 12/29
Tuesday, 12/30
Wednesday, 12/31
Thursday, 1/1
Friday, 1/2
Saturday, 1/3
Sunday, 1/4
Monday, 1/12
Tweets from https://twitter.com/ESPNCFB/lists/big12