October, 2, 2012
10/02/12
10:30
AM ET
We've played five weeks of football, and here are the Big 12's best hopes at bringing the Heisman back to the league for a second consecutive season.
1. Geno Smith, QB, West Virginia:
Smith played one of the best games we've seen in a long time in a 70-63 win over Baylor, and finds himself all alone and way ahead of the pack in the Heisman race. If voting happened today, Smith might collect every No. 1 vote from across the country. Who else is even in the mix at this point? Smith has four more touchdown passes than anybody else and leads the passer rating statistic by more than 20 points. At this point, he's playing even better than RG3 did a year ago. There's a lot of football left to play, and Smith has a lot of tough opponents ahead. This race is far from over, but there's no doubt about the front-runner right now.
2. Collin Klein, QB, Kansas State:
Klein was off last week, but he's definitely in the mix for this race, too. He won't be able to make any moves this week against Kansas, but his stock probably will parallel Kansas State's record. Klein isn't able to put up the type of numbers Smith can.
3. David Ash, QB, Texas:
Ash looks like a new man this year, and debuts on the Big 12 Heisman Watch this week after a 300-yard game with a handful of clutch throws in a 41-36 win over Oklahoma State on the road. So far, Ash is second in the Big 12 in passer rating and second in completion percentage, with the league's second-best touchdown-interception ratio. Ash has 10 scores and threw his first interception on Saturday in Stillwater.
4. Casey Pachall, QB, TCU:
Pachall got stuck in a downpour Saturday night, and had his worst game in a long time. The Frogs got the win, but you can't take a lot from Pachall's numbers, which didn't affect his stock all that much. For now, TCU is just hanging around. Pachall's stock will either skyrocket or crash and burn on the final half of TCU's schedule.
5. Tavon Austin, WR/KR, West Virginia:
Austin leads the Big 12 with 48 catches and he's third in the league with 560 yards. He has been quiet this year in the return game, but to this point,
Stedman Bailey
's probably been even better than Austin. Still, without return yardage, Bailey's got no shot to win. Justin Blackmon has taught us this. The Biletnikoff, though? Bailey's in the driver's seat.
Here's how I voted in this week's ESPN Heisman Watch, a weekly poll of 15 ESPN experts and analysts:
Geno Smith, QB, West Virginia
E.J. Manuel, QB, Florida State
Collin Klein, QB, Kansas State
De'Anthony Thomas, RB, Oregon
Aaron Murray, QB, Georgia
September, 25, 2012
9/25/12
10:30
AM ET
Here are the Big 12's best hopes for the Heisman through four weeks of football:

1. Geno Smith, QB, West Virginia:
Smith is the front-runner for the entire race, and with that come a whole lot of eyes. He has yet to throw an interception this year and has accounted for 13 touchdowns. Smith completed 30-of-43 passes for 338 yards and three touchdowns in a 31-21 win over Maryland. His completion percentage came down to earth, but he was still pretty good, despite being pressured more than he had all season. The reason: WVU's running game stalled without
Shawne Alston
.
2. Collin Klein, QB, Kansas State:
Klein helped engineer the Wildcats' 24-19 win over Oklahoma with another solid game, even if his numbers aren't going to turn any heads. He's easily in the national top five for the Heisman after completing 13-of-21 passes for 149 yards and running 17 times for 79 yards and a touchdown.
3. Tavon Austin, WR, West Virginia:
Austin had his best game of the year in the win over Maryland, catching 13 passes for 179 yards and three touchdowns, earning the Big 12's player of the week honors. Austin's start/stop acumen was on display, and he's easily the quickest guy in the Big 12.
4. Casey Pachall, QB, TCU:
Pachall makes his debut on our Big 12 Heisman Watch. It's still early for the Frogs, but despite some turnover issues in the red zone, Pachall has been really, really good and really underrated on the national scene so far this season. He completed 21-of-32 passes for 305 yards and three touchdowns and an interception last week. Pachall is completing 76 percent of his passes with eight touchdowns, and the interception was his first of the season.
Here's
how I voted in our ESPN Heisman Watch
this week, a panel of 15 voters that previews the award each week:
Geno Smith, QB, WVU
EJ Manuel, QB, Florida State
Collin Klein, QB, Kansas State
De'Anthony Thomas, RB, Oregon
Aaron Murray, QB, Georgia
September, 30, 2010
9/30/10
10:15
AM ET
Here's what I'm keeping an eye on in the five Big 12 games over the weekend.
1. Who makes up for last week?
Oklahoma hasn't run the ball well since Week 1.
DeMarco Murray
rushed 28 times last week and averaged just 2.4 yards per carry, with a long of just 9 yards. Meanwhile, Texas' defense got dominated by UCLA, allowing 264 rushing yards. In a game that should be as physical as this one, running the ball or stopping the run will mean a win.
[+] Enlarge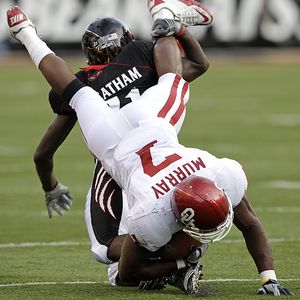 AP Photo/Al BehrmanDeMarco Murray struggled last week against Cincinnati, carrying the ball 28 times with an average of just 2.4 yards per carry.
2. Frankly, I prefer apple over cherry.
Texas' four first-half turnovers last week put them in a 13-3 hole against UCLA. Do it again, and Oklahoma will bury them quite a bit deeper. Last year, Oklahoma turned the ball over five times. This should be a low-scoring game and field position will matter. Turnovers are the quickest way to lose it.
3. He's an imposter! He's not Santa!
So far, both Oklahoma State and Texas A&M have gotten what they wanted. For the Cowboys, it's been a prolific offense despite the inexperience of its personnel. Texas A&M has shored up the defensive lapses that made it one of the nation's worst defensive teams last year. Neither has played an opposing defense (Oklahoma State) or offense (Texas A&M) that will really impress anyone. Which one is more legitimate than the other? No doubt, when Oklahoma State has the ball, this matchup will be long on interest.
4. We're playing football here, guys, not chess.
Texas A&M defensive coordinator Tim DeRuyter dominated Oklahoma State offensive coordinator Dana Holgorsen the last time they met, when Air Force beat Houston 47-20 in last year's Armed Forces Bowl. Holgorsen never had a running back like
Kendall Hunter
at Houston. DeRuyter never had a Joker like Von Miller. Which coordinator can arrange his pieces well enough for the win? One of the most intriguing matchups in tonight's game definitely won't be on the field.
5. No, you may not play with my walkie-talkie.
Kansas had communication issues in its last road game, a trip to Southern Miss against a fast-paced offense. They'll face another in Baylor this week. Can the Jayhawks fix those problems and be able to receive and execute the necessary calls?
6. Don't let the knee brace fool you, they're still letting him play.
Kansas stopped the last running quarterback it played, Georgia Tech's
Joshua Nesbitt
, from beating them. But the Jayhawks have never played one like
Robert Griffin
, who's a much better passer than Nesbitt and faster. Plus, this is a spread scheme. Limiting Griffin's effectiveness is always primary when teams play Baylor, and this is no exception.
7. Jersey sales on the concourse only.
Georgia gets a big target back for first-year starter
Aaron Murray
in receiver
A.J. Green
, who was suspended for the first four games of 2010. If he has a big game, Colorado's going to lose this game. Holding home field advantage starts with keeping Green from getting loose.
8. He's different from the MmmBop guys.
When
Tyler Hansen
has played well, so have the Buffs. He completed 70 percent of his passes for four touchdowns and an interception in the Buffaloes two wins. He threw three interceptions and completed just over 50 percent of his passes in the loss to California. A lot of how he plays depends on the play of the offensive line and if the running game picks up, but if the Buffs protect Hansen from an SEC defense and give him the opportunity to make plays, they'll have a good shot to win.
9. Paging the Cadillac.
Texas Tech's offense hasn't been as effective so far under Tommy Tuberville, ranking 10th in total offense and averaging 50 fewer rushing yards per game than any other team in the Big 12. It must get better to get back in the Big 12 South race. Saturday is its first chance, two weeks after rushing for minus-14 yards against Texas.
10. Baron Batch is the bowler, but the Cyclones would like to join.
You're heard plenty about Iowa State's bear of a schedule, but winnable games like this are the ones the Cyclones have to win to make a second consecutive bowl appearance. As it stands, the Cyclones have four top-15 teams on their schedule and No. 21 Texas. Texas Tech isn't among the group of Iowa State's other seven games.
April, 27, 2010
4/27/10
2:30
PM ET
Linebacker Arthur Brown transferred from Miami to Kansas State last month. Now, another high-profile recruit could be headed back to Big 12 country.
Rumors surfaced on Monday that Georgia quarterback
Logan Gray
would transfer after a meeting with Bulldogs coach Mark Richt, but the school released a statement on Tuesday saying Gray was "weighing his options."
Freshman
Aaron Murray
took hold of the No. 1 quarterback job in the spring, and Gray, a Columbia, Mo. native, met with Richt early Monday to discuss his future. Gray came to Georgia as the No. 7 quarterback in the country and listed at No. 40 overall on the 2007 ESPNU 150.
He worked as a punt returner for the Bulldogs and has thrown just 12 passes in two seasons in Athens.
No decision has been made for Gray's future yet, and it would make sense for him to play out his final two years of eligibility at the FCS level, where he wouldn't have to sit out the required season and could play right away.
But he could also be an attractive option for a Big 12 North team close to home that needs a quarterback.
Kansas State might make the most sense. If
Carson Coffman
wins -- and keeps -- the job this fall, Gray would have to beat out junior-to-be and former receiver
Collin Klein
for the job, along with
Sammuel Lamur
. Like Klein and Lamur, Gray has speed, but came to college a more accomplished passer than either.
Missouri has a talented group of quarterbacks behind
Blaine Gabbert
, who could still stay for his senior year, and a move back to his hometown would be a move back into tight competition, this time with James Franklin and Tyler Gabbert, as well as
Ashton Glaser
.
Sophomore
Kale Pick
may have just began his possible three-year run at Kansas with Saturday's spring game. Could be an interesting situation to keep an eye on in the next week.