Big 12:

Aggies-Hogs-100111
November, 28, 2014
Nov 28
10:00
AM ET
Baylor
and
Kansas State
each face one final hurdle before a head-to-head matchup at McLane Stadium on the final Saturday of the season that could garner plenty of headlines. Meanwhile,
West Virginia
and
Iowa State
look to snap significant losing streaks.
Here are the storylines to watch in the Big 12 during Week 14:
West Virginia at Iowa State, noon ET (Fox Sports 1):
Neither team brings much momentum into this game with the Cyclones on a four-game losing streak and the Mountaineers on a three-game slide. Those downward trends won't sit well with Dana Holgorsen or Paul Rhoads. ISU watched its first Big 12 win slip out of its hands against
Texas Tech
a week ago, so the Cyclones could be entering this game with more momentum than previous weeks. Intrigue will join WVU on the plane to Ames, Iowa, with
Skyler Howard
's performance against Kansas State putting a spotlight on the quarterback spot for Holgorsen's squad. Even if starter
Clint Trickett
is healthy, Holgorsen might not hesitate to turn to Howard if Trickett struggles.
No. 7 Baylor versus Texas Tech in Arlington, Texas, 3:30 pm ET (ABC):
The Bears can't seem to get the traction they need to rise in the College Football Playoff rankings. But BU needs to win, and win impressively, if it hopes to keep its name in the conversation for another week. The Bears have minimal room for error. Tech enters the game after its first win since mid-October against ISU a week ago. The Red Raiders would love to play spoiler for the Bears while creating a little momentum heading into the offseason if they're able to finish the regular season with a two-game win streak which includes a win over the nation's No. 7 team.
Kansas versus No. 12 Kansas State, 4 p.m. ET (Fox Sports 1):
The final home game for all-purpose threat
Tyler Lockett
could inspire the senior to do something special at Bill Snyder Family Stadium. The Wildcats have plenty to play for with a Big 12 title still within reach. Meanwhile, KU interim coach Clint Bowen could strengthen his résumé even further with a win over the in-state rival Wildcats. And the Jayhawks' sloppy showing at
Oklahoma
should give KU plenty of motivation to show they're better than they played against the Sooners a week ago.
October, 1, 2011
10/01/11
9:39
PM ET
The Big 12's evening games are a bit of a snoozer, but let's get you caught up.
Oklahoma took a 59-6 lead over Ball State after linebacker Tom Wort returned a fumble 20 yards for a touchdown. The Sooners have now forced four turnovers after three interceptions by Tony Jefferson.
Texas leads 34-0 midway through a quiet third quarter.
Jaxon Shipley
has three catches for 94 yards and a score.
Now, back to the Aggies.
Courtesy of ESPN Stats & Information, try these tidbits on:
Texas A&M is the first team since 2005 to lose consecutive games after holding at least a 17-point lead.
The Aggies have given up just under 600 yards and been outscored 52-12 in their past two second halves.
Texas A&M gave up 281 yards receiving to Jarius Wright, the second-most receiving yards in SEC history.
Tyler Wilson's 510 passing yards are fifth most in SEC history, and the most since 2001.
Not pretty. The Aggies have given up 948 passing yards in two weeks now. Texas A&M's 38 points were its most in a loss since a 48-47 loss in overtime back in 2002.
Texas A&M's defense obviously has to make some changes, or results like Saturday's will only continue.
October, 1, 2011
10/01/11
5:55
PM ET
ARLINGTON, Texas -- R.C. Slocum coached Texas A&M to its first and what now looks like it will be its only Big 12 title in 1998.
Dallas Cowboys owner Jerry Jones was a co-captain of Arkansas' only national title team back in 1964. Before Saturday's game, the two shared a moment on the Texas A&M sideline.
"How 'bout those Aggies comin' to the SEC?" Jones asked. His school made the move from the Texas-based Southwest Conference to the SEC in 1991.
"Oh, man," Slocum said with a grin of anticipation as the two shook hands.
Oh man, indeed.
If Slocum had known what he was about to watch, that grin would have been a groan.
Last week, Texas A&M blew a 17-point halftime lead in a loss to Oklahoma State. A day later, it celebrated its move to the SEC.
This week? Try 18 to Arkansas, which roared back to take its first lead with 1:41 left and beat the Aggies, 42-38.
Broderick Green
's 244-pound frame barreled over the goal line, and the Arkansas contingent exploded as the Aggies in attendance began wondering what the traffic on Interstate 30 would look like on the way back home.
Not the best first impression for the Texas A&M Aggies, who didn't quite fill their half of Cowboys Stadium as Hog fans showed up in force.
[+] Enlarge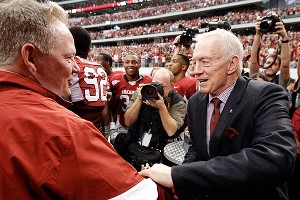 AP Photo/Brandon WadeJerry Jones congratulates Arkansas coach Bobby Petrino after the Razorbacks beat Texas A&M.
By game's end, Jones was back on his alma mater's sideline, handing over the trophy for the Southwest Classic (a game he helped create) to Bobby Petrino's Hogs.
"It's a travesty that we didn't win this football game," Texas A&M coach Mike Sherman said.
The Aggies won this game where good SEC teams win games: at the line of scrimmage.
Texas A&M sacked Arkansas quarterback
Tyler Wilson
four times and harassed him on countless other occasions, assuring he wakes up Sunday morning as sore as he's been all season. Arkansas' struggling running game continued to do so, rushing for just 71 yards on 30 carries.
The Aggies, meanwhile, protected quarterback
Ryan Tannehill
well and ran for 376 yards on 54 carries, an average of seven yards a carry on Arkansas' defense, which played without its two best defensive linemen: Tenarius Wright and Jake Bequette.
Texas A&M, though, lost this game where the rest of college football loses games: on the scoreboard.
"The stats don't matter," Tannehill said. "The only things that matter are the W or L and we didn't get it covered in the second half."
For a day, Texas A&M looked on the field exactly what it is off the field: an odd hybrid of an SEC and Big 12 defense. For all of Texas A&M's strength up front, it lost the game the way Big 12 teams have lost games for the majority of the league's 15-year history.
Wilson racked up a school-record 510 yards passing, shattering Ryan Mallett's record of 409 yards against SEC doormat Vanderbilt.
Texas A&M's defense has now gone 15 quarters without forcing a turnover, with apologies to
Justin Blackmon
's gifted touchback at Kyle Field last week.
"This defense is structured -- we take some risks defensively," Sherman said of his defense, which ran defensive backs at Wilson from various angles throughout Saturday's loss. "There's some gain when you create turnovers, and we've not been able to do that now for three weeks. That is certainly an obvious concern."
Also of concern for the Aggies was Sherman's unwillingness to try to convert a fourth-and-2 at Arkansas' 39-yard line, nursing a 35-20 lead, and a fourth-and-1 on Texas A&M's 49-yard line with a 35-27 lead.
The Aggies punted both times -- first for 19 yards to the Arkansas 25 and second for 37 yards down to Arkansas' 14 -- and the Hogs scored touchdowns after both kicks.
"If I felt like our defense was playing a little bit better, I probably would have gone for it. I felt like I just couldn't give them a shortened field," Sherman said. "If we were had been playing better defense--if this had been last year -- probably would have."
Said Tannehill: "That's the head coach's call. That's what he gets paid the big bucks for. Whatever he calls, we're going to go with it. ... We trust coach and you've just got to go with the call."
The game ended, and despite holding a huge lead early, Texas A&M was serenaded with an "S-E-C" chant at Cowboys Stadium for a fourth time in three seasons, dropping to 0-4 on the field in Arlington.
"It's emotionally tough," Tannehill said.
Maybe soon, the Aggies will be the chanters and not the chant's target. But for now, another painful loss.
For two consecutive weeks, Texas A&M has known well what it feels like to lose a game it should have won.
For at least another few months at the end of a 16-year and seven-game drought, the Aggies are left wondering how it feels to beat an SEC team.
October, 1, 2011
10/01/11
5:15
PM ET

David Ubben talks with the Aggies linebacker after Saturday's loss against Arkansas.
October, 1, 2011
10/01/11
3:44
PM ET
By
ESPN.com staff
| ESPN.com
With 1:41 left in the game, Arkansas running back
Broderick Green
scored the go-ahead touchdown from 3 yards out to lift the Razorbacks
to a 42-38 win
against Texas A&M.
October, 1, 2011
10/01/11
3:16
PM ET
By
ESPN.com staff
| ESPN.com
October, 1, 2011
10/01/11
2:52
PM ET
ARLINGTON, Texas -- Texas A&M took an 18-point lead into halftime against Arkansas today.
Last week, it was 17 points against Oklahoma State.
In both games combined, Texas A&M was outscored in the third quarter 31-0.
Arkansas now trails just
35-27
after outscoring the Aggies 10-0 in the quarter. The Aggies didn't have a turnover in the half until a late
Christine Michael
fumble, but the momentum has clearly shifted. Texas A&M isn't doing much to help change it, either.
Facing a fourth-and-2, Texas A&M tried to draw Arkansas offside and took a delay-of-game penalty. Rather than having some faith in a running game that averaged just under 9 yards a carry in the first half and an offensive line playing one of its best games of the year, the Aggies settled for a 19-yard punt.
Arkansas scored on the following drive.
Unlike last week, the Aggies still have the lead at the end of the third quarter, and there's no reason to panic. But Arkansas' charge has given Texas A&M plenty of reason to reassert itself as the aggressor at the line of scrimmage.
Fumbles are out of character for Michael and his partner in the backfield,
Cyrus Gray
. The Aggies have to keep the ball in their hands.
October, 1, 2011
10/01/11
2:19
PM ET
ARLINGTON, Texas -- Texas A&M won't be joining the SEC until next year, but the Aggies were welcomed with a brief ceremony at halftime.
Arkansas athletic director Jeff Long and chancellor Dave Gearhart presented Texas A&M president R. Bowen Loftin and athletic director Bill Byrne with a
football commemorating the Aggies' new conference
membership.
The big screen at Cowboys Stadium also showed a promotional video for Texas A&M to the SEC in 2012, which was welcomed by one of the day's loudest "Whoops!" from the Aggies fans.
October, 1, 2011
10/01/11
1:42
PM ET


ARLINGTON, Texas -- Texas A&M is winning the battle at the line of scrimmage, but Arkansas is testing the Aggies deep and having success doing it. Hogs quarterback
Tyler Wilson
has played well, but Texas A&M leads
35-17
.
Turning point:
Wilson hit
Jarius Wright
for a 68-yard touchdown pass late in the first quarter. Arkansas looked like it might be blown out, but the big play slowed the Aggies' momentum and kept Arkansas in it early. The Hogs will need a couple more of those to stay alive in the second half.
Stat of the half:
Texas A&M has 225 yards on 26 carries, an average of 8.7 yards per carry. The offensive line is getting it done, and Arkansas' defense hasn't been able to handle Texas A&M's balance.
Ryan Tannehill
has completed 15 of 19 passes for 179 yards.
Best player in the half:
Wright, WR, Arkansas. He set the single-game school record for receiving in a single half. He beat the Aggies deep and has been getting open consistently in the middle of the field for 227 yards on nine catches. Arkansas' entire offense has 284 total yards.
Best player in the half II:
Christine Michael
, RB, Texas A&M. Michael is already over the 100-yard mark for the first time since breaking his leg last season. He's scored three touchdowns and has 128 yards on 14 carries for the Aggies.
Unsung hero in the half:
Texas A&M's linemen. The Aggies are dominating both sides of the ball. Arkansas can't establish its running game, and Wilson is getting hit constantly. Texas A&M already has two sacks and came into today's game averaging 4.67 per game, the most in the nation. The Hogs have 13 yards on 15 carries.
What Texas A&M needs to do:
This one's pretty simple. Everything Texas A&M didn't do last week when it went into halftime with a 17-point lead. Run. The. Ball. Don't turn it over. Do both and the Aggies end their six-game skid against their future conference mates.
October, 1, 2011
10/01/11
12:45
PM ET
ARLINGTON, Texas -- It didn't take long before Texas A&M and Arkansas started putting on a show.
The Aggies had plays of 48 and 44 yards before Arkansas got back into the game with a 68-yard touchdown.
After the first quarter,
the Aggies led 14-7
.
Last week, the Aggies struggled early with Oklahoma State's offensive pace. This week, Texas A&M is doing it to the Hogs. Texas A&M's pace is giving Arkansas problems, but the real problem is Texas A&M's recommitment to the running game.
A week after becoming the forgotten man in Texas A&M's running game,
Christine Michael
has re-emerged with a pair of touchdowns, including his 48-yard score on an awkward exchange with quarterback
Ryan Tannehill
and a hurdle over a few linemen into the open field.
Michael appeared to grab the ball out of Tannehill's hand as he cocked to throw. When he does that and scores from midfield, though, everybody's happy, even if it's not pretty.
Texas A&M's defense has been solid, but the 68-yard touchdown to
Jarius Wright
late in the quarter was a rare bust for the unit, which has been consistently pressuring
Tyler Wilson
and putting him on his back.
Dustin Harris gave the Aggies their only sack with a big hit on Wilson, who didn't see the unblocked corner.
With these two offenses, expect more big plays before it's over.
October, 1, 2011
10/01/11
9:58
AM ET
By
ESPN.com staff
| ESPN.com
ARLINGTON, Texas -- The roof is closed.

For now, so are the doors.

Very shortly, the doors will open and the volume level inside pristine Cowboys Stadium will rise for the third year of the Southwest Classic between Texas A&M and Arkansas.

This year's game should be a little extra special. Texas A&M and Arkansas, former Southwest Conference rivals, have been separated by conference lines for 20 years. This season will be the last before those lines are lifted and Texas A&M follows the Hogs to the SEC for the 2012 season.

Will this game continue to be played here? The best guess is yes. SEC games in the Dallas-Fort Worth metroplex are rare, but the two teams are in Year 3 of a 10-year contract that can be stretched to 30 years.

The DFW area is vital to both teams' recruiting efforts, so expect the game to continue to be played here after the Aggies leave the Texas-based Big 12 for the SEC, whose home base is in Birmingham, Ala.

All that conference talk will get a rest at noon ET today, when for three hours, it'll just be 22 high-level athletes on the field playing a game.

After the past few weeks of realignment rumors and hearsay, it should be a nice change of pace, if only for a bit.

You couldn't ask for a better venue, and we'll have two top-20 teams fighting to avoid a two-game losing streak. Should be a great one.