December, 11, 2013
Dec 11
11:40
AM ET
There's one thing the Allstate Sugar Bowl has in spades: tradition.
Alabama and Oklahoma are members of college football's aristocracy with a history of winning that goes back decades. From Paul Bryant to Bud Wilkinson, dusty images come to mind with these two schools. And it's only fitting that they'll meet in New Orleans, which holds its own storied place in history.
But what about the game itself? It's still a few weeks away, but let's break down some of the aspects that might make Tide-Sooners an interesting event to watch on Jan. 2.
Key storylines
[+] Enlarge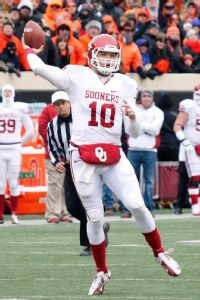 J.P. Wilson/Icon SMIAfter leading Oklahoma to a Bedlam win, will Blake Bell get the call against Alabama?
Letdown factor:
Both Alabama and Oklahoma came into this season with eyes on Pasadena, Calif., and the VIZIO BCS National Championship Game, but neither wound up in a position to make the long trip to the West Coast. How will that play a factor when the two teams meet in New Orleans? Is there any kind of unfinished business both programs feel? For Alabama, at least there's the idea that coming out and winning big might show the country that despite a last-second loss to Auburn, the Tide is the better team. A convincing win won't vault it to No. 1 in the rankings again, but a No. 2 finish could be cause enough to show up in New Orleans ready to compete.
Who starts at QB?:
Oklahoma will begin bowl practice soon, but who starts under center is still a significant question mark. As Sooners offensive coordinator Josh Heupel explained, he'll go with, "Whoever it takes." Redshirt freshman
Trevor Knight
is nursing an injured non-throwing arm, though it's unclear the severity of the injury. Meanwhile, junior
Blake Bell
, who came on in relief of Knight against Oklahoma State and led the Sooners on a game-winning drive in the fourth quarter, seems like the hot hand. But he entered the game third on the depth chart behind
Kendal Thompson
so making any assumptions here seems futile.
Stoops vs. the SEC:
Some folks just don't like to dredge up the past. But after what Oklahoma coach Bob Stoops has said about the SEC in the past year or so, it's hard to forget. Stoops has called the league with seven straight BCS champions overrated, top-heavy and overstated in terms of its defensive prowess. It's all propaganda, he claims. A veteran of the Big 12, he's been mostly alone in his criticism of the SEC, which has made him a favorite target of college football fans in the South who like to chide other conferences already. But Stoops will have his chance to answer their criticism and state the case for his own. A win over the Tide might spell vindication.
Players to watch
Oklahoma DB Aaron Colvin:
He's a big, physical corner who might be able to give
Amari Cooper
trouble. At 6-foot and 192 pounds, he's an aggressive type that doesn't intercept the ball a lot -- he has just one this season -- but does draw his fair share of flags. He's fifth on the team in tackles (49) and tied for sixth in passes defended (4).
Alabama LB Adrian Hubbard:
We saw it play out last season where Hubbard came from nowhere to close the season strong (three sacks in the final games) and flirt with the NFL as a redshirt sophomore. He ultimately stayed for his junior season, but we could see a repeat of last year as Hubbard has racked up three sacks and 11 tackles in the Tide's past four games.
Oklahoma DL Charles Tapper:
The Sooners have struggled some on offense this season, but their youth on defense is cause for hope. Trapper, a big 6-foot-4, 261-pound defensive end, is one of those bright spots. As a sophomore, he leads the team with nine tackles for loss and 5.5 sacks.
Alabama QB AJ McCarron:
It's ironic to consider that McCarron's final game at UA will come against a team he nearly signed with as a player coming out of high school. The night before he was set to decide, he said he was thinking he'd go with Oklahoma. Why? He liked their program and Sam Bradford. But as he said, when you're a teenager, "Your mind changes about 20 times a day." In the end, it's safe to say McCarron made the right decision as a win over Oklahoma would be the cherry on top of a career that's seen him win two national championships as a starter and earned him a trip to New York for the Heisman Trophy ceremony.
Stats to keep an eye on
2:
Oklahoma has a history of being a talent-rich program on offense, but this season's been different as the Sooners placed just two such players on the first- and second-team AP All-Big 12 Team. And those two selections -- center
Gabe Ikard
and kicker
Mike Hunnicutt
-- aren't what you'd call impact players.
18:
The Sooners have flipped the script after being known as a passing team under former quarterbacks Sam Bradford and Landry Jones. This season Oklahoma's relied heavily on the run, ranking 18th in the country with 235.8 rushing yards per game.
20:
Alabama's still shaking off the reputation of a slow and plodding offense. And while it may be true the Tide doesn't huddle, it does get big plays. In fact, UA ranks 28th in the country with 68 plays of 20 or more yards. Meanwhile, Oklahoma ranks 86th with only 48 such plays.
December, 4, 2012
12/04/12
9:45
AM ET
Kansas State quarterback
Collin Klein
won the Johnny Unitas Golden Arm award, his first national award of the season.
He beat out fellow finalists
Matt Barkley
of USC,
EJ Manuel
of Florida State,
AJ McCarron
of Alabama and West Virginia's
Geno Smith
to win the award.

To be eligible, quarterbacks must be nearing completion of their college eligibility or be a fourth-year junior on schedule to graduate with the recruiting class he signed with.
Klein carried Kansas State to an 11-1 record and its first Big 12 championship since 2003 by throwing for 2,490 yards and 15 touchdowns, adding 22 more touchdowns on the ground with 890 rushing yards.
Klein was also named a finalist for the Heisman Trophy on Monday.
"Collin is not just a tremendous athlete and leader on the field, but an MVP off the field as well, who repeatedly has been recognized for his numerous contributions to the community and to the spirit of sportsmanship," said John C. Unitas Jr., president of The Johnny Unitas Golden Arm Educational Foundation.
October, 30, 2012
10/30/12
10:30
AM ET
Here's the Big 12's best hopes for the Heisman this season.
1. Collin Klein, QB, Kansas State:
Notre Dame's
Manti Te'o
made a move this weekend in the race, but Klein is still alone at the top of the charts, and deservedly so. As long as K-State keeps winning, it'll stay that way. His lead is still pretty enormous. He's known as a runner ... but is second nationally in passer rating. How about that?
2. Geno Smith, QB, West Virginia:
Smith is out of the race for now after two bad games and a bye week, but if he finishes strong and maintains his crazy TD-INT ratio, he'll have a good shot to attend the ceremony in New York. If madness occurs at the top with losses to lots of teams, you never know, either.
3. Seth Doege, QB, Texas Tech:
Doege missed an opportunity to really insert himself into the Heisman race but still played well against Kansas State. He completed 35 of 50 passes for 331 yards and two touchdowns, although his interception was returned for a score and he also had a fumble early in the game.
4. Joseph Randle, RB, Oklahoma State:
Randle will absolutely be in the race if he stays at his current pace and Oklahoma State starts racking up wins against ranked teams over the next month of the season. OSU has had a low profile this season, but that could change quickly. Randle is averaging nearly 130 yards a game, which ranks ninth nationally.
Here's how I voted in this week's ESPN Heisman Watch, a weekly panel of 15 voters across ESPN platforms:
Collin Klein, QB, Kansas State
Braxton Miller, QB, Ohio State
Manti Te'o, LB, Notre Dame
AJ McCarron, QB, Alabama
Geno Smith, QB, West Virginia
February, 8, 2012
2/08/12
10:30
AM ET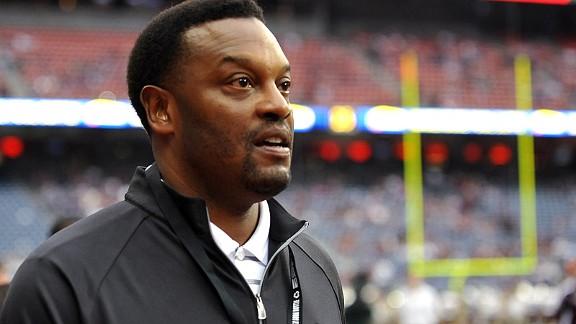 Cal Sport Media/AP ImagesBetween a young team and a tough new conference, coach Kevin Sumlin has his work cut out for him.
It's Moving Day No. 2 on the blog network today, and the Aggies are following Missouri out the door into the SEC blog today. We introduced the Aggies to the SEC earlier, but now it's time to debate.
The Aggies' move to the SEC was more about having the program grow in brand-new soil, whereas Missouri's move was more about conference stability.
Will the Aggies thrive? SEC blogger Chris Low and Big 12 blogger David Ubben go head to head to find out.
Chris Low:
OK, David, let's not tiptoe around. This is a big-boy conference in the SEC with big-boy stakes. I know everything is supposedly bigger in the state of Texas, but do the Aggies really know what they're getting themselves into? For one, they tend to play all four quarters in the SEC. Judging by what I saw from the Aggies last season, somebody might want to remind them that there is a second half. Come to think of it, that's not very hospitable of me. I take that back. But, honestly, how do you think the Aggies will handle the grind of this league?
David Ubben:
Now, now, Chris, that's not very nice. The Aggies are ...
As one final tribute to Texas A&M, I elected to forfeit the second half of that sentence.
In the early running, Texas A&M's going to have a lot of issues. Losing the volume and quality of talent they did in 2011 will hurt, especially on offense, as the program moves into a league -- and, particularly, a division -- known for defense.
Ryan Tannehill
wasn't great last year, but his experience helped, and
Jeff Fuller
and
Cyrus Gray
are a pair of NFL players that don't roll around every year.
I like the talent on campus at A&M a lot, though. They're just going to be young for now. With what they have now, they'll get better and better, as long as Kevin Sumlin does well. Based on what we've seen from his career, I think he will.
[+] Enlarge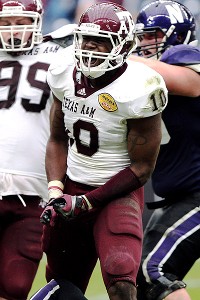 Troy Taormina/US PresswireLinebacker Sean Porter tallied 9 sacks for A&M last season, but the Aggies will need more from their defensive line.
Beyond these first three to four years, how well they progress will depend on recruiting. The Aggies think the SEC will be a big draw for Texas recruits who want to play in the best conference in college football. Being able to offer that could help them surpass Texas on the recruiting trail and on the field.
Are you buying that? I strongly lean toward no, but I could see it happening. What do you think? Is playing in the SEC going to be a draw for Texas kids? Why or why not?
CL:
I absolutely think the SEC will be a draw for some Texas recruits who see it as a chance to stay in the state and still play their college football and also be able to do it against SEC competition. That's a pretty sweet proposition: Stay close to home in the football-crazed state of Texas and compete in the football-crazed SEC, which has a standing order with the sculptor who designs that crystal trophy every year for the BCS national champion.
There's also another side to this story. The boys in the SEC think their chances of going deep into the heart of Texas and landing elite prospects are better than ever with Texas A&M joining the league. Rival coaches can tell mamas and daddies (that's the way the Bear used to say it) that they'll be able to keep up with their sons just like they were in the Big 12 with the Aggies now part of the SEC family, although the recruiting atmosphere in this league isn't very family-oriented. Just ask Urban Meyer. He got so tired of the recruiting shenanigans in the SEC that he's now pulling his own in the Big Ten, according to some of his new brethren there.
That leads me to my next question: Has anybody informed the Aggies that the rules are a little different in the SEC? Unlike the Big 12, it's not the first team to 40 points that wins.
DU:
For the record, the league changed those rules for Baylor-Washington in the Alamo Bowl. First to 60 wins now, but that's irrelevant news for the Aggies.
A&M's front seven's actually been really good these past two years, but this year, it was the secondary that let the team down. The Aggies led the nation with 51 sacks, but the team wasn't happy that it took a lot of risky blitzes to get those sacks. The defensive line wasn't the unit applying the pressure most often — it was linebackers and defensive backs. That meant a lot of big plays in the passing game; the Aggies ranked 109th nationally in pass defense, giving up more than 275 yards a game. Now, they won't see the same caliber of quarterbacks in the SEC, but we will see if the front seven can handle the power of teams in the SEC West, which, to their credit, do have a handful of quarterbacks with a lot of potential.
Tyler Wilson
's great now.
AJ McCarron
and
Kiehl Frazier
could be elite soon.
We'll see what new defensive coordinator Mark Snyder can fix.
On the flip side of the recruiting debate, how much do you think SEC teams will try and slide into Texas? Could we see some collateral damage in the Big 12? Will the SEC one day take over the world? I heard Nicolas Sarkozy already has a special security detail in place in case Mike Slive comes after him.
CL:
I'm not sure about taking over the world. It's just college football that the SEC one day would like to own. Some might suggest it already does.
Arkansas and LSU will probably be helped the most in terms of going into Texas and getting players. Other schools in the SEC might be more apt to target players in the state of Texas and make a push for those select players, but I don't think you're going to suddenly see a mass of teams in the SEC setting up camp in Texas on the recruiting trail. There's no need to when you look at how bountiful the states of Florida, Georgia, Alabama, Louisiana and South Carolina are in most years.
You mention some of the quarterbacks in the Western Division. It's fair to say that this wasn't a quarterback's league this season, and I also realize that the Big 12 has produced some quarterbacks over the last few years who've put up Xbox-type numbers.
[+] Enlarge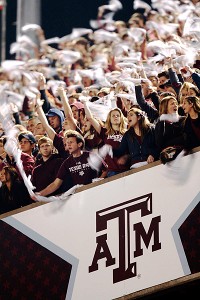 Thomas Campbell/US PresswireThere's little doubt that the state of Texas and the SEC share a deep passion for football.
But my question for you: Is Texas A&M capable of playing the kind of defense it takes to win big in the SEC?
DU:
I think so, eventually. They know they have to, which is huge. They've seen how teams succeed in the SEC, and it's with defense.
If you invest in something, especially with the resources A&M has, good things will happen. Don't forget, the Aggies defense was really, really good last year. The athletes are there. For A&M, it's about putting it together.
CL:
With all due respect, "really, really good" on defense in the Big 12 is entirely different than being "really, really good" in the SEC on defense. The more I watch this conference, the more it's ingrained in me that you're never going to win at a high level unless you can run the ball, stop the run and consistently win the turnover battle. Everything else is window dressing. I understand that's not exactly rocket science, but being able to run the ball creates a mindset that positively impacts your entire team. The same goes for playing good run defense.
So if I were offering any advice to the Aggies as they make the big jump, it would be to fortify their offensive backfield and recruit like crazy in the offensive and defensive lines. There's no such thing as too much depth in the SEC.
Having a little Texas flavor in the SEC is exciting. I know you're on record as saying the Aggies might struggle next season. But over time, I think they have what it takes to be an upper-echelon team in the SEC. Of course, that's the beauty of the SEC. So does everybody else in the league.
DU:
Oh, there's no respect due when we're talking Big 12 defenses. The best in the SEC are on another stratosphere from the best in the Big 12.
Your game plan sounds like what I'd recommend, but it's easier said than done. Like Mizzou, A&M will have to start mining some of those junior colleges down south like the rest of the SEC West.
Generally, I'd agree with you on A&M's long-term prospects. The Aggies will win less than they did in the Big 12 ... which is to say not much. But they could put it together and have a huge year every now and then. I don't see them surpassing Texas as a program, but they're on their own now.
For some Aggies, that's enough. Next year, the Aggies will struggle, but watching them grow and try to build a new program will be fascinating.
BIG 12 SCOREBOARD
Saturday, 12/21
Monday, 12/23
Tuesday, 12/24
Thursday, 12/26
Friday, 12/27
Saturday, 12/28
Monday, 12/30
Tuesday, 12/31
Wednesday, 1/1
Thursday, 1/2
Friday, 1/3
Saturday, 1/4
Sunday, 1/5
Monday, 1/6
Tweets from @ESPNCFB/big-12