January, 5, 2012
1/05/12
4:01
PM ET
Has something seemed odd to you about the BCS bowls this year? Does it seem like ... oh wait, West Virginia just scored again.
Does it seem like ... wait, there goes
De'Anthony Thomas
. Don't think he'll get caught from behind.
Does it seem like ... wait, would somebody please tackle
Justin Blackmon
?
Does it seem like there have been a lot of points this bowl season?
It's not just you. There have been a lot of points. More points than ever before. And by huge quantities.
So far, BCS bowl teams have averaged a total of 77 points in the Rose, Fiesta, Orange and Sugar bowls. That, folks, is nearly 26 points more than last year (51.6). And it's nearly 11 points better than the previous high of 66.3 from 2001-02.
Perhaps pairing two SEC teams in the title game has created a black hole sucking all defensive stinginess into the LSU-Alabama rematch, which you might recall went 9-6 with no touchdowns in their first meeting. West Virginia scored 10 touchdowns -- 10! -- against Clemson. Alabama gave up 12 TDs all season.
Speaking of Clemson: ACC. Well, well, well.
After the Tigers ingloriously fell 70-33 to the Mountaineers, we got our second story from the BCS bowl season: The ACC's insistence on throwing up on itself in BCS bowl games.
The conference that was once expected to challenge the SEC is now 2-13 in BCS bowl games. That's hard to do. You'd think in 15 BCS bowls the conference could get lucky at least five or six times. But no, it insists on making ACC blogger Heather Dinich, a genuinely nice person, into some sort of Grim Reaper
every bowl season
.
Heck, the Big East has won seven BCS bowls -- second fewest among AQ conferences -- but it's 7-7.
Of course, this all ties together, and we're here to bring out a bow, but first a warning: If you don't want to read about how good the SEC is for the 56,314th time this year, then stop reading. I'd recommend an episode of "South Park" or perhaps a John le Carré thriller as an alternative for passing the time.
We can all agree the SEC plays great defense right? Alabama and LSU will play for the title Monday with the nation's top-two defenses. Do you think perhaps that it's not a coincidence that the conference that is 16-7 in BCS bowl games plays great defense?
The only other AQ conference with a winning record in BCS bowl games is the Pac-12, which is 11-7. The Pac-12 isn't known for defense, either, but USC was when it won the conference's last national title in 2004.
The only team to win a BCS national title without an elite defense was Auburn in 2010, but the Tigers' defense seemed to find itself late in the season. Since 1999, eight national champions had a top-10 defense. Other than Auburn, the lowest-rated defense to win a BCS national title was Ohio State in 2002. It ranked 23rd in the nation in total defense.
Three of the four BCS bowl games have been thrillers. Two went to overtime. We've seen big plays all over the field in the passing game and running game. Yet, if things go according to script in the title game, we'll see none of that. We might not see more than a couple of plays that go for more than 20 yards. We might not see any.
Some might call that boring. It might seem that both offenses are so paranoid of making a mistake that they are stuck in mud, both in game plan and execution.
But, snoozefest or not, when the clock strikes zero a team from the SEC will hoist the crystal football for a sixth consecutive time.
That might say something about playing better defense.
December, 19, 2011
12/19/11
9:00
AM ET
The Pac-10 and Big 12 nearly got married last year, but only Colorado ended up eloping with the now-Pac-12.
You know: The conference that can count!
But the Pac-12, which has, yes, 12 teams, and the Big 12, which has 10 teams (though it's often hard to keep up with which ones), play each other in three bowl games this holiday season.
Joy to the world.


So it seemed like a good time for the Pac-12 and Big 12 bloggers -- Ted Miller and David Ubben -- to say howdy and discuss all the coming fun.
Ted Miller
: Ah, David, the bowl season. Pure bliss. Unless you're the Pac-12, which is expected to get a whipping from your conference over the holidays. We have three Pac-12-Big 12 bowl games with the Tostitos Fiesta Bowl between Stanford and Oklahoma State, the Valero Alamo with Baylor and Washington, and the Bridgepoint Education Holiday matching California and Texas. And the Big 12 is favored in all three!
Poor ole West Coast teams. What are we to do? It's almost like the Big 12 is the SEC or something. Speaking of which, how are things with your Cowboys? Are they over not getting a shot at LSU for the national title? Are they excited about getting a shot at
Andrew Luck
and Stanford? We might as well start with that outstanding matchup in Glendale.
David Ubben
: You know, I was actually a little surprised. I stuck around Stillwater for the BCS bowl selection show announcement, and the players took the news pretty well. They found out an hour before, but there wasn't a ton of down-in-the-dumpiness from the Pokes. When you've never been to this point before, it's a bit difficult to develop a sense of entitlement. If Oklahoma had OSU's record and was passed over by Alabama and sent to the Fiesta Bowl for the 17th time in the past six years, you might have had a different reaction.
But Oklahoma State's first trip to the BCS and first Big 12 title aren't being overlooked. These players are looking forward to this game. There's no doubt about that.
I know the Big 12 seems like the SEC, but I have a confession, Ted. I wasn't supposed to tell anybody, but I can't hold it in anymore. When the Big 12 began back in 1996 ... wow, I'm really going to do this ... then-SEC commissioner Roy Kramer graciously allowed the league to keep two of his teams. The league made a similar arrangement with the Big Eight a century ago, and the Southwest Conference around the same time. Missouri and Texas A&M are really wolves in sheep's clothing: SEC teams just pretending to be in other leagues. So, that might explain the Big 12's recent dominance.
These should all be fun games, though. I ranked two of the matchups among the top three in my bowl rankings.
As for the big one, they say you learn more by losing than by winning. Stanford got its first BCS win. How do you think that experience plays into this year's game? I hate to ruin the surprise, but Oklahoma State's a bit better than the Virginia Tech team Stanford beat last season. OSU's loss to Iowa State this season is bad, but it's nothing like the Hokies' loss to James Madison last season.
[+] Enlarge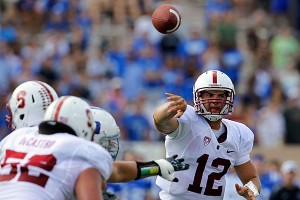 AP Photo/Gerry BroomeQuarterback Andrew Luck leads Stanford into its second consecutive BCS bowl, this season against Oklahoma State in the Fiesta Bowl.
Ted Miller
: Not only is Oklahoma State better than Virginia Tech, it's still questionable whether this Stanford team is better than last year's. Since we're going all crazy and whispering about the SEC, there was a feeling out West that by the end of the 2010 season the Cardinal might not only be the best team in the Pac-12 but also in the nation. They were big and physical and quarterback Luck actually had a solid receiving corps with which to work. After a loss to Oregon in the fifth game, they didn't lose again until playing, er, Oregon in this year's 10th game. If we could go back in time and have the Cardinal play Auburn, I think Stanford would have won the national title.
But that's 2010. The difference this year is the season-ending knee injury to middle linebacker Shayne Skov, who was an All-American candidate, a slight step back on the offensive line and a lack of top-flight receivers. But if Oklahoma State fans are looking for something to worry about it is this: Stanford's running game.
The Pokes are bad against the run, and they haven't faced a team that is as physical and creative in the running game as Stanford. As much as folks talk about Luck's passing, it's his run checks that often ruin a defense's evening.
The Fiesta Bowl matchup looks like a great one, perhaps the best of the bowl season. But I'm excited to see Mr. Excitement
Robert Griffin III
in the Alamo Bowl against Washington. Of course, I'm not sure that the Huskies, their fans and embattled Huskies defensive coordinator
Nick Holt
are as thrilled. First, tell us about what Washington should be most worried about with Griffin. Then tell us about Baylor in general. Such as: Can the Bears stop anyone?
David Ubben
: Nope. Not really.
Oklahoma State's defense unfairly gets a bad rap. Baylor's bad rap is earned. This is the same team that won five consecutive games late in the season -- but became the first team ever to win four consecutive in a single season while giving up 30 points in each.
[+] Enlarge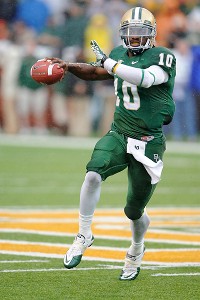 Jerome Miron/US PresswireBaylor's Robert Griffin III will try to make it three straight bowl victories by Heisman Trophy winners.
Which, if you ask me, says plenty about both the defense and the power of RG3. They've got a lot of athletes on the defense, but when four of your top five tacklers are defensive backs, well, you need a guy like RG3 to go 9-3.
The man is a nightmare. Top to bottom, he's the most accurate passer in a quarterback-driven league. Then, you add in his athleticism, which he doesn't even really need to be extremely productive. It sets him apart, though, and forces defenses to account for it, and it buys him time in the pocket. How many guys break a 20-plus yard run before hitting a receiver for a game-winning 39-yard score to beat a team like Oklahoma for the first time?
How do you think Washington will try to slow him down? What has to happen for them to have some success?
Ted Miller
: This game matches the 99th (Washington) and 109th (Baylor) scoring defenses. It has a 78-point over-under, the biggest of any bowl game. The offenses are going to score plenty, at least that's the conventional wisdom.
How does Washington stop RGIII? His name is
Chris Polk
. He's a running back. Baylor gives up 199 yards rushing per game. Polk right, left and up the middle is a good way to contain Griffin. The Huskies' best hope is to reduce Griffin's touches with ball control. It also needs to convert touchdowns, not field goals, in the redzone. The Huskies are pretty good at that, scoring 36 TDs in 45 visits to the red zone.
The Huskies also have a pretty good quarterback in
Keith Price
, who set a school record with 29 touchdown passes this year. He and a solid crew of receivers have prevented teams from ganging up against Polk. But Polk is the guy who burns the clock.
Should be a fun game. As should, by the way, the Holiday Bowl. David, Cal fans are
still
mad at Texas coach Mack Brown and his politicking the Longhorns into the Rose Bowl in 2004. Every team wants to win its bowl game, but the Old Blues really want to beat Brown.
Of course, neither team is what it was in 2004. Cal has an excuse. It's not a college football superpower. Sure you've been asked this before, but give me the CliffsNotes version of why the Longhorns have fallen so hard since playing for the national title in 2009.
David Ubben
: Cal fans are still mad? Really? I'd suggest they get over themselves. What's anybody on that Cal team ever done anyway? It's not like the best player in the NFL missed out on a chance to play in the Rose Bowl. Now, if that were the case, we might have a problem. But honestly, I don't think Tim Tebow cares all that much about the Rose Bowl.
As for Texas' struggles?
The easy answer is quarterback play. Texas relied on Colt McCoy and Jordan Shipley more than anyone realized. When they were gone, Texas couldn't run the ball, and quarterback Garrett Gilbert never made it happen. Two seasons later, the Longhorns still don't have a quarterback.
The other big answer last season was turnover margin. Gilbert threw 17 interceptions and the Longhorns were minus-12 in turnovers, which ranked 115th nationally.
They were still only 90th this year, and without solid quarterback play in a Big 12 dominated by passers, they scored five, 13 and 17 points in three of their five losses. Texas keeps people from moving the ball and runs the ball better this year, but without a solid passing game and a defense that changes games, it's tough to rack up wins in the Big 12.
It's been awhile since Cal was in the mix for the BCS, even as USC has fallen. Oregon answered the call and rose, but what has prevented Cal from winning the Pac-10 and Super Pac-10 since the Trojans' swoon?
Ted Miller
: You mention quarterback play. Cal fans ... any thoughts? You mention Aaron Rodgers. Cal fans? Oh, well, that's not very nice during this festive time of the year.
Cal has become a solid defensive team, but it's lost its offensive mojo, and that can be traced to a drop in quarterback play since Rodgers departed. The latest Bears quarterback,
Zach Maynard
, started fairly well, stumbled, but then seemed to catch on late in the season. It's reasonable to believe the team that gets better quarterback play -- mistake-free quarterback play -- is going to win this game.
Nice to cover a conference where quarterback play matters, eh David?
Speaking of quarterback play and winning, let's wind it up. Our specific predictions aren't coming on these games until after Christmas. But we can handicap the Big 12-Pac-12 side of things. We have a three-game series this bowl seasons.
I say the Pac-12, underdogs in all three games, goes 1-2. What say you?
David Ubben
: And to think, before the season, all I heard was the Pac-12 had surpassed the Big 12 in quarterback play. Did somebody petition the NCAA for another year of eligibility for Jake Locker and/or clone
Matt Barkley
? You West Coast folk are geniuses; I figured you'd find a way. We can't all be Stanford alums ...
Clearing out all the tumbleweeds here in middle America, I'll go out on a limb for the Big 12 in this one. Every matchup is a good one, and I don't think Cal has seen a defense like Texas' and Washington hasn't seen an offense like Baylor's. People forget that, yeah, RG3 is outstanding, but the Bears also have the league's leading receiver and leading rusher.
Stanford-OSU is a toss-up, but I'll go with a perfect sweep for the Big 12. The Cowboys haven't played poorly on the big stage yet, so I'll give them the benefit of the doubt in this one, and they clean up for the Big 12 against what was almost its new conference this fall.
Oh, what could have been. Ubben and Miller on the same blog? Divided ultimately by a little thing we call the Rockies.
January, 22, 2010
1/22/10
10:00
AM ET
By
Tim Griffin
| ESPN.com
The Big 12 had an eventful decade in the one that just concluded. Two national championships, seven trips to the BCS national title game and a spectator-friendly offensive attack earned the league much national notoriety.
But you haven't seen anything yet.
With that in mind, I dusted off my crystal ball and looked ahead to see some of the major events that we could see during the upcoming decade.
We'll see some realignment in the league as Missouri leaves for the Big Ten and TCU is added to fill the Tigers' place. That move will give Big 12 leaders an excuse for realignment that eventually will be selected from a blind draw of plans at Big 12 commissioner Dan Beebe's desk. The Osborne Division will have Nebraska, Colorado, Baylor, Texas Tech, Oklahoma State and Texas A&M. The Royal Division will give a home to TCU, Texas, Oklahoma, Iowa State, Kansas and Kansas State. After four years of play, that grouping will prove so unpopular that the old divisional format will be adapted with TCU joining the South Division and Oklahoma State moving to the North.
Mike Leach eventually will return to the Big 12 – but this time as a television analyst. His quirky conversational style will be panned by the critics but embraced by fans. And he'll also appear on television in a continuing role of his good friend Donald Trump's series "The Apprentice."
After being rebuffed by the major television networks, the Big 12 and Pac-10 will strike out on their own with a television network jointly owned by both. It will give us a late game every Thursday night from the Pac-10, along with an early Big 12 game every Saturday at noon. The two conferences will share the prime Saturday afternoon programming window and games on Saturday night, building national awareness for both conferences.
The most intriguing part of the Pac-10/Big 12 programming association will be the "Kickoff Classic," a week-long start of the season where the Big 12 teams will meet their counterparts from the Pac-10 in a series of eight games each year. The series starts off with a bang when USC beats Texas in 2015 at the Cowboys Stadium in Arlington, Texas, earning a measure of revenge for losing to the Longhorns in the national championship game in 2006.
By that time, Will Muschamp will have taken over at Texas. Mack Brown will remain at Texas through the 2012 season, celebrating as Garrett Gilbert leads the Longhorns to the national championship with a victory over Ohio State in the BCS title game. After that game, Brown announces his resignation, with Muschamp taking over and naming Major Applewhite as his offensive coordinator and Kirby Smart as his defensive coordinator in his first series of personnel moves.
Bob Stoops' association with Oklahoma will end in the middle of the decade when he accepts an offer to become the head coach of the Dallas Cowboys. At the time, it will end the longest association of any Big 12 coach with their school. He'll be replaced at Oklahoma by Houston coach Kevin Sumlin.
After Bo Pelini leaves for the vacant LSU job after the 2014 season, former Cornhusker Turner Gill takes over the Nebraska program after developing his Kansas program into a solid bowl contender. His hiring is one of the last acts that Nebraska athletic director Tom Osborne orchestrates before his retirement.
Much to the chagrin of football fans, the BCS will endure. We'll see one alteration, however. A "plus-one" model will be added with one game added for the national championship. Texas, Nebraska and Oklahoma all will win national championships during the upcoming decade. With Boone Pickens' influence lessening, Oklahoma State will fall back into a lesser position in the South. And Colorado will go through two head coaches in the decade before hiring Kyle Shanahan in 2018.
Thanks to huge seasons from Robert Griffin and national interception leader Ahmad Dixon, Baylor will end its bowl drought with an appearance in the 2011 Texas Bowl. To celebrate, the Dr Pepper bottlers in Waco will release a commemorative bottle that becomes a prized collectors' item.
One change in the BCS will affect the Big 12. The Cotton Bowl eventually will become the fifth bowl in the national title rotation. To fill that hole, the Alamo Bowl will move to New Year's Day as the destination for the top Big 12 team that doesn't make the BCS.
November, 27, 2009
11/27/09
6:39
PM ET
By
Tim Griffin
| ESPN.com
Happy "Black Friday." Given the choice, I'll always dig deep into my mailbag to answer a few of your questions rather than battle the traffic around the malls.
So here goes. Thanks again for keeping me inside and busy today.
Jameson Baker of College Station, Texas, writes:
Tim, what do you think about the San Antonio newspaper saying that Texas A&M might be selected for the Alamo Bowl if the Big 12 gets two in the BCS? Is it just wishful thinking or do you think there is a possibility?
Tim Griffin:
Heading into Saturday's games, if Oklahoma State and Texas end up in the BCS, here's how I would handicap the best chances for the Big 12 and its bowl partners. I'm also assuming that Missouri beats Kansas to deny the Jayhawks a bowl berth.
BCS: Texas and Oklahoma State. Cotton: Nebraska. Holiday: Texas Tech. That would leave the Alamo with the likely choice of Missouri, which would have finished 8-4. But the Tigers have been to San Antonio in each of the past two seasons, after meeting Oklahoma in the 2007 Big 12 title game and playing Northwestern in the 2008 Alamo Bowl. So it's understandable the Alamo Bowl might be a little leery about inviting them again. The teams that would have qualified for bowl games include Oklahoma, Iowa State and Texas A&M. With the Aggies' traditional appeal, I could see why there might be some interest, despite A&M being blown out by Oklahoma and having a record that would be two games worse than Missouri's.
The Big 12 doesn't require its bowl partners to take teams according to their records. So it's understandable why Texas A&M might be more interesting to the Alamo Bowl rather than Missouri or any of the other possible teams.
---
Rajesh Solanki from Carrollton, Texas, writes:
Tim, I would like to ask one thing. Many people are saying that with
Colt McCoy
winning over Texas A&M he has solidified his Heisman trophy. But why is it such an accomplishment to win over the Big 12's last ranked defense?
Tim Griffin:
Rajesh, you were correct about A&M's struggling defense. But McCoy's numbers -- 304 yards passing and a career-best 175 yards rushing -- were impressive if he was playing a pee-wee team. And considering the struggles of
Mark Ingram
Friday against Auburn, strong games in November aren't to be assumed by Heisman candidates anywhere.
---
Brad Stephenson from Osage, Okla., writes:
Tim, what has been your biggest surprise and biggest disappointment in the Big 12 this season?
Tim Griffin:
Brad, I think the biggest positive surprises have been the bowl bid for Iowa State under first-year coach Paul Rhoads, Kansas State's surprise challenge for the Big 12 North title and the way that Oklahoma State coach Mike Gundy has kept his team together despite the loss of key producers like
Dez Bryant
,
Kendall Hunter
, Orie Lemon and
Jamal Mosley
for much of the season. And the biggest disappointment has been Oklahoma. The injuries to
Sam Bradford
and
Jermaine Gresham
have been the major reason the Sooners have limped to a 6-5 record this season -- already the worst regular-season record in Bob Stoops' 11-season coaching tenure there.
---
Broc Ward from California writes:
As a long time Longhorns fan, I appreciate Texas going with an aggressive no-huddle offense against an equally aggressive and defense that seemed to grow in confidence Aggie defense. It was a smart move for both teams.
Tim Griffin:
I agree with you. I thought Texas' use of a no-huddle offense countered the Aggies' unexpected blitzing. McCoy told me after the game that A&M blitzed only about 30 percent of the time in their studies before the game. McCoy said that the Aggies blitzed on at least half of their plays in Thursday night's game.
McCoy was able to effectively use the quarterback draws which sparked his big rushing game. But I really enjoyed watching the chess match between Texas offensive coordinator Greg Davis and veteran Texas A&M defensive coordinator Joe Kines. It was really interesting to watch.
---
Josh Newman from Overland Park, Kan., writes:
I understand that the Missouri/Kansas "Border War" matchup at Arrowhead Stadium on Saturday doesn't have the excitement it has garnered in the past, but it's worth mentioning that it will display three of the top four wide receivers in the Big 12. Not to mention, it's one of the top rivalries in all of collegiate sports. Couple that with the fact that the KU athletic department is in flux (to say the least). Mark Mangino may very well be coaching his last game as a Jayhawk! All this from a KSU alum who's already focused on basketball!
Tim Griffin:
I agree that the Missouri-Nebraska game will be interesting. The collection of
Kerry Meier
, Dez Bryant and
Danario Alexander
will provide some of the best receivers in one game in college football this season. Like you mentioned, there's been a lot of speculation about Mangino's job security. And the rivalry should be just as heated as usual -- simply because it's Missouri and Kansas.
I know I can't wait to watch the game tomorrow -- along with all of the rest. And I think the rest of Big 12 fans are with me on this one.
Thanks again for the questions and we'll answer a few more next week.
August, 13, 2009
8/13/09
9:15
AM ET
By
Tim Griffin
| ESPN.com
Posted by ESPN.com's Tim Griffin
It sounds like the first of the bowl dominoes is fixing to fall.
The Seattle Times reported Wednesday that the Alamo Bowl is aggressively scrambling to better its bowl matchup, moving from a shared No. 4/No. 5 pick in the Big Ten to the No. 2 pick from the Pac-10.
I would expect that if the $3 million payout the Times mentions is correct, the Alamo Bowl likely could move up at least to the No. 3 Big 12 pick. It would then give the Alamo the Holiday Bowl's current matchup of Big 12 No. 3 vs. Pac-10 No. 2.
This game would be a huge coup for the San Antonio bowl. Traditionally, the San Diego game has featured some of the most intriguing offensive bowl games because the evolving playing styles of the Big 12 and Pac-10 appear to be such a good combination.
What it would mean for the Big Ten is unclear. Maybe Big Ten commissioner Jim Delany would be able to rejigger his conference's configurations in Florida, work the Holiday Bowl in its mix or involve the Texas Bowl.
The most interesting bowl to watch in the future in terms of the Big 12 will be the Cotton Bowl. If the Dallas Cowboys Stadium proves to be as attractive for fans as it appeared during my short visit there last month, I think it will only be a matter of time before that bowl is included in the Bowl Championship Series.
If that is the case, the Alamo Bowl would be in prime position to pick up the Cotton Bowl's current matchup of Big 12 No. 2 team one of these days.
I've always thought that San Antonio would be an ideal place to anchor the loser of the Big 12 championship game -- mainly because the championship game figures to switch between larger stadiums in Arlington, Texas, and Kansas City in upcoming seasons because of harsh economic realities for the Big 12.
The twinkling River Walk lights in late December in the Alamo City would be a nice consolation prize for the team that loses the Big 12 title game.
But until then, the Alamo Bowl's positioning to move up and snatch the Pac-10 team appears to be a wise move.
August, 4, 2009
8/04/09
12:13
PM ET
By
Tim Griffin
| ESPN.com
Posted by ESPN.com's Tim Griffin
The Big East's hard-line pronouncement about its availability for the Gator Bowl might add another potential suitor into the Big 12's upcoming bowl mix.
New Big East commissioner John Marinatto told the Tampa Tribune that he is unwilling to continue the "shared-pick" arrangement that sends the Big East No. 2 team twice and the Big 12 No. 4 team twice in a four-year period to the Jacksonville-based bowl.
"It would be doubtful," Marinatto told the Tribune. "It's not what we want and not what we're going to try for. It's not on our agenda. We believe the Big East has earned that, we don't want the hybrid model.
"If we have to go somewhere else, so be it."
In the other two years of the shared pick, the No. 4 Big 12 team will go to the Alamo Bowl and the No. 5 Big 12 team will go to the Sun Bowl. That will be the case during this upcoming season.
New agreements will begin in 2010 and Big 12 Commissioner Dan Beebe has been working furiously over the last several weeks with various current partners and potential new bowls for destinations for his teams.
Big 12 teams have played in the Gator Bowl in two of the last three seasons, with Texas Tech meeting Virginia in the 2008 game and Nebraska and Clemson meeting in the 2009 game. The Big 12 has won both of those games.
Beebe said last week that the Gator Bowl has been a strong arrangement for the Big 12 for several reasons. First, it is a New Year's Day game that provides the strong kind of exposure that the conference craves. Secondly, it is based in Florida to give them a consistent recruiting presence in another part of the country.
But the Jacksonville trip is an expensive one for Big 12 fans -- particularly if they are forced to buy their airline tickets inside a 21-day window from the game.
The Big 12's current bowl arrangement provides its winner to the BCS and its No. 2 team to the Cotton Bowl. That long-term relationship is unlikely to change -- particularly as the Cotton Bowl moves to the Dallas Cowboys' plush new stadium in Arlington, Texas.
But after that, the Gator Bowl could get in the mix for a No. 3 team which is currently held by the Holiday Bowl. Bowl sources indicate the Alamo Bowl also is interested in that team and the Houston Bowl could be interested as well.
A more regionally based bowl such as the Alamo or Texas bowl might make more sense and prove more attractive to more Big 12 schools because of its proximity inside the conference's geographic footprint.
Even with a higher payout at another bowl in another part of the country, that number could be diminished if the Big 12 school wouldn't sell its quota of tickets. The conference's teams would be more likely to sell those tickets if they played in a bowl game where fans could drive.
But both bowls would struggle matching the sizzle of playing inside Florida -- particularly considering every Big 12 team normally plays at least one game inside the state of Texas as part of its regular-season schedule.
I expect a lot of posturing and positioning in the next several weeks. But however it plays out, the Big 12's stature among the bowls has never appeared stronger.
March, 2, 2009
3/02/09
1:11
PM ET
By
Tim Griffin
| ESPN.com
Posted by ESPN.com's Tim Griffin
Spring practice is blooming across the Big 12 this week with workouts beginning Monday at Baylor. There's unbridled excitement over the Bears following a 4-8 season that saw them lose three games by a touchdown or less.
The Bears' spring work will be dotted by fewer unanswered questions in Art Briles' second season directing the Bears, the Waco Tribune-Herald's John Werner writes. And the Fort Worth Star-Telegram's Dwain Price writes that the Bears have legitimate hopes to make their first bowl trip since the 1994 Alamo Bowl.
Ah, the enthusiasm of the start of spring practice. It's catching across the conference.
Here are a few other stories around the Big 12 that struck me as interesting this morning.