January, 23, 2014
Jan 23
4:00
PM ET
We've been counting down the 10 best games of the year in the Big 12, and here's No. 3. One of the most competitive games of the year went down to the wire in Morgantown, W.Va.
No. 3: Nov. 9, Texas 47, West Virginia 40 (OT)


This back-and-forth thriller featured big plays from both teams and seven combined touchdowns after halftime.
What happened:
Texas made the plays when it needed them. West Virginia did not.
On fourth-and-7 at the West Virginia 47,
Case McCoy
found
Jaxon Shipley
for a 9-yard gain. Five plays later,
Anthony Fera
tied the game at 40 with 13 seconds left, sending this one to overtime.
In overtime, McCoy was clutch again with a third-down conversion to
Marcus Johnson
followed by a two-yard touchdown pass to
Alex De La Torre
on third-and-goal. It was the Texas defense's turn on WVU's overtime possession, as it tightened its resolve after a 20-yard run by
Mario Alford
to start the possession. WVU gained one yard in the next four plays, capped by
Steve Edmond
's interception to end the game and send the Longhorns back to Austin with their Big 12 title hopes intact.
Player of the game:
UT defensive end
Cedric Reed
. Several Longhorns defenders had exceptional games, but Reed was relentless. He finished with seven tackles, including two tackles for loss, two sacks, two quarterback hurries, two fumble recoveries and one forced fumble. Not a bad day's work.
Stat of the game:
6. WVU allowed six sacks and had six fumbles (losing three). UT's defense was opportunistic and aggressive throughout the game, as its defensive line was all over Mountaineers quarterback
Paul Millard
after knocking
Clint Trickett
out of the game.
Quotable:
"When one of us gets a sack, that means the other guys are doing their job. We just knew we had to put pressure on these guys and disrupt them." -- Texas defensive end Jackson Jeffcoat.
The rest of the list:
November, 12, 2013
11/12/13
10:00
AM ET
AUSTIN, Texas -- Call it magic, or moxie, or luck, or whatever you want.
Case McCoy
likes a good comeback.
"I think sometimes he just likes to live close to the edge," Texas lineman
Mason Walters
said.
Following his trip to West Virginia last weekend, the senior quarterback's résumé now includes four comeback road victories. Texas has found some serious fortune when McCoy is facing a fourth-quarter deficit and a whole lot of pressure. He doesn't have an easy explanation for why this keeps working out for him and his Longhorns.
"I don't know what the formula is to any of that," McCoy said Monday.
He doesn't get away with it all the time (see: the 2011 Missouri loss). But these Longhorns have a strange knack for surviving close road games late when McCoy is behind center. Here's a review of the four comebacks he has pulled off in the last three years.
No. 25 Texas 27, Texas A&M 25
Nov. 24, 2011 | Kyle Field | College Station, Texas
[+] Enlarge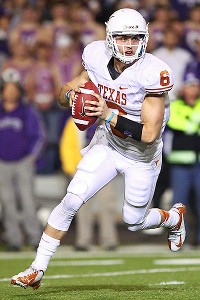 Tim Larson/Icon SMIThere's something about a late-game deficit on the road that brings out the best in Case McCoy.
The deficit:
Texas trailed 25-24 after Texas A&M quarterback Ryan Tannehill hit Jeff Fuller with a 16-yard touchdown pass with 1:48 left. The Aggies' two-point conversion failed.
The comeback:
McCoy led the Longhorns on a seven-play, 48-yard drive, and Justin Tucker became a Texas legend with his 40-yard field goal with time expiring to beat A&M in the final game of their century-old rivalry.
McCoy magic:
With 46 seconds left, McCoy dropped back to pass, then scrambled right and up the middle. He shed one tackle and bounced off another before gaining 25 yards, putting Texas in position for Tucker's game-winner.
Final line:
16 of 27, 110 passing yards; 7 rushes, 25 yards, 33.6 QBR
Quotable:
"I told him: 'Here's where you become the guy, and here's where you take us down and win the game. Every quarterback has to have a signature moment and this is going to be yours.' " -- Texas coach Mack Brown
No. 23 Texas 21, Kansas 17
Oct. 27, 2012 | Memorial Stadium | Lawrence, Kan.
The deficit:
Texas trailed 14-7 with 13:04 left when McCoy entered the game to replace an ineffective
David Ash
, who threw two interceptions. After going ahead 7-0 early, Texas' offense had produced five punts, two turnovers and one turnover on downs.
The comeback:
McCoy led two touchdown drives in the game's final 10 minutes and connected with tight end D.J. Grant for a 1-yard touchdown with 12 seconds left to escape a near-disastrous game with a victory and improve to 6-2.
McCoy magic:
After nearly throwing a game-sealing interception on his first attempt of the final drive, McCoy found
Jaxon Shipley
for an 18-yard gain on a fourth down, hit
Mike Davis
for a 39-yard gain one play later, then got the game-winner to Grant after
Johnathan Gray
was stopped twice at the goal line.
Final line:
5 of 7, 68 passing yards, 1 TD, 99.7 QBR
Quotable:
"It wasn't anything I did. I think our coaches and our team just decided to dig down deep and decide to fight. We definitely came out slow and sluggish, and that's something we can't do the rest of this year. We got lucky, and we were able to come out of here with a win." -- McCoy
Texas 31, Iowa State 30
Oct. 3, 2013 | Jack Trice Stadium | Ames, Iowa
The deficit:
Iowa State rallied with 10 points in the fourth quarter and extended its lead to 30-24 on a field goal with 3:40 left in the game.
The comeback:
Texas marched 75 yards in 12 plays, with the help of 38 yards off Iowa State penalties, to score with 51 seconds remaining. Of course, all anyone will remember from this drive are Gray's two controversial near-fumbles at the goal line.
McCoy magic:
After Gray's two short-yardage failures, McCoy pushed in for a 1-yard touchdown run on third-and-goal to put Texas ahead for good. More memorably, he found
John Harris
on a 44-yard Hail Mary to take a lead into halftime.
Final line:
26 of 45, 244 passing yards, 1 TD, 66.4 QBR
Quotable:
"This will be a real positive for us moving forward. I'm really excited. I think I love comeback wins on the road more than anything in football." -- Brown
Texas 47, West Virginia 40, OT
Nov. 9, 2013 | Milan Puskar Stadium | Morgantown, W.Va.
The deficit:
Texas trailed 26-16 midway through the third quarter, scored two touchdowns, gave up the lead, retook it and lost it again. The Longhorns were down 40-37 with 2:35 left in regulation.
The comeback:
The Longhorns went 57 yards in 12 plays and forced overtime with a 24-yard field goal from
Anthony Fera
, then found the end zone in six plays in overtime and got a four-play goal-line stand from its defense for the win.
McCoy magic:
The 10-yard touchdown to Jaxon Shipley to put Texas up 37-33. The 9-yard completion to Shipley on fourth-and-7 in the final drive of regulation. The 14-yard pass to
Marcus Johnson
on third-and-4 in overtime. The third-and-goal pass to
Alex De La Torre
that he missed against Oklahoma. He had a few big moments.
Final line:
27 of 49, 283 passing yards, 3 TDs, 1 INT, 71.9 QBR
Quotable:
"Never been more proud of my team, my offense and my defense. We didn't do everything right by any means, but we came into a hostile environment and got a win." -- McCoy
November, 10, 2013
11/10/13
1:25
AM ET
Survive and advance. That's all Texas could worry about doing on Saturday night.
A wild night in Morgantown, W.Va., ended with an even crazier finish, when Longhorns linebacker
Steve Edmond
snagged a diving interception on Paul Millard's fourth-down pass to clinch a 47-40 overtime victory.
The last-second win keeps Texas' Big 12 championship hopes alive another week. The Longhorns got to 6-0 in the league despite another perfect storm of injuries and mistakes. They couldn't have pulled this off without the help of a large cast of big-moment contributors and surprise saviors.
[+] Enlarge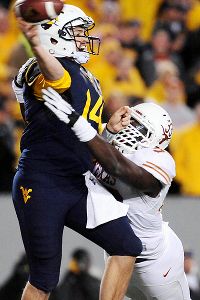 Evan Habeeb/USA TODAY SportsSteve Edmond and Texas made big plays when the Longhorns needed them most against West Virginia.
"That's the way this team has had it all year. Nothing has been easy," Texas coach Mack Brown said. "They've had to come back from the dead and they've had to fight and claw each week and they've had to win some tight games. They just continue to amaze me and overcome everything."
This wasn't like the Iowa State game, when Texas won an ugly 31-30 game and Brown was nothing but smiles, declaring a win a win and that he loves nothing more than a comeback on the road. That cheery optimism drew more than a few eye rolls.
No, this was a get the heck out of Dodge -- or, in this case, Appalachia -- and get home with a win, and no more casualties.
"We'll take this win any time," quarterback
Case McCoy
said.
For Texas, nearly everything that could've gone wrong early on did. The first four offensive possessions ended with a safety on a blocked punt, an interception, a fumble and a punt.
Its defense forced five turnovers and recorded six sacks. The Longhorns have never lost a game in the past decade when getting four takeaways. But they came awfully close on this night, with a rough first half of offense and injuries to running back
Johnathan Gray
, defensive tackle
Chris Whaley
and right tackle
Kennedy Estelle
.
Texas trailed 19-13 at halftime, then 26-16 midway through the third quarter. And yet, this team kept finding a way to scrap together just enough, delivering on every critical moment.
Jaxon Shipley
caught his first touchdown of the season, on as beautiful and difficult a pass as McCoy has thrown, with a diving two-handed grab on a corner route.
Then came Shipley's fourth-down conversion on Texas' final drive in regulation. And Malcolm Brown's 27-yard run. And Anthony Fera's field goal to send Texas to the first overtime of Brown's entire coaching tenure, and just the second in school history.
There was Marcus Johnson's third-down catch in overtime. And Major Applewhite's best play call of the year, a play-action pass on third down to
Alex De La Torre
, whose first career catch gave Texas its overtime lead.
And then there was Edmond, the once-maligned middle linebacker, batting a floated pass at the goal line on third down and slipping back to snag an interception on the game's final play.
Big moments, each of them. Drop the ball once and it could be game over. The Longhorns delivered, over and over again.
"When I got that pick, I felt like I just won the lottery, like I was just the richest man on earth," Edmond said. "I didn't know what to do. When you don't know what to do, you just do crazy stuff. I just took off running."
And his teammates, tired and worn out but undeniably relieved, chased him as Edmond tried running the length of the field.
How long a run does this Texas team have left? Next up, Oklahoma State and Texas Tech at home. Then Baylor on the road, possibly for the Big 12 title, Baylor's BCS title hopes, Texas' Fiesta Bowl dreams and all the other marbles.
But let's not get ahead of ourselves. These Longhorns aren't. They've been humbled a few times during the six-game streak, enough to know that they're living one week at a time.
We don't know the prognosis on Gray. If he misses extended time -- he was in a boot and crutches by the end of the night -- Texas' coaching staff will need to go back to the drawing board this week and find new ways for their offense to get the job done.
Another key leader went down early on, when Whaley was lost for the night with a left knee injury. The senior leader, a heart-and-soul cog of the defense, wiped away tears as he left the field on a cart.
His defense kept going, plugging in tackle
Desmond "Tank" Jackson
and getting an inspired performance and two sacks. They survived and advanced.
This is a resilient bunch. They shouldn't even be in this position after starting 1-2. West Virginia found ways to exploit them on both sides of the ball. They can lose any or all of these final three games.
But just when you're ready to count them out, the Longhorns somehow keep fighting.
"They've been called everything, they had their struggles when they got started, they never got their head down," Brown said. "They kept their head up and played with pride. I'm just happy to coach them and continue to watch them play.
"It'll be interesting to watch them the next three weeks. I'm not going to bet against them."
February, 2, 2012
2/02/12
10:30
AM ET
We looked at the biggest needs for each team in the Big 12 last week. Now it's time to
see who filled them
.

BAYLOR
Baylor needed a quarterback and defensive tackle, and delivered in both positions.
Javonte Magee
is on the way as the nation's No. 20 tackle, and the Bears grabbed former Kansas commit
Seth Russell
, the nation's No. 47 quarterback, from outside Dallas. The Bears also added the No. 78 defensive tackle,
Zorrell Ezell
, and Joey Sercy from junior college.
IOWA STATE
The Cyclones needed receivers and got them. Two of the team's top four signees are receivers,
P.J. Harris
and
Quan West
. The duo was just outside the top 100 nationally at the position and came from Florida and Texas, respectively.
KANSAS
The raw rankings won't tell you the strength of Kansas' recruiting class. Quarterback has been a huge weakness the past two years, and passers
Dayne Crist
and
Jake Heaps
arrive as transfers from Notre Dame and BYU, respectively. It also fulfilled a need by adding
Tyler Holmes
, the nation's No. 105 tackle.
KANSAS STATE
The biggest need filled for K-State is simple: defensive line. Two of the team's top signees (
Travis Britz
,
Demonte Hood
) are along the line, and the team added two more signees (
Chaquil Reed
,
Wesley Hollingshed
) from the juco ranks.
OKLAHOMA
The Sooners clearly filled their biggest need. The team's top three recruits (
Trey Metoyer
,
Sterling Shepard
,
Durron Neal
) are all receivers, which is huge for a team that found out it wasn't very strong at the position after
Ryan Broyles
' injury. It also added the nation's No. 19 receiver,
Derrick Woods
, to the class.
OKLAHOMA STATE
The Cowboys added a whole lot of volume at receiver. Time will tell how much noise it makes. OSU added six receivers in this class, but none ranked in the top 85 at their position. The team's top recruit,
Dominic Ramacher
, is the nation' No. 3 tight end and will surely be able to catch a few passes.
TEXAS
The Longhorns lost two starters at linebacker, and filled the void extremely well. The nation's No. 1 inside linebacker,
Dalton Santos
, is coming. As is
Peter Jinkens
, the nation's No. 5 outside linebacker, and the No. 12 outside linebacker,
Torshiro Davis
. It also added Tim Cole, the No. 27 outside linebacker and
Alex De La Torre
, the No. 11 inside linebacker.
TCU
The Horned Frogs' top two commits in their top-25 class are both on the defensive line, filling a big need. That includes
Devonte Fields
, an ESPNU 150 signee and the No. 11 defensive end.
Joey Hunt
is the nation's No. 18 defensive tackle. Both hail from Texas. The Horned Frogs also added
James McFarland
and Terell Lathan, two defensive ends in the top 85 at the position.
TEXAS TECH
The Red Raiders got big-time reinforcements at receiver, adding two of the nation's top 15 at the position.
Dominique Wheeler
and
Reginald Davis
are two of Tech's three ESPNU 150 signees in the top-20 class.
BIG 12 SCOREBOARD
Monday, 12/22
Saturday, 12/20
Tuesday, 12/23
Wednesday, 12/24
Friday, 12/26
Saturday, 12/27
Monday, 12/29
Tuesday, 12/30
Wednesday, 12/31
Thursday, 1/1
Friday, 1/2
Saturday, 1/3
Sunday, 1/4
Monday, 1/12
Tweets from https://twitter.com/ESPNCFB/lists/big12