October, 8, 2010
10/08/10
12:18
AM ET
MANHATTAN, Kan. -- So, everyone saw that, right?
We saw that blink-of-a first step that started a straight line to the end zone, capped by his appreciative, celebratory point at the band and surrounding fans who made the trip from Lincoln to Manhattan for the last time?
We saw that sprint around the defense, certain that any defender intent on closing off the sideline would get there a few crucial seconds too late?
We saw
Taylor Martinez
channel T-Magic and silence a sea of purple on the road for the second time in his brief five-start career, beating Kansas State
48-13
in his first conference game, weeks after leading a five-touchdown stomping of Washington in Seattle.
[+] Enlarge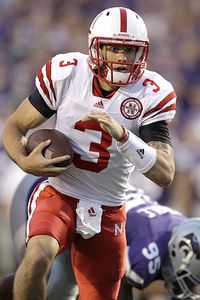 AP Photo/Charlie RiedelTaylor Martinez rushed for 241 yards on 15 carries and scored on runs of 14, 35, 80 and 41 yards. He also passed for 128 yards and a 79-yard touchdown.
We saw a redshirt freshman tempt us to throw his name in the same sentence with Heisman Trophy.
We ain't seen nothin' yet.
"He made some mistakes, but he did a lot of good things, obviously. He ran for a lot of yards," said coach Bo Pelini.
More yards, in fact, than any quarterback in the long history of Nebraska football. This isn't the old-school option attack the corn-fed Nebraskans grew up watching, but they'll gladly take it.
Martinez's 241 rushing yards stated loudly, to everyone watching inside the stadium and on the national telecast, that any team who beats Nebraska will have to beat him first. And if they do, they'll have to deal with his two friends, running backs
Rex Burkhead
and
Roy Helu
, who combined to run for 167 more yards on 19 carries, an average of almost 9 yards a carry. With apologies to Oregon, there might not be a rushing attack in college football more difficult to defend.
The defenses will get better than Kansas State, who entered Thursday night's game as the Big 12's worst run defense and outside the top 100 nationally. But Nebraska's got a pretty good one, and they held
Daniel Thomas
, the Big 12's leading rusher, to just 63 yards on 22 carries, almost 100 yards below his average of 157 a game.
But those same Blackshirts hate seeing Martinez every day as much as Kansas State did on Thursday, and the Wildcats only had to fail at catching him for a little more than three quarters.
"It's frustrating," said Nebraska linebacker Alonzo Whaley. "You never know what to expect from him. What you saw out here today, we've seen all camp. It's good to see him execute, and it's really confusing. It bothers us a lot. It bothers the defense when there's somebody so explosive."
The toughest part of defending Martinez is what Kansas State learned very quickly on Thursday night, and what every defense the rest of the year will have to compensate for better than the Wildcats.
"The hardest part is knowing he can outrun you," Whaley said.
Get used to it. And that goes for almost everyone. Martinez says he ran a "low 4.4" 40-time as a junior in high school and hasn't been clocked since. True or not, you won't hear any arguments from Manhattan for awhile.
And that blur we saw cross the goal line four times will get better fast, making more opponents resort to Kansas State's most-often used defensive strategy in the lopsided loss: the cuss and chase. (Not allowed at Kansas.)
"He's not a done project. Everybody's got to remember, he's a redshirt freshman. He's got a lot of work to do, but the thing about this kid is he's a fierce competitor. He doesn't say a lot because he strives for perfection in everything he does," said offensive coordinator Shawn Watson. "He's really easy to motivate in that aspect because he wants to be a great player. He wants to be the best."
Pretty soon, he might be.
We saw that half step Kansas State got on Martinez's 79-yard touchdown pass to
Kyler Reed
in the third quarter. It stretched the lead to a comical 38-6 after a hard-earned field goal from the Wildcats.
Martinez might not be handing out those half steps to defenses for much longer.
"Honestly, because of the way these games have evolved, you haven't seen him as a passer. He's a really good passer," Watson said. "He's got passing talent. We haven't thrown it that much."
Just seven times on Thursday and 64 times in five games. And why would they? Kansas State would have liked nothing more.
When the season began, Nebraska had a quarterback controversy. Or at least claimed to have one, with Pelini insisting Martinez and his backups were "close" before fall camp began. Here's guessing it wasn't much of a controversy very long in the coaches' meetings. After Martinez's debut in the season opener, Watson admitted that his status as the team's starting quarterback was "clear" by the end of fall camp.
Ya don't say.
He looks ready to hit that lengthy stride plenty more times and take Nebraska on a ride in its final season in the Big 12. After Thursday night, the path looks clear: a date with the Sooners for a storybook Big 12 title game between the Big 12's only two teams currently in the top 10.
Getting there will be fun. It might come with a few bumps in the road, like the mistake-filled performance against South Dakota State a week ago that Watson said left Martinez feeling "insulted," both by his own performance and the coaches' decision to pull him late in the game.
But performances like those fuel performances like this, when his fifth touchdown of the night sent fans to the exits with just over 12 minutes left to play.
Martinez won't talk about it now, but plenty of schools in the Pac-10 saw the Corona, Calif., native long before Thursday night, when the rest of America caught up. They didn't see their future starting quarterback.
Understatement perhaps, but...bad move.
After Thursday's win, all Nebraska is left looking for is Martinez's ceiling.
"We'll see," Watson said. "The kid's been amazing."
October, 5, 2010
10/05/10
9:00
AM ET
Nebraska coach Bo Pelini is blunt when he grades his team's run defense.
"Average," he said.
Average run defenses don't stop
Daniel Thomas
. Teams that don't stop Daniel Thomas run a high risk of losing to Kansas State.
Nebraska plays Kansas State on Thursday night in a nationally televised game on ESPN for its conference opener.
[+] Enlarge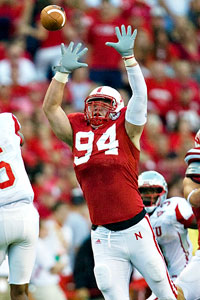 Bruce Thorson/US PresswireDefensive tackle Jared Crick thinks the key to Nebraska's defense is communication. "Once we get that done, we can be a dangerous group."
The Blackshirts don't need to be told that improvement is needed if they don't want a campaign for a second consecutive North title to get derailed before it gets rolling.
"All the things that's happened to us, as far as wrong things in the run game, have been our fault," said defensive tackle Jared Crick. "They've been busts, misalignments, things that we can fix. Despite what people are saying about our run defense, I'm still very optimistic about what we can do as a unit when we're clicking."
A year ago, with Ndamukong Suh plugging the middle of the defense, the Huskers ranked ninth nationally and second in the Big 12 against the run. So far in 2010, they've been the definition of Pelini's assessment of average. Through four games, Nebraska has slid to sixth in the Big 12 and No. 52 nationally out of 120 teams.
Fixing the problems that have precipitated the fall starts with communication.
"Even if it's not defensive coaches' call, as long as we're on the same page we're going to be fine. That's just communication, making sure everybody's talking to each other and everybody knows what's going on. That's the biggest thing we need to improve," Crick said. "Once we get that done, we can be a dangerous group."
The Huskers have one of the Big 12's most talented defensive lines, headlined by Crick and defensive end Pierre Allen. Defensive tackle Baker Steinkuhler and
spectacularly mustachioed defensive end Cameron Meredith
fill out the line. The Huskers are also breaking in new starters, Lavonte David and Alonzo Whaley, at linebacker. They've made plays but have also made mistakes, which is what raw first-year starters do.
"We have guys who know what they're doing, it's just this is their first season starting. It's a little different, your first season. You're not as confident in yourself; you're trying not to mess up instead of going out there and playing a good game," Crick said. "I definitely saw improvement from our linebackers throughout the whole season."
Nebraska faced Thomas in its final regular season game last year and kept him out of the end zone, but he rushed for 99 yards on 19 carries in the Huskers 17-3 win.
"He ran extremely hard, he didn't take the sideline," Crick said. "He fought for every yard he got and that's very respectable out of a running back. A lot of guys will take the sideline when they get it or won't stand up in case another dude will come and hit them and injure them or something."
Thomas has been even better this season, and his 628 yards in four games are more than half his production in 12 outings a season ago.
"We're up to the challenge," Crick said. "The biggest thing is just going to be us have to play our game. It doesn't matter what they run at us, we have to be on our game and play our roles. If we do that, we can stop any running game in the country. That's what we're looking for and hopefully we can execute."
September, 4, 2010
9/04/10
5:34
PM ET
By
ESPN.com staff
| ESPN.com
Nebraska released it's pregame depth chart this afternoon.
Ten positions were filled on offense.
Quarterback read "to be announced." True gamesmanship by Bo Pelini there, but by now, I don't see the point.
Some have opined that Pelini wanted himself -- and his quarterback -- to avoid the scrutiny that would quickly follow an official announcement. But a) I'm not sure how much scrutiny could come within hours and b) Neither Pelini nor his quarterback would get a chance to read/hear it.
Maybe he's trying to create a moment, ensuring the already-reliable Nebraska fans are in their seats at kickoff to see
Zac Lee
,
Cody Green
or
Taylor Martinez
take the first snap of one of Nebraska's most anticipated seasons in recent history.
Who knows? All I know is it's devolved into self-parody at this point, as Nebraska prepares to take on Western Kentucky, a team that hasn't won a game in its last 20 tries.
Pelini said last week that we would know who the starter was when he came trotting onto the field. Apparently, he wasn't exaggerating.
Two other quick notes:
Roy Helu Jr. and Rex Burkhead were listed as "or" at I-back, but Helu was listed ahead of Burkhead.
Alonzo Whaley and Lavonte David will make their first career starts at linebacker.
May, 14, 2009
5/14/09
9:25
AM ET
By
Tim Griffin
| ESPN.com
Posted by ESPN.com's Tim Griffin
Nebraska Cornhuskers
2008 overall record: 9-4

2008 conference record: 5-3

Returning starters
Offense: 6, defense: 5, kicker/punter: 1
Top returners
I-back Roy Helu Jr., I-back Quentin Castille, G Jacob Hickman, TE Mike McNeill, DE Pierre Allen, DT Ndamukong Suh, S Larry Asante, K Alex Henery.
Key losses
QB Joe Ganz, I-back Marlon Lucky, WR Todd Peterson, WR Nate Swift, G Matt Slauson, DT Ty Steinkuhler, CB Armando Murillo
2008 statistical leaders (* returners)
Rushing: Roy Helu Jr. * (803 yards)
Passing: Joe Ganz (3,568 yards)
Receiving: Nate Swift (941 yards)
Tackles: Ndamukong Suh* (76)
Sacks: Ndamukong Suh* (7.5)
Interceptions: Ndamukong Suh*, Zach Potter, Anthony West* (2)
Spring answers
2009 Schedule
Sept. 5 Florida Atlantic
Sept. 12 Arkansas State
Sept. 19 at Virginia Tech
Sept. 26 Louisiana-Lafayette
Oct. 8 at Missouri
Oct. 17 Texas Tech
Oct. 24 Iowa State
Oct. 31 at Baylor
Nov. 7 Oklahoma
Nov. 14 at Kansas
Nov. 21 Kansas State
Nov. 27 at Colorado
1. Zac Lee: There were some serious doubts before spring practice at quarterback, but Lee appeared to dispel most of those fears as he replaced Joe Ganz. Lee looked comfortable in his role as starter, passing for 214 yards and three TDs in the spring game. His development over the spring has clearly stamped him as the most likely starter for the Cornhuskers in August when heralded freshman Cody Green will be more comfortable in the offense.
2. Tight ends: Mike McNeill already was one of the conference's most underrated players after breaking the school record for catches at the position last season. But the Cornhuskers will have outstanding depth at the position after strong springs by junior Dreu Young, sophomore Ryan Hill and freshmen Kyle Reed and Ben Cotton. Their growth at the position might lessen some of the worries at wide receiver. Don't be surprised if the Cornhuskers regularly feature two-tight end sets as part of their basic offensive strategy.
3. Antonio Bell: The suspension of Niles Paul was supposed to aggravate the Cornhuskers' iffy depth at wide receiver. But Bell developed into a strong playmaker at the position and even showed some flashes as a kick returner at the spring game. He'll be in the mix for playing time at the start of the season.
Fall questions
1. Wide receiver: The loss of leading 2008 receivers Todd Peterson and Nate Swift robbed the Cornhuskers of much of their big-play capabilities at the position as well as a duo which contributed 125 combined catches last season. It will remain the biggest offensive liability of the Cornhuskers. Players like Menelik Holt and Paul will need to add production. Injury-prone Chris Brooks produced five catches in the spring game and much is expected from heralded junior-college standout Brandon Kinnie. And Marcus Mendoza looks to have adjusted after moving to wide receiver from I-back.
2. Right side of the offensive line: The loss of Matt Slauson and Lydon Murtha robbed the Cornhuskers of solid producers familiar with playing together. Marcel Jones appears to have claimed the starting job at right tackle. And the development of center Mike Caputo allowed Nebraska line coach Barney Cotton to
experiment with moving starting center Jacob Hickman to right guard. But a bigger question will be replacing the veteran leadership they received with Murtha and Slauson over the last several years.
3. Linebackers: The Cornhuskers are talented but very young at linebacker. Colton Koehler and Matthew May both look to have earned starting positions during the spring. Redshirt freshmen Alonzo Whaley, Micah Kreikemeier, Sean Fisher and Will Compton all had their moments. But a key player in fall practice will be Blake Lawrence, who started quickly but suffered a concussion late in the spring.
BIG 12 SCOREBOARD
Saturday, 12/20
Monday, 12/22
Tuesday, 12/23
Wednesday, 12/24
Friday, 12/26
Saturday, 12/27
Monday, 12/29
Tuesday, 12/30
Wednesday, 12/31
Thursday, 1/1
Friday, 1/2
Saturday, 1/3
Sunday, 1/4
Saturday, 1/10
Monday, 1/12
Tweets from https://twitter.com/ESPNCFB/lists/big12