June, 22, 2010
6/22/10
12:30
PM ET
By
ESPN.com staff
| ESPN.com
Tripleheaders? That's a lot of baseball, folks. A
lot
of baseball. Perhaps
even more writing.
April, 12, 2010
4/12/10
8:30
AM ET
By
ESPN.com staff
| ESPN.com
Colorado finished its spring workouts with the annual spring game on Saturday, and
Tyler Hansen
sat atop the depth chart at quarterback for the Buffaloes. Hansen and
Cody Hawkins
suited up against each other in the spring game and both performed well, but coach Dan Hawkins remained non-committal after the game in deciding on a clear starter entering the lengthy summer break.
[+] Enlarge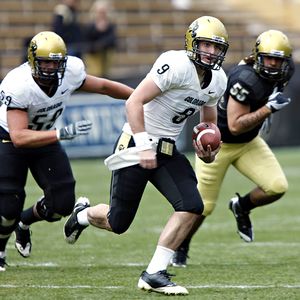 AP Photo/David ZalubowskiIt appears the battle for the starting quarterback job between Tyler Hansen (9) and Cody Hawkins will go into fall camp.
"You'd love to make a decision after the spring's over, but it's great for our competition and great for our guys to keep battling,"
Hawkins said.
But it could also be great for Hawkins' "guys" to have a clear starter and leader entering summer workouts, allowing either Hawkins or Hansen to embrace the role of "starting quarterback," and all the off-the-field effects of that role. Clearly, Hawkins prefers the former.
Hansen took over for Cody Hawkins mid-game during an Oct. 10 loss to Texas and started for the remainder of the season. During that stretch, the Buffaloes were 2-5, with wins over Kansas and Texas A&M. In Hawkins' starts, the Buffaloes went 1-4 with the lone win coming against Wyoming and losses against West Virginia, Toledo and Colorado State.
In Saturday's spring game, Hansen threw three touchdowns and completed 17 of 22 passes for 170 yards. Hawkins threw two touchdowns and completed 20 of 26 passes for 220 yards.
You can't put too much stock into it, but Hansen led the Gold team to a 37-27 win. Both have to be encouraged by completing over 75 percent of their attempts.
"I don't know why, unless you had a guy who won 10 games, would say, 'Yeah, you're the guy,'" Dan Hawkins said.
Judging by those comments, only wins will secure either quarterback a job, and the Buffaloes won't have a chance at any more for almost four months.
A few other notes from the Buffaloes spring game:
Michigan transfer Toney Clemons had plenty of eyes on him all spring, and they must have liked what they saw. In the draft for the spring game, the Colorado captains selected Clemons with the first overall pick. Clemons caught four passes for 33 yards.
The second pick in the draft, All-Big 12 offensive tackle Nate Solder, caught a touchdown pass from Hawkins on a tackle-eligible play at the goal line in the fourth quarter. "We were supposed to run it all last season," Solder said. "We finally got the chance."
The Gold team busted out the Haka before the game, a Polynesian war dance made popular most recently by Hawaii in college football and the All Blacks, New Zealand's rugby union team.
Freshman quarterback Nick Hirschman threw one pass in the scrimmage -- and completed it to Andre Simmons for an 83-yard touchdown. That's good enough for a quarterback rating of 1127.20.
October, 16, 2009
10/16/09
3:25
PM ET
By
Tim Griffin
| ESPN.com

Posted by ESPN.com's Tim Griffin
It wouldn't be a Friday without a few letters from my readers. Here's a representative sample of those I received this week:
Beau from Vidor, Texas, writes:
What happened to Texas' freshman running back
Chris Whaley
. He was supposed to be all-world and most thought he would help us out this season. Any news?
Tim Griffin:
Whaley arrived at fall camp out of shape and has had trouble picking up some of Texas' offensive philosophy. And since he hasn't seen action yet, I don't think we'll see him play this year. He'll be more likely to sit as a redshirt, while he gets into better shape and learns Texas' offensive scheme better. But if he would ever play, this might be the week, considering the iffy condition of Tre' Newton and
Vondrell McGee
. The Longhorns would have room for him, although I would sincerely doubt if Mack Brown put him in his first game against Oklahoma in the Red River Rivalry. That's too far-fetched to believe.
I look for Whaley to get better acclimated and in better shape for next season.
---
Robert Northrop from Superior, Colo., writes:
Tim, thanks for covering the Big 12. I only wish Colorado was more relevant so you could write more frequently about the Buffs. Colorado struggles moving the ball using walk-ons at wide receiver. What is it about a Hawkins' psyche that makes him stubbornly refuse to modify his offense so that he can get the ball to his fastest players (
Brian Lockridge
,
Darrell Scott
,
Andre Simmons
, Anthony Wright) hands? Why are two players with starting experience (Blake Behrens, Matt Bahr) sitting while the rest of the CU offensive line struggles? And don't get me started about the QB situation. I think something smells fishy up in Boulder. Thanks again.
Tim Griffin:
It's been a challenging season for Hawkins and the Buffaloes, particularly on offense. I also have wondered why Brian Lockridge and Darrell Scott haven't become more of a focal point in the Buffaloes' offense. I would think that with Hawkins actually coaching the wide receivers as a position coach that he would have the best idea of who can help make his offense more productive.
It will be interesting to see what they can do against a Kansas defense that has struggled the last two weeks. I'm thinking Colorado might play this game a little bit closer than most. Maybe this is the week that the Buffaloes get their offense going. I certainly know they are due.
---
Steve Strom of Lubbock, Texas, writes:
What do you think about Texas Tech's chances Saturday in Nebraska? Is there any way we can steal a win from a Nebraska team that might be a little flat after beating Missouri last week?
Tim Griffin:
Steve, I don't think so. I really like Nebraska's defensive line keyed by Ndamukong Suh to put pressure on whomever Tech has playing quarterback. Mike Leach has been successful in recent seasons against the Cornhuskers and has even won in Lincoln before. But this is a different Nebraska team coached by Bo Pelini than in previous seasons. Because of that, I'm thinking it will be tough for the Red Raiders to win tomorrow in Lincoln.
---
Chris from Lawrence, Kan., writes:
Tim, I see that you are very high on
Jordan Shipley
and have him on your Heisman board. He's definitely a good player, but I'm curious why you don't have
Dezmon Briscoe
ranked above him? Briscoe averages more yards per catch than Shipley and has an equal number of TD's, despite missing the first game of the season. He's done this while having 17 fewer receptions than Shipley. If you were to average Briscoe's current stats to account for the missed game, he would have more yards, yards per catch and touchdowns than Shipley, and would still have less receptions. I'm not saying that Shipley isn't a good player, but I don't understand why Briscoe isn't considered better (and more deserving of Heisman talk)?
Tim Griffin:
Shipley has had a knack for making big plays in big games and his bigger receiver numbers grab you. He's had double-figure reception games in his last three contests, which is something that no player in Texas' history has been able to accomplish. Look at his punt return for a touchdown reception and his big catch last week against Colorado that helped turned the game around. Briscoe has had some nice games, but he needs to stand out even on his own team. I think many would think that he's been overshadowed by
Kerry Meier
on the Jayhawks so far this season.
Briscoe will have the chance to show what he can do over the next several weeks as the Jayhawks' schedule will get tougher. If he can produce those numbers against Texas, Kansas and Nebraska, I would think that Heisman voters will start taking notice of him.
---
Donald Ashburn from Houston writes:
My condolences to you, Tim. The Aggie bloggers complained earlier this year when you didn't think they would win. Now, they say you have put the kiss of death on them by picking A&M over K-State. I hope you can do a better job in the future! Good luck!
Tim Griffin:
Donald, I've had a difficult time reading the Aggies so far this season. I thought they would beat Arkansas and I also thought they would beat Oklahoma State last week. They looked strong for the first 10 minutes against Arkansas in a game that turned on Jerrod Johnson's fumble that was returned for a touchdown by Jerry Franklin midway through the second quarter. And the Oklahoma State game changed when A&M was held without scoring at the OSU 1 late in the first half.
But because of Johnson and all of his offensive talent around him, I'm picking the young Aggies to win again this week at Kansas State.
Is the third time finally the charm for me? I don't know, I guess we'll see.
---
Kyle Kvasnicka from Irvine, Calif., writes:
Do you think Nebraska's defense this year will give it a chance to make it to the Big 12 Title game and if so, be competitive with the Big 12 South Champion? How close does Bo Pelini have this team to being a player again nationally?
Tim Griffin:
Kyle, I think that because of the play of the Nebraska defense, especially compared with Kansas' recent defensive struggles, is the major reason I've elevated the Cornhuskers into the favorite role in the Big 12 North. There are still some things I don't like about the Cornhuskers.
Zac Lee
is too streaky for my taste and the Cornhuskers' depth at running back isn't very good with proven players with
Quentin Castille
gone and
Rex Burkhead
injured.
But I think Nebraska's defensive play is the reason they are above the other teams in the North at this point of the season. It will be interesting to see if that makes them more competitive against the South's powers when we see them play in the next several weeks.
I would also hope we would see
Cody Green
being used in the next week or two. The Cornhuskers have had some time to work on a package with their talented freshman quarterback. I'm just saying that bringing him into the game for a couple of series could change the momentum and make Nebraska that much more difficult to beat with a shot of offensive diversity that's missing right now. And with the questions about their running backs, developing another running threat could be huge for them.
I still think Pelini is a couple of recruiting classes from having the Cornhuskers back among the contenders who will challenge for national titles. It will be interesting to see if he gets them there.
Thanks again for all of the good questions. We'll check back again next week.
September, 3, 2009
9/03/09
6:22
PM ET
By
Tim Griffin
| ESPN.com

Posted by ESPN.com's Tim Griffin
I know this makes me sound like a coaches, but I actually think that special teams really does account for a third of a team's success. And I think that solid play in all facets is especially critical in the Big 12 because of the small margin of error in most games.
Here's a look at how I rank the special teams in the conference, giving each team a master rating including all facets of the kicking game.
1. Texas:
The best combination kicking game in the league with two-deep talent at both kicker and punter and
Jordan Shipley
to take care of the returns. The Longhorns always have fast, talented athletes covering kicks as well. And I'm curious to see if Justin Tucker really will be able to produce rugby-style punts with both feet.
2. Oklahoma State:
The Cowboys have the best kickoff/punt returners in the conference in
Dez Bryant
and Perrish Cox. Special-teams coach Joe DeForest always does an outstanding job, although he'll be in tough spot replacing Matt Fodge as his punter this season.
3. Nebraska:
Alex Henery was the best kicker in the conference with a knack for making huge kicks. It's curious that Nebraska coaches would risk that success by having him double up as a punter this season. But he actually came to college as a walk-on punter.
Niles Paul
will get the start as both punt returner and kick returner. And Adi Kunalic led the nation in touchbacks as a kickoff specialist.
4. Kansas State:
I'm basing this as much on past success as anything else -- Ron Prince's team blocked four punts for touchdowns last season.
Brandon Banks
is a threat to break a big return on every play and he'll be doubling as a kick and punt returner this season. Even with Bill Snyder taking over, I'm still thinking this will be a productive unit as they break in new kicker Josh Cherry and new punter Ryan Doerr.
5. Baylor:
The Bears have the most consistent punter in the conference with Derek Epperson. Look for improvement from kicker Ben Parks. One key will be boosting punt returns with new returner
Krys Buerck
after ranking only 118th nationally as a team last season.
6. Iowa State:
I think that Jack Trice Stadium might be the toughest facility in the conference because of its swirling winds. Paul Rhoads has some confidence with Grant Mahoney back at kicker and Mike Brandtner at punter. Leonard Johnson is one of the most effective kickoff returners in the conference. But the Cyclones need a boost on punt returns and in covering kicks.
7. Oklahoma:
For a team with as many athletes as the Sooners, I was surprised with their difficulties in covering kicks last season. That's the immediate concern for them.
DeMarco Murray
was a threat on every return, but I doubt he plays there much because of his recent injury problems. Dominique Franks,
Ryan Broyles
and
Cameron Kenney
are expected to contribute in the return game. And Kenney might even push Tress Way for punting duties. Coaches have also been impressed with the improved range of kicker Jimmy Stevens. We'll see if that holds up when the season starts.
8. Texas Tech:
The story about Matt "Lynwood" Williams was one of the best in college football last year as he emerged from an in-game kicking contest to win most of the kicking honors for the Red Raiders. Donnie Carona was a disappointment as a kicker, but may emerge as a punter along with Ryan Erxleben (yeah, he's the son of former Texas punter Russell Erxleben) as the Red Raiders wait for Jonathan LaCour to come off a Big 12-mandated suspension.
Edward Britton
and Jamar Wall will be involved in returning kicks, along with many others.
9. Texas A&M:
Here's a stat that shows how far Texas A&M's once vaunting kicking game has fallen in recent years. The Aggies haven't converted a field goal of 50 yards or more since 2000. Randy Bullock is back as the kicker and freshman Ryan Epperson and Ken Wood are still battling for the punting job.
Christine Michael
inherits the kickoff return duties, but look for heralded junior-college cornerback Coryell Judie to be involved some way.
10. Missouri:
No Jeremy Maclin and Jeff Wolfert means that the Tigers will rebuild one of their strongest units last season. Their net punting figures to improve after Jake Harry's strong start. Grant Ressel won the kicking job in a tight battle, but might be pushed this season. Gary Pinkel is sorting through his options in the return game but won't have anybody nearly as gifted as Maclin. And they need to do a better job covering kicks after allowing a kickoff return for a touchdown for the first time last season.
11. Kansas:
The Jayhawks desperately need some improvement in this category. Jacob Branstetter converted 75 percent of his kicks, but his longest was only 34 yards. Punter Alonso Rojas' net average was only 33.9 yards. And the Jayhawks ranked 118th nationally in kickoff returns as Marcus Herford accounted for most of the returns. They showed some strong improvement late in the season when
Dezmon Briscoe
took over.
12. Colorado:
The Buffaloes had the worst field-goal percentage in the country as they converted only 29 percent last season. They also lose
Josh Smith
, who set a school record for total kick return yards. Coaches think that
Andre Simmons
will be able to help here, but I'll take a wait-and-see attitude before I get too excited.
September, 1, 2009
9/01/09
6:23
PM ET
By
Tim Griffin
| ESPN.com

Posted by ESPN.com's Tim Griffin
Here's a look at how I rank the Big 12 offenses heading into the season.

1. Oklahoma State
– The conference's most balanced offense also features the best rushing/receiving combination in
Kendall Hunter
and
Dez Bryant
and one of the Big 12's best offensive linemen in Russell Okung.
Zac Robinson
still has meltdown moments, but he's gotten much better with experience. The big questions will be finding a No. 2 receiver and a tight end to replace Brandon Pettigrew.

2. Oklahoma:
The Sooners have the most productive quarterback in school history in
Sam Bradford
with the conference's best backfield combination in
Chris Brown
and
DeMarco Murray
and college football's best tight end in
Jermaine Gresham
. The offensive line, however, isn't nearly as good as some from the program's past. The line's development will largely determine if the Sooners can claim four-straight Big 12 titles.

3. Texas:
Colt McCoy
is back for his fourth season as starter and
Jordan Shipley
seemingly has been around long enough to collect a pension. That's a great start.
Vondrell McGee
has emerged as a steady back who might end up earning the majority of carries running behind a deep offensive line. It will be interesting to see if they can find a tight end who will block consistently enough to keep the team from running multiple wide-receiver sets down the stretch. Developing that bruising running game will be the biggest challenge for the Longhorns.

4. Kansas:
Todd Reesing
might be the nation's most underrated quarterback and the development of a tandem backfield in
Jake Sharp
and
Toben Opurum
will provide balance to the conference's best receiving corps. It will be interesting to see how much better
Kerry Meier
can become by concentrating on offense. He adds with top deep threat
Dezmon Briscoe
, the underrated Jonathan Wilson and freshman addition
Bradley McDougald
. The Jayhawks' title hopes will hinge on better pass blocking, particularly from new left tackle Tanner Hawkinson, a converted high school tight end.

5. Texas Tech:
There are more questions with the loss of Graham Harrell and Michael Crabtree, although Mike Leach seems very happy with
Taylor Potts
and his current group. The Red Raiders might be deeper at wide receiver with a collection of players than when Crabtree commandeered most of the catches. Baron Batch's recovery from an elbow injury will be critical, but the Red Raiders have a big nasty offensive front keyed by All-Big 12 candidate Brandon Carter and the underrated Marlon Winn.

6. Baylor:
Robert Griffin makes these guys go and he should be even more comfortable in his second season as a starter.
Jay Finley
might be one of the least-appreciated backs in the league and a deep collection of wide receivers will help boost production. The biggest concern will be the play of tackles Danny Watkins and Phillip Blake, who will be replacing decorated former starters Jason Smith and Dan Gay.

7. Missouri:
This offense will be different from the attack in the Chase Daniel era. Look for new coordinator David Yost to utilize a strong running game keyed by Derrick Washington, who is finally healthy after being hurt most of the second half of 2008. New quarterback
Blaine Gabbert
obviously doesn't have the experience in the Tigers' offense as Daniel, but he might have a better deep arm which will give Yost more chances to attack with long passes. It's a typically deep collection of receivers with
Danario Alexander
poised for a breakout season if he can stay healthy.

8. Colorado:
Other than the fact that Dan Hawkins can't decide on a starting quarterback, this unit might be a little underrated and ready to blossom. I really like their collection of running backs with
Darrell Scott
poised to fulfill his recruiting promise.
Rodney Stewart
and
Demetrius Sumler
add different running styles behind a nice line keyed by Ryan Miller, Nate Solder and Mike Iltis. The passing game might sputter early as
Markques Simas
misses the first two games and
Andre Simmons
plays his way into the rotation after missing most of fall practice. But it might be surprisingly productive by the time conference play rolls around.

9. Nebraska:
Lack of an experienced quarterback and tested running backs behind Roy Helu Jr. cause them to drop a little after Quentin Castille's dismissal. I'm hearing the Cornhuskers will feature more deep passing with
Zac Lee
, which might allow receivers
Menelik Holt
and
Niles Paul
a chance to go deep. The best part of their offense is their five-headed monster at tight end keyed by
Mike McNeill
and
Dreu Young
. Ricky Henry's emergence at right guard has enabled Jacob Hickman to stay at center where he'll anchor a developing line.

10. Texas A&M:
Jerrod Johnson
won the starting quarterback job this summer, but I was surprised that
Ryan Tannehill
will remain behind him as a backup rather than a wide receiver where he was the team's leading receiver this season.
Jeff Fuller
might be one of the Big 12's most underrated wide receivers and
Jamie McCoy
is a productive, pass-catching tight end. A bigger, stronger
Cyrus Gray
will get the start at tailback, although heralded freshman
Christine Michael
will push him for playing time. The biggest question remains an offensive line that struggled with injuries and produced only 89 yards rushing and 39 sacks. If they are healthy, they might be a surprise after last year's consistent struggles.

11. Iowa State:
New coordinator Tom Herman will attempt to retrofit his no-huddle attack that was so successful at Rice for the Cyclones. He has a tough, savvy quarterback in
Austen Arnaud
and a multi-talented running back in
Alexander Robinson
. Keep an eye out for
Darius Reynolds
who has emerged as the team's slot receiver as
Darius Darks
overcomes a training-camp injury. The largest offensive line in FBS will be protecting Arnaud, but needs to do a better job of dominating at the point of attack.

12. Kansas State:
Carson Coffman
and Daniel Thomas were named as starters today by Bill Snyder. Coffman was effective at times last season as Josh Freeman's backup, but remains a question mark as he takes over the starting job. The position changes of
Lamark Brown
and Logan Dold opened up the running back job in training camp and the 227-pound Thomas took advantage.
Brandon Banks
is a strong player who belies his size as a receiver and kick returner. The offensive line remains a question after a season-ending injury to Brock Unruh leaves only Nick Stringer and a cast of unknowns to share playing time.
August, 28, 2009
8/28/09
5:04
PM ET
By
Tim Griffin
| ESPN.com

Posted by ESPN.com's Tim Griffin
Here's a group of the best letters I received this week. Thanks again to all who contributed.
Matt from Orlando, Fla., writes:
Tim, I love your blogs, especially during the off season reading them religiously. My question is, a few months ago you gave Nebraska the edge over Kansas. Yes you said you reserve the right to change your mind which is totally understandable. But I find it funny how you change your mind on Nebraska winning the North and saying that Kansas will all because of one player leaving Nebraska.
Yes, Quentin Castille was a big feature in Nebraska's offense. However, one player should not make or break a team. Don't count out
Roy Helu Jr.
, who happens to be our STARTING RB. Plus our nasty defensive line that kept pressure on Kansas QB
Todd Reesing
(who couldn't handle it last year). Could you tell me why one player leaving made you change your mind on a great prediction?
Tim Griffin:
I figured I would be answering this question, considering I got it in one form or another from about 40 people this week. Heck, one of my favorite members of the media in Omaha compared me to John Kerry earlier this week because of my late change.
Let me first say that my edge for Nebraska over Kansas wasn't ever that large to start with. I favored Nebraska as much for Kansas' tough cross-divisional schedule as anything else. It's going to be a bear for the Jayhawks to win any of those three games against Texas, Oklahoma and Texas Tech. It still will.
But I also think Castille's dismissal will affect the way that Nebraska plays offense. With Castille and Helu, they had the best combination of backs in the North Division. They would be able to dictate the tempo for the Cornhuskers. It would take off pressure from an iffy passing game led by untested junior-college transfer
Zac Lee
.
Also, Helu is bigger and stronger this season. But he also appears to be more susceptible to muscle pulls - he's already missed a few days of fall practice - and the depth at the position has contracted with Castille's dismissal. They have only other back with college experience as a running back in
Marcus Mendoza
.
As anybody who reads this blog on a regular basis knows, I have a lot of respect for the job that Nebraska offensive coordinator Shawn Watson does. He was able to put together an explosive offense in Colorado for the Buffaloes' 2001 Big 12 championship that was remarkably like this Nebraska team. He had journeyman quarterbacks in Bobby Pesavento and Craig Ochs, a three-pronged rushing attack in
Chris Brown
, Bobby Purify and Cortlen Johnson and a stud tight end (to borrow a description from Bo Pelini) in Daniel Graham. The Cornhuskers were similar when Helu and Castille were both on the roster and the five-headed monster they have a tight end probably comes close to matching what Graham meant to the Buffaloes.
But this conference is a lot different in 2009 than it was in 2001. You're going to need to score points in bunches to win. And I think the Cornhuskers need some help at wide receiver to be more explosive to boost the contributions of
Menelik Holt
,
Niles Paul
and the rest.
The Cornhusker defense will be just as fearsome as before. Their defensive line might be the conference's best this side of Oklahoma. But losing Castille will tweak how they are able to play offense. And it will make things more difficult for Watson to control games with his young inexperienced quarterback and his lack of explosive playmakers at wide receiver.
It might only mean one game during the course of the season. But as close as I figure the North to be, the Cornhuskers will need that game at the end of the season.
---
Jamie Cabela of Midland, Texas, writes:
Tim, quick question for you. Who is going to be your surprise player in the Big 12 this season?
Tim Griffin:
I'll actually go with two of them. My first will be
Markques Simas
of Colorado, once he is eligible. I think he's got a great opportunity to become a top receiver immediately for the Buffaloes. And my other choice will Missouri freshman tailback Kendial Lawrence. I've heard some good things about him, even if he is third-string on the Tigers' roster. Look for him to contribute for the Tigers as the season goes on.
---
Jim from Grand Junction, Colo., writes:
Ignoring the good, competitive games for a minute, which of the "cupcakes" has a chance to pull off an upset against the Big 12 teams in the first two weeks of the season? Any at all? Thanks for your insight.
Tim Griffin:
Jim, I don't know exactly what your definition of a cupcake would be, but I'm going to presume you mean a school from outside the BCS-affiliated conferences.
If that's the case, don't look for anything in the first week of the season. But it wouldn't surprise me if two Big 12 teams have troubles in the second week of the season in road games.
I think Kansas State might be tested at Louisiana-Lafayette. I saw a Texas A&M team lose there in 1996 and weird things can happen down at "The Swamp" for unintiated teams that aren't prepared. Also keep an eye on Kansas' trip to UTEP on the same date. The Jayhawks have lost three-straight non-conference regular-season road games. They haven't won a non-conference road game during the regular season since beating Wyoming in 2003. And I think UTEP quarterback
Trevor Vittatoe
might provide the Kansas defense with some problems.
---
Matt Strohm from Parkersburg, Iowa, writes:
Tim, with the start of the season only eight days away, I was wondering if you would rank all the Big 12 schools in terms of team entrances.
Tim Griffin:
Matt, I don't think I can do justice to them all, but I'll give you a few of my favorites.
Let me say that I'm not usually all that enraptured by the cookie-cutter entrances around college football these days. It reminds me of something you might see in the NBA.
But there's still something about the Nebraska Tunnel Walk that gets me pumped up, although the ones used at the end of the Callahan tenure were pretty lame. I also like the "Running of the Bulls" in Austin for Texas games and the "There's Only One Oklahoma " video that plays at Owen Field before Sooner games.
But for sheer intimidation factor, my all-time favorite still has to be the old-school Iowa entrance when the Hawkeyes used to take the field in a slow walk while holding hands when they were coached by Hayden Fry. I could only imagine what that would look like for an opposing team on the other side of the field.
---
David L. Stoudt writes:
I'm glad that the Pac-10 officials have deemed "San Antonio a marvelous post-season destination and the Valero Alamo Bowl as one of the nation's elite bowl games."
But I'm wondering did anyone consider asking the fans where they'd rather go. We love heading south to San Diego every year for a fantastic bowl matchup. Who in Hades wants to go to San Antonio in December?
I think this is a huge mistake in judgment and we won't b
e attending those games, regardless of who's playing.
Tim Griffin:
I'm also curious about how this affiliation switch will change the dynamics of the Big 12's bowls.
It sounds like the Holiday Bowl's matchup basically will be switching to San Antonio and the Valero Alamo Bowl. Those Holiday Bowls have always been exciting, high-offense games. I think the Pac-10/Big 12 matchup is a good one because both conferences have reputations for offensive football. You see those kind of games in bowls anyway, but I think this makes it even more attractive with those two conferences involved.
It's going to be interesting because the Pac-10 always had a homefield advantage in San Diego. This will switch over when the game moves to the Alamo City.
I realize I'm probably the wrong person to ask about this, but I suggest coming to San Antonio before you make any snap judgments. But I suggest that you take a walk through Southtown. Try the carne guisada tacos with cheese at Taco Haven once or sip a margarita at Rio Rio Cantina on the Riverwalk and tell me that San Antonio isn't a good place for a bowl game.
I'll bet you'll come back with a different answer.
---
August, 26, 2009
8/26/09
10:42
AM ET
By
Tim Griffin
| ESPN.com
Posted by ESPN.com's Tim Griffin

Colorado's depleted wide receiving corps received a huge boost Tuesday when heralded junior college transfer Andre Simmons was back at practice with his new team.

Simmons was unable to take part in practice drills with his new team as school officials conducted a final review of his academic records and the process leading up to his enrollment.

Colorado coaches hope that Simmons will be able to work with his new teammates as soon as Wednesday to provide additional firepower for a wide receiving corps that will be depleted for the start of the season because of a player transfer and suspension.

Simmons reported with the rest of the Buffaloes on Aug. 6 but has not been able to work out with the team because of an eligibility issue.

On Tuesday, the transfer from Independence (Kan.) Community College appeared without pads and talked with his teammates and coaches throughout the Buffaloes' practice as they prepare for their Sept. 6 opener against Colorado State.

He's exactly what the Buffaloes need to fill their biggest positional void. The Buffaloes have already lost prime playmaker Josh Smith, who transferred to UCLA earlier this summer. And sophomore Markques Simas has been suspended for Colorado's first two games of the upcoming season for an undisclosed violation of team rules.



The 6-foot-3, 210-pound Simmons is counted as the kind of athletic, speedy receiver who will provide a deep threat for a Colorado offense that ranked 81st nationally and 11th among Big 12 teams in passing last season. Colorado returns only one starting wide receiver -- junior Scotty McKnight.

Simmons, a native of Blackville, S.C., was the lone junior college transfer among Colorado's signees after producing 91 receptions during his two seasons at Independence.
"He'll give an instant boost to the wide receiver position, and not to take anything away from the current guys, but he's going to have that vertical speed," Colorado offensive coordinator Eric Kiesau told cubuffs.com.His talents as a kick returner should immediately help fill the absence for Smith, who set a school record with 1,568 return yards last season.

While it's doubtful that Simmons will be able to have much of an immediate contribution, he should be ingrained in the Buffaloes' offense by the time conference play begins.

He and Simas will provide some balance to an offense that figures initially to be heavily ground-based with Darrell Scott, Rodney Stewart and Demetrius Sumler.

That balance will be the key if Colorado hopes to be a dark horse contender in a North Division race that figures to be extremely wide open.

The Buffaloes have a favorable schedule with home games against divisional challengers Nebraska, Kansas and Missouri.

And the arrival of Simmons definitely won't hurt their chances.
May, 14, 2009
5/14/09
9:50
AM ET
By
Tim Griffin
| ESPN.com
Posted by ESPN.com's Tim Griffin
Colorado Buffaloes
2008 overall record: 5-7

2008 conference record: 2-6

Returning starters

Offense: 9, defense: 6, kicker/punter: 1

Top returners
QB Cody Hawkins, RB Darrell Scott, WR-KR Josh Smith, DE Marquez Herrod, LB Jeff Smart, CB Jimmy Smith, CB Benjamin Burney.
Key losses
WR Patrick Williams, C Daniel Sanders, DT George Hypolite, NT Brandon Nicolas, LB Brad Jones.
2008 statistical leaders (* returners)
Rushing: Rodney Stewart* (622 yards)
Passing: Cody Hawkins* (1,892 yards)
Receiving: Scotty McKnight* (519 yards)
Tackles: Jeff Smart * (118)
Sacks: Brad Jones (7)
Interceptions: Ryan Walters, Shaun Mohler *, Cha'pelle Brown* (2)
Spring answers
2009 Schedule
Sept. 5 Colorado State
Sept. 11 at Toledo
Sept. 19 Wyoming
Oct. 1 at West Virginia
Oct. 10 at Texas
Oct. 17 Kansas
Oct. 24 at Kansas State
Oct. 31 Missouri
Nov. 7 Texas A&M
Nov. 14 at Iowa State
Nov. 19 at Oklahoma State
Nov. 27 Nebraska
1. Running backs: Darrell Scott struggled with injuries all season long in a disappointing freshman season. Rodney Stewart picked up the slack before he sustained a broken leg late in the season. Both looked strong during the spring along with Demetrius Sumler and Brian Lockridge -- a group that helped the Buffaloes produce 270 rushing yards in the spring game.
2. Growth in the secondary: The Buffaloes had to find three new starters this spring. Jimmy Smith showed flashes of being a lockdown cornerback, and safeties Patrick Mahnke and Anthony Perkins look ready to immediately battle for starting positions in fall practice.
3. Offensive line finally healthy: Call this one of the team's most underrated strengths after the strong spring development of tackles Nate Solder and Bryce Givens, guard Ryan Miller and center Mike Iltis. This group could potentially be the North Division's best if it can remain healthy.
Fall questions
1. Who will play quarterback? Cody Hawkins and Tyler Hansen finished the spring in a virtual dead heat. The development of Hansen will be set back after he underwent surgery after breaking his thumb in the spring. And the position is further scrambled after the departure of coordinator Mark Helfrich for Oregon after the spring. Eric Kiesau was hired quickly to replace him, but a new coach is involved with an uncertain mix of players. Not a good sign.
2. Find some receivers: Scotty McKnight's spring injury gave the backups a chance to play. Markques Simas showed some flashes of cracking the rotation, and arriving players like Andre Simmons, Terdema Ussery and Jarrod Darden will have plenty of chances to crack the rotation when fall practice starts. Or, it could be a couple of walk-on receivers jumping into their place.
3. Unsettled defensive front: The Buffaloes will really miss the contributions of players like George Hypolite and Brandon Nicolas in the trenches. Coaches spent most of the spring tinkering with a 3-4 front, but aren't sure if it will fit their current personnel. Colorado will need big contributions from sophomore nose tackle Eugene Goree, senior defensive tackle Taj Kaynor and junior defensive end Marquez Herrod to help fill the gaps.
April, 27, 2009
4/27/09
5:43
PM ET
By
Tim Griffin
| ESPN.com
Posted by ESPN.com's Tim Griffin
Colorado came into the spring as the North Division's mystery team.
Sure, coach Dan Hawkins had plenty of bluster and bravado about how good he thinks his team will be this season. We can tell that by his surprising boast at the end of last season that the Buffaloes will finish 2009 with a 10-2 record.
After the Buffaloes' spring practice and spring game, I'm even more befuddled by how good the Buffaloes can be.
The injury and subsequent thumb surgery for Tyler Hansen scrambles the quarterback situation. It makes me think that Hansen's battle with Cody Hawkins for the starting job will play out during most of Colorado preseason camp. And it's interesting that Dan Hawkins has hinted it could be a similar situation as to late last season, when he alternated his son and Hansen depending on game situations.
An even more pressing concern will be the status of offensive coordinator Mark Helfrich, who could be headed for Oregon and a place on Chip Kelly's staff. The loss of an offensive coordinator after spring practice could have huge ramifications as Dan Hawkins tries to get his staff ready for the upcoming season.
But the Buffaloes showed some good signs in spring practice and the spring game that might indicate they will be vastly improved from last season's 5-7 team -- even if 10-2 might be a little bit of a stretch.
The strong running game exhibited in the spring game was the most impressive building block to carry away from the spring. The Buffaloes should be in good shape if they can keep their offensive line healthy. And as Darrell Scott told me last week, the Buffaloes might have the best rotation of running backs this side of Oklahoma. And they proved it in Saturday's spring game as Scott rushed for a game-high 90 yards, while Demetrius Sumler chipped in with 73 yards, Brian Lockridge added 55 and Rodney "Speedy" Stewart produced 52.
Scott has started living up to his advance billing with a strong camp after missing much of last season with injuries. But he emerged this spring as the most improved player on the team, earning the Fred Casotti Award given each spring for the most improved offensive back. He even contributed a 48-yard punt during the spring game.
Hawkins was pleased with Scott's strong spring production, where he finally started showing flashes of what made him the nation's No. 1 running back recruit in the 2008 recruiting class.
"He's always been such a great kid, and I've been so impressed with how he handled all the hype and the glitz and all the glimmer," Hawkins told reporters Saturday. "And things didn't go exactly like he wanted them necessarily last year. But he never threw in a towel, he continued to show up."
If he continues that growth, it wouldn't surprise me if Scott rushes for 1,000 yards this season and is the most improved player in the Big 12.
Colorado's offensive line should be one of its most underrated strengths. They helped the backs rush for an average of 6.2 yards per carry in the spring game. Sure it was against a defensive front that was playing a generic defense. But that yardage has to catch Hawkins' attention for what his ground game can produce.
I still think the underrated Colorado group that is keyed by tackles Bryce Givens and Nate Solder, guard Ryan Miller and center Mike Iltis can be the best in the North Division if it stays healthy. And that's not even considering a potential return by Max Tuioti-Mariner, who is recovering from knee surgery and might be ready by fall practice.
I'm still wondering if the Buffaloes have the kind of quarterbacking to contend for the North Division title. Hawkins and Hansen provide different talents. And while in theory it sounds good to say that you'll play both of them, a team really needs to have one starting quarterback it can count on. What's that old coach's cliche about two starting quarterbacks often end up being two too many?
Wide receiver remains a liability after the injury to Scotty McKnight earlier in camp. The Buffaloes had one experienced receiver available at the spring game and it showed.
It means that Hawkins has to hope he can convince Michigan transfer Toney Clemons to come to play for the Buffaloes as well as work heralded sophomore Markques Simas into the rotation. And it also will likely result in the immediate need for production from an underrated group of arriving wide receivers including Jarrod Darden, Terdema Ussery and Andre Simmons. There is playing time available if any of those arriving players can step up.
The defensive line remains a big concern, even as coaches spent must of the scrimmage tinkering with a 3-4 front. But the productions of three starters won't be enough to replace the contributions of key players like George Hypolite & Co. overnight. Experienced players like junior defensive end Marquez Herrod, senior defensive tackle Taj Kaynor and sophomore nose tackle Eugene Goree will be pivotal.
Linebacker Marcus Burton was the biggest defensive revelation this spring and he showed it in the spring game. After producing eight tackles last season, he notched that many in the spring game along with a pair of sacks. That playmaking will be critical for a Colorado defense that often has missed it. His sideline-to-sideline tackling ability will be huge if Colorado employs the 3-4 defense.
Even with all of the flux around the Colorado team, the rest of the North Division remains just as unsettled.
For all of the excitement at Nebraska, the Cornhuskers still will be counting on a quarterback who has never started a Division I game, throwing to two new wide receivers. Kansas has the most returning offensive talent but has to rebuild its defensive core after losing three starting linebackers. And the Jayhawks have that pesky South Division crossover schedule that features games against Texas, Oklahoma and Texas Tech.
Defending two-time title game participant Missouri has two new coordinators and must replace the most productive quarterback, wide receiver and tight end in its history. The Tigers also lose a first-round NFL draft pick at defensive tackle, a second-round NFL draft pick at strong safety who was the glue of their defense and their top pass-rushing defensive end.
And here's one more reason to like Colorado's chances a little bit more. Their games against Nebraska, Kansas and Missouri all will be played in Boulder. That edge playing in the high altitude at Folsom Field might be enough to boost the Buffaloes into North Division title contention for the first time in Hawkins' coaching tenure there -- despite all of the spring questions.