February, 4, 2011
2/04/11
1:30
PM ET
By
ESPN.com staff
| ESPN.com
On Wednesday, we wrapped up our look back at the last five years of ESPNU 150 recruits that signed with Big 12 teams.
Here's a quick refresher course on every Big 12 ESPNU 150 signee:
I learned a lot in looking back on these classes, and the spectrum of results was fascinating. Here are a few thoughts:
There wasn't a Heisman Trophy winner among the bunch -- Oklahoma's Sam Bradford was a three-star recruit -- but there were plenty of All-Americans and All-Big 12 talents, as well as a few draft picks. It's interesting to note that the 2010 class was the only one in which more than one Big 12 Freshman of the Year came to campus as an elite recruit. Oklahoma State linebacker Shaun Lewis and Oklahoma safety Tony Jefferson shared the defensive honors last season.
I'll count probable draft picks, but here's how many NFL draft picks emerged from each class. Obviously, the most recent classes won't be included, and it tapers off quite a bit as you reach the '08 class, which will have a few more drafted eventually. Any players after the 2008 class are ineligible for the draft.
2006: 8
2007: 3 (Dez Bryant, Sam Acho, Curtis Brown)
2008: 1 (Blaine Gabbert)
Additionally, I don't have a ton to say about the 09-11 classes because, well, at this point, you can't have much to say. Oklahoma or Texas don't have too many four-year, or even three-year starters at too many positions. It's still very, very early to pass judgment on those guys.
Obviously there's still time, but the 2008 class looking back was pretty weak in comparison to those around it. It's easily the worst of the four classes, not including 2011. Two of the top five recruits have transferred. The other three in that group have yet to make significant contributions. Players like Jon Major, Cyrus Gray, Emmanuel Acho, Kendall Wright and Landry Jones join Gabbert as some of the best in the class, but guys like Jameel Owens, Kye Staley, Lynn Katoa and Justin Johnson aren't even with the teams they've signed anymore. Plenty of others haven't come close to the projected impact others would hope.
Compare that to the accomplished 2006 class, which was loaded at the top of the board. DeMarco Murray, Sergio Kindle, Jevan Snead, Gerald McCoy and Eddie Jones won't make anybody say, "Who?" That's a strong top 5. Mike Goodson, Jeremy Beal, Josh Freeman, and Jermaine Gresham could all have solid NFL careers, too. In my book, this is the class others will have to live up to.
One quick thought: Are Jevan Snead and Josh Freeman's careers the inverses of each other?
I'll give a full breakdown of the team totals later on next week, but I was shocked at how few Nebraska reeled in. From 2006-10, they had just three. S Rickey Thenarse signed in '06, OT Baker Steinkuhler signed in '08 and OG Andrew Rodriguez signed in '10. Steinkuhler, of course, has moved to defensive tackle since. For a team that's won the North the past two seasons and at times looked like a national title contender in 2010, that's a pretty solid endorsement of Bo Pelini's coaching. He's won 29 games in his first three seasons, and his nationally-ranked class in 2011 signed four ESPNU 150 recruits alone. For all you non-mathematicians out there, that's more than 06-10 combined. That has to give Nebraska fans a whole lot of confidence about the program moving forward, even if three of those four signees are from Texas, where Nebraska may struggle to recruit after its move to the Big Ten. That, however, is a whole different post and discussion.
As an overview of all this, I can't stand it when people decry the recruiting rankings system all together, declaring it worthless. It's not. I also can't stand it when others contend the rankings mean everything. They don't. The truth is right where it usually is: somewhere in the middle. Cite all the two-star recruits you want. I can come back with 10 more that showed in their college careers why they were two-star recruits. You can build a successful program on three and four-star signees, but the facts are this: if you keep reeling in top-level recruits, you've got a much, much greater chance of having big success. Bottom line, that's the truth. You'll encounter some busts among the five-stars. You'll encounter some gems in the two-stars. But recruiting rankings mean something, just not as much or as little as people like to think sometimes.
February, 1, 2011
2/01/11
1:30
PM ET
ESPN The Magazine had a fascinating feature
looking back at the past 25 No. 1 high school recruits

, where they are now and what the ranking meant to them. With apologies to
Vince Young
, there aren't a ton of Big 12 talents on the list, but there have been plenty of great recruits to come through the Big 12. We took a look on Thursday at
how the All-Big 12 team stacked up as recruits
, and you saw quite a mixed bag.
Well, it's the same for the recruits who came to campus with high rankings and high profiles. Going back to 2006, here's how every Big 12 commit from the ESPNU 150 turned out. We'll eventually get to the current class in 2011, around signing day, but here's how the 2010 class breaks down. This class is only a year into their careers, so while some have shown more potential than others, it's ridiculous to be too discouraged by anyone on this list, or make any truly meaningful judgments.
No. 2: Jackson Jeffcoat, DE, Texas.
Got off to fast start in 2010 before being sidelined and slowed by ankle injury. Finished with 13 tackles, five tackles for loss, 2.5 sacks and one fumble recovery. Only three tackles after season's first four games.
[+] Enlarge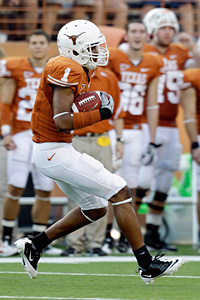 AP Photo/Eric GayTexas freshman wide receiver Mike Davis finished with 47 receptions this past season.
No. 4: Jordan Hicks, LB, Texas.
Ohio prospect chose the Longhorns over in-state power Buckeyes. Played in 11 games, including seven at linebacker. Finished with 21 tackles in first year, including 11 in a win against Nebraska.
No. 13: Mike Davis, WR, Texas.
No catches in the season opener, and missed the Red River Rivalry with an ankle injury, but ranked second on the team with 47 catches for 478 yards and two touchdown catches, tied for most on the team.
No. 14: Taylor Bible, DT, Texas.
Redshirted.
No. 15: Ahmad Dixon, S, Baylor.
Waco native forced a fumble and had 16 tackles.
No. 18: DeMarco Cobbs, ATH, Texas
. Played special teams in 10 games, and appeared at defensive back in one game. Made four tackles.
No. 20: Darius White, WR, Texas.
Played in seven games at wide receiver and one at special teams. Caught one pass for five yards against Florida Atlantic.
No. 21: Tony Jefferson, S, Oklahoma
. Won the starting nickelback job, finishing the season with 65 tackles, two interceptions and two sacks. Named co-Big 12 Defensive Freshman of the Year.
No. 46: Ashton Dorsey, DT, Texas.
Played in seven games, made one tackle.
No. 48: Austin Haywood, TE, Oklahoma.
Appeared in 11 games, mostly on special teams. Made three tackles.
No. 62: Corey Nelson, LB, Oklahoma
. Switched to the Sooners from Texas A&M on Signing Day 2010. Appeared in all 14 games, making 21 tackles, including 2.5 for loss. Blocked a punt vs. A&M.
No. 65: Blake Bell, QB, Oklahoma.
Redshirted.
No. 72: Reggie Wilson, DE, Texas.
Played in 10 games. Made five tackles.
No. 73: Chris Jones, WR, Texas.
Redshirted.
No. 75: Shaun Lewis, LB, Oklahoma State.
Became a starter and made 58 tackles and eight tackles for loss. Intercepted three passes, including two against Oklahoma, returning one for a touchdown. Named co-Big 12 Defensive Freshman of the Year.
No. 77: Quentin Hayes, S, Oklahoma.
Redshirted.
No. 83: Luke Joeckel, OT, Texas A&M.
Enrolled early and was the Aggies' starting left tackle by the spring game. Earned All-Big 12 honorable mention.
No. 86: Tevin Jackson, OLB, Texas.
Kept off the field by eligibility issues and appeal is still pending.
No. 90: Jake Matthews, OT, Texas A&M.
Became Aggies' starting right tackle midway through the season.
No. 114: Aaron Benson, LB, Texas
. Redshirted. Cousin of former Longhorn Cedric Benson.
No. 122: Carrington Byndom, CB, Texas.
Played in 10 games at defensive back and special teams. Made 11 tackles, all solo.
No. 125: Toney Hurd Jr., CB, Texas A&M
. Appeared in 12 games and made nine tackles.
No. 129: Brennan Clay, RB, Oklahoma.
Carted off field as a precaution in win against Florida State and missed next two games. Finished with 127 yards on 36 carries.
No. 134: Adrian Phillips, ATH, Texas.
Played in 10 games, including five at defensive back. Made eight tackles.
No. 141: Trey Hopkins, OG, Texas
. Played in 11 games and made three starts at left guard.
No. 142: Justin McCay, ATH, Oklahoma.
Redshirted.
No. 147: Andrew Rodriguez, OG, Nebraska
. Appeared in five games as a backup left guard, becoming the first true freshman Nebraska lineman to play since 2006.
April, 28, 2010
4/28/10
2:00
PM ET
By
ESPN.com staff
| ESPN.com
Here, we'll take a look at a couple of key players going, staying and coming for each team in the Big 12.
Going:
Ndamukong Suh, DT
What's left to say about the House of Spears? Heisman finalist. No. 2 pick in the NFL draft. Future NFL star?
Suh dominated the college game last year and received plenty of accolades for it. The AP named him its player of the year. He took home the Bednarik, Lombardi, Outland and Nagurski awards. He was also the conference's defensive player of the year. Baker Steinkuhler will step in and help replace Suh, but his $2.6 million donation to the athletic department and university assures he won't be forgotten in Husker lore.
Larry Asante, S
Asante joined Matt O'Hanlon as the back line of the Blackshirts and helped the unit become the nation's best in 2009. Asante was drafted in the fifth round of last weekend's draft, one of three Nebraska defenders to be drafted. Suh and linebacker Phillip Dillard, who probably belongs on this list, too, will be playing in the NFL next season. The conference's coaches voted Asante to the All-Big 12 first team after Asante added 79 tackles in 2009, bringing his career total to 224. Asante picked off two passes as a senior, returning one for a touchdown against Louisiana-Lafayette.
---
Staying:
Jared Crick, DT
Critics say Crick -- and his numbers -- benefited from playing alongside Suh. It certainly helped, but Crick wasn't gifted any of his 9.5 sacks in 2009. His highlight came in a win over Baylor, when he notched five sacks against the Bears. He enters 2010 as a possible preseason All-American and a big reason coach Bo Pelini is confident in his defense despite losing five starters from last year's unit.
Prince Amukamara, CB
Amukamara is one reason Pelini isn't scared of trusting in his new starters. A first-year starter in 2009, Amukamara emerged as one of the conference's best corners, intercepting five passes and breaking up 11 passes. He also added a pair of sacks, and has caught the eye of NFL scouts, who will be watching much closely as Amukamara joins Crick as two key pieces to a Nebraska defense hoping to validate high expectations in 2010.
---
Coming:
Andrew Rodriguez, OL
Rodriguez, Nebraska's only ESPNU 150 recruit in 2010, comes to Lincoln as the No. 7 offensive guard in his class. Hardly lacking in size (6-foot-6, 298 pounds), the homegrown Nebraska product was the state's top prospect.
Corey Cooper, S
Don't look for Cooper on the field this season, but the 6-foot-1, 193-pound safety provides textbook size and 4.5 speed. He'll have a chance to learn from a group of safeties competing in front of him, and could blossom into another great Nebraska defender. A Proviso, Ill., native, Cooper also returned kicks in high school, but was ranked the No. 20 safety in the country.
More Revolving Door:
February, 4, 2010
2/04/10
12:00
PM ET
By
Tim Griffin
| ESPN.com
Nebraska Cornhuskers
Total class:
21
ESPN 150:
1
By position:
DT 3, DE 3, ATH 2, QB 2, OT 2, CB 2, S 2, RB 1, WR 1, TE 1, OLB 1, G 1
By state:
Texas 5, Nebaska 4, Florida 2, Colorado 2, California 2, Missouri 1, Illinois 1, Ohio 1, Minnesota 1, Louisiana 1, Mississippi 1.
Already enrolled in school:
3.
The big ones:
Massive 298-pound guard
Andrew Rodriguez
, the nation's seventh ranked player at his position and the Cornhuskers' only player on the ESPNU 150, looks like he could develop into a dominant player in the trenches. Safety
Corey Cooper
, a late decommittment from Illinois and the nation's No. 20 rated safety, arrives at Nebraska's biggest defensive position of need.
Sleeper:
WR/KR/DB Ken Bell, son of former Denver Broncos player Ken Bell, struggled with injuries during his senior season in high school. But he has played well at a variety of positions and has been clocked at 4.29 in the 40-yard dash.
Needs met:
With the loss of Ndamukong Suh and Barry Turner to graduation and
Pierre Allen
entering his senior season, the Cornhuskers filled a gap with six defensive linemen. Corey Cooper and
Harvey Jackson
should fill the biggest defensive need at safety. But the Cornhuskers still are looking for offensive firepower and added only one wide receiver.
Analysis:
The Cornhuskers added a couple of late additions when Cooper and QB
Brion Carnes
joined on Wednesday. But they missed on the really big recruit when
Owamagbe Odighizuwa
decided to go to UCLA. Coach Bo Pelini doesn't agree with the perception that this class is lacking on offensive playmakers. But there's no debate that he addressed most of the Cornhuskers' most pressing needs with a typically wide-ranging class with players attracted from 11 states.
What Bo Pelini said:
On recruiting ratings: "I don't pay that much attention to it, other then when I'm down and I really want to get a good laugh." On not attracting Owamagbe Odighizuwa: "It's his mistake. Honestly, I don't get all caught up in all that. I don't get all stressed out about whether they're going to come. I thought he was a pretty good player. But in my mind, the kids that don't choose to come here I don't believe do themselves a service because I believe we'll develop them better than the other guy. That's just the confidence I have."
Scouts Inc. grade/rankings:
C-plus, seventh in Big 12.
August, 5, 2009
8/05/09
5:23
PM ET
By
Tim Griffin
| ESPN.com
Posted by ESPN.com's Tim Griffin
The ESPNU 150 for the Class of 2010 has been released and Big 12 schools have fared well in early commitments.
Texas has snagged 10 early commitments to lead the country, followed by nine for Florida and seven by LSU.
The South Division's domination over the North has continued into early recruiting with 18 of 19 Big 12 commitments headed to South schools.
Oklahoma has four commitments, Texas A&M has three and Baylor and Nebraska have one apiece.
The Baylor commitment of Waco native Ahmad Dixon, the nation's No. 15 player who turned down Texas to stay at home, indicates the growing recruiting prowess of Coach Art Briles.
Here's a look at the Big 12 representatives on the list:
Texas: No. 14 Taylor Bible, DT, Denton (John H. Guyer), Texas; No. 44 Ashton Dorsey, DT Tyler (John Tyler), Texas; No. 51 Aaron Benson, OLB, Cedar Hills, Texas; No. 73 Chris Jones, WR, Daingerfield, Texas; No. 100 Reggie Wilson, DE, Haltom City, Texas; No. 104 Adrian White, CB, DeSoto, Texas; No. 105 Tevin Jackson, OLB, Garland, Texas; No. 121, Carrington Byndom, CB, Lufkin, Texas; No. 128 Adrian Phillips, ATH, Garland, Texas; No. 141, Trey Hopkins, G, Houston (North Shore).
Oklahoma: No. 67 Blake Bell, QB, Wichita (Bishop Carroll), Kan.; No. 80 Quentin Hayes, S, Lancaster, Texas; No. 124 Sheldon McClain, WR, Cibolo (Byron M. Steele), Texas; No. 125 Brennan Clay, RB, San Diego (Scripps Ranch), Calif.
Texas A&M: No. 46 Corey Nelson, OLB, Dallas (Skyline); No. 66 Jake Matthews, OT, Missouri City (Lawrence E. Elkins), Texas; No. 87 Luke Joeckel, OT, Arlington, Texas.
Baylor: No. 15 Ahmad Dixon, S, Waco (Midway), Texas.
Nebraska: No. 109 Andrew Rodriguez, G, Aurora, Neb.
Both Texas and Oklahoma hope to improve their classes as they remain in the hunt for several other top prospects.
The Longhorns and Sooners are among the finalists for the No. 1 ESPNU 150 prospect, Jackson Jeffcoat, a defensive end from West High School in Plano, Texas, and the No. 2 prospect, Jordan Hicks, an outside linebacker from West Chester, Ohio.
And the Sooners are also among the finalists for the No. 4 prospect, Seantrel Henderson, a massive tackle from Cretin-Durham High School of St. Paul, Minn., and No. 6 prospect Michael Dyer, a running back from Little Rock Christian Academy.