May, 31, 2013
5/31/13
4:00
PM ET
Thanks for all the e-mail this week, everybody.
Here's where you can reach me
if you've got more to say. Let's get to your mail.
Nicholas in Houston writes:
What do you think is roughly the likelihood of the Big 12 champs being decided prior to the last week of conference play regardless of who wins or loses? How likely do you think it is that the winner will lead by more than one game?
David Ubben:
We haven't seen this happen since the Big 12 merged divisions after becoming a 10-team league. Granted, that's only a two-year sample size, but the point remains. This year, the scenario you laid out is as unlikely as ever. For a team to run away with the Big 12 like that, it would almost certainly have to go 9-0 in Big 12 play. Even if it was 7-1 going into the final weekend, the next-best team would have to be 5-3 for the Big 12 title to be officially locked up. That is hard to envision.
I don't really see a team that's got legitimate potential to go 12-0 in the Big 12, but there are four teams who could hit 11-1 or 10-2. That is a clustered bunch, and the gap between those four teams (Oklahoma State, Texas, Oklahoma and TCU) is tiny. The league title (or at least a share) will almost assuredly come down to the final weekend.
---
Gavin in Cleveland writes:
Ubbs-What is your take on
Ivan McCartney
coming back to WVU? I feel like he could be an essential piece of the offense is he gets his head on straight.
DU:
Yeah, it's definitely possible. His decision to leave surprised me, mostly because of all the opportunity that awaited this season with Stedman Bailey and Tavon Austin in the NFL. He's also part of the pipeline from Miramar High down in Florida up to West Virginia, so he's walking a trail that had already been blazed, knew other guys on the team, and had an offense that gave him tons of opportunity to succeed.
He said he left for "personal reasons."
A lot of good players who leave teams never get another chance (Hello, Austin Haywood and Oklahoma), so McCartney should know he's part of select group. Here's hoping he takes advantage of the opportunity he's been given. Always hate to see talent go wasted.
---
Pat in Spencer, N.C. writes:
David it seems every year there are teams that do better/worse than expected. Which teams do you feel will be those teams this year and why thanks.
DU:
Among the league favorites, I'd say the biggest potential for disappointment lies with Texas and TCU. Among the bottom half of the league, the teams with the best chance to exceed expectations and finish in the top three are definitely Kansas State and Texas Tech.
---
Tom in Austin, Texas writes:
Ubbster, In your mailbag last week, it was pointed out that Boise State wasn't on the list of blocked schools by Coach Gundy.
We don't play BSU until 2018
and
Wes Lunt
will have been gone by then. Also, for all those Gundy haters out there ... this
doesn't seem to be effecting our recruiting.
DU:
I wanted to address this. Pure mistake on my part. When I got the email, I remembered Oklahoma State's first game against Boise State was in 2016. That was incorrect. I'll do my best to make sure mistakes like that don't happen.
To your second point, I don't believe that one elite recruit still wanting to go to Oklahoma State proves anything one way or another. The effects would always be more big-picture, and more of a slight decline with word trickling out periodically. Though it's possible, I don't believe the whole Lunt issue will have a tangible, negative impact on Oklahoma State's recruiting. The only thing that could change that is Lunt telling his side of the story and painting Gundy as a real villain, and lobbing accusations that eventually are proven with documents or something like that. Doing so would be a bad idea that wouldn't have any positive effect for Lunt, so don't bet on that happening.
Will other coaches bring up the Gundy/Lunt issue to recruits? I definitely think so.
Will those recruits and families ask Gundy and his staff about it? Also yes.
They might cause a few raised eyebrows, but Oklahoma State's recent rise on the field is strong enough to outweigh this stuff when it comes to recruiting.
January, 24, 2012
1/24/12
9:00
AM ET
Signing day is coming fast. Next Wednesday, the next round of players will sign up for their respective programs and start what could be storied careers.
Here's what each team across the Big 12 needs. You'll find Texas A&M and Mizzou on the SEC blog and West Virginia on the Big East Blog.

BAYLOR
Quarterback:
This one's pretty simple.
Robert Griffin III
is taking his talents to the NFL early.
Nick Florence
is waiting to take over, and the Bears have
Bryce Petty
behind him, but more reinforcements at quarterback are needed. Dual-threat quarterbacks, ideally.
Defensive tackle:
Baylor already was one of the nation's worst teams (102nd nationally) at stopping the run. Now it'll need to replace both its interior linemen,
Nicolas Jean-Baptiste
and
Tracy Robertson
.
Offensive linemen:
Baylor's offensive line, meanwhile, has been solid. It loses junior college transfer and two-year starter
Robert T. Griffin
, as well as All-Big 12 center
Philip Blake
.
John Jones
, a reserve guard, also has exhausted his eligibility.

IOWA STATE
Receiver:
This has been a weak spot for the team for several years, and its top overall talent,
Darius Reynolds
, is gone.
Darius Darks
is, too.
Aaron Horne
and
Josh Lenz
will be the team's best weapons in 2012, but the pair of shifty slot guys will be seniors. This position needs reinforcements.
Defensive back:
The DBs have been a quiet strength for ISU, especially in 2011. Cornerback
Leonard Johnson
and safety
Ter'Ran Benton
both have exhausted their eligibility, though, and defensive backs coach Bobby Elliott left for Notre Dame. You'll see plenty of new faces in the Cyclones' secondary next year.
Defensive line:
Experienced starters
Stephen Ruempolhamer and Jacob Lattimer are both gone, and Iowa State has struggled to stop the run consistently the past few seasons.

KANSAS
Quarterback:
Kansas landed high-profile transfers
Dayne Crist
(Notre Dame) and
Jake Heaps
(BYU), but this is still a huge position of need. Last year's starter,
Jordan Webb
, left the team.
Quinn Mecham
is out of eligibility. Heaps is sitting out his NCAA-mandated year after transferring. Crist is the starter, but he badly needs a backup, especially if
Brock Berglund
's transfer appeal allows him to leave.
Wide receiver:
Kansas lacks a big threat at this position. It needs a talent upgrade in a big way. Oklahoma transfer
Justin McCay
is joining the team, but he's no guarantee to a) be granted immediate eligibility or b) become an impact player.
Defensive tackle:
Kansas is thin here, too. Richard Johnson,
Patrick Dorsey
and
Michael Martinovich
are gone, and Kansas couldn't stop much of anything on defense. Some push up front could help make everything look better. A late addition to the 2012 class from a junior college seems like a no-brainer. The Jayhawks need physically mature players to contribute immediately.

KANSAS STATE
Offensive line:
K-State's offensive line was much better in 2011 and could be again in 2012. It needs help replacing All-Big 12 lineman
Clyde Aufner
, though. Starter
Colten Freeze
is also gone.
Defensive line:
Kansas State is bringing back about as many starters as anyone in the Big 12, but the biggest losses are along the defensive line. Kick-blocking specialist (five in 2011) Ralph Guidry is gone, along with tackle
Ray Kibble
. Juco transfer
Jordan Voelker
exploded onto the scene this year, but he's gone, too.
Defensive backs:
Cornerback
David Garrett
leaves a huge hole behind.
Tysyn Hartman
may not be as talented as teammate
Ty Zimmerman
, but his experience leaves a big hole. Zimmerman will have to mentor a younger safety in the near future.

OKLAHOMA
Receiver:
The Sooners are thin here in a big way. That was obvious late in the season when
Ryan Broyles
' storied college career ended a few weeks early with a knee injury. The team also lost Justin McCay (transfer) to Kansas.
Jaz Reynolds
and
Kenny Stills
are the likely top two targets, but they need help.
Tight end:
This position inspired a bit of panic at the end of the season. Seniors
James Hanna
and
Trent Ratterree
are gone.
Austin Haywood
wasn't allowed back on the team, and two more tight ends left the team for various reasons. That left the Sooners suddenly without a scholarship player at the position returning in 2012.
Offensive line:
Starting tackle
Donald Stephenson
must be replaced, as will guard
Stephen Good
, who moved in and out of the starting lineup throughout his career. The Sooners bring back a lot of talent and aren't dying for depth there, but those two will leave holes. Three more offensive line starters will be seniors in 2012.

OKLAHOMA STATE
Offensive line:
The Cowboys need a whole lot of help here to fill in behind young players stepping into the starting lineup. Starters
Levy Adcock
,
Nick Martinez
and
Grant Garner
are gone. Backup center
Casey LaBrue
is gone, too. Those are two All-Big 12 linemen who leave big shoes to be filled.
Receiver:
Justin Blackmon
surprised no one by leaving a year early, and
Josh Cooper
leaves with perhaps the most underrated career of any receiver in school history. In OSU's offense, there's always room for depth here. Nine receivers had at least 19 catches in 2011. Blackmon and Cooper combined for 192, though.
Defensive ends
: The pass rush was solid for Oklahoma State this year, but both starters,
Jamie Blatnick
and
Richetti Jones
, are gone. Replacing both is a necessity.

TEXAS
Receiver:
Texas lacks a true game-changer at the position, though
Jaxon Shipley
and
Mike Davis
may develop into that role in 2012. Former blue-chip recruit
Darius White
left for Missouri, too.
Quarterback
:
David Ash
and
Case McCoy
didn't show a ton of potential at quarterback this year, though Ash may grow with an offseason to prepare as starter. Garrett Gilbert got a big chunk of the work in the spring, summer 7-on-7 and fall preseason camp. Even if Ash does grow, the Longhorns need reinforcements at the position.
Linebacker:
Two senior impact players are gone. Texas is left trying to replace
Emmanuel Acho
and
Keenan Robinson
, though
Jordan Hicks
may mature into a star in 2012.
TCU
Offensive line:
TCU's offensive line is headed for some major turnover. OT
Robert Deck
, OG
Kyle Dooley
and OG Spencer Thompson are gone. Two more starters, OG
Blaize Foltz
and C
James Fry
, will be seniors in 2012.
Defensive linemen:
TCU isn't losing a lot at this spot, but
Ross Forrest
and
D.J. Yendrey
will be seniors in 2012. The Horned Frogs would be well-served to prepare, and offer some depth next year.
Specialists:
TCU will have to break in a pair of new starters on special teams next season. Kicker
Ross Evans
and punter
Anson Kelton
have exhausted their eligibility.
TEXAS TECH
Receiver:
The Red Raiders' offense requires a lot of depth here.
Tramain Swindall
is the only loss at the position, but three more (
Alex Torres
,
Cornelius Douglas
,
Darrin Moore
) will be seniors. Douglas moved to cornerback this year after the team was racked with injury, but we'll see whether he moves back this offseason.
Offensive line:
Tech has a huge need here. Four players won't be returning in 2012.
Lonnie Edwards
,
Mickey Okafor
and center
Justin Keown
must be replaced.
Defensive linemen:
Tech's
Donald Langley
and
Scott Smith
are both out of eligibility, and juco transfer
Leon Mackey
will be a senior.
January, 9, 2012
1/09/12
12:00
PM ET
By
ESPN.com staff
| ESPN.com
These playoffs are so Tebow right now. Can you imagine how good he would have been as a college player?
February, 1, 2011
2/01/11
1:30
PM ET
ESPN The Magazine had a fascinating feature
looking back at the past 25 No. 1 high school recruits

, where they are now and what the ranking meant to them. With apologies to
Vince Young
, there aren't a ton of Big 12 talents on the list, but there have been plenty of great recruits to come through the Big 12. We took a look on Thursday at
how the All-Big 12 team stacked up as recruits
, and you saw quite a mixed bag.
Well, it's the same for the recruits who came to campus with high rankings and high profiles. Going back to 2006, here's how every Big 12 commit from the ESPNU 150 turned out. We'll eventually get to the current class in 2011, around signing day, but here's how the 2010 class breaks down. This class is only a year into their careers, so while some have shown more potential than others, it's ridiculous to be too discouraged by anyone on this list, or make any truly meaningful judgments.
No. 2: Jackson Jeffcoat, DE, Texas.
Got off to fast start in 2010 before being sidelined and slowed by ankle injury. Finished with 13 tackles, five tackles for loss, 2.5 sacks and one fumble recovery. Only three tackles after season's first four games.
[+] Enlarge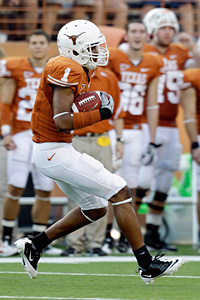 AP Photo/Eric GayTexas freshman wide receiver Mike Davis finished with 47 receptions this past season.
No. 4: Jordan Hicks, LB, Texas.
Ohio prospect chose the Longhorns over in-state power Buckeyes. Played in 11 games, including seven at linebacker. Finished with 21 tackles in first year, including 11 in a win against Nebraska.
No. 13: Mike Davis, WR, Texas.
No catches in the season opener, and missed the Red River Rivalry with an ankle injury, but ranked second on the team with 47 catches for 478 yards and two touchdown catches, tied for most on the team.
No. 14: Taylor Bible, DT, Texas.
Redshirted.
No. 15: Ahmad Dixon, S, Baylor.
Waco native forced a fumble and had 16 tackles.
No. 18: DeMarco Cobbs, ATH, Texas
. Played special teams in 10 games, and appeared at defensive back in one game. Made four tackles.
No. 20: Darius White, WR, Texas.
Played in seven games at wide receiver and one at special teams. Caught one pass for five yards against Florida Atlantic.
No. 21: Tony Jefferson, S, Oklahoma
. Won the starting nickelback job, finishing the season with 65 tackles, two interceptions and two sacks. Named co-Big 12 Defensive Freshman of the Year.
No. 46: Ashton Dorsey, DT, Texas.
Played in seven games, made one tackle.
No. 48: Austin Haywood, TE, Oklahoma.
Appeared in 11 games, mostly on special teams. Made three tackles.
No. 62: Corey Nelson, LB, Oklahoma
. Switched to the Sooners from Texas A&M on Signing Day 2010. Appeared in all 14 games, making 21 tackles, including 2.5 for loss. Blocked a punt vs. A&M.
No. 65: Blake Bell, QB, Oklahoma.
Redshirted.
No. 72: Reggie Wilson, DE, Texas.
Played in 10 games. Made five tackles.
No. 73: Chris Jones, WR, Texas.
Redshirted.
No. 75: Shaun Lewis, LB, Oklahoma State.
Became a starter and made 58 tackles and eight tackles for loss. Intercepted three passes, including two against Oklahoma, returning one for a touchdown. Named co-Big 12 Defensive Freshman of the Year.
No. 77: Quentin Hayes, S, Oklahoma.
Redshirted.
No. 83: Luke Joeckel, OT, Texas A&M.
Enrolled early and was the Aggies' starting left tackle by the spring game. Earned All-Big 12 honorable mention.
No. 86: Tevin Jackson, OLB, Texas.
Kept off the field by eligibility issues and appeal is still pending.
No. 90: Jake Matthews, OT, Texas A&M.
Became Aggies' starting right tackle midway through the season.
No. 114: Aaron Benson, LB, Texas
. Redshirted. Cousin of former Longhorn Cedric Benson.
No. 122: Carrington Byndom, CB, Texas.
Played in 10 games at defensive back and special teams. Made 11 tackles, all solo.
No. 125: Toney Hurd Jr., CB, Texas A&M
. Appeared in 12 games and made nine tackles.
No. 129: Brennan Clay, RB, Oklahoma.
Carted off field as a precaution in win against Florida State and missed next two games. Finished with 127 yards on 36 carries.
No. 134: Adrian Phillips, ATH, Texas.
Played in 10 games, including five at defensive back. Made eight tackles.
No. 141: Trey Hopkins, OG, Texas
. Played in 11 games and made three starts at left guard.
No. 142: Justin McCay, ATH, Oklahoma.
Redshirted.
No. 147: Andrew Rodriguez, OG, Nebraska
. Appeared in five games as a backup left guard, becoming the first true freshman Nebraska lineman to play since 2006.
February, 4, 2010
2/04/10
2:12
PM ET
By
Tim Griffin
| ESPN.com
Oklahoma
Total class:
29
ESPN 150:
7
By position:
ATH 6, DE 4, WR 3, OT 3, OLB 3, RB 2, S 2, DT 2, TE 1, QB 1, G 1, C 1.
By state:
Texas 17, Oklahoma 4, California 3, Kansas 3, Florida 1, Missouri 1.
Already enrolled in school:
4.
The big ones:
QB Blake Bell, a tall player with surprising athleticism for his size, was the Big 12's top quarterback recruit. LB Corey Nelson was a late snatch from Texas A&M who should provide playmaking ability as a nimble, roving run-stuffer.
Sleeper:
S Aaron Colvin missed his junior season with an injury but had a strong senior season. Oklahoma coaches feel like they are getting a steal because of his lack of national notoriety.
Needs met:
Chris Brown
is gone and
DeMarco Murray
has one more season of eligibility. But the Sooners added a couple of immediate contenders for playing time in Brennan Clay and Roy Finch. Austin Haywood adds immediate depth at tight end with
Jermaine Gresham
leaving. And Sam Bradford's departure is lessened with the arrival of Bell, who appears ticketed to redshirt during 2010.
Analysis:
Offense was the target in this recruiting class and the Sooners appear to have filled most of their needs. The late addition of Corey Nelson was huge for Oklahoma's defense, particularly after losing Jackson Jeffcoat to Texas a few days earlier. Receivers Justin McCay and Kenny Stills should help provide pop in the offense. It's a strong, solid class, dotted by playmakers, that was ranked as high as second nationally by one recruiting service.
What Bob Stoops said:
"We met every one of our needs by position the way we needed to with the number of guys, the number of signees, at each of those positions and addressed just the graduation and guys departing through the year. I felt like we really got great talent in all of those positions." On Blake Bell: "He's a talented guy when you look at his ability to throw the football. He's an excellent pocket quarterback, which is a staple of what we do."
Scouts Inc. grade/rankings:
A, second in Big 12.
November, 17, 2009
11/17/09
9:16
AM ET
By
Tim Griffin
| ESPN.com
It's always recruiting season around here. That's why the weekly missive from Tom Luginbill, the national recruiting director for ESPN's Scouts Inc., is so eagerly awaited.

Here are some Big 12-related tidbits for Tuesday.

T Cody Whitehair

Abilene, Kan.

Abilene H.S.

Scouts Grade: 45

Kansas State lands 2011 in-state lineman Cody Whitehair

A 6-foot-4, 300-pound offensive lineman, Cody Whitehair of Abilene, Kan., has committed to the Wildcats for the Class of 2011.

He also received early offers from Oregon State and Colorado State.

TE Austin Haywood

Moore, Okla.

Southmoore H.S.

Scouts Grade: 82

ESPNU150 Rank: 46

Position Rank: 3

Austin Haywood (Moore, Okla./Southmoore) was recently evaluated by the Scouts, Inc. staff and is now rated as the nation's No. 46 prospect and third ranked tight end.

ESPN's Craig Haubert said of the news, "The month of November has now seen its second prospect impressively leap into the ESPNU 150. First defensive end Adrian Hubbard [Norcross, Ga.] impressed with senior year film and made the big splash and now tight end Austin Haywood has done the same."

"With a recent evaluation as an offensive prospect, Haywood has proved to be worthy of a 150 ranking and is a great sleeper pick-up for Oklahoma. He is a big kid who possesses good speed and can be a serious match-up problem in the passing attack. With the Jermaine Gresham era over, a player like Haywood could be just what is needed to try and replace the very talented Sooner."

ILB Victor Burnett

Culver City, Calif.

Culver City H.S.

Scouts Grade: 77

Position Rank: 20

Washington has gained a commitment from Victor Burnett, a three-star 5-foot-11, 220-pound linebacker from Culver Senior (Culver City, Calif.), for the Class of 2010.

Burnett chose Washington over Arizona, Nebraska, Oklahoma, West Virginia and Oregon State. He is also holding scholarship offers from Arizona State, California, Washington State, Tennessee, San Diego State, San Jose State and UNLV.

He told ESPN's Greg Biggins, "I just bonded the best with the coaching staff there and that was a big deal for me. They're such an intense staff and that stood out to me. I've seen a lot of improvement and progression this year with the team and I think the coaches will be able to get the most out of me as a player and person."

During his junior season, Burnett was credited with 182 tackles, 17 tackles for loss, 10 sacks, two forced fumbles and one fumble recovery.

Washington now has 23 pledges.

TE Brandon Williams

Merrionette, Ill.

Joliet Junior College (IL)

Joliet College (Ill.) product Brandon Williams has committed to sign as part of Oregon's Class of 2010, ESPN affiliate Web site DuckTerritory.com reports.

He selected the Ducks over scholarship offers from Baylor, Toledo, Central Michigan and Wyoming. Programs including Kansas State, Arizona and Florida State expressed late interest.

"I decided that this was the place for me, and informed the coaches before I left today (Sunday). I'm definitely committed. I have some other visits set up, but I'm going to cancel those first thing tomorrow," Williams said.

OLB Anthony Beard

Lumberton, Texas

Lumberton H.S.

Scouts Grade: 75

Position Rank: 85

Three-star outside linebacker Anthony Beard picks Mustangs

SMU has landed Anthony Beard, a 6-foot-1, 210-pound outside linebacker from Lumberton, Texas, for the Class of 2010.

Arizona, Colorado, Missouri, Wyoming and Colorado State had also offered the three-star prospect.
November, 4, 2009
11/04/09
9:28
AM ET
By
Tim Griffin
| ESPN.com
Posted by ESPN.com's Tim Griffin

I'm officially feeling old this morning.

Scouts Inc.'s Tom Luginbill informs us that Charles Thompson's son has committed to the Sooners.

Doesn't it seem like yesterday when his dad was playing for Barry Switzer and the Sooners?

But I digress. Here are some Big 12 recruiting tidbits provided by Luginbill.

QB Kendal Thompson

Moore, OK

Southmoore H.S.

Class of 2011 ESPNU 150 Watch List quarterback Kendal Thompson (Moore, Okla./Southmoore) gave his pledge to coach Bob Stoops Monday, ESPN affiliate Web site OUInsider.com reports. He is the son of former Oklahoma quarterback Charles Thompson.

"It is a great feeling because being a little kid growing up here, I was probably the biggest OU fan. Now, I get a chance to wear it on the field and maybe be the starting quarterback some day," said Thompson.

This fall, he's thrown 23 touchdowns and only five interceptions, while leading his team to a 9-1 record and No. 4 ranking in Oklahoma's highest class.

Thompson, who hopes to graduate early, joins teammates Austin Haywood and Julian Wilson, who will be a part of OU's 2010 class.

TE Austin Haywood

Moore, OK

Southmoore H.S.

Scouts Grade: 40

Haywood told ESPN affiliate Web site OU Insider, "I have always dreamed of playing at OU, and now I am finally going to be a Sooner."

Haywood also claims scholarship offers from Oklahoma State, Kansas, Arizona, Baylor and Colorado State.

Through eight games, Haywood has accounted for an impressive 16 touchdowns - 10 receiving, five rushing and one passing. He has caught 26 passes for 411 yards and rushed for 55 yards on 16 carries. Defensively, he has recorded four sacks and two interceptions.

Additionally, his high school teammates, 2011 ESPNU 150 Watch List quarterback Kendal Thompson and 2010 athlete Julian Wilson, have also committed to Oklahoma.

DE Kony Ealy

New Madrid, MO

New Madrid County Cent H.S.

Scouts Grade: 40

Productive 6-foot-4, 230-pound defensive end Kony Ealy of New Madrid County School (New Madrid, Mo.), has accepted a Class of 2010 offer from Missouri.

Ealy also has offers from Arkansas, Georgia Tech, Illinois, Mississippi, Nebraska, Memphis and Arkansas State.

"He's done. He's finished," Ealy's coach, Arlen Pixley told the Columbia Daily Tribune. "I've been on the horn talking to coaches, telling them, 'Thanks but no thanks.'"

The Tigers have 15 pledges.

WR O.J. Ross

Daytona Beach, FL

Mainland H.S.

Scouts Grade: 80

Position Rank: 32

Mainland (Daytona Beach, Fla.) pass-catcher O.J. Ross has committed to the Boilermakers of the Big Ten for the Class of 2010.

The 5-foot-10, 175-pound receiver also considered North Carolina, South Carolina, West Virginia, Kentucky, and Rutgers. Among many others were Texas Tech, Cincinnati, Syracuse, Michigan, Arkansas and Nebraska.

Two Mainland teammates, cornerback Ricardo Allen and receiver Chevin Davis, have also picked Purdue. The Boilermakers have seven commitments from Florida.

Luginbill reports: "Danny Hope continues to add more speed and athleticism to this class and upgrade Purdue's team speed with the addition of O.J. Ross. So much so that Ross should play as a true freshman. Hope obviously knows that moving his recruiting efforts further south will enhance his chances of competing for a Big Ten championship."

As a junior, Ross caught 34 passes for 693 yards (20.4 average) and 10 touchdowns.

The Boilermakers now have 18 pledges.

WR Chevin Davis

Daytona Beach, FL

Mainland H.S.

Scouts Grade: 76

Position Rank: 118

Boilermakers gain Daytona Beach WR Chevin Davis, two teammates

Wideout Chevin Davis of Mainland (Daytona Beach, Fla.) has accepted a Class of 2010 offer from Purdue over Mississippi.

The 6-foot, 180-pound prospect also had offers from Illinois, Nebraska, Michigan State, Cincinnati, Iowa State and Louisville.

Two Mainland teammates, receiver O.J. Ross and defensive back Ricardo Allen, have also picked Purdue.