March, 24, 2011
3/24/11
10:00
AM ET
LUBBOCK, Texas -- Last season, Oklahoma State surely made some sort of history by starting a quarterback in
Brandon Weeden
, who hadn't made a start in nine years.
Next season, there's a good chance Texas Tech could have a quarterback who has made one start in five seasons. Junior
Seth Doege
's never made it on the field for his final two seasons of high school in 2006 and 2007, thanks to preseason torn ACLs in his right and left knees.
[+] Enlarge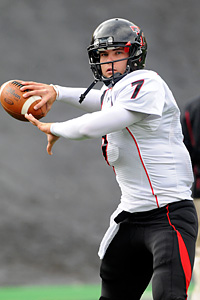 Dustin Bradford/Icon SMISeth Doege is excited to get a chance to start for Texas Tech.
In 2008, he redshirted. Doege started against Kansas in 2009 but was benched in favor of
Taylor Potts
at halftime, making his only start a forgettable one. In 2010, he waited his turn behind a pair of seniors, Potts and
Steven Sheffield
, both finally fully healthy.
"I know a lot of people that would have gone through those [injuries] and said, 'You know what, I'm done. I'm not going to go through this.'" said Texas Tech coach Tommy Tuberville. " But it shows the perseverance he's got and how resilient he is and how much he wants to play."
The big question: Why?
"Ever since I was little, this has been my dream," Doege said. "Not many people can say they're living their dream."
Doege can. For now, it's not official. But he's established a clear lead over
Jacob Karam
as the Red Raiders' starting quarterback, earning the majority of the first-team reps as the most experienced quarterback on the roster.
The quarterback play under former coach Mike Leach became a signature of the Red Raiders' program, and that doesn't look likely to change.
"We still want to go out and recruit quarterbacks who can throw it 50 times a game -- maybe 60," Tuberville said. "That's something that's helped Tech when Mike brought it here and I don't think there's any doubt that it's opened doors for us."
That includes Doege's door. A native of Wolfforth, Texas, Doege went to nearby Frenship High School and was a self-professed "West Texas kid." He remembers well the first time his dad, Randy Doege, a high school coach himself, brought him to a Texas Tech game.
"I was like, 'Man, I want to play here. I want to throw for 4,000-plus yards,'" he said. "I wanted to be the next Kliff Kingsbury, the next B.J. Symons, the next Graham Harrell. I wanted to be those guys."
That didn't change throughout high school. One of the top passers in Texas, Doege committed to Texas Tech the day he got his offer, the first of several that eventually rolled in.
"I knew this was where I wanted to be when I was little," he said. "There were other schools that offered, but as soon as they did, I'd tell them hey, I'm committed to Tech. I'm solid."
And despite missing those final two years, Texas Tech honored that commitment just as Doege honored his, both to the game itself and other schools that expressed interest.
"That really motivated me. It was like, 'OK, I still have a chance,'" he said.
Now that the chance is closer than ever, Doege's hopes and expectations are high.
"I just want to win, that's the main goal," he said. "My expectation is to be the No. 1 offense and that's what we want to do. For a quarterback to know that your unit is No. 1 in the nation, that's probably the best recognition you can get."
And Doege's confidence in himself and those around him is reflected by his coach, too.
"He's an older guy. He's not 18 years old. He's been through some tough times, some tough surgeries, and he's still got the hunger for it," Tuberville said. "You can tell he's physically tough, mentally tough to go through that, and you can tell he kept the hunger and he wanted to do it.
"Now we can see what he can do."
September, 10, 2010
9/10/10
2:30
PM ET
By
ESPN.com staff
| ESPN.com
Good stuff this week, fans. Thanks for all the questions. Let's do it again sometime.
Jenny in College Station, Texas asks:
DU, love your blog. My parents are die hard Aggies but I love the Huskers. Do you know if he is single? Also do you think the Aggies will have something to fear when NU comes to town to play the aggies with a mobile QB or do you think they possibly have seen everything they have from
Jerrod Johnson
who is also a mobile QB and better prepared?
David Ubben:
Ha, couldn't shed any light on Jerrod's relationship status. Never came up in
my recent visit to College Station,
as opposed to when I
stopped by Baylor to spend a day with Robert Griffin.
But to your main point, I wouldn't expect Nebraska to be shocked by anything they see, especially when it comes to mobile quarterbacks. The two most mobile guys they faced last year,
Tyrod Taylor
and Colt McCoy, had awful days when they played the Huskers, but Nebraska still lost both games -- by a point in the final 30 seconds of each game. Taylor completed less than 50 percent of his passes and McCoy threw three interceptions and no touchdowns. Having a guy that can make plays if things break down is nothing new for the Blackshirts.
---
Scott Anderson in Manhattan, Kan. asks:
David, why no love for
Daniel Thomas
in your Heisman talk? is it because he doesn't have OU on the side of his helmet? and how could you of put kendall hunter on that list but not DT when we all know KSU played a far more difficult opponent. Just curious why the disrespect?
DU:
To be frank, yes. It's because he doesn't have OU on the side of his helmet. Or Texas. Or Nebraska. Complain all you want, but the Heisman is somewhat of a popularity contest that boils down to the best skill position player on a team that finishes near the top 5. I don't see Kansas State winning more than 8-9 games this year. Even 2,000 yards probably wouldn't win Thomas the Heisman. If your team doesn't win at least 10 games, you have almost no chance. Maybe that's bad, but I'm somewhat OK with winning being a big part of the award, because even though a player isn't every reason a team wins, he's most often the biggest reason why.
The only recent exception was Tim Tebow, but Florida is a program with a lot of eyes on it. Tebow had an unbelievable year; he was responsible for 51 touchdowns, the Gators won nine games and ranked in the top 15. Occasionally, an outstanding performance by a guy on a team in that second-tier of teams can win it, which is why Jerrod Johnson and
Kendall Hunter
are on top of my list for the Big 12, but no Big 12 players are on my Heisman Watch ballot.
---
Moe in Chicago, Ill. asks:
Still think Missouri will give NU a problem this year after their aweful performance against Illinois, which is picked to finish last in the Big10 with Indiana?
DU:
I do, but the loss of
Derrick Washington
is more of a concern than anything that happened last week. Missouri dominated that second half after
Blaine Gabbert
got rolling, but Washington was Missouri's best bet to get a tough yard. With four backs now under 195 pounds, you might see Missouri throw it a little more inside the 10-yard line or on 3rd-and-short, which by nature is going to lower their percentages of success. We'll see if that comes back to bite them later.
---
Matt in Milledgeville, Ga. asks:
If "T-Magic" backs up his stellar performance last weekend with an eqaully as impressive game, do you see Bo Pelini giving him most of the snaps at Washington next week? What would this mean for the future of
Cody Green
? Transfer? Position switch?
DU:
Definitely, for more on Martinez's status as starter,
see my story yesterday
. I fully expect Martinez to be the guy next week at Washington, but we'll see how he does against his first real competition when he heads to Seattle. I won't venture a guess as to Green's future. He's still very much in the competition, and Martinez starting at Washington doesn't mean Martinez starts forever. We'll see how it goes, but with as much as Martinez will probably run it, you have to also think a little bit about injury, too.
What I find a little more interesting is what happens to Bubba Starling and Jamal Turner, Nebraska's two blue-chip quarterback recruits for 2011, if Nebraska's bringing back a sophomore at quarterback who just won Big 12 Offensive Freshman of the Year?
---
2LT Tyler Norris in Schofield Barracks, HI asks:
David, Being a recent UT alumni I have been spoiled by the recent success. This team appears to start the season with similiar expectations as to recent teams. The team seemed very unmotivated, and played less than impressive VS Rice. Do you think it was more of a who they were facing issue or is this finally the yr UT doesn't make 10 wins?
DU:
I wouldn't worry at all. Texas was going to focus on getting its running game rolling, and knew having moderate success against Rice wouldn't cost them a win. But as for the final score, let's look at this: Rice scored on a Hail Mary, Texas got stuffed on a 4th-and-goal on the 1-yard line, and the UT secondary dropped two easy pick sixes.
Change all -- or at least a couple -- of those plays, and you get a 55-10 final score. Nobody would be complaining about that, which was a few plays away from happening. It's not like that game was ever really in doubt.
---
Tad in Holly Springs, N.C. asks:
I geeked something out this week. In 2008 and 2009, 13 ranked teams went on the road on Thursday night to face an unranked team. Nine of them were upset. Unranked teams have won 8 of the last 9 games against ranked teams on Thursday.(I am writing this during the Auburn-Miss St game, therefore the number will change)As a Nebraska fan, I am looking a little ahead to our game against Kansas State in a few weeks and wonder why you think this situation exists. With that game being immediately before the Texas game, I cannot help but think Nebraska has a lot working against them.
DU:
Well, most of those Thursday night games are conference games, and winning on the road in any conference is tough, especially at night with a crowd that's going to be considerably more jacked up than an 11 a.m. kickoff. It's not any weird coincidence, it's teams playing other good teams on the road in hostile environments. In other words, college football. Winning doesn't come easy.
---
Jacob in Lubbock, Texas asks:
What kind of performance would it take from Taylor Potts over the next few weeks to get him in the Heisman contention?
DU:
Don't blame me, but it's going to be tough for a Texas Tech quarterback to ever win a Heisman. The majority of voters have dismissed the position as the product of a system after watching guys like Kliff Kingsbury, B.J. Symons, Sonny Cumbie and Cody Hodges do almost nothing at the next level after putting up video-game numbers in Lubbock.
Michael Crabtree had very, very obvious size and talent that helped win him the Biletnikoff Award twice, and you see him using those at the next level. The Heisman isn't an award that's dependent on future success, obviously, but the short post-college careers of those other guys have certainly lent a lot of credibility to the sentiment that the Air Raid is a plug-n-play system. True or not, perception is reality in the world we live in. And the perception among Heisman voters is there are a lot of quarterbacks who can succeed in that system, and play design and play calling are to be credited, not individual talent.
If Graham Harrell couldn't win it at Texas Tech, nobody can.
---
Ben in St. Peters, Mo. asks:
What would
Mack Brown
do for a Klondike bar? Seriously.
DU:
I can't speak to Mack's love of frozen foods, but I would do any number of things for that delicious treat.
December, 11, 2009
12/11/09
11:48
AM ET
By
Tim Griffin
| ESPN.com
Colt McCoy
and Ndamukong Suh are en route to New York City this morning. Both will be part of the Heisman Trophy activities Saturday night.
The Big 12 has featured four winners during its brief history: Ricky Williams of Texas (1998), Eric Crouch of Nebraska (2001),
Jason White
of Oklahoma (2003) and
Sam Bradford
of Oklahoma (2008).
The conference also has been involved in two of the three one-two finishes by a conference during that period.
Williams and Kansas State's Michael Bishop in 1998 and Bradford and McCoy account for two of the three instances that a specific conference had the first- and second-place finishers. The only other time it happened during that period was
Tim Tebow
of Florida and Darren McFadden of Arkansas in 2007.
Here's a look at how Big 12 players have placed since the conference was formed.
1996: Winner, Florida QB Danny Wuerffel; Iowa State RB Troy Davis, second; Texas Tech RB Byron Hanspard, sixth.
1997: Winner, Michigan DB/WR/KR Charles Woodson; Texas RB Ricky Williams, fifth.
1998:
Winner, Texas RB Ricky Williams;
Kansas State QB Michael Bishop, second.
1999: Winner, Wisconsin RB Ron Dayne; no Big 12 players among top 10 finishers.
2000: Winner, Florida State QB Chris Weinke; Oklahoma QB Josh Heupel, second.
2001:
Winner, Nebraska QB Eric Crouch;
Oklahoma S Roy Williams, seventh.
2002: Winner, USC QB Carson Palmer; Colorado RB
Chris Brown
, eighth; Texas Tech QB Kliff Kingsbury, ninth; Oklahoma RB Quentin Griffin, 10th.
2003:
Winner, Oklahoma QB Jason White;
Kansas State RB Darren Sproles, fifth; Texas Tech QB B.J. Symons, 10th.
2004: Winner, USC QB Matt Leinart; Oklahoma RB Adrian Peterson, second; Oklahoma QB Jason White, third; Texas RB Cedric Benson, sixth.
2005: Winner, USC RB Reggie Bush; Texas QB Vince Young, second.
2006: Winner, Ohio State QB Troy Smith; no Big 12 players among top 10 finishers.
2007: Winner, Florida QB Tim Tebow; Missouri QB Chase Daniel, fourth.
2008:
Winner, Oklahoma QB Sam Bradford;
Texas QB Colt McCoy, second; Texas Tech QB Graham Harrell, fourth; Texas Tech WR Michael Crabtree, fifth.
Who knows? Maybe McCoy or Suh will become the fifth Big 12 Heisman winner.
September, 17, 2009
9/17/09
4:32
PM ET
By
Tim Griffin
| ESPN.com

Posted by ESPN.com's Tim Griffin
| | |
| --- | --- |
| | |
| | Karl Anderson/Icon SMI |
| | Taylor Potts will be making his first road start at No. 2 Texas. |
Taylor Potts
has always dreamed of riding bulls in rodeos.
"Heck if somebody had a bull and the space to do it, I'd like to give it a shot," Potts said earlier this summer. "I might end up being a little too tall to do it, but I'd love to try."
Potts' first love was baseball and he dreamed of being a relief pitcher with the Texas Rangers. It's part of his mentality not to shy away from new challenges.
"I like doing things I've never done before," Potts said. "Things that take me out of my comfort zone and kind of push the envelope in good way. I see things and want to be challenged by them."
The junior Texas Tech quarterback will be facing another of those tests Saturday night in Austin -- perhaps the ultimate football trial. He will be making his first road start at No. 2 Texas, where the largest football crowd in Texas history is expected to attend. Most of them are still angry that the Red Raiders cost the Longhorns a shot at playing for the BCS title.
And Potts can't wait.
After only two games as a starter, the 6-foot-5, 218-pound Potts has made a remarkably fast start as the Red Raiders' new starter in the long line of prolific quarterbacks coached by Mike Leach. Potts has piloted the Red Raiders to two easy victories, leading the nation in passing yards and touchdown passes.
In the process, he has bounced back from adversity. In his first career start against North Dakota, he was intercepted three times after coaches thought he fell into a pattern of throwing off his back foot.
"I was just a little nerve wracked," Potts said.
After a week of adjustments, he rebounded to throw for 456 yards and seven touchdown passes -- within one of the school record set by B.J. Symons -- to lead the Red Raiders to a 55-10 triumph over Rice last week.
"Last week, I think I dropped back there and thought I had to get the ball out there (soon) and get out of there," Potts said. "I took a few hits. It never hurt. And it kept confidence to stay in there and throw the ball. "
Potts has become the next in a long line of fine Texas Tech quarterbacks with Mike Leach. In eight of the past nine seasons, a Texas Tech quarterback has led the nation in passing. And in 2006, Graham Harrell was second.
Texas coach Mack Brown said he sees similarities between Potts and the rest.
"He's the same guy. They just change the numbers," Brown said. "They all have confidence. Mike (Leach) does a really smart thing. Most of those guys have been in the system for a really long time, so it doesn't drop off much. He's done a good job of convincing quarterbacks to come and wait their time and be patient and play when they're ready to play. That's why I think you really see no drop-off at all in their offense."
Texas safety Blake Gideon hasn't seen much of a change with Potts at quarterback, compared to Harrell or any of the others.
"Obviously, they've been fortunate with a good strain of quarterbacks and Potts just seems to be the next in line," Gideon said. "They haven't experienced any falloff between Harrell and him. They run a very simple scheme and are very good at it. They have mastered it and put up some ungodly numbers running the same basic five plays."
Potts provides a little panache as a leader that sets him apart -- at least in a visual way. He has cultivated a long mustache that makes him look like a 1970s baseball reliever.
Leach has compared him to John Wayne because of his stoicism as a leader. But teammates are reminded of real-life Western characters when they see Potts and his facial adornment.
"He looks like Wyatt Earp to me," Texas Tech running back
Baron Batch
said, chuckling. "Taylor looks like one of those Wild West guys who will shoot somebody in a heartbeat on the street."
September, 14, 2009
9/14/09
2:13
PM ET
By
Tim Griffin
| ESPN.com

Posted by ESPN.com's Tim Griffin
Texas Tech quarterback
Taylor Potts
, Kansas defensive end Max Onyegbule, Texas defensive tackle Lamarr Houston and Oklahoma State wide receiver/punt returner
Dez Bryant
have been named Big 12 Conference Football Players of the Week as selected by a media panel.
Potts, Onyegbule and Houston were picked for the first times in their careers. Bryant earned his third career weekly award.
Here's a look at what each of the honorees accomplished last week to earn their award.
Offensive Player of the Week
Texas Tech QB Taylor Potts,
Jr., Abilene, Texas
He threw for 456 yards and seven touchdowns on 36-of-57 passing in Texas Tech's win over Rice. Potts connected with five different receivers for scores, including three times to
Lyle Leong
. His seven touchdown passes were one short of the school and Big 12 record, held by former Tech quarterback B.J. Symons. Potts has 861 yards on the season and nine scoring passes.
Co-Defensive Players of the Week
Kansas DE Max Onyegbule,
Sr., Arlington, Texas
Onyegbule registered a career-high and team-high tying six tackles with two sacks and three tackles for loss in Kansas' victory at UTEP. He also broke up a pass and was credited with a quarterback hurry. The Jayhawks limited UTEP to 208 total yards while registering six sacks and nine tackles for loss.
Texas DT Lamarr Houston,
Sr., Colorado Springs, Colo. (Doherty H.S.)
Houston led a Longhorn defense that did not allow an offensive touchdown in a 41-10 victory at Wyoming. He posted four tackles, two tackles for loss, a sack, batted down a pass and registered five quarterback pressures. Eight of Wyoming's 16 drives in the game went for 10 yards or less and the Cowboys managed to reach Texas territory just twice in their final 11 drives.
Special Teams Player of the Week
Dez Bryant,
Oklahoma State, WR/PR/KR, Jr, Lufkin, Texas
He helped ignite a comeback from a 21-point deficit in the Cowboys' eventual loss to Houston. Bryant had an 82-yard punt return for a touchdown against Houston -- his third career punt return for a score -- and also two kickoff returns for 43 yards. Bryant is averaging 37.0 yards per return on his punt returns so far this season.
September, 12, 2009
9/12/09
11:00
PM ET
By
Tim Griffin
| ESPN.com

Posted by ESPN.com's Tim Griffin
Some of the chest-pounding that marked the first week of the Big 12 appears to have dissipated.
Struggling performances will do that for you. Several Big 12 teams had that on Saturday.
Oklahoma State will fall out of the top 10 after a
45-35 loss to Houston
that will be one of the biggest stunners in the nation this week.
The dogfight that I expected for Kansas State materialized at Cajun Field against Louisiana-Lafayette -- and then some in a
disappointing 17-15 loss to the Ragin' Cajuns
. The Wildcats stormed back from a 14-2 halftime deficit to briefly take the lead before a game-winning 48-yard field goal by Tyler Albrecht with 32 seconds left.
Missouri barely escaped a third-straight loss to Bowling Green before escaping with a
27-20 victory over the Falcons
. The Tigers trailed 20-6 late in the third quarter before storming back for three late touchdowns -- including two TD passes by sophomore quarterback
Blaine Gabbert
.
Other games played out more like I expected. I was a little surprised that Oklahoma's offense was as dominant in a 64-0 beatdown against Idaho State, but it probably speaks to the level of competition the Bengals provided.
Landry Jones
blistered Idaho State for 286 yards and three touchdown passes and
DeMarco Murray
rushed for 101 yards. The game against Tulsa will be more of a challenge, although Saturday's game obviously has to help build Jones' confidence.
Texas Tech quarterback
Taylor Potts
showed more in his second career start, blistering Rice for 456 passing yards and seven touchdown passes in a
55-10 victory over the Owls
. Potts came within one of the Tech school single-game record of eight touchdown passes set by B.J. Symons against Texas A&M in 2003.
And Kansas finished Saturday's games with a solid
34-7 victory at UTEP
. The Jayhawks' new infatuation with the Pistol to boost their running game appears to have shown some promise as
Jake Sharp
rushed for 104 yards and freshman
Toben Opurum
chipped in with 87 yards.
But the biggest revelation for the Jayhawks was the strong return of wide receiver
Dezmon Briscoe
, who produced eight catches for 154 yards in his first game back after missing last week's game with a team-mandated suspension.
Texas overcame a slow start that included several special-teams mistakes in a 41-10 triumph at Wyoming. But anybody who watched that game knew the Longhorns struggled in the first half before beating back the challenge with superior depth in the second half -- even playing at high altitude.
September, 9, 2009
9/09/09
12:00
PM ET
By
Tim Griffin
| ESPN.com

Posted by ESPN.com's Tim Griffin
New Texas Tech quarterback
Taylor Potts
had some first-game struggles in his opening game as the Red Raiders' starter.
Potts passed for 405 yards and two touchdowns, but he was intercepted three times -- most ever thrown by a first-game Texas Tech quarterback under coach Mike Leach -- in the Red Raiders' 38-13 victory over North Dakota.
Potts struggled with trying to get a handle on leading the team in his first game, Leach said.
"I think the first games early in the season, there's anxiousness that you certainly have to work through," Leach told reporters earlier this week. "And I'm sure that's part of it."
But he's not concerned about extended problems as Potts prepares for his game against Rice on Saturday.
"There's always a certain amount of work to be done," Leach said. "Graham [Harrell] played a very poor game last year versus Nevada, which was the worst game of his career. He learned a lot from it and went on to throw for another 5,000 yards."
Here's a statistical look at all six of Leach's starting quarterbacks and their statistics in their first game as starters at Texas Tech. Potts' numbers compare favorably with most of them.
Texas Tech QBs at a Glance
Player
Year
Comp
ATT
YDS
INT
TD
Rating
Result
Kliff Kingsbury
2000
21
47
186
1
2
87.71
W, 24-3 vs. New Mexico
B.J. Symons
2003
23
38
297
1
3
146.97
W, 58-10 vs. SMU
Sonny Cumbie
2004
40
66
470
0
4
140.42
W, 27-13 at SMU
Cody Hodges
2005
29
37
454
0
4
217.12
W, 56-3 vs. FIU
Graham Harrell
2006
34
49
342
1
5
157.61
W, 35-3 vs. SMU
Taylor Potts
2009
34
48
405
3
2
142.96
W, 38-13 vs. North Dakota
August, 14, 2009
8/14/09
8:53
PM ET
By
Tim Griffin
| ESPN.com
Posted by ESPN.com's Tim Griffin
There's a reason why Mike Leach has had a sly smile on his face every time I saw him this summer.
After unprecedented attention last season, most pundits are wondering if Tech crawls in a hole after losing Michael Crabtree and Graham Harrell.
Leach isn't worried about 2009 as you might think. Incoming quarterback Taylor Potts has won the job sooner than any other first-season Texas Tech quarterback in recent memory. The Tech defense has lost top pass rushers like McKinner Dixon and Brandon Williams from last season. But Leach likes his collection of talent that's on hand.
It might not be good enough to keep the Red Raiders in Big 12 South title contention in November, but the Red Raiders will still be a tough game to make them a challenging opponent for the expected gauntlet of opponents in the division.
1. Leach will wonder why he moved the Texas game ahead to Sept. 19. The Red Raiders were going to have trouble winning in Texas no matter when the game was scheduled -- especially considering the Longhorns' memories of last season's gut-wrenching loss in Lubbock. But the Red Raiders' hopes would have been a lot better in November when the game was originally scheduled than moving it to the third week of the season. It will be Potts' first road game and Leach likely would prefer a test run before throwing him to the wolves -- especially more than 100,000 people at Royal Memorial Stadium. Baron Batch's condition might be iffy, depending on how serious his arm injury is. It won't be a pleasant experience and Leach will wonder if playing the game as scheduled would have worked out better for his team.
2. Taylor Potts will have first-season statistics equal to, if not better, than any of Leach's other quarterbacks. Recall those one-season quarterbacks who lit up the Big 12 in their short stints as Tech's quarterbacks? You remember them, Sonny Cumbie, B.J. Symons and Cody Hodges. Those three quarterbacks averaged nearly 4,900 passing yards and 38.3 touchdown passes in their season as a starter. And Potts will be right in that same ballpark when the 2009 season is over.
3. Texas Tech's stretch of winning seasons will continue for another season. The Red Raiders are the only team in the Big 12 to post a winning record in every season. That streak will stretch for one more year as the Red Raiders win seven or eight games, make a bowl trip and pull off an upset victory or two. No, it won't be as successful as last season, but the Red Raiders will still roll up a slew of yards and score a bunch of points as their coach fills up reporters' notebooks everywhere. In other words, a normal season for Leach and his program -- even without Harrell and Crabtree.
May, 18, 2009
5/18/09
10:15
AM ET
By
Tim Griffin
| ESPN.com
Posted by ESPN.com's Tim Griffin
Here's a look at the Big 12's most pressing early concerns as teams break for the summer for a couple of weeks before returning in June to begin conditioning drills to prepare for the upcoming season:
1. Can Texas find a running game? The Longhorns are still looking for a featured back after no player really emerged during the spring. Cody Johnson had the best early production before he was slowed late in training camp with a hamstring injury. Neither Vondrell McGee or Fozzy Whittaker jumped forward during the spring. Heralded freshman Chris Whaley will get his chance once fall practice begins, but likely won't be counted on early. But filling the hole is important. The Longhorns desperately need somebody as they likely can't challenge for a national championship if Colt McCoy again is their leading rusher.
2. Is Oklahoma's offensive line capable of playing at a level to win conference championships and beyond? After being called out before spring practice for its lack of diligence in conditioning, Oklahoma's offensive line had an uneven spring practice. Four new starters need to emerge along with Trent Williams, who returns and moves to left tackle to protect Sam Bradford's blind side. The unit's growth will determine much of the Sooners' offensive success -- even with the return of talented skill-position players like Bradford, Chris Brown, DeMarco Murray, Jermaine Gresham and Ryan Broyles already in place.
3. Is Oklahoma State's defense really good enough to compete for the Big 12 title? Veteran defensive coordinator Bill Young was counted on to boost production in a unit that didn't seem ready late last year after being blistered for averages of 58.5 points and 593 yards per game in late-season losses to Texas Tech and Oklahoma. The Cowboys have another season of experience and some strong individual players like Perrish Cox and Andre Sexton. But unless they find a pass rush, their hopes of challenging for their first Big 12 South title will be dubious.
4. Can Kansas find linebackers who will enable them to contain Big 12 defenses? The Jayhawks lost three capable playmaking linebackers in James Holt, Mike Rivera and Joe Mortensen from last season. Coach Mark Mangino has hinted that he's considering a 4-2-5 alignment to better combat the Big 12's spread offenses. But he still has to hope that Jake Schermer and Arist Wright prove to be capable replacements -- or it could be a long season for the Jayhawks against their tough schedule of Big 12 South power teams like Oklahoma, Texas and Texas Tech.
5. How much will Texas Tech miss Graham Harrell and Michael Crabtree? Most are thinking that the loss of Harrell and Crabtree will be too much for the Red Raiders to overcome. But Texas Tech coach Mike Leach has quietly -- at least for him -- maintained that he likes his current group of replacements. Taylor Potts will have more experience coming into the program than any of the one-year players who preceded Harrell. All that group (Sonny Cumbie, B.J. Symons and Cody Hodges) did was average nearly 4,943 yards and 38.3 touchdown passes per season in their only season starting, so maybe Leach's comments should be considered. And at wide receiver, the Red Raiders won't have the overall star power of Crabtree, but will still have capable replacements in players like Detron Lewis, Lyle Leong, Edward Britton, Alex Torres, Adrian Reese and Tramain Swindall who should be ready.
April, 17, 2009
4/17/09
5:43
PM ET
By
Tim Griffin
| ESPN.com
Posted by ESPN.com's Tim Griffin
Here are a few of the letters and e-mails I received over the last few days.
Dennis from Corpus Christi, Texas, writes: Tim, I enjoy your blogs very much even though I ride you a little hard at times. I still think your blogs are very informative. I've noticed that Mike Caputo, a walk-on from Omaha, has emerged as one of the top linemen in training camp for Nebraska this spring. Walk-ons have obviously been an important part of Husker football for a long time. How much better or worst can a walk-on program help by improving the talent level, player attitude and team spirit of a Big 12 team.
Tim Griffin: Obviously, there are some walk-on players that can help a program. It's as much with team chemistry as anything else because these players can help infuse a program with a different attitude. It's very rare when a true playmaker will come into a program as a walk-on, although standouts like Kevin Greene, Wes Hopkins, Daniel Sepulveda and Joel Klatt all started that way.
And no Big 12 program has embraced the concept of walk-ons quite like Nebraska. Bo Pelini sees the value in it and I think it provides the Cornhuskers with some advantages.
But I don't think a team can count on attracting a starter or two a year with walk-on players. I think most coaches count whatever contributions they get from those players as a bonus.
---
Sean Murphy from Omaha writes: Hey Tim, I absolutely love your blog. One question for you, why do you think Colorado will have the best offensive line in the North next season?
Tim Griffin: Sean, I just believe that the Buffaloes have been wracked by injuries in the last year or so in the trenches. If they can get guys like Ryan Miller and Mike Iltis back in the lineup, it will help them greatly. And players like Evan Eastburn and Bryce Givens should give them a boost in talent, on top of having four starters back from last season.
And it also would help the Colorado offense look good if Darrell Scott and Rodney Stewart got back to health. Both are legitimate threats to rush for 1,000 yards this season if they are healthy. I realize that's a big if, but if they run behind a retooled line, the Buffaloes have a great shot to be a dark-horse contender in the North.
I don't know if they can make 10-2 as Coach Dan Hawkins has predicted, but I do think they are definite threats to go to a bowl game and can contend for the North title if they can catch a few breaks along the way.
---
Jay from Kansas City writes: Hey Tim! I hate to be the guy that emails you to moan about one of your rankings but I very much think Kerry Meier is far underrated by your blog. The stats speak plenty for Kerry. The fact that he is a playable Division 1 QB as well has to bump him up, in my opinion. Keep up that good work.
Tim Griffin: I labored about where to place Meier in my rankings. He's obviously a valuable player and can becoming that much more of a receiving threat if he was able to concentrate on playing wide receiver all the time. But realistically, Meier is the second most valuable receiver on the team. Dezmon Briscoe can stretch defenses with his deep receiving skills and could become one of the best receivers in college football if he can get back in Mark Mangino's good graces. That's why I placed Meier where I did with Briscoe in front of him. Meier is still a very valuable player, although I don't think he's the most valuable receiving threat on his team.
---
Shane from Elm Creek, Neb., writes: Hey Tim, any ideas on other possible Heisman hopefuls that are not on the offensive side of the ball, both from the Big 12 and outside the conference? Will the Heisman voters ever change the way they vote? Will they ever stop voting just on the quarterbacks, with a running back in the race here and there. It would be nice if the award went back to its original roots, in my opinion.
Tim Griffin: I don't see a defensive player winning a Heisman Trophy award solely on his defensive merits any time soon. I think most voters think the multitude of awards solely for defensive players already rewards them. Charles Woodson's award in 1997 was as much for his kick returns as his defense. Obviously, I would think that USC safety Taylor Mays, Florida linebacker Brandon Spikes, Tennessee safety Eric Berry and Big 12 defensive tackles Ndamukong Suh of Nebraska or Gerald McCoy of Oklahoma could be considered as Heisman contenders with a monster season. But it will be an unusual circumstance for it to occur.
---
Big Steve from Floydada, Texas, writes: Tim, how much is Texas Tech going to miss Graham Harrell this season? Can they still make a challenge for the Big 12 South or make a bowl trip with Taylor Potts in charge?
Tim Griffin: There's no doubt that Harrell will be missed around Texas Tech program. His record-setting numbers attest to his abilities and it's unfair to compare Potts or anybody else in the program to his high standards. But I think people are forgetting the turnover that used to follow the Tech program in previous seasons at quarterback. Harrell was one of the few multiseason starters in the program at quarterback along with Kliff Kingsbury. Mike Leach had a repeated run of one-year starters in B.J. Symons, Sonny Cumbie and Cody Hodges over a three-year period from 2003-05. I haven't seen Potts play yet, but from everything I've heard about him, I think he's comparable with any of those previous one-season starters. He's bigger and apparently has a strong arm. So it will be interesting to see what he does when he gets the chance to start.
---
James Williams from Tulsa writes: I'm curious if you think R.J. Washington will play much for Oklahoma this season? The Sooners have one of the deepest defensive lines in the country, but I think he's just too talented to sit the bench.
Tim Griffin: You might need to convince Bob Stoops because I think he likely believes he can never have too much depth in the trenches. That being said, I think the Sooners could have more talent along their defensive line than any Big 12 team I can remember. And for Washington playinf, he's going to have to beat out Jeremy Beal, David King, Frank Alexander and Auston English.
I think English could really emerge as a breakthrough player -- again. People forget how dominant he was in 2007 before he was hurt late that season and last year. If he is ever healthy, I think he can be one of the best pass-rushing threats in the nation. But I also believe that Brent Venables will rotate his players, giving Washington a chance to get some snaps this season. When he gets them, he needs to make the most out of them.
---
Adam Bates writes: Hey, Tim, is there any chance that Missouri game is going to be on television on Saturday like it was last season. Or will any of the other Big 12 teams with spring games left this season have their games televised live?
Tim Griffin: Sorry to be the bearer of bad news, but no Big 12 team will have their games televised live during the rest of spring practice from what I've heard.
Please keep the e-mails coming. I'll try to answer as many as I can next week.
Thanks again for your contributions. I appreciate them.
October, 18, 2008
10/18/08
11:29
AM ET
By
Tim Griffin
| ESPN.com
Posted by ESPN.com's Tim Griffin
Last week's victory over Missouri pushed Oklahoma State into the rarefied air of a potential national title contender. The Cowboys will be going for their first 7-0 start since 1945 when they meet Baylor today in Stillwater, Okla. It's the only previous time in school history that they started so quickly.
But today's date has featured some other previously huge conquests in Oklahoma State history. Here are a couple of the more notable.
Oct. 18, 1958: Oklahoma State 7, Houston 0 (Houston) -- Third-string quarterback Dan Wagner accounted for the game's only touchdown as the determined Cowboys beat Houston. OSU's defense turned aside Houston drives at their 20-, 37-, 1-, 7- and 22-yard lines to preserve the shutout. The Cowboys won despite producing only 139 yards of total offense. Incredibly, OSU had only 13 plays from scrimmage in the second half.
Oct. 18, 2003: No. 18 Oklahoma State 51, Texas Tech 49 (Stillwater, Okla.) -- Tatum Bell rushed for 238 yards and three touchdowns to lead the 6-1 Cowboys to the wild triumph over the Red Raiders. Bell's 95-yard first-half touchdown run helped stake the Cowboys to a 35-14 halftime lead, but Tech charged back. Quarterback B.J. Symons passed for 552 yards and five touchdowns as Tech rebounded from a 27-point deficit for a chance to win late in the game. But OSU defensive back Jon Holland's interception with 1:05 left sealed the victory for the Cowboys.
October, 4, 2008
10/04/08
8:51
PM ET
By
Tim Griffin
| ESPN.com
| | |
| --- | --- |
| | |
| | AP Photo/Charlie Riedel |
| | Graham Harrell threw for 454 yards and six touchdowns (and ran for another score) to lead Texas Tech. |
Posted by ESPN.com's Tim Griffin
MANHATTAN, Kan. -- Graham Harrell's name hasn't been found among the Heisman Trophy polls the last few weeks. And Texas Tech coach Mike Leach wonders why.
"I wouldn't say he's the best quarterback I've ever coached, but I would say he's the best in the nation this year," Leach said. "If you lead the nation in passing, I would think that deserves some attention.
"It's not like he does it once in a while. If it was so easy, everybody would do it, but everybody doesn't do it. He does, though."

Harrell lead the Red Raiders to a convincing 58-28 victory over Kansas State on Saturday, blistering the Wildcats for 454 yards and six touchdown passes, matching his career high.
In the process, he broke Kliff Kingsbury's school career passing record of 12,429 yards. Before the day was over, he had jumped past Luke McCown of Louisiana Tech and Chris Redman of Louisville into seventh place on the NCAA's career passing list.

"It's a huge honor to be able to do this," Harrell said. "We've had a lot of great players come through that have helped me out. It comes with a lot of effort from a lot of different people."
Four of the top nine single-season passing yardage totals in NCAA history have been produced by Leach's quarterbacks. Making it more impressive, all have been notched by different players.
Harrell could become the first Tech player to make the Top 10 list twice if he can continue his torrid pace during the rest of the season. He could be in line for a 5,000-yard season, becoming the first player in NCAA history to do it more than once.
And he could be in line to break B.J. Symons' single-season NCAA record of 5,833 passing yards with an especially strong finish. Playing an extra game in the Big 12 championship game would give him an opportunity that would be huge in that bid.
August, 22, 2008
8/22/08
12:52
PM ET
By
Tim Griffin
| ESPN.com
Posted by ESPN.com's Tim Griffin
| | |
| --- | --- |
| | |
| | Sam Greenwood/Getty Images |
| | Graham Harrell racked up the second-most passing yards in history last season with 5,705. |
Mike Leach made an interesting comment at a luncheon Thursday in Lubbock honoring his team, mentioning something I'm sure he probably thinks about more than he ever would readily admit.
In a throwaway line during the proceedings, Leach talked about how he'd like to see quarterback Graham Harrell have the opportunity to pass for "a few more yards, perhaps."
And when Leach said that, it could mean that Harrell might have a shot at a milestone that has more sizzle than any modern-day passing record: 6,000 passing yards in a season.
That number is so round and so magical that I'm sure it has a lot of appeal to Leach, particularly considering his passers already have notched the two top passing numbers in NCAA history and four of the top 10. It's particularly amazing that four different Texas Tech passers have accounted for those four big seasons.
But 6,000 passing yards would have the kind of permanence like Wilt Chamberlain's 100-point game or a .400 batting average in baseball that would make it truly special in the modern-day world of athletics.
B.J. Symons passed for a record 5,833 yards in 2003. Harrell missed that by only 128 yards last season, notching the second-most passing yards in history with 5,705.
To get to 6,000 yards, Harrell would have to average 461.5 yards in a 13-game season. His chances to reach the milestone would be even better if Tech ended up with a 14-game season that would be necessitated by playing in the Big 12 championship game and a bowl game. That would drop his number to 428.6 yards per game. Harrell averaged 438.8 yards per game last season.
With the return of Biletnikoff Award winner Michael Crabtree and the development of young receivers like Edward Britton, Eric Morris and Detron Lewis, Harrell will have one of the best receiving groups in college football. He needs to stay healthy and thrive early against a weak nonconference schedule that will feature SMU, Nevada and Division I-AA schools Eastern Washington and Massachusetts.
Top passers in NCAA history
Player
School
Yards
Year
1. B.J. Symons
Texas Tech
5,833
2003
2. Graham Harrell
Texas Tech
5,705
2007
3. Colt Brennan
Hawaii
5,549
2006
4. Ty Detmer
BYU
5,188
1990
5. David Klingler
Houston
5,140
1990
6. Paul Smith
Tulsa
5,065
2007
7. Kliff Kingsbury
Texas Tech
5,017
2002
8. Tim Rattay
Louisiana Tech
4,943
1998
9. Steve McNair
*Alcorn State
4,863
1994
10. Sonny Cumbie
Texas Tech
4,742
2004
* Division I-AA school
And if he gets close, I'm sure a "numbers guy" like Leach would give him a few more snaps for "a few more yards, perhaps."
The Texas Tech program under Leach has obviously produced the biggest passing numbers in college football history. And that's why I'm thinking that having the first passer to toss for 6,000 yards would be kind of Leach's "man on the moon" moment that would truly provide his program with some kind of historical permanence.
And that's why I think "a few more yards," at least for Leach, certainly means 6,000.