Big 12:

Bears-Cowboys-110610
November, 6, 2010
11/06/10
6:35
PM ET
STILLWATER, Okla. --
Justin Blackmon
thought this was supposed to be a shootout. He brought his 173 receiving yards and got in the end zone.
Once, he even took a pitch behind the line of scrimmage, outran some defenders and scored a 69-yard touchdown.
Kendall Hunter
scored twice, too.
Brandon Weeden
completed 34 passes for 435 yards, both school records.
[+] Enlarge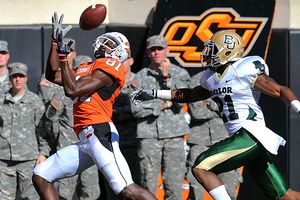 Mark D Smith/US PresswireJustin Blackmon amassed 242 yards of offense (173 receiving, 69 rushing) and a touchdown.
The Cowboys needed all that -- at least they thought they would.
The Cowboys defense made sure it didn't, forcing three first-half turnovers to help
Oklahoma State beat Baylor 55-28
after roaring out to a 34-0 start midway through the third quarter.
"As good as the offense was," Oklahoma State coach Mike Gundy said, "the defense was even better in the first half."
Only TCU -- the nation's leader in scoring and total defense -- was able to keep Baylor from scoring 30 points this year. When the majority of Oklahoma State's starters left the game, the Bears had 14, and the backups finished off the second-best defensive performance against a dangerous Baylor offense this season.
Gundy called it the most complete game his team had played since an earlier win over Texas Tech, but "much more explosive" offensively.
"We felt like we needed to defend them throwing the ball over the top more than we had in the past," Gundy said.
Baylor had touchdowns of 59, 69 and 30 yards in a win over Texas last week against the nation's No. 5 team in total defense. A week earlier, the Bears burned Kansas State for scores of 28, 52, 47 and 30 yards.
Oklahoma State's secondary gave up over 300 yards through the air to Nebraska freshman quarterback
Taylor Martinez
, including five touchdowns. But they shut down Baylor's
Robert Griffin III
, a much more accomplished passer. Griffin was held without a touchdown pass for the first time since a loss to Connecticut in the second game of the 2009 season, a span of 10 games.
"Our coaches did a good job of showing the defense mistakes that were made in that [Nebraska] game and explaining to them why that happened," Gundy said. "Our players bought into that."
While its rival watched in a hotel in College Station, Texas, Oklahoma State let everyone else watching know that the Big 12 South is a two-team race, and when Oklahoma travels to Stillwater later this season, they're in for a rough ride.
If the Sooners planned on keeping alive Red River's streak of 10 consecutive appearances as the Big 12 South's representative in the Big 12 title game, they're going to need a high-level performance in Stillwater to do it, much better than the one they turned in during their road loss to Missouri earlier this season.
Weeden is ready. Hunter is running. Blackmon is back, and with him, there's no doubt that the Cowboys' offense won't be stopped by many -- if any -- defense. Blackmon did a little bit of everything in his return from a one-game suspension. He caught 13 passes for 173 yards and a touchdown. His 69-yard touchdown run on the first play of the third quarter ended any hopes of Baylor doing in the second half what Oklahoma State did in the first.
"For me calling plays it's easier, because if the safeties are filling hard, we can get it downfield," said offensive coordinator Dana Holgorsen. "He's a great player. He finishes plays. Third downs are easier. He attacks the ball."
The offense managed just 24 points without Blackmon last week in a win over Kansas State. In addition to Blackmon's production, his presence opened up easy catches underneath for receivers
Josh Cooper
,
Bo Bowling
and
Colton Chelf
who combined for 14 catches for 208 yards and two touchdowns, including a 62-yard catch by Chelf in the third quarter.
"It was one of those days when everything worked," Gundy said. "Sometimes that happens. When that happens, it's usually a pretty good day."
And if the defense keeps playing like it did on Saturday, while the offense does what its been doing for the first two months of the season, Oklahoma State could pounce on Oklahoma and provide the program with its first-ever championship game appearance in the last year of the game's existence.
"They're obviously better than people thought in the preseason," Gundy said of his players. "I felt like our team was pretty good (in the preseason), but I didn't have any evidence to prove it."
With three games to play in the season and the Big 12 South waiting to be snatched up, he's got plenty now.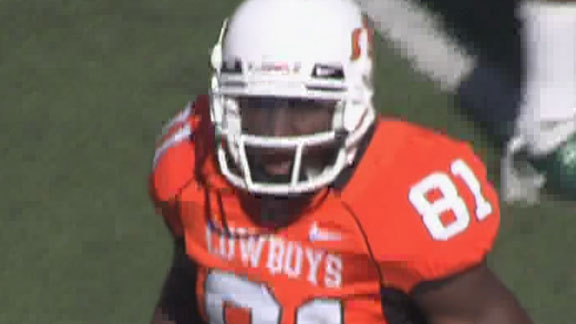 November, 6, 2010
11/06/10
4:27
PM ET
By
ESPN.com staff
| ESPN.com
Oklahoma State's offense compiled 725 yards, including 435 through the air, as the
Cowboys rolled over No. 21 Baylor, 55-28
. More to come.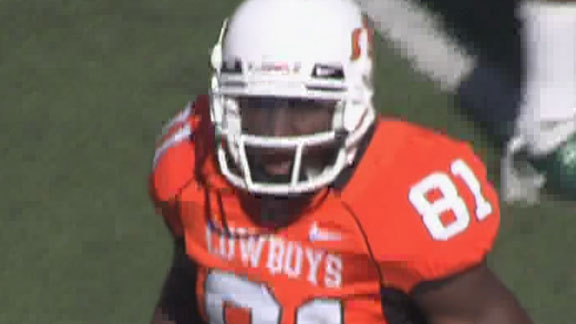 November, 6, 2010
11/06/10
2:41
PM ET
STILLWATER, Okla. -- Don't worry about Baylor gaining the early momentum in the second half.
Oklahoma State receiver
Justin Blackmon
took a pitch on an end around down the sideline for a 69 yard-touchdown on the first play of the second half, while plenty of fans were still trying to find their seats.
That has Oklahoma State with
a decisive 31-0 lead
, 21 seconds into the second half.
The Cowboys' quick-strike offense hadn't been striking so quickly yet today, with all four scoring drives lasting at least six plays and two minutes.
That changed quickly in the second half.
Oklahoma State only scored 24 points last week against Kansas State without Blackmon. It already has 31.
Seems like getting him back was kind of a big deal.
November, 6, 2010
11/06/10
2:20
PM ET
STILLWATER, Okla. -- The score's a pretty good reflection of this one. Baylor got deep into Oklahoma State territory once and turned it over, but Oklahoma State dropped what should have been an easy touchdown pass. This is a pretty clear-cut,
24-point game
that Oklahoma State has dominated from the start. If not for a late missed field goal by Lou Groza Award candidate Dan Bailey -- his first of the season -- it could be 27-0.
Turning point:
On Baylor's second drive of the game, Oklahoma State cornerback Brodrick Brown stripped Baylor receiver
Josh Gordon
and recovered the fumble to set up Oklahoma State's first touchdown. That drive put the Cowboys up 10-0 and on their way to a great first-half performance on both sides of the ball.
Turning point II:
Baylor had a wide-open
Krys Buerck
in the end zone, but Baylor quarterback
Robert Griffin III
underestimated the speed of Oklahoma State safety Johnny Thomas, who came from the opposite side of the field to intercept the pass and keep Baylor off the scoreboard with just minutes remaining in the first half.
Stat of the half:
Baylor turnovers: 3. Oklahoma State: 0. The Cowboys defense has played great, but all three of the turnovers have been because of plays the defense made, and without them, this could be a two-touchdown or 10-point lead.
Best player in the half:
Oklahoma State quarterback
Brandon Weeden
. He's had all day in the pocket, been able to hit receivers for short passes and been accurate when he's looked downfield. He's completed 20-of-25 passes for 244 yards to seven different receivers.
Best player in the half II:
Oklahoma State's secondary. Brown's fumble and Thomas' interception have the Cowboys on top.
Best call:
Mike Gundy elected to try and convert a 4th-and-2 near midfield, and Baylor's defense lost
Justin Blackmon
over the top. Blackmon dropped the pass, but the defense kept Baylor off the board on the ensuing possession. Obviously, the execution wasn't there, but from a decision-making standpoint, Gundy's call and Weeden's decision to go deep should have paid off.
What Oklahoma State needs to do:
Everything it's been doing. Don't take chances on defense, prevent the big play, and hand the ball to
Kendall Hunter
in the second half. He'll take the Cowboys home.
What Baylor needs to do:
Keep trying to stretch the field. Oklahoma State has reined in Griffin's legs, but they've had plenty of opportunities for long plays down the field through the air. Griffin hasn't been accurate with those passes, but you have to keep forcing the issue. There still has to be some patience in the offense, but Baylor's going to need at least five second-half touchdowns to win this game.
November, 6, 2010
11/06/10
1:57
PM ET
STILLWATER, Okla. -- Baylor finally made a serious threat to score, but running back
Jay Finley
fumbled while hurdling a defender for a first down, forced by a hit from linebacker Shaun Lewis.
Officials took a few minutes to sort out the ensuing pile, but the Cowboys emerged with the ball, preserving a stunning shutout to this point, and giving the offense another opportunity to add to its growing lead.
Oklahoma State took advantage with a
Justin Blackmon
-driven drive. Blackmon drew a pass interference flag on a deep ball, and caught three passes for 41 yards to set up a
Kendall Hunter
's second one-yard touchdown run that put Oklahoma State up,
24-0
late in the first half.
Blackmon now has seven catches for 101 yards and a touchdown -- his eighth consecutive game with a touchdown catch. The spark that comes with his presence on the offense is pretty obvious, but this is what we expected from Oklahoma State's offense.
The defense is the reason for the big lead.
TCU -- the nation's No. 1 scoring and total defense -- is the only team to keep Baylor under 30 points this year.
With a pair of fumble recoveries and three other defensive stops, Oklahoma State is well ahead of pace to become the third.
November, 6, 2010
11/06/10
1:35
PM ET
STILLWATER, Okla. -- Oklahoma State's doing their part, but the Cowboys defense is keeping this from becoming a shootout against Baylor.
Cowboys running back
Kendall Hunter
punched in a one-yard touchdown to give Oklahoma State a
17-0
lead early in the second quarter.
Baylor squandered its opportunity after the turnover on downs at midfield, and hasn't been able to stop Oklahoma State's offense yet.
The Bears only "defensive stop" came on
Justin Blackmon
's dropped touchdown pass on fourth down.
Blackmon has played well otherwise, but the idea that the receiving corps would be better after being forced to play without Blackmon last week is proving accurate.
Bo Bowling
had eight catches for 92 yards last week -- both career highs -- in the win against Kansas State.
This week, he's already got four catches for 62 yards, including a sideline spin move that broke him free against a blitzing Baylor defense for his longest gain of the day, a 32-yarder.
November, 6, 2010
11/06/10
1:22
PM ET
STILLWATER, Okla. -- Oklahoma State coach Mike Gundy made the right call with an attempt to convert a 4th-and-3 at midfield late in the first quarter, but it might mean a chance for Baylor to get back into the game.
Quarterback
Brandon Weeden
was forced to his right and hit an open
Justin Blackmon
for what should have been a 45-yard touchdown catch, but Blackmon inexplicably dropped the ball, extinguishing the Oklahoma State fans' premature cheers and handing the ball back to Baylor,
keeping a 10-0 lead
.
Baylor nearly answered with a 55-yard touchdown pass to
Josh Gordon
, and almost had him again on 3rd-and-15, but
Robert Griffin III
underthrew the first attempt and overthrew the second.
The Bears haven't come back from a double-digit deficit to win this year, but they have an offense that can do it. Oklahoma State's defense has kept them from getting into scoring range so far, but the Bears have been close to breaking the big one.
They haven't been able to, but Baylor has to feel good about being down 10-0, rather than 17-0.
November, 6, 2010
11/06/10
1:08
PM ET
STILLWATER, Okla. -- Baylor's first two drives have built some momentum, but big plays by Oklahoma State on defense have shut them down, and the Cowboys have capitalized,
taking a 10-0 lead
late in the first quarter.
Oklahoma State linebacker Orie Lemon nearly intercepted a third-down pass that Baylor quarterback
Robert Griffin III
had to force because of pressure in the pocket.
On the next drive, cornerback Brodrick Brown stripped Baylor's
Josh Gordon
on a hitch play near the sideline.
Both of these teams obviously have high-powered offenses, but when you get those opportunities -- either a chance for a turnover or a difficult third-and-long -- the defenses will have to take advantage.
Neither will get many stops otherwise.
So far, the team that's done that is Oklahoma State.
November, 6, 2010
11/06/10
12:36
PM ET
STILLWATER, Okla. -- We're only a few minutes from kickoff and ready to go here at Boone Pickens Stadium.
It's a late-arriving crowd, but that's no huge surprise, considering the 12:30 p.m. ET kickoff.
Oklahoma State will get receiver
Justin Blackmon
back today, as well as return man/backup corner Justin Gilbert, who has missed time with an ankle injury. I popped down to the field briefly and both are ready to go.
We're ready to go up in the press box, too, and the Cowboys just stormed out of their corral, one of the most underrated team entrances in the league.
It's time to get this thing going and sort out the top of the Big 12 South.
November, 6, 2010
11/06/10
11:16
AM ET
STILLWATER, Okla. -- I've made it to my seat in Boone Pickens Stadium, and it's a gorgeous day here.
It's still a little chilly in Stilly -- a you-can-see-your-breath kind of morning -- but it's a nearly perfect fall day.
Baylor's quarterbacks are on the field, along with a few special-teams players. Oklahoma State was on the field briefly after arriving at the stadium.
There's plenty on the line today, and the Bears and Cowboys' three combined losses have shoved today's game between Texas A&M and Oklahoma on to the undercard.
Sometimes these predicted shootouts --
my prediction has the two teams combining for 95 points
-- end up being the opposite, but with these two defenses, turnovers seem like the only way either team will make a consistent stop.